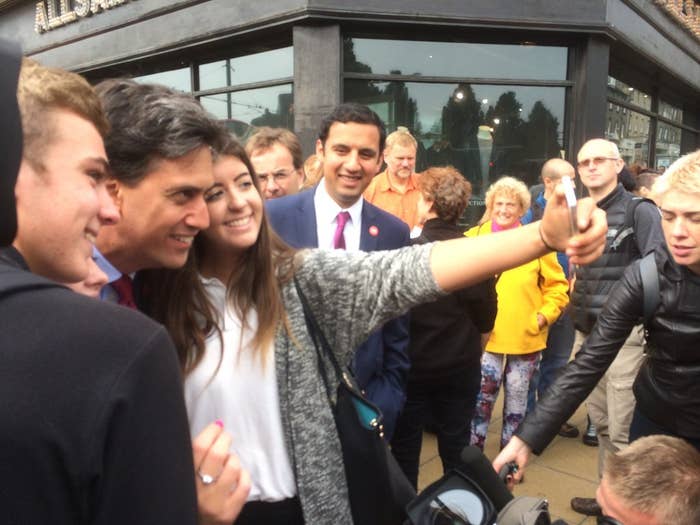 EDINBURGH – Today, Ed Miliband walked along an Edinburgh street for 15 minutes, talked to some shoppers, and got back on a bus. The visit, arranged with such little fanfare that BuzzFeed News only knew it was definitely happening when a teenager tweeted about seeing the Labour leader at some traffic lights, was short and involved him meeting a few dozen members of the public before heading off. But the jaunt was still notable.
Because walking along the streets of Scotland's capital city is still more than the other leaders of the major UK's major pro-union political parties parties have dared to do in the penultimate week of the referendum campaign, even though their nation is at risk of breaking up.
David Cameron flew up on Wednesday for some last-minute campaigning which involved being driven to a pensions company to give a speech and going home. Nick Clegg did briefly take to the streets of Selkirk, a small town in a staunchly unionist area that still loyally votes Lib Dem, but that's hardly Glasgow or the Scottish capital.
It's hard to imagine a US president not taking the fight to the enemy, but Miliband is the only one of the main three party leaders to take to the streets of Scotland's major cities and risk being heckled, or even being pursued up a street by a man in rickshaw blasting Star Wars theme tunes.
At the very moment when a new Guardian/ICM poll is released showing the Scottish public are currently intending to vote No by a margin of just two percentage points, Miliband steps off an Edinburgh bus on Princes Street and does his bit. He walks through the scrum of cameras and Better Together activists, briefly blocking the entrance to Accessorize as he talks to a supporter.
Halfway down the road, an enthusiastic middle-aged man in a red jumper grabs Miliband's hand and pledges to do his bit to keep the union together. "We're all Team Scotland," he says, in a nod to Alex Salmond's recent suggestion it's time to decide if you're pro-independence or Team Westminster.
"They're Scots on both sides," Miliband nods in agreement.
Oskar Avery, one of many activists who have come up from England to campaign against independence, looks on in a Newcastle United shirt. "I feel strongly," he says. "My brother lives here, my parents met here. I want to make a positive case for the union."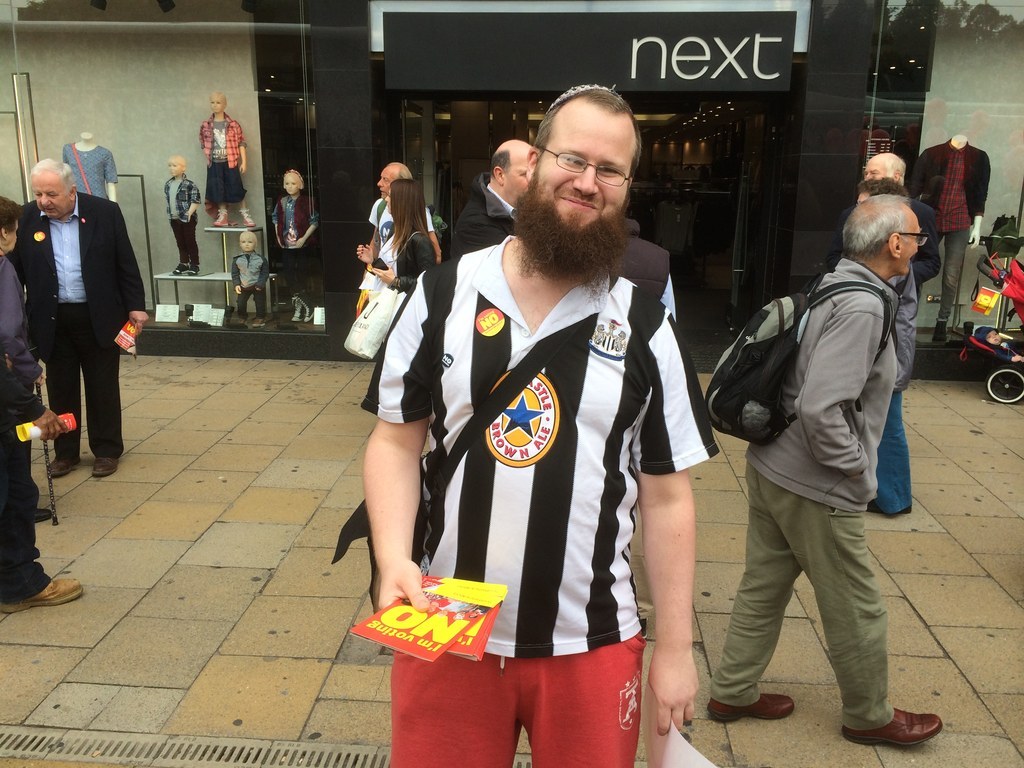 Miliband even pre-empted requests for selfies by actively offering to pose with the people he was talking to (selfies are now such a part of any political walkabout that aides have to factor in extra time for the photos). A few teenagers took up his offer, rushing to upload them straight to Instagram. Two of them were too young to vote, but Miliband made the pro-union pitch to them anyway.
In contrast to the chaos in Glasgow on Thursday, disruptions were limited to a single supporter of independence screaming "VOTEEE YASSSS" at the Labour leader, who was perhaps helped by the absence of any pre-publicity for the visit. That said, one man did jump in front of Miliband to shout "fuck her right in the pussy" at the cameras, in a nod to a meme that has previously stayed out of the independence debate. His voting intention was unclear.
After a few hundred yards Miliband turned back and walked up to join the Scottish Labour battle-bus, hired for the election. One Labour aide said it normally carried the Scottish football team. Miliband will hope he has more success than its normal occupants: Around 40% of Scottish Labour voters are still inclined to ignore his pleas and back independence. It may be late in the day, but he's trying to win them back.