Downing Street Won't Discuss David Cameron Pig Allegation
"I'm not intending to dignify this book by commenting on it," said the prime minister's spokesperson.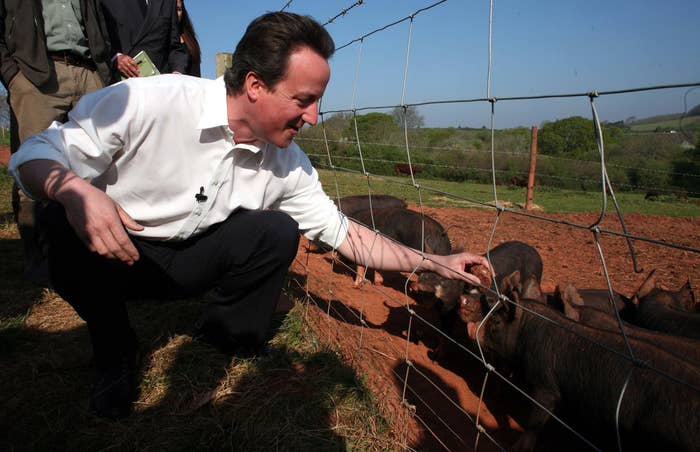 David Cameron's spokesperson has repeatedly refused to comment on allegations made in a new biography of the prime minister, insisting they will "not dignify" the book with a response.
At an unusually well-attended press briefing for political journalists in Westminster, Downing Street refused several times to discuss claims by former Conservative peer Lord Ashcroft that the prime minister interfered with a dead pig while attending the University of Oxford's Piers Gaveston society.
The spokesperson also repeatedly refused to comment on the potentially more politically damaging suggestion that Cameron knew Ashcroft, then a major Tory donor, had tax-reducing non-dom status back in 2009. The prime minister has always maintained he only discovered this shortly before the 2010 general election.
Lobby briefings are usually known for being sedate meetings, especially when parliament is in recess, but Ashcroft's book – which also claims the prime minister smoked weed with right-wing journalist James Delingpole while at university – made it more lively.
BuzzFeed News asked the prime minister's spokesperson whether Downing Street had any comment at all on the pig-related allegation.
"No," she replied.
A second journalist asked whether the prime minister would directly deny the pig incident detailed in the book.
"His spokesperson is not going to sit here and dignify a book by commenting on what is in there," his spokesperson commented.
When asked whether Cameron still maintained he "had a normal university experience", the spokesperson said: "He has talked about that in the past. I don't think it's changed this morning."
Although Cameron's team are refusing to comment publicly on the claims, a Downing Street source later insisted the story is completely false and that Cameron was not even a member of the university society where the incident is alleged to have taken place.
The biography of Cameron – written by Lord Ashcroft and former Sunday Times political editor Isabel Oakeshott – was repeatedly dismissed by Cameron's spokesperson, with the implication that the peer had set out to deliberately undermine Cameron's reputation after the pair fell out.
"I'm not going to dignify this book with a response," the spokesperson said. "The author has set out his reasons for writing it."
However she dismissed suggestions that Cameron should sue for libel if the book's account was false and said she was not concerned by claims the prime minister was aware Ashcroft was not paying a full UK tax bill: "It is a line in the book and we are not going to comment on a book."
The claim that Cameron put a "private part" of his body into a dead pig is sourced to a single MP who was at university with the prime minister and told the story to Ashcroft and Oakeshott. One MP who fits the bill is Boris Johnson but sources close to the mayor of London told BuzzFeed News it was not him who fed the line to the authors.
Ashcroft donated millions of pounds to the Tories over a 10-year period and suggested he had been promised a job in government if Cameron won the election. However, he was furious when he was only offered the position of junior whip in the Foreign Office: "After putting my neck on the line for nearly ten years – both as party treasurer under William Hague and as deputy chairman – and after ploughing some £8 million into the party, I regarded this as a declinable offer. It would have been better had Cameron offered me nothing at all."
Isabel Oakeshott, one of the book's authors, later told the BBC's World At One that she stood by the story: "The book was to be objective and anyone that reads it in full will agree that we have achieved that task. Obviously this story has captured the public imagination – it's very funny, we used it because it's colourful and it made us laugh. But it's a few paragraphs in a very long book."
Cameron's official spokesperson insisted that rather than responding to the allegations he "is focused on getting on with the job of running the country" and gave the example of his forthcoming meeting with the prime minister of Denmark, a country noted for its pork exports.