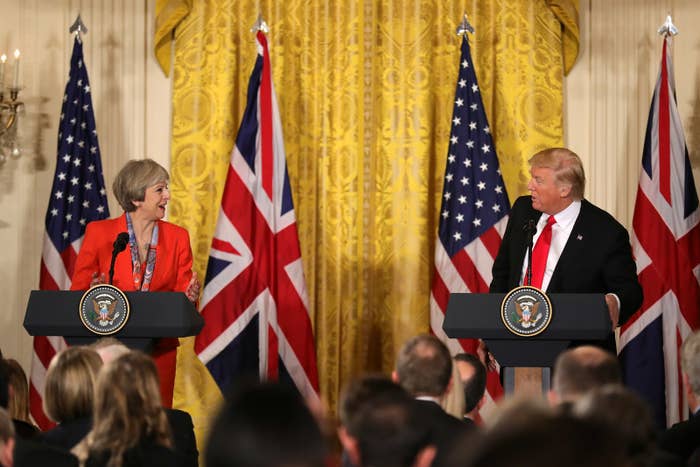 WASHINGTON DC – Donald Trump on Friday said Brexit will be "a wonderful thing" for the United Kingdom during a joint press with Theresa May, as it was confirmed he will travel to Britain later this year where he will be hosted by the Queen.
The president also said the UK's decision to leave the EU will allow Britain to control the "people you want in your country", said the Leave voted was part of the same political movement which brought him to power, and insisted he was excited to see how the UK fared outside the EU.
"It will end up being a fantastic thing for the United Kingdom and it will be a tremendous asset and not a liability," he said of Brexit. "A free and independent Britain is a blessing to the world."
The press conference was a victory for May, whose team has spent the last few months attempting to win the support of the new Republican president for a post-Brexit trade deal with the UK on a trip that could have easily gone very wrong. The pair first held a meeting in the Oval Office to inspect a bust of Winston Churchill, which had become a disputed symbol of the relationship between the UK and the US under President Obama, before holding a press conference and then a working lunch.
She also confirmed that the Queen would be hosting Trump later this year – in reality because the British government has asked her to – with the US President given the highest possible level of welcome.
Off-camera there were other subtle signs of bonds between the two leaders. Before the press conference began, senior Trump adviser Steve Bannon charged across the White House's East Room to enthusiastically greet May's joint chiefs of staff, Nick Timothy and Fiona Hill, while other senior Trump aides, such as Jared Kushner and Kellyanne Conway, also attended.

On the way out of room, the notoriously germaphobic Trump guided May out of the room by her arm, while video footage also showed the pair briefly holding hands while walking down the White House steps.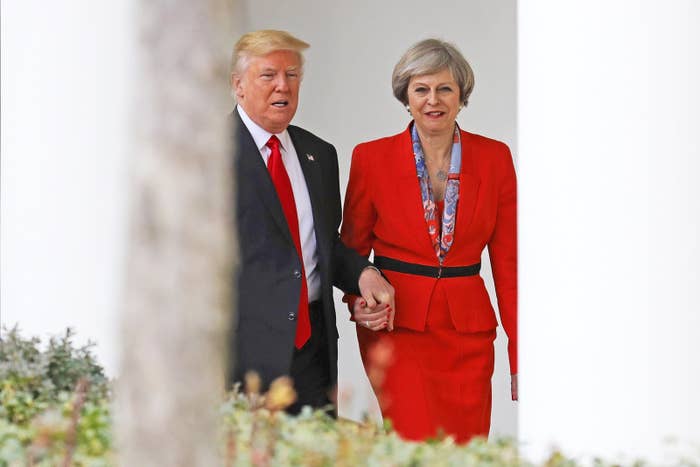 But what really mattered to Downing Street – more than hand holding – is a US-UK trade deal. Trump suggested he was up for a "quick" deal once Britain leaves the EU, influenced by his previous dealing with the EU while running golf courses.
"Getting the approvals from Europe was very, very tough," he said.
He also agreed with May's statement that he was "100% in favour of Nato", deferred to his defence chief on the use of torture, and suggested he was not immediately minded to drop sanctions against Russia ahead of a call with Vladimir Putin on Saturday.
"As far as Putin and Russia, I don't say good, bad, or indifferent," Trump said. "I don't know the gentleman, I hope we have a fantastic relationship. And it's also possible that we don't.

"How the relationship works out, I won't be able to tell you that later. I've had many times when I thought I'd get along with people and I don't like them at all. And I've had some where I didn't think I was going to have much of a relationship and it turned out to be a great relationship."
He then turned to the prime minister: "So, Theresa, we never know about those things do we?"
Later, he said he could work with the new British leader, who was the first overseas head of government to visit him while in the job.
"I think we're going to get along. Because I'm a people person. And I think you are also, Theresa," he said. "I can often tell how I get along with people very early and I think we're going to have a fantastic relationship."
Trump then falsely claimed to have been at one of his Scottish golf courses the day before the EU referendum vote.

"I happened to be in Scotland, at Turnberry, cutting a ribbon, when Brexit happened. And we had a vast amount of press there and I said – this was the day before, you probably remember – 'Brexit is going to happen' and I was scorned in the press for making that prediction, I was scorned.
"Lo and behold the following day it happened and the odds weren't looking good for me when I made that statement because as you remember everyone thought it wasn't going to happen."
In reality, Trump arrived in Scotland the day after the EU referendum when the result was already clear.
May concluded the press conference by insisting her political outlook is similar to Trump's.
"If you look at the approach we're taking, one of the things we have in common is we want to put the interests of ordinary working people centre stage. Those people who are working all the hours, doing their best for their families, and just sometimes feel the odds are stacked agains them," she said. "It's that interest in ensuring what we do, our economies and our government, actually work for everyone in our countries. I think we both share that."