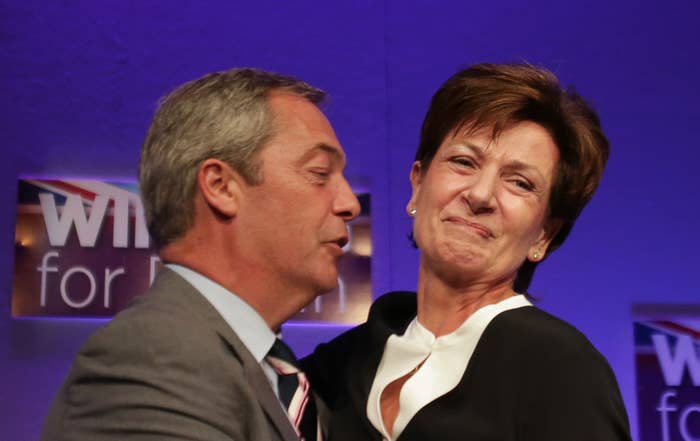 Nigel Farage has become UKIP leader again on a temporary basis, just 18 days after being replaced by Diane James.

James took over from Farage on 16 September after winning the ballot of party members but unexpectedly quit on Tuesday night. She always been a reluctant candidate and allegedly was shocked by the attention that the job attracted.
Farage confirmed to the BBC that he was still the registered leader of UKIP, as James had never formally updated the legal paperwork. As a result, he said he would resume the leadership on a temporary basis until a new election is held: "I will continue as the interim leader of UKIP and we will go through the electoral process."
In a statement James confirmed she "would not be formalising my recent nomination" as party leader.
"It has become clear that I do not have sufficient authority, nor the full support of all my MEP colleagues and party officers to implement changes I believe necessary and upon which I based my campaign," she said.
When news of James' resignation first broke on Tuesday night, leading UKIP figures were astonished and immediately predicted Farage would return for a third stint as leader.
"I think he'll have to step in temporarily and I don't think there'll be a lot of appetite for a full-blown leaders contest," major UKIP donor Arron Banks told BuzzFeed News. "Last time [Farage quit] it was a long weekend. At least he lasted 17 days this time."

However, Farage initially reiterated his opposition to taking the job on a full-time basis.

One party source said James quit for family reasons. Others said she was shocked by the reaction from members of the public. In one incident she was allegedly spat on while being confronted by members of the public on her way to a meeting of UKIP's Welsh assembly members in Cardiff.

Steven Woolfe, who was the favourite to take over from Farage until he failed to submit his nomination papers on time for this summer's leadership contest, is now the clear leader to take over the party in any new competition.

Douglas Carswell, the party's only MP, said he would not be commenting as he was eating a shepherd's pie.

To confuse matters, James did not appoint any deputy leaders, leaving a power vacuum at the top at the party.

Farage is due to spend time in the US during the coming weeks, where he is supporting Republican presidential candidate Donald Trump.