Daily Telegraph Fined £30,000 For Election Email Telling Its Readers To Vote Tory
The newspaper admitted the decision to send the message was "unprecedented".
The Daily Telegraph has been fined £30,000 for emailing hundreds of thousands of people urging them to vote Conservative on the day of the 2015 general election.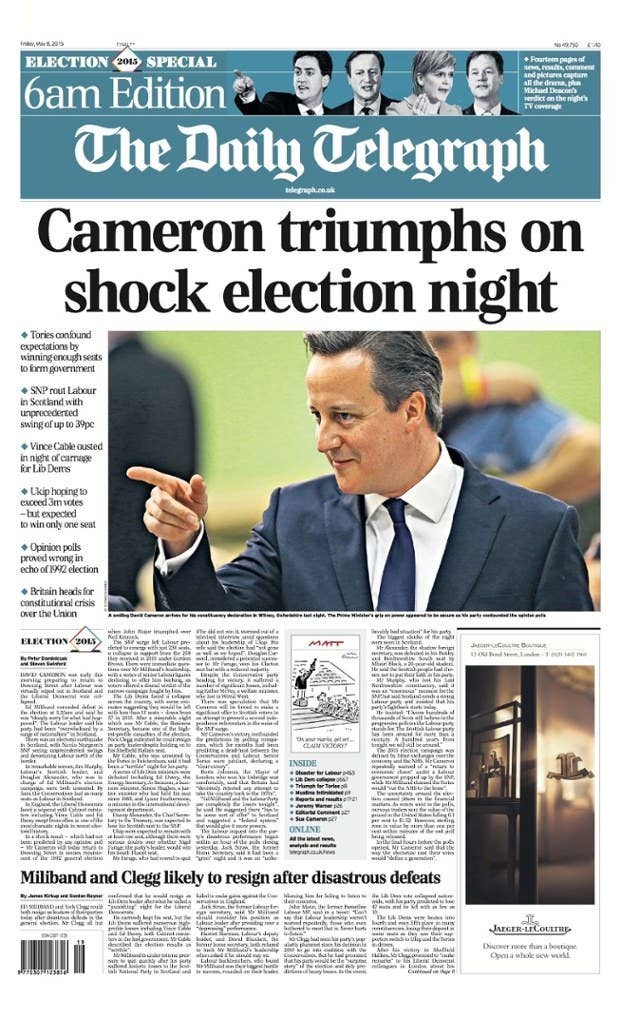 The newspaper said it took the "unprecedented" decision to email all the readers on its database because it wanted to boost support for the "enterprise-led economic approach" that has "underpinned our prosperity for nearly 40 years".
That decision has now resulted in a fine from the Information Commissioner's Office (ICO) for breaking marketing rules since people on the mailing lists had signed up to receive daily news updates, not political advertising.
The email, signed by Telegraph editor Chris Evans, warned readers Ed Miliband was "the most Left-wing Labour leader for a generation".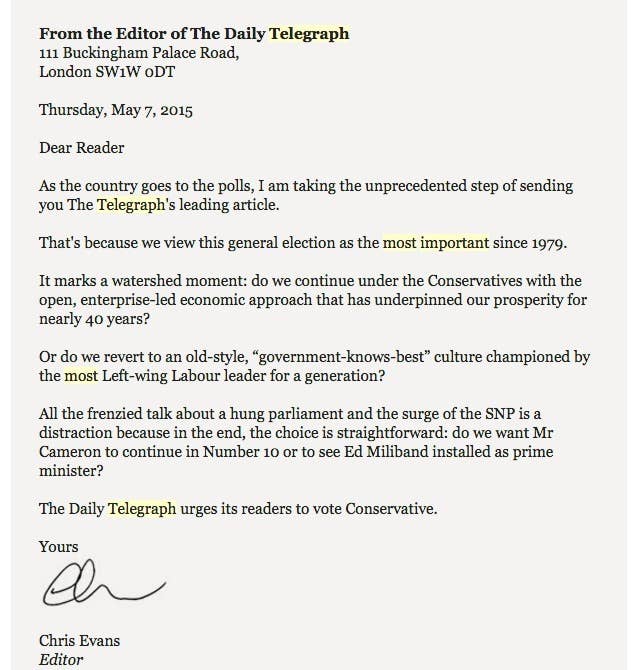 Steve Eckersley, head of enforcement at the ICO, said although the newspaper openly backed the Conservatives during the general election, the decision to email its readers broke data protection rules since they did not sign up for political messages. "People may well perceive the paper's editorial content to have a political bias, but when the Telegraph emailed people directly, calling for them to vote for a political party, they crossed a line," he said.
The watchdog said the email was only sent following a "last-minute instruction from the editorial team" and there was "pressure to distribute it quickly", which led to a breakdown in normal checks and balances.
But Eckersley said this did not excuse the decision. "People signed up to the Telegraph's email service so they could catch up on the news or find out about subjects they were interested in. They did not expect to be told who they should be voting for. Regardless of the circumstances, this organisation fell short of the law and we have acted."
A Telegraph spokesperson insisted that they would ensure it did not happen again: "Although we are disappointed with this ruling, we note the mitigating factors that the ICO highlights in its report: the response to the email was overwhelmingly positive, and the ICO agreed in its ruling that it was unlikely to cause distress. Indeed, only 2 complaints were received by the ICO. The ruling also recognises that we fully co-operated with the ICO and that we have taken steps to make sure this should not happen again."