Corbyn Says The "War On Terror" Has Made Manchester-Style Attacks More Likely
"We must be brave enough to admit the 'war on terror' is simply not working," the Labour leader will say on Friday.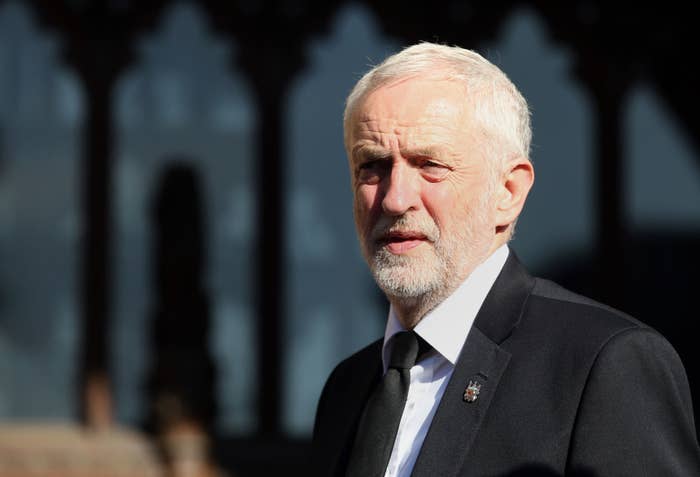 Jeremy Corbyn will return to the general election campaign trail on Friday morning with a speech suggesting the "war on terror" – which included the Iraq war – is partly to blame for the Manchester terror attack.

The Labour leader suspended his election efforts for most of the week but will restart campaigning with a speech praising the "solidarity, humanity, and compassion" seen in Manchester following the suicide bombing outside an Ariana Grande concert on Monday night.
In the speech, Corbyn will explicitly link the terrorist attack to the UK's involvement in the war on terror under former Labour prime minister Tony Blair, which saw British military forces in Iraq and Afghanistan. He will say British foreign policy helped create an environment which encouraged domestic terror attacks.
"Many experts, including professionals in our intelligence and security services, have pointed to the connections between wars our government has supported or fought in other countries and terrorism here at home," he is expected to say at a speech in central London.
"That assessment in no way reduces the guilt of those who attack our children. Those terrorists will forever be reviled and held to account for their actions. But an informed understanding of the causes of terrorism is an essential part of an effective response that will protect the security of our people that fights rather than fuels terrorism.
"We must be brave enough to admit the 'war on terror' is simply not working. We need a smarter way to reduce the threat from countries that nurture terrorists and generate terrorism."

The Labour leader was a prominent member of the Stop the War Coalition and repeatedly and consistently campaigned against the invasion of Iraq. A lifelong non-interventionist, Corbyn has repeatedly opposed Western countries invading other nations, and earlier this month said attempts at regime change in the likes of Yemen, Libya, and Syria "have failed in their own terms, and made the world a more dangerous place".
Corbyn will also use his speech to say Labour would reverse proposed cuts to emergency services and provide additional funding for the intelligence agencies, while linking Conservative austerity measures to the Manchester attack.
"No government can prevent every terrorist attack," he is expected to say. "If an individual is determined enough and callous enough sometimes they will get through.
"But the responsibility of government is to minimise that chance – to ensure the police have the resources they need, that our foreign policy reduces rather than increases the threat to this country, and that at home we never surrender the freedoms we have won and that terrorists are so determined to take away."