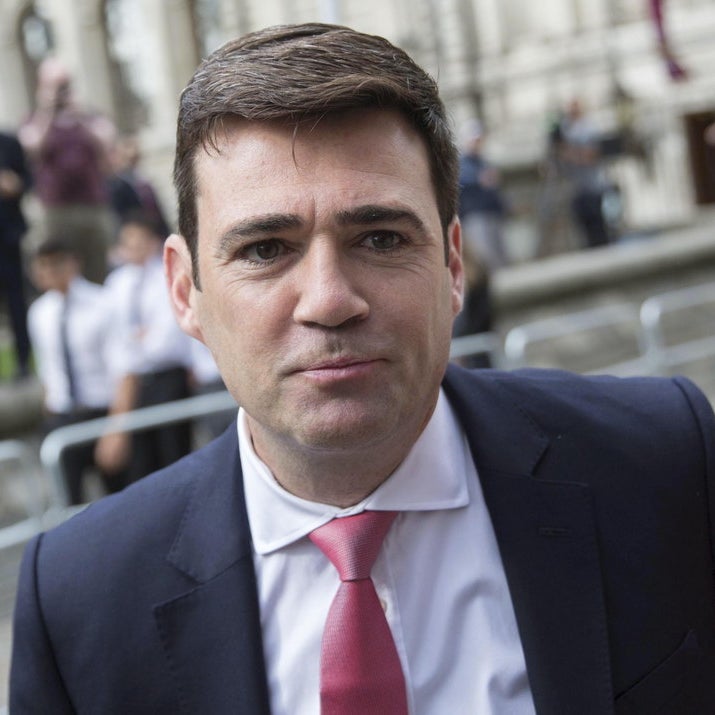 Andy Burnham reckons Labour should learn from the Stone Roses' new single, "All For One", and drop the infighting for the sake of a successful comeback.

BuzzFeed News called the shadow home secretary and Stone Roses obsessive to find out his views on the Manchester group's first new material in 21 years, which has been released after the band spent two decades in the wilderness following a dramatic fall from grace defined by resignations, public feuds, and internal rifts.
Asked whether Labour could learn from that experience, Burnham said: "We all can take some hope from that, me particularly. I think we all need to refresh and reinvent ourselves from time to time."
The politician also said the Stone Roses songs that best represent his party are "I Wanna Be Adored", "I Am the Resurrection", and the new release, "All for One".
"We need a bit more all for one," he said. "There's a bit too much arguing in Labour."
Burnham said he'd been a lifelong fan of the band: "I am sure the last person they want coming out in their defence is a 40-odd-something politician. But they can't disown me, the Stone Roses – I was there at the very beginning. I was at the Empress Ballroom in Blackpool – their big, big breakthrough moment. I go that far back."
Speaking from his constituency in Leigh, Greater Manchester, he also said the critics were wrong when it came to the new single: "It's had mixed reviews but I love it. It's identifiably them, it has their stamp on it, but it's updated and it felt quite modern really. It's not overindulgent. In the past they got overproduced and a bit too layered and a bit too much of the lengthy instrumental feedback bits. This was archetypically them."
After Burnham tweeted about his love of "All for One" on Thursday night, he said his Twitter was overrun with people making jokes about it.
But he remains defiant: "Me and my son sat in the car and listened to it. I was getting all the 'yer dad' tweets... I am probably the archetypical 'yer dad'. On this one it's cheek given it's people like me who have studiously cultivated our kids in giving them the interest in the band. So, I'm entitled in this instance to pontificate on this."

The politician also reckoned that, when it comes to 1980s Manchester bands, the Smiths were more elitist but the Stone Roses were loved by ordinary people: "That's the thing about the Stone Roses – they're a bit like the Beatles, they're for every man and for all generations. People use the Smiths as a social marker: If you like the Smiths you elevate yourselves above the common herd and give yourself a sense of superiority.
"The Stone Roses were always for everyone: People who were ex-Smiths fans and people in hi-vis jackets. They were for everyone, I love that; they're so North West."
When he served as culture secretary in Gordon Brown's government Burnham wrote the sleeve notes for a 20th-anniversary re-release of their debut album but hadn't realised it was being issued by their old record label: "I don't think the band had given their approval. So they probably have me marked down as persona non grata."
The politician, who came second to Jeremy Corbyn in last year's Labour leadership contest, also insisted his public love for the band's new single was not connected to speculation linking him to a potential bid to become mayor of Greater Manchester. "It's something that I'm still giving consideration to but I haven't made a decision on it," he said. "I tweet whenever anything happens to the Stone Roses, as I did when the reunion gigs came along."
But although Burnham is a fan of comebacks, he knows the early material is the best: "Ian's solo albums are a little underrated as far as I'm concerned. The Second Coming album was good. But they had just the perfect first album. For me it is the best album of all time and I can't see how it will be beaten myself. They achieved perfection at the first time of asking – which is something that politicians can't do."