Conservatives Beat UKIP In Newark By-Election As Lib Dems Collapse
Tories take it. UKIP bubble popping?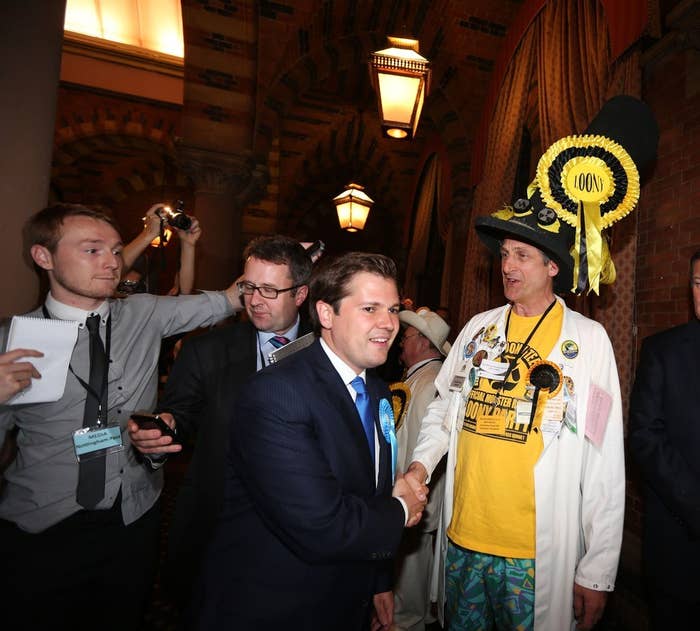 NEWARK – The Conservatives have won the Newark by-election, seeing off a strong challenge from UKIP to record a 7,000 vote majority in a contest that left Nigel Farage's party still searching for its first Westminster seat.
Robert Jenrick, a 32-year-old who works for Christie's auction house, won 17,431 votes against 10,028 for UKIP's Roger Helmer, retaining the seat for the Conservatives.
Labour finished a distant third, unable to gain ground in this middle England constituency despite a personal visit from Ed Miliband.
Meanwhile the Liberal Democrats suffered the embarrassment of finishing sixth behind a local hospital campaigner and the Green party. Nick Clegg's party received just 1,008 votes in Newark, a tenth of what it received in the same constituency at the 2010 general election.
UKIP's Roger Helmer told reporters he was disappointed with the result but insisted his party would "establish a bridgehead in Westminster" at the 2015 general election by concentrating all its resources on just a handful of seats.
The by-election result was announced shortly after 3.30 a.m. on Friday morning at the count in Kelham Hall, a historic house on the outskirts of Newark. For no clear reason the nine candidates, all men, were heralded onto the stage by a rendition of Eminem's "Lose Yourself", much to bafflement of exhausted campaigners and journalists.
Nigel Farage himself turned up for the count, looking visibly tired after having been absent for most of the by-election campaign.
UKIP had hoped its self-declared "people's army" of volunteers from all over the country would have pushed the Conservatives to the edge in Newark. At the start of the evening party officials were still optimistic that they could still cause an upset and take the seat.
But while Farage acolytes turned out in vast numbers it appears the party's lack of professionalism and internal support structures meant they were not deployed efficiently. While UKIP supporters were likely to be found wandering around Newark's historic market square handing out leaflets, the Conservatives ran a highly targeted campaign using hundreds of activists who could draw on profiles of individual voters.
Meanwhile, David Cameron made four visits to the constituency during the campaign, an almost unprecedented intervention in a by-election for a sitting Prime Minister. Hundreds of MPs regularly travelled up and down the East Coast Main Line from London to Newark after being required to campaign in the constituency.
UKIP officials reluctantly praised this strategy but said they would analyse the campaign accounts to ensure the Conservatives did not spend more money than allowed. But for now they accept they were outwitted by the Tories.