The Government Spent £2 Million On Online Ads Trying To Convince People To Vote Remain
Public money was spent buying pro-EU advertising on the likes of Facebook, YouTube, and Google.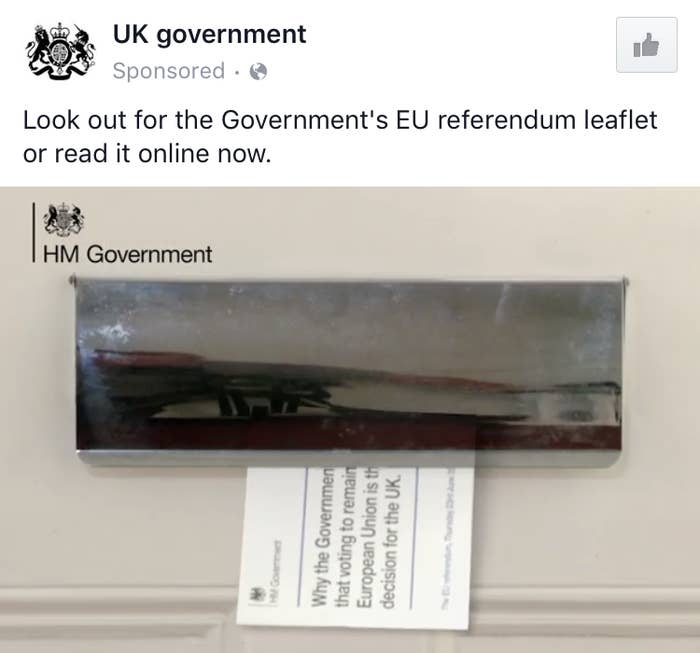 The government spent £2 million of public money on online advertising as part of the doomed attempt to keep Britain in the European Union, with most of the cash going to major multinationals such as Facebook and Google.
As part of David Cameron's failed attempt to win the EU referendum, the then prime minister authorised £9.3 million of spending on the official government leaflet setting out the case for Remain, which was sent to 27 million homes in the UK.
This headline amount included a substantial amount spent on targeted online advertising, showing how paid-for advertising on social media has become a key battleground for all major political campaigns in the UK – circumventing Britain's traditional ban on paid political advertising on TV and radio.
In total, the government spent £1,939,548 buying online advertising "as part of public information activity" during the EU referendum campaign, according to information released following a freedom of information request by BuzzFeed News, with almost all the money going to overseas internet giants.
This spending is in addition to the millions of pounds spent on online advertising by EU referendum campaign groups such as Vote Leave, Stronger In, and Leave.EU.
Facebook, which has been criticised in the past for its UK tax arrangements, received £894,237 of public money for adverts around the EU referendum. The government ran adverts on the service advising people to look out for the pro-EU leaflet and suggesting cheery lists with titles such as "7 things you might not know about the EU".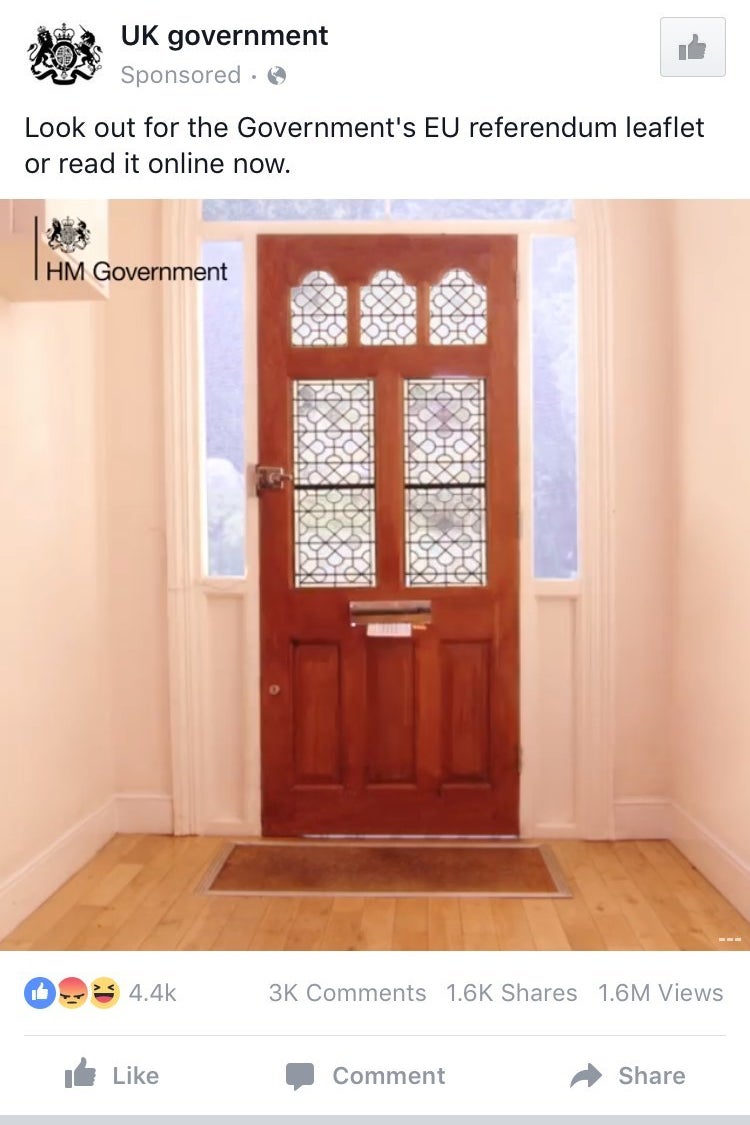 A further £219,947 went on buying up links around Google search results on the referendum, ensuring that when people searched for information on the referendum they were directed to the official government site.
The government also spent a further £462,803 buying adverts on YouTube, which is also owned by Google.

Some sites received less public money for advertising. The government spent just £46,559 pushing its message on Instagram, where government adverts confused some people who logged on to the service in the hope of seeing artfully taken holiday pictures and snaps of meals.
A further £304,174 was spent on online advertising with an entity known as the "government trading desk", which could include smaller sites and general online display advertising.
Almost all the £2 million government advertising money went directly to sites owned by Facebook or Google, reflecting their dominance in the online advertising marketplace.
Microsoft's Bing search engine took a paltry £10,768 from the advertising campaign, according to the figures, while the government did not bother to spend any money at all directly on Twitter advertising, suggesting it did not consider the social network to be a site that could win over floating voters.
Still, despite buying the adverts the government-backed Remain campaign was ultimately unsuccessful. What's more, the top comments on sponsored posts were hijacked by hundreds of comments from people furious about the decision to spend government money advertising pro-EU arguments.