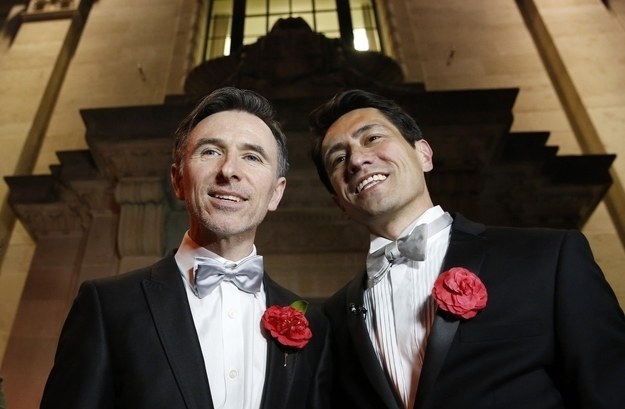 Same-sex couples in civil partnerships will be able to convert their relationship into a marriage from 10 December, the government announced today.
The first same-sex marriages in England and Wales took place on 29 March but couples who were already in civil partnerships have not been able to take advantage of the change in the law.
However, the government has today told parliament that couples who wish to change their civil partnership into a marriage will be able to do so before the end of the year. Partners will simply need to attend a registry office and declare they wish to convert their status for the change to take place.
For legal purposes the new marriage will be considered to have been in existence since the date of the couple's original civil partnership ceremony.
The rule change only applies to couples in England and Wales. Scotland has separate legislation and Northern Ireland currently has no plans to legalise same-sex marriage.
In a separate development the department of culture, media and sport has separately decided it will not offer civil partnerships to couples of the opposite sex, despite some campaigners arguing heterosexual couples should also have an alternative to marriage.
Following a consultation involving more than 10,000 people the government concluded "that changes to how civil partnerships operate are not needed at this time" but said the issue may be revisited in the future.
The government says it is committed to still offering civil partnership as an alternative to marriage but only for same-sex couples.