Britain First's Paul Golding turned his back on Sadiq Khan when the Labour candidate was confirmed as the first ever Muslim mayor of London.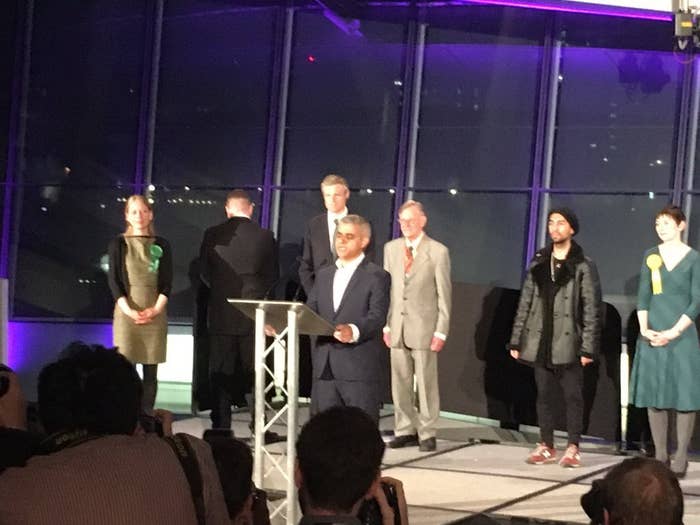 Khan, who had just been confirmed as mayor of London in front of his family at City Hall, had stepped up to give a speech urging London to come together when the Britain First mayoral candidate chose to make his protest.
Golding, a well-known far-right activist, turned his back on Khan and stared out of the window as the victorious Labour candidate gave a short speech setting out his vision for a more unified and prosperous London.
He kept his back turned as Khan called for Londoners to choose "hope over fear and unity over division".
The Britain First candidate then stopped his one-man protest when Tory Zac Goldsmith began speaking.
Golding is also the leader of Britain First, a political party which specialises in far-right Facebook memes and has a history of invading mosques and halal slaughterhouses.

Afterwards Golding told BuzzFeed News the protest wasn't racially motivated.
"Racist? I didn't turn my back around because he's Asian," he said. "I turned my back on his because he's a vile man. The extreme left lunatic fringe of Labour have taken over with Corbyn."
Golding insisted he was happy with his mayoral result: "Yes, absolutely. We're judging ourselves not on our performance in multicultural areas such as Islington but on how we did in overwhelmingly British suburbs such as Bromley, Bexley, and Lewisham."
The performance Golding referred to saw him finish in eighth place with 31,372 votes, against 1,148,716 for Sadiq Khan.