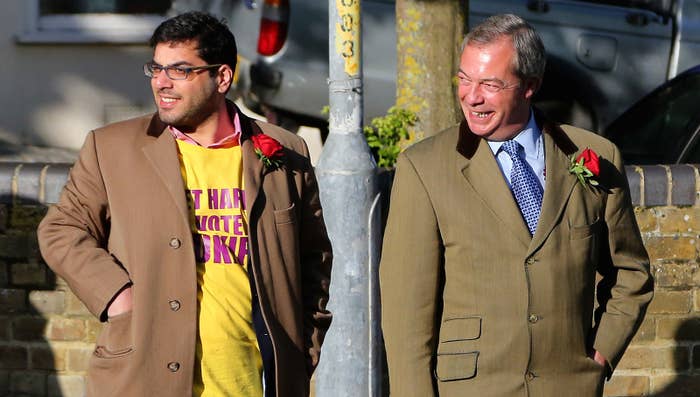 Raheem Kassam, the London editor-in-chief of the right-wing news outlet Breitbart, has said he is considering running to become UKIP leader.

Nigel Farage stepped down as leader of the party on Monday, saying he had achieved everything he wanted to in his political career by winning the referendum and helping to lead the UK out of the European Union.
Now Kassam, who previously worked as Farage's close aide during the 2015 general election campaign, has unexpectedly told BBC Newsnight he is considering running for the leadership.

"I intend to shake up the leadership contest," he later told BuzzFeed News. "Maybe by running. Maybe another way."
Kassam, 29, who has never held elected office and has previously worked at a variety of right-wing campaign groups, also claimed to have backing from his former boss.
"Farage knows and he told me by way of third party that it was a good idea," he added. "Don't know if that is true or not, to be honest."
However, he said he has not yet informed his current employers at Breitbart, the US-headquartered website known for its supportive coverage of Donald Trump in addition to reporting on alternative-right movements and Gamergate.
Kassam said he is considering standing out of a desire to block current UKIP deputy leader Paul Nuttall from taking the top job.

"Wasn't expecting to do anything until I heard what Nuttall did at the NEC today," he said, referring to a disputed meeting of UKIP's National Executive Committee, the party's top organisation.
In a cryptic message, apparently referencing major UKIP donor and Leave.EU founder Arron Banks, he added: "Two words and one number: Banks / Kassam 2016."

On Newsnight, Kassam defended the party's controversial "Breaking Point" immigration posters, which were launched during the referendum campaign, and said he was a candidate with experience of real-world jobs.
Afterwards, he retweeted supportive messages about the prospect of his candidacy, although it remains to be seen whether he will formally put his name forward for the contest.
Kassam helped found Breitbart London in 2014 before leaving to become Farage's chief of staff.

At the time, Breitbart editor-in-chief Stephen Bannon described him in glowing terms: "Raheem is a huge piece of manpower, as proven by one of the most important political movements in the world bringing him onboard. The entire company will miss his intelligence and drive."

Kassam went on to help run the politician's failed campaign to take the South Thanet constituency during the 2015 general election. He lived with the politician in a flat and they regularly enjoyed boozy "proper fucking lunches" together while running a local campaign, perceived by some in the party to be largely separate from UKIP's national election efforts.
After the election, he left the party amid recriminations and infighting, only to return to run Breitbart London and help direct the site's coverage of the EU referendum.