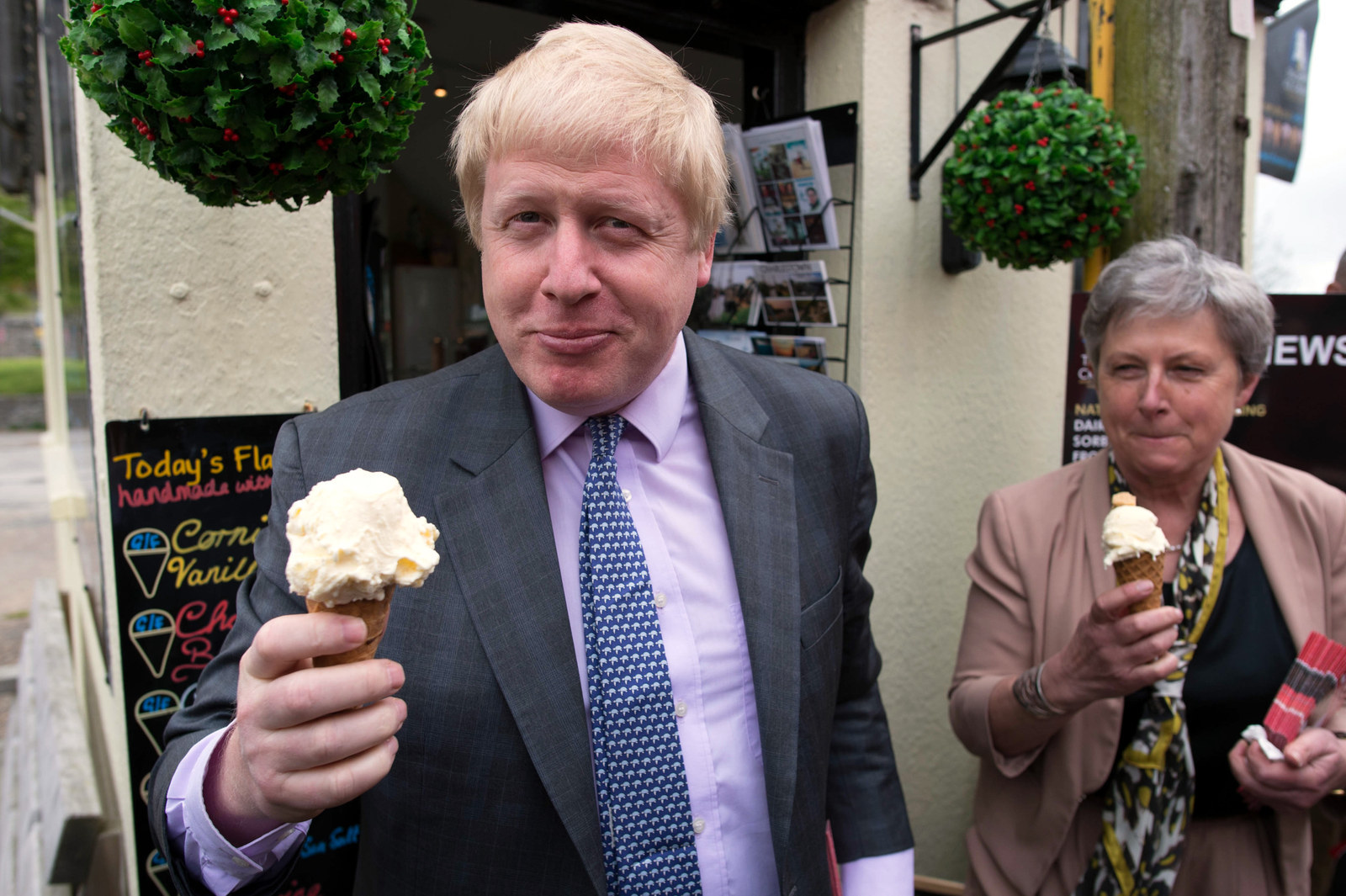 Within a few minutes of stepping off the bus in the small Cornish seaside village of Charlestown, Boris Johnson has been handed an ice cream renamed "Boris" in his honour, taken a bite, won the attention of a few dozen intrigued locals, handed the ice cream to one of those locals, attempted to convince a Remain-voting woman to leave the EU when all she wants is to get a picture of him with her dog, accidentally attempted to canvass his own press officer, and posed on the harbour where the TV series Poldark is filmed.
He's also made some bold statements about the need to leave the EU that almost no one in the media circus will remember, because we were all too busy waiting for him to pout next to an enormous historical sailing ship and make a fool of himself.
Still, not everyone's impressed by the arrival of this political celebrity.
"We had a semi-naked Tom Hardy filming down here the other day," says one local watching the scene. "This is a lot less exciting," says another.
It might not be that guy from Mad Max, but what the locals in Charlestown – and Truro, and St Austell – are seeing is the new Boris Johnson MP: a pro-Brexit figurehead who no longer has to pretend to serve out his time as mayor of London. He's now able to dedicate himself to fighting for the UK to leave the EU.
He's not changed his tactics, but with the local elections out of the way, it's much easier for him to attack other pro-EU Conservatives. Especially if their name is D. Cameron. With this in mind Vote Leave decided to put one of their most valuable assets on a bus tour of Cornwall with a load of journalists – but is Johnson a guest on the Vote Leave campaign or is Vote Leave just supporting the further promotion of Boris?
Take what happens in Truro, the only city in Cornwall, a county that receives a disproportionate amount of EU funding due to its relative poverty but where voters are leaning towards a Brexit vote. It's the start of the day and a group of anti-EU Vote Leave activists have gathered beside a small market to watch Boris and cheer and hold placards in the way that political activists inherently know how to do. There's some people petitioning, and a small angry man with a wild beard loudly shouts "I see absolutely no logic to what you're saying ... Stop being patronising and get on with your point" at a Remain supporter who happened to walk across the scene.

So far, so irrelevant. Then Johnson turns up. The former mayor of London causes chaos, careering into the market stalls, surrounded by dozens of journalists and giving at least three potential strong pictures for the news. There're short chats at each stall – hello, nice to meet you, have a leaflet, don't mind the cameras following my every word – that leave most traders grinning, then it's on to the next.
"Ah, asparagus," Johnson ponders for a brief second at one stall.
"Are you going to buy some asparagus, Boris?" shout reporters, prompting Johnson to spot a stunt. He roots around in his pocket, fishes out a few pound coins, and buys some vegetables he has no intention of consuming. The asparagus is unwrapped, brandished like a declaration, and the ad-libbing begins. "UK asparagus will be just as sprouting, just as delicious" outside the EU, he claims. The EU is hurting our great asparagus industry, he insists. And so on: A knowingly whimsical pose and a quasi-serious political point is enough to get Boris's beaming face covered live on TV news channels and give birth to tens of thousands of tweets.
BuzzFeed News asks the owner of the stall if she's pleased the former mayor of London bought asparagus from her. "Why not?" she says. "I'm excited when anyone buys my asparagus."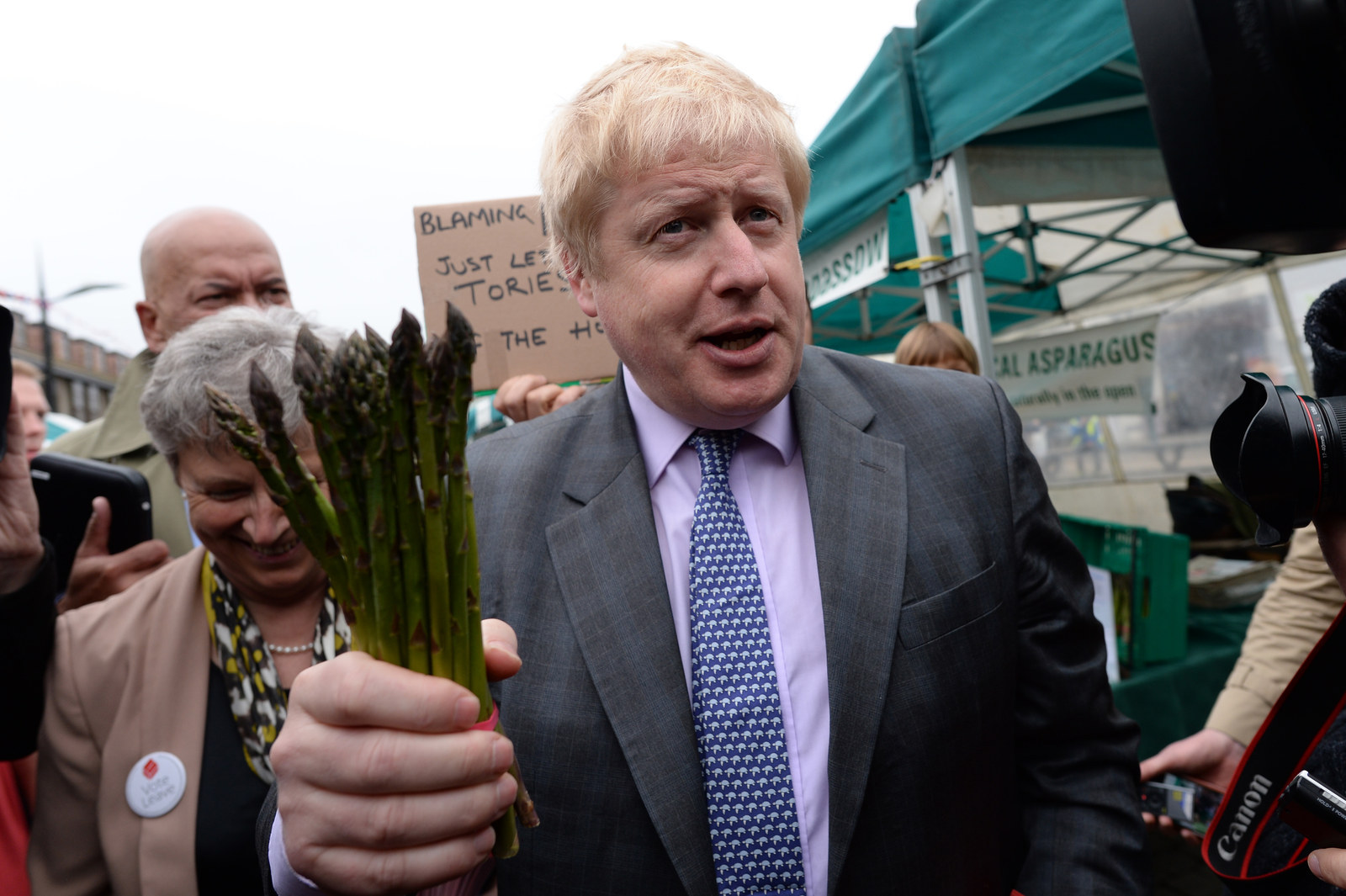 Out in the market square, with a press officer doing their best to block a protester wielding a sign saying "Blaming immigrants just lets the Tories off the hook", Johnson gives a brief speech attacking the EU, which, he says, decides "how powerful our vacuum cleaners have got to be, what shape our bananas have got to be". Then he clambers on to the bus and brandishes a Cornish pasty. Concerns about whether its status as an EU-protected food could be lost if voters choose Brexit aren't very relevant to this crowd, nor to the wider audience. The images are soon leading news bulletins.

"I've come down 35 miles to give support to the Leave campaign," says Mervyn Gilbert, a retired car technician who wants Boris to run the country with Michael Gove. "I voted Conservative and I thought Cameron was a sound man and then [he] came out as a 'stay in' man."
Nicola Atkinson, a Remain voter heading to work, looks on, baffled. "Cornwall has had more money from the EU than virtually any other county. It's like turkeys voting for an early Christmas. It's mental."
She's also surprised to see the anti-EU campaign's anti-immigration message taking hold in her hometown. "You will hardly see a dark face in Cornwall," she says. "The Cornish are parochial and scared of that – they don't go up to London, and a lot of people haven't crossed the Tamar Bridge [into Devon, which leads to the rest of mainland Britain]."

But she's in a minority in the crowd. That's because Johnson is one of the half-dozen British politicians that rouse a response from ordinary members of the public. In the space of a day he brings crowds out in three different towns, creating a carefully orchestrated form of apparent chaos wherever he goes where the message barely matters as long it's packaged in whimsy.
The problem is that Vote Leave is so reliant on his pulling power, it's unclear how it'll fill six weeks of the campaign with anyone else. When the campaign battlebus arrives in Exeter later that day, it's greeted by 200 anti-EU activists. There's total disappointment when the only person who steps off the bus is anti-EU Labour MP Gisela Stuart. Boris has instead headed off to drive a Land Rover around his family farm for the BBC's ode-to-sheepdogs programme Countryfile.
As a former journalist, he knows how to work the media. There are endless scrums of broadcast photographers and cameras wherever he goes, resulting in snappy soundbites and preposterous images of him clutching some local prop – perfect for sharing online. He even leans in to check journalists' copy on their laptops and see what intros they're using for stories about his comments.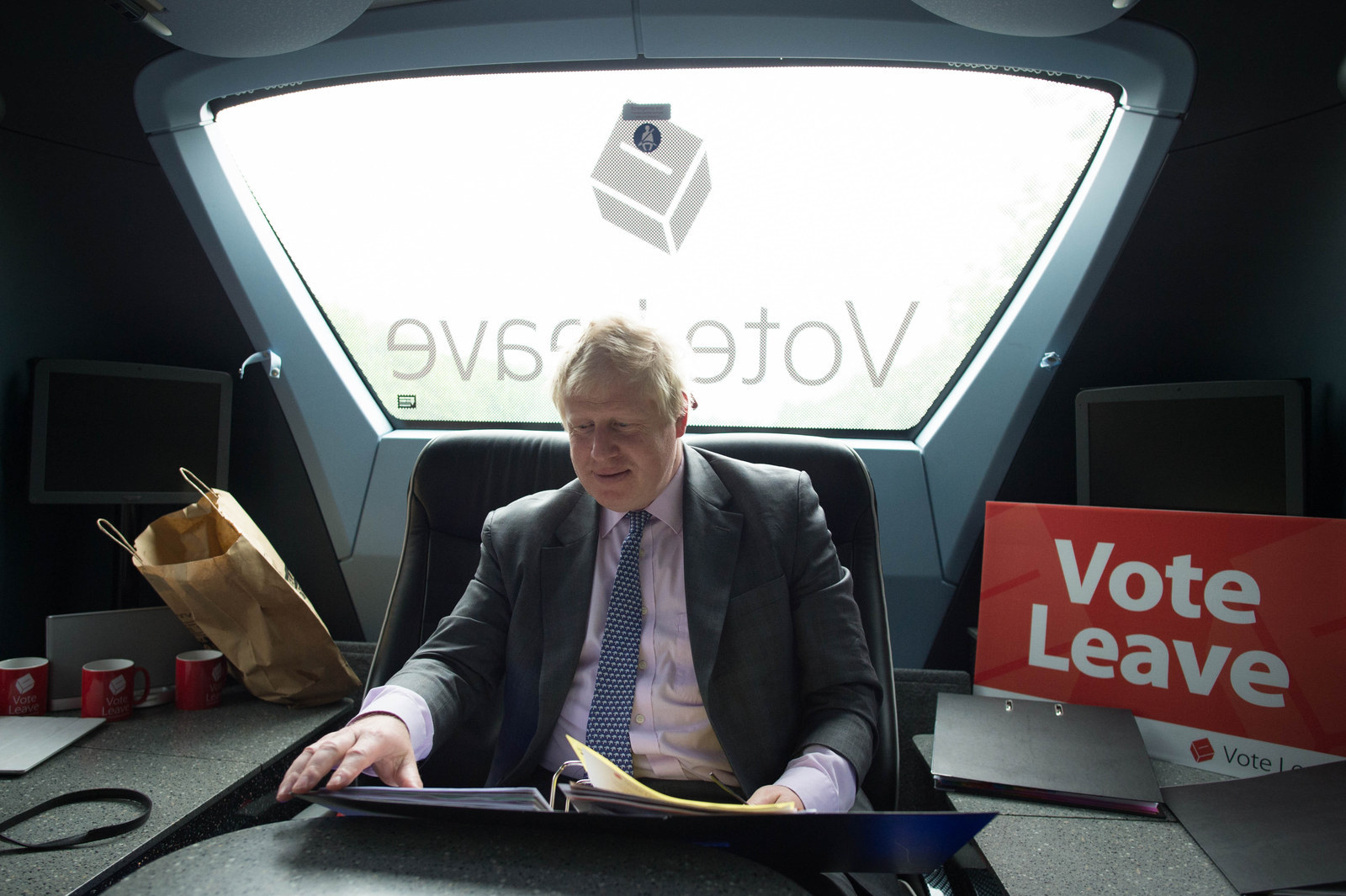 Details – such as the exact number of immigrants he'd want to let into the country post-Brexit and how they'd be selected – are of less interest. It doesn't even matter that he takes a lengthy tour of St Austell Brewery, the boss of which happily admits he received £50,000 from the EU for a new bottling plant a decade ago.

Johnson is also visibly uncomfortable when BuzzFeed News suggests many of the anti-EU activists cheering him on at the Cornish campaign focus on fears of immigration and the spread of Islam as reasons for leaving rather than talk of democratic reform. "Given that my great-grandfather was a Muslim and came to the UK, that's obviously not what brings me into this fight," he says. "For me this is about democracy and accountability."

But at the end of the day, sat on a bus with journalists, he's frank about the political benefit of buffoonery for the campaign. "If people are going to listen as a result of things that you do or say," he says, "if because you make so-called gaffes or you add humour to a discussion you thereby get people's interest in a debate about the European Union, I don't think that is the end of the world."