Some Bloke No One Has Heard Of Has Been Elected As The New Leader Of UKIP
Henry Bolton is UKIP's new leader. No idea.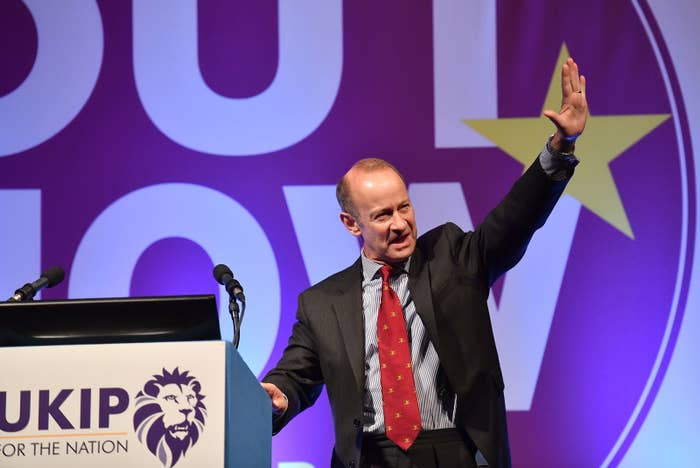 A complete unknown who previously stood as a candidate for the Liberal Democrats has been elected as leader of UKIP, beating a strong challenge from far-right anti-Islam activist Anne Marie Waters.

Henry Bolton was elected leader at the party's annual conference in Torquay. He is so obscure that he does not hold an elected position, and at the time of his victory his Wikipedia page was listed for deletion on the grounds that he was un-noteworthy.
"While Brexit is our core task, that greater goal which is ongoing beyond the time that we leave the EU, that is our core purpose," he told the conference.
The 54-year-old former soldier and police officer was backed in the contest by former leader Nigel Farage.
It is unclear whether Bolton will even receive a salary for the job, since he does not hold a paid election position. UKIP's finances are shaky, with some party staff working on reduced salaries in order to keep the organisation functioning.

Bolton won 3,874 votes, ahead of 2,755 for Waters.
Waters, who has described Islam as "evil", caused chaos by standing, with senior party figures threatening to leave if she won. As recently as 2013 she was shortlisted to be Labour's candidate in Brighton Pavilion but later switched allegiance to UKIP, having cofounded the anti-Islam organisation Pegida UK with former English Defence League leader Tommy Robinson.
Bolton has become the fourth leader of UKIP in the last 12 months. The party entered a period of chaos following its victory in EU referendum: Farage resigned and was replaced by Diane James, who herself quit after just 18 days.

Farage temporarily returned to the leadership and was then replaced by Paul Nuttall MEP, who promised to win pro-Brexit Labour-held constituencies in the north of England. Instead he suffered a hefty defeat in February's Stoke-on-Trent Central by-election and later resigned after leading the party to a disastrous result in the snap general election.
This prompted yet another contest for leadership of the party, between seven largely unknown candidates, at a time when membership was already falling.
Bolton's political allegiances have shifted. In the 2005 general election he stood as the Lib Dem candidate against future Conservative chancellor Philip Hammond in the Runnymede and Weybridge constituency.
At the time the local Surrey newspaper described Bolton as being "concerned about negative campaigning on immigration".
David Kurten, who came third in the contest, told BuzzFeed News the public would get to know Bolton.
"I had expected to win," he said, while carrying what appeared to be a copy of an unused victory speech containing the headline "New World Order".