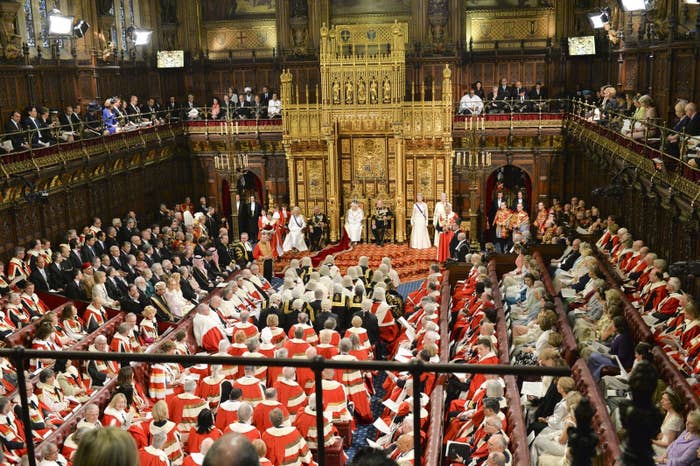 Parliament has spent more than £25,000 over the last five years running special by-elections to choose which members of the aristocracy should join the House of Lords as hereditary peers.

The cost of administering the elections was disclosed following a freedom of information by BuzzFeed News that showed thousands of pounds was being spent administering the contests – some of the most bizarre displays of democracy in the world.
There are still 92 hereditary peers who are allowed to sit in the House of Lords by virtue of a title inherited from their ancestors.
Every time one of them dies, retires, or fails to consistently attend parliament a by-election is held to replace them, with both the eligible candidates and electorate consisting exclusively of other hereditary peers who also inherited their titles.
As a result there have been a series of increasingly bizarre parliamentary elections, including a recent example in which seven members of the aristocracy – some who qualified by virtue of titles awarded in the 17th century – competed for the votes of just three other hereditary peers.
The cost of each by-election fluctuates, according to the invoices, with the most expensive being the £3,240 spent in 2013 administering the contest to find a hereditary peer to replace the 14th Lord Reay. That vote was eventually won by the 5th Baron Borwick, who is married to Conservative MP Victoria Borwick.
Anyone with a hereditary peerage is able to register their interest in standing for election to the House of Lords. If then successful in a by-election they are eligible to sit in parliament for life, collect £300 a day, and vote on laws.
The hereditary by-elections have also become known for unusual manifestos written by hereditary peers, often setting out the strong personal views of those involved.
Several peers have also resorted to poetry in a bid to get elected.
The most recent successful candidate, the 15th Earl of Cork and Orrery, won by describing his interests in "dendrology, sailing, cathedrals".

Almost all of the money from administering the House of Lords hereditary by-elections went to the independent Electoral Reform Services company, which is known for administering elections around the world.

Will Brett, head of campaigns at the Electoral Reform Society charity, which is funded by a dividend from Electoral Reform Services, said the system was preposterous.
"Hereditary peer by-elections are an absurd and expensive anachronism – especially when you have votes that involve just three people, as with the most recent one," he said. "Instead of spending thousands running ballots of a few aristocrats, let's have proper elections that involve the whole public, based on a fair voting system.
"The fact that you can get a seat in parliament for life on the basis of a few votes from Lords is frankly an embarrassment for all concerned. While it's nice to see 100% turnout in elections, it's not hard when the electorate is just a handful of people.
"Picking lawmakers on the basis of ridiculous so-called by-elections among a tiny number of hereditary peers makes a mockery of our democracy. The sooner we have a properly reformed House of Lords – elected fairly and by the people – the better."