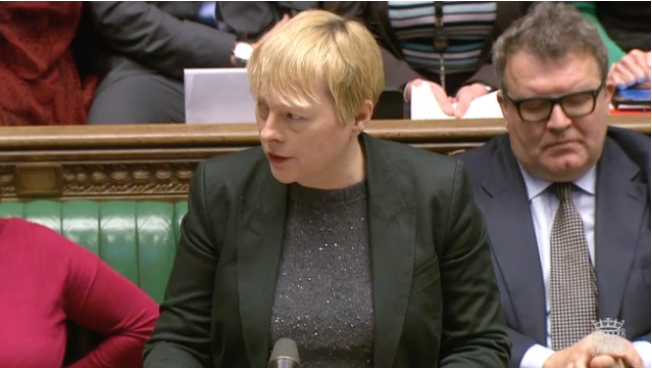 Labour's Angela Eagle ridiculed George Osborne at Prime Minister's Questions, mocking the government's attempts to renegotiate Britain's relationship with the EU to the delight of Labour MPs.
David Cameron missed the weekly set-piece event in the House of Commons because he was travelling in eastern Europe, meaning Osborne and Eagle both stood in for their respective party leaders.
Eagle, the shadow first secretary of state, asked Osborne when the prime minister would stop "jetting all over the place" and said it was "no wonder we had to buy him his own aeroplane" given how long the renegotiations had been going on.
"Can the chancellor tell us please...how's it all going?" she said to laughter.
"Well, the good news is we have a party leader who's respected abroad," the chancellor replied.
Eagle, who adopted a more traditional approach to PMQs than Jeremy Corbyn, also mocked her own party leader's habit of reading out questions sent in by members of the public.
She said she "had a letter from Donald of Brussels", referring to a message from European Council president Donald Tusk on Monday to EU heads of state, setting out concerns about the effect Cameron's renegotiation was having on the organisation.
"He says uncertainty about Britain's future in the EU is a destabilising factor. He's right, isn't he?"
When Osborne did not answer a question about his own ambitions to take over as prime minister, Eagle mocked his fear of rivals.
"He might be worried about somebody a few places down him on the bench," referring to home secretary Theresa May.
In one of several pre-scripted jokes, the chancellor mocked Labour MPs' fears about the pro-Corbyn pressure group Momentum: "Most opposition parties are trying to get momentum – they're trying to get rid of it!"
Osborne also raised the issue of former prime minister Tony Blair's article in The Spectator defending his legacy: "There's someone called 'Tony' who has been writing today. He happens to be the most successful Labour leader in history. He is describing the Labour party as a complete tragedy."
In response Eagle said she preferred a different quote by Tony Blair from a 1996 speech: "Just mouth the words 'five more Tory years' and you feel your senses and reason repulsed by what they have done to our country."
In a rare sight, her comment unified Labour MPs, who cheered the name of the former Labour prime minister.