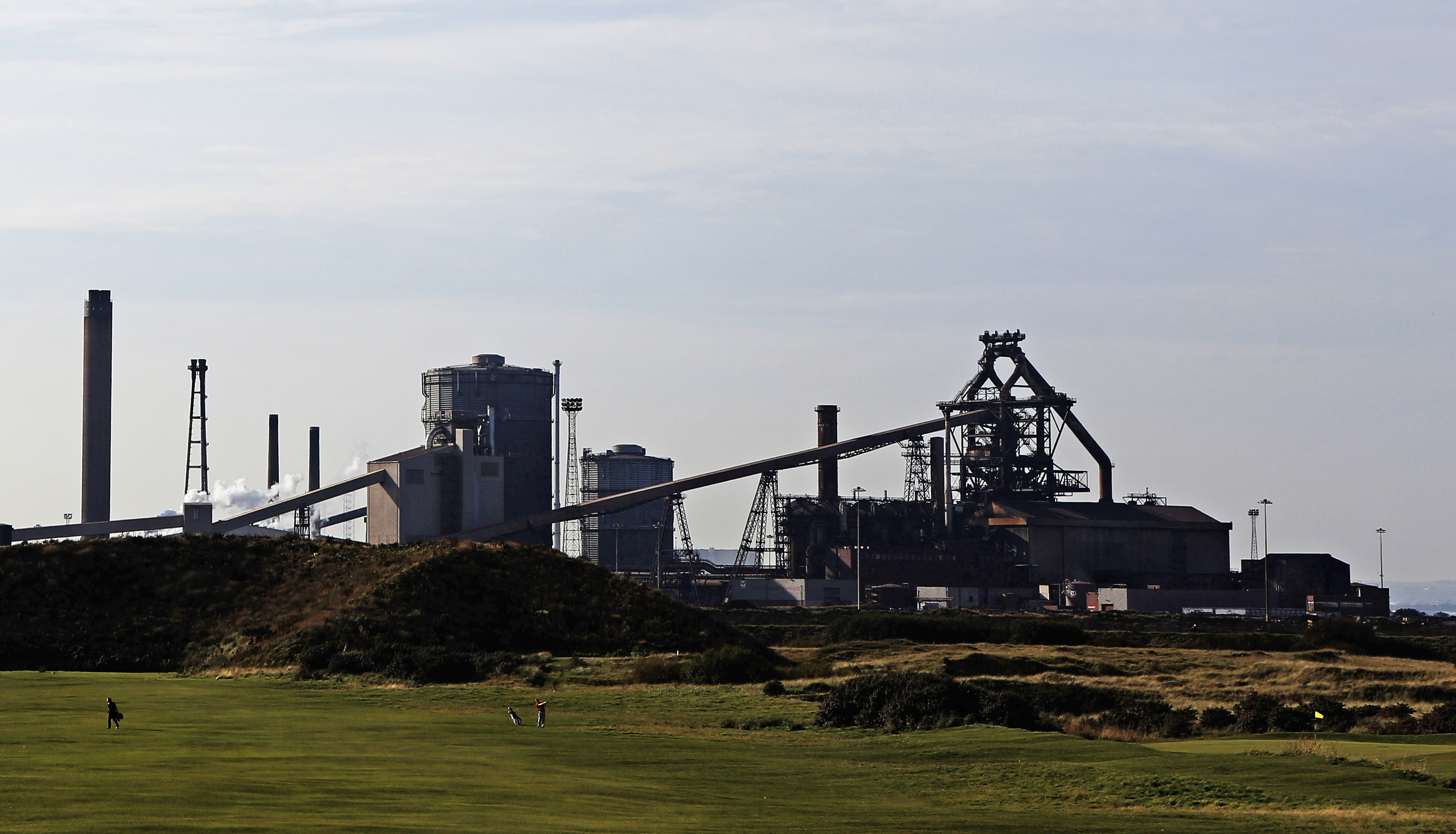 Brian Dennis used to like the European Union. Then he lost his job.

"I'm a union rep, I know that nearly all the health and safety legislation that protects workers came from the EU," the 50-year-old says, walking his dog through drizzle on Redcar's beach in the shadow of the steelworks where he was employed until October when the plant was shut down. On that day he received national attention for a passionate improvised speech at last year's Labour conference, which he made in a desperate – and unsuccessful – bid to persuade the government to help save the business, which employed thousands of people.
Six months on from the closure and for many locals looking for someone to blame, the EU is in the firing line. Redcar is a town left behind, a relatively solid Labour seat that feels abandoned by both Westminster and Brussels. When BuzzFeed News visited, residents urged the people of Port Talbot, where another major steelworks is currently under threat, to fight louder and harder to save their jobs. They also offered the government a warning of what remains after the steel has gone: resentment, low-paid jobs, and Euroscepticism.
"I was quite happy with the EU – I didn't think we got value for money but I knew we got something, and that was protecting me and my colleagues," says Dennis. "That was a trade-off in my eyes. And what are we getting now? We're getting absolutely nothing."
Redcar's steelworks is an enormous 800-acre slab of heavy industry pressed against the North Sea at the mouth of the Tees, just outside Middlesbrough. Flames used to shoot above the town from the complex, which operated 24 hours a day, 365 days a year and kept thousands in work for almost a century, producing the steel for the Sydney Harbour Bridge and many more less glamorous everyday structures. It employed thousands in a town that made things, and it paid people well for making them.
But a collapse in the global price of steel left the steelworks losing enormous sums of money for its Thai owners. Last October production was halted and within days the site was placed in permanent shutdown, with the blast furnace turned off and thousands of people put out of work. The plant is now dead, sitting on a lump of environmentally toxic land stained black and orange by coal and iron. What remains is being stripped down, sometimes by the official receiver and sometimes by thieves.
Steelworks can't be turned on and off. They have to keep operating continuously or else key parts must be rebuilt from scratch after each shutdown. In Redcar's case it would cost millions to restart it. No one expects that to happen.
Dennis is one of the steelworkers who have given up hope of the old times returning. A local Labour councillor, he worked his way up the company hierarchy to lead a team of 11 men casting 250-tonne ladles of raw liquid steel into moulds to create structures. He earned £42,000 a year by the end – a large sum anywhere, especially on Teesside – and was proud of his job. Whatever the facts or the funding commitments, the perception on the ground is that Redcar has struggled within the EU, so how much worse could it be post-Brexit?
"I want out," he says. "I had discussions with our MEPs and they said how good the EU is for us and I said, 'Actually it isn't.'"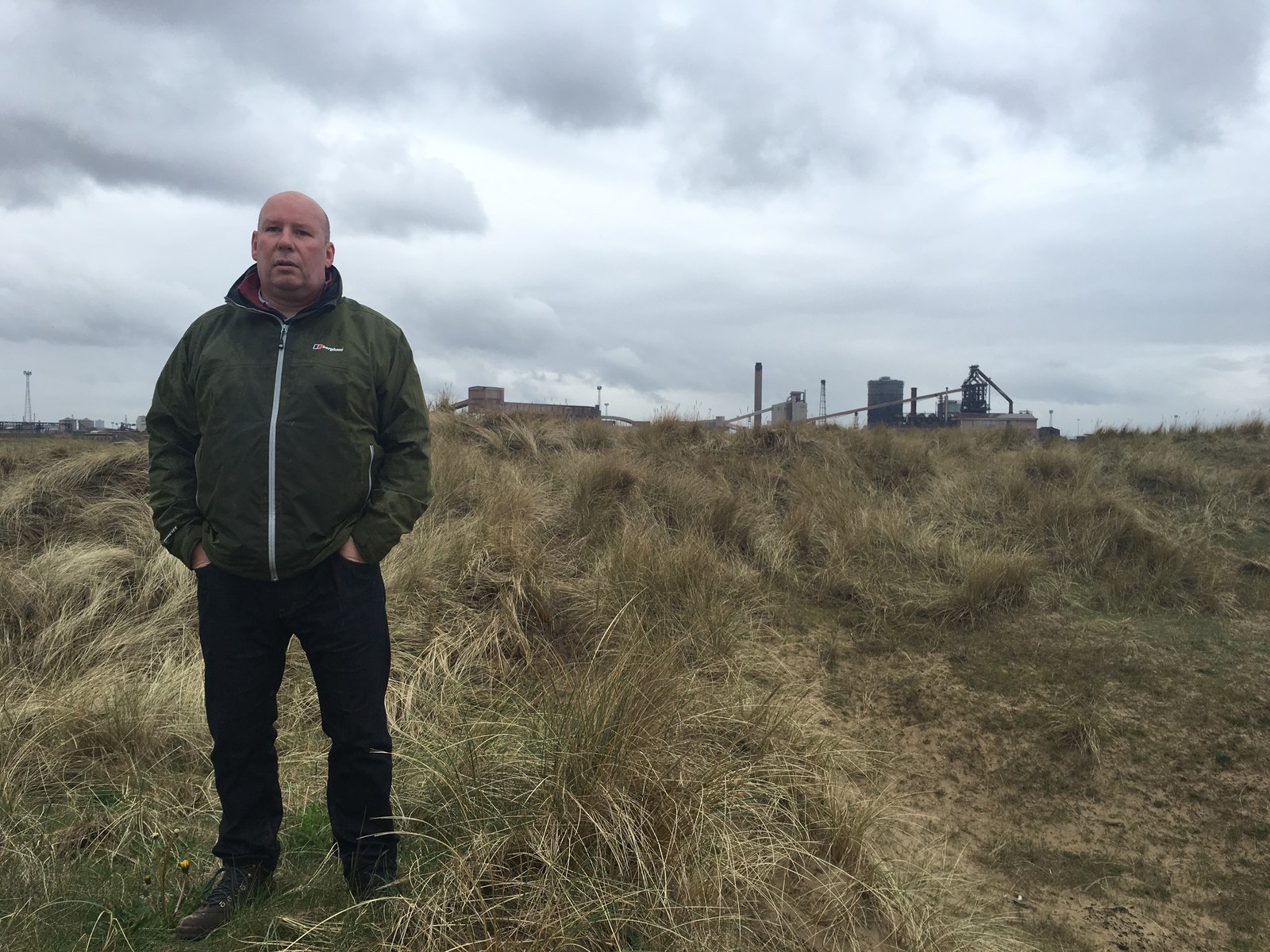 In his mind, Brussels used to be on the side of workers and Labour voters like him. Now he's voting to leave in this summer's referendum, blaming the EU's rules against imposing tariffs on cheap imported steel and its obstruction of state aid that he believes could have saved his job.

"Corbyn's going in a direction where he wants to protect the working man but I don't think the EU is helpful for protecting the working man," says Dennis, climbing a sand dune to gain a better view of the complex. "We've got to make our own decisions now because it isn't helping us, it really isn't. The people who want to scare you and say, 'Oh these jobs will go if we leave the EU' – I absolutely don't believe that. There's no way in my eyes we are going to lose out by leaving the EU."
He still gets up every morning for work but instead of casting metal he's killing time walking his dog before heading to the jobcentre and retraining in the hope of finding work.
Across town, the local MP admits she's got a struggle on her hands to push the case for remaining in the EU. "The EU's not popular here," says Anna Turley, who helped lead the campaign to save the steelworks. "UKIP topped the poll in the European elections last year in every single constituency in Teesside. The frustrating thing is we're a region that is heavily dependent on Europe. And yet people don't see it."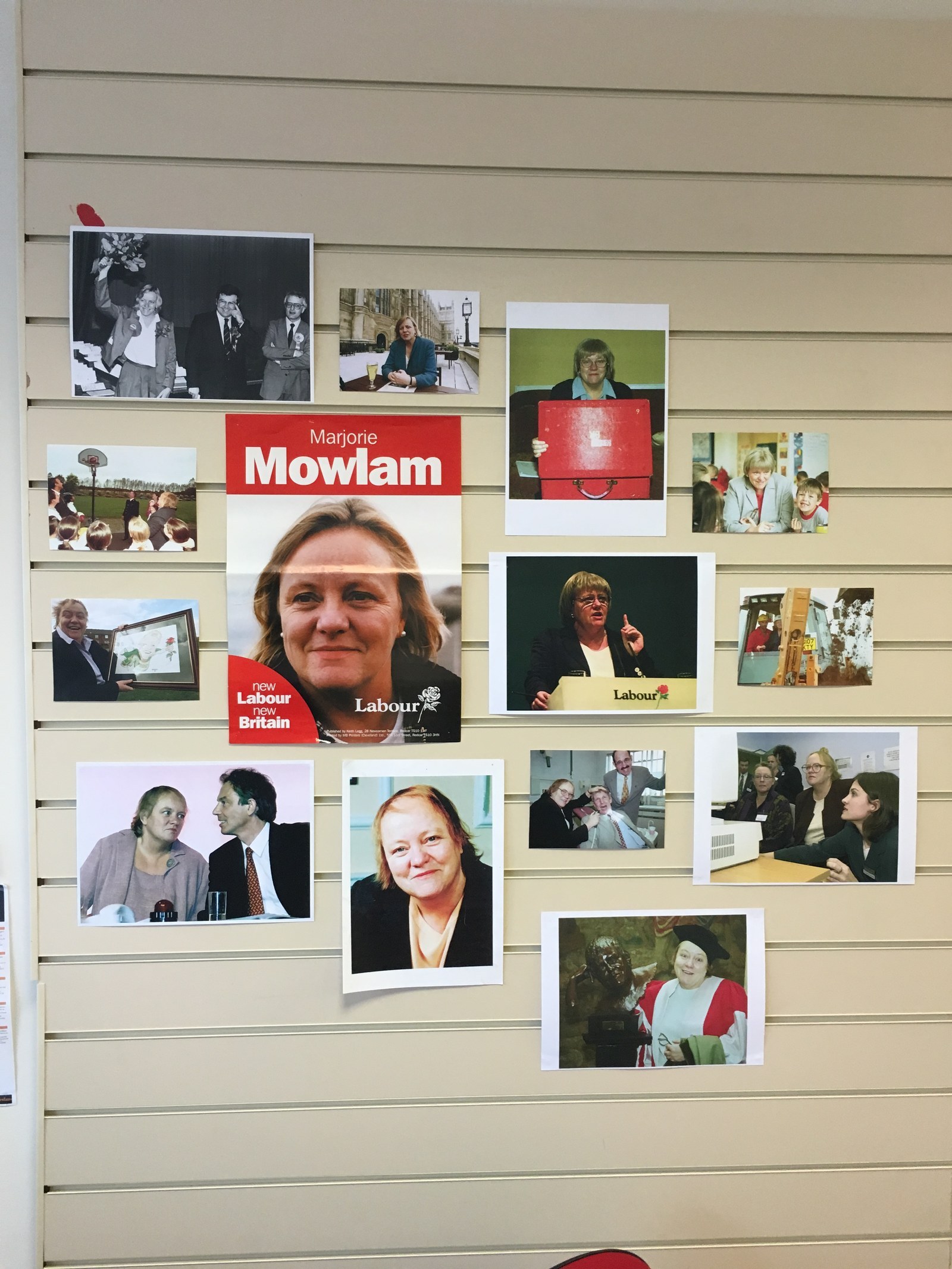 Redcar is now a relatively safe Labour seat – it was formerly represented in parliament by the ever-popular Mo Mowlam – but a large UKIP sign sits on the sea front and not all is well. The number of people in Redcar claiming jobseekers' allowance has jumped 16% in the last year, giving it the 10th-highest unemployment rate in the UK. It's not just the 2,200 steelworkers and 900 in the supply chain who lost their jobs, it's the childminding businesses that aren't required if the parents aren't at work and the hairdressers who no longer have the – overwhelmingly male – steelworkers popping in with their partners ahead of the weekend.

On the high street the effects are easy to see. Redcar hasn't ever been a fashionable town but it's pretty and proud. Now it's full of charity shops. The Marks & Spencer has shut down and even McDonald's has moved out of town. Food bank use is up, while some former steelworkers are too proud to sign on and accept welfare payments.
Turley, who was elected to parliament just months before the works shut down, still remembers how she learned the history of steelmaking in Redcar had come to an end. It took a brief phone call from business minister Anna Soubry, who was taking part in talks to save the site but "said [EU] state rules meant they couldn't prop it up". The minister was supposed to head back to London but Turley says she spotted her on the streets of Redcar later that evening.
The local MP smelled a rat.
"I'm very, very cynical about it – she [Soubry] wasn't supposed to stay up that night. I think they were trying to present the idea they were still trying to do things but they were actually working out how to manage the closure. At 8am she calls me and says, 'Sorry, darling, hard closure. There's nothing we can do; we can't put taxpayers' money into Thai banks.'"
And that was that.
Like Port Talbot, Redcar is a tight-knit community that has had a key part of its reason to exist taken away by global forces, at a time when the government is happy to maintain low taxes on cheap Chinese steels. The people of Redcar hope the Welsh plant can be saved, but many resent how the government appears to be treating it more generously. Anna Turley reckons the Tories are panicking because they have their eyes on the Welsh assembly elections and the EU referendum: "They thought they were going to make inroads in Wales and that's why they're shitting themselves."
Immigration is also a major issue in Redcar ahead of the referendum, she says, despite the relative lack of immigrants there: "This is not a very diverse area but probably the lowest dip in my popularity was when I said we should accept some Syrian refugees. We're going to have a challenge in Europe. Yet it's about the future opportunities – the only way we're going to regenerate is to use the port and the growth from the port as a gateway to Europe."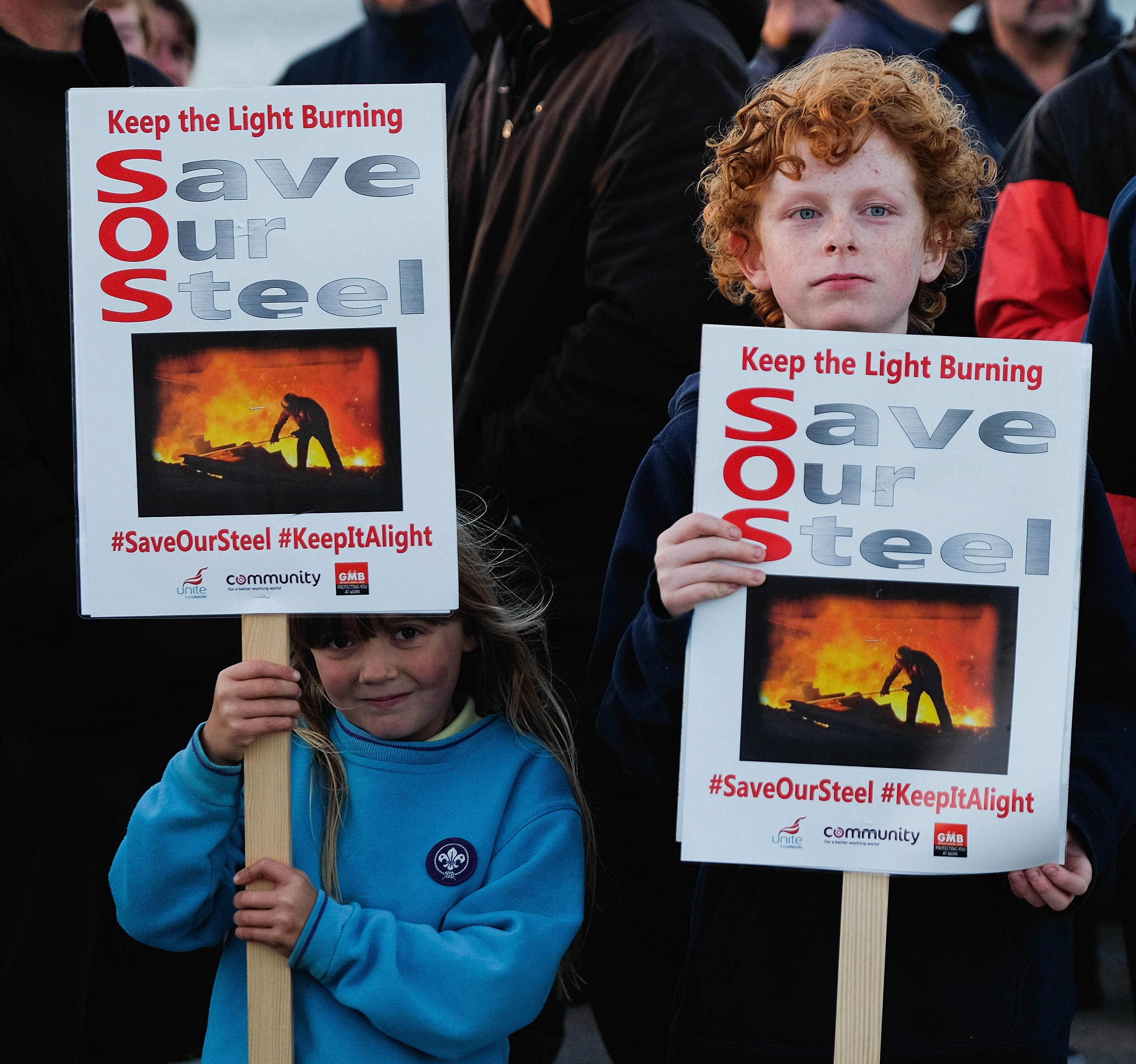 The government insists it's helping people retrain and find new work in the town, but the way the closure was handled has led to more attacks on the government and the EU.

Colin Biggs, 56, a lifelong Conservative voter who was laid off after four decades at the steelworks, is having a cigarette outside a pub where many of his former colleagues meet every day. He used to be pro-EU but is now wavering, since he thinks the organisation doesn't understand the needs of heavy industry. "A lot of these other countries in the EU don't have steel industries," he says. "We are a big industrial area and this is all I've known all my life. They've given me training but for what? I'm 56 years old! What would I be competent and be good at? All I know is being a mechanical fitter in a steelworks."
Some in the town who talk of betrayal have never worked at the plant. Kevin Bell, a window cleaner, says his business has been hit by people cutting their spending: "We seem to have been put on the back burner, we've been knocked back. It opens your eyes and makes you think that they're not bothered about the little man on the street. Personally it feels as if we've been betrayed.
"There'll be a lot of people voting Brexit around here."
Darren Barker, 33, echoed the sentiment: "Before the steel it was going downhill, all the shops were shutting. They [the government] just think Teeside is shagged anyway, so what's the point? It's got the worst reputation for the law and people out of work, so they think it's knackered anyway."

Wandering around the town gives an idea of the arguments that will cut through to the general population during the run-up to the referendum. No one loves the EU, most treat it with suspicion, although a few voters provided evidence that the Remain campaign's "Project Fear" is working. One undecided voter, who gave her name as Christine, said she'd read an editorial in the Daily Mail by "an American general" who warned about the security risk of leaving the EU. As a result she was now concerned given "he knows more about this than me" and is leaning towards a Remain vote.
Meanwhile, on the beach Brian Dennis, the councillor and union representative who spoke at Labour conference, is looking forward to a future outside the EU, despite the pleas of his party leader, Jeremy Corbyn. In the meantime he has some advice for the workers of Port Talbot: "Take to the streets, fight all the way, go to Westminster. Make sure the country knows what they're doing to you. I don't think we shouted loud enough on Teesside."