Who am I and what Do I know about supporting Survivors?
My name is Jimanekia Eborn. I am a Queer Media Consultant, Comprehensive Sex Educator, and Sexual Assault & Trauma Expert. I have been working in the field of mental health for over a decade. After I was assaulted in college, it switched over my change in work. I am also the host of Trauma Queen. Where I host conversations with survivors, therapists, partners, educators, and experts. The goal of TQ is to normalize talking about assault and healing for us all. Providing a free resource, each episode will highlight active and productive steps forward for survivors and allies.
Answering the ultimate question: How can we collectively continue to heal?
Why do I care about subscription boxes?
Well, glad you asked. I am a woman that loves options and new experiences. The cool thing about subscription boxes is you get new experiences every box. As well as each time you are learning and growing emotionally as well as mentally. I have partnered with KinkKit, which I am uber excited about. I sat down with one of the co-creators.
Who are you?
My name is Candice Smith and I am an intimate communication expert, sex educator, and the co-founder of the KinkKit.
Why did you create KinkKit the company?
"To put it simply, I felt like I had to. I didn't initially expect to go into sexual wellness; I had stumbled across an Intro to Women's Studies class my Freshman year and ended up majoring in Women, Gender and Sexuality studies at Harvard because I fell in love with the major (to my family's horror). At first, I was attracted to education; I joined Teach for America and taught in the classroom for two years before I founded my own edtech company. Four years later, I left that startup to create our sexual wellness company, Two to Tango, with my romantic partner. The initial ideation spark started as a joke, actually, about an intimate game we had tried and were underwhelmed with ("We could do better than this!"). But the idea germinated for a few months until the advent of the #metoo movement sparked an epiphany within me. We talk about sex ed for teens, but adults need to have healthy sex and intimacy modeled for them as well. Where is the class that covers continued consent in a relationship? How to stop faking orgasms? Sexual shame? How to revive the spark when libido is low? Sex after pregnancy? Distraction during sex? Talking fetishes with your partner? How to speak up for what you want in bed? Negotiating differences in sex drive? Polyamory? Kink? Menopause?
The KinkKit was, and is, a product I could have used for most of my love life. My middle-school "Health" class (a.k.a "Sex Ed") was awkward and uninformative, and my parents were tightlipped about sex education - I never even got "the talk". Growing up, I didn't have a model of any healthy intimate relationships. Like many other young people, I learned about sex from the internet. So, I entered adulthood completely unprepared to handle dating. I struggled to have healthy relationships, and although I majored in Sexuality in college, I lacked the self-awareness and confidence to properly advocate for my own pleasure or sexual agency until my mid-20s. It was only then that I entered a truly healthy relationship, and with that, learned that there are a whole new set of hurdles to maintain and nurture that relationship. This is ultimately why my partner and I founded Two to Tango and the KinkKit: what started as a mission to deepen our own bond became a pleasure-positive mission to help other couples have better intimate communication, better relationships, and better sex!"
Candice is such a well rounded human, that hs been in many different spaces it made me that much more comfortable moving forward.
There are all types of boxes out there from varies companies. Which, the magical part about them is you can find one that may cater to your needs. The reason I choose KinkKit was easy for me though. A friend and fellow educator Dirty Lola, did some work them and said that they were amazing. So I did some research and the next thing I knew I had a phone conversation set with Candice. I told her who I was, which she also did her research. I told her that I wanted to make a survivor kit. And she was SUPER on board.
It was important to me to bring more support for survivors and bringing more attention to sexual assault.
I asked Candice, what does sexual assault awareness mean to her?
"To me, sexual assault awareness is about more than understanding the statistics and prevalence of sexual assault to prevent sexual assault - it is about raising awareness within survivors, as well; about educating and empowering them and those who love them to begin healing and have fulfilling relationships and lives."
Having multiple conversations with her like this, I knew I was working with the right company to create more than just a one time experience. But, the start of a journey to healing.
Why is creating a box SPECIFICALLY for survivors so important?
I asked Candice why was it important for you to create a kit/box for this particular group of individuals (survivors/partners)?
"This Kit theme is intensely personal for me. I have been assaulted multiple times, in high school, in college, and afterward; both in and out of relationships. Because I didn't have the language to advocate for my needs, I continued to carry my trauma into each new dating interaction and relationship for nearly a decade.
After my assault at a bar in my early 20s, I learned how to stand up for my "No" more vocally in social situations, but I continued to struggle with my boundaries in relationships. Because so many people in my life have short fuses, I learned to become an excellent "Bomb Defuser" as a child: I always look to defuse, placate and compromise. In relationships as an adult, that translated to me always saying "Yes", even when I did not mean it and knew I would be hurting myself. I was afraid of hurting my SO's ego; afraid of rejection; afraid to stand up for my own agency and consent.
I wanted to create a Kit for survivors to begin healing with their partners because meeting my partner after I had begun to work on my own healing journey was the catalyst for me to truly start healing. It was revolutionary for me to finally have a healthy relationship; to know I had a safe space to open up and advocate for my needs and limits. It hasn't always been easy, either - we have both had to put in work to stay open and communicate. When he and I began to develop the KinkKit, I already knew that I wanted to create a Kit for survivors and their partners at some point. Meeting Jimanekia was just kismet."
Candice and I both have had different healing journeys. And we share so many commonalities within that this box just makes sense to create and to share with all of you.
Healing Box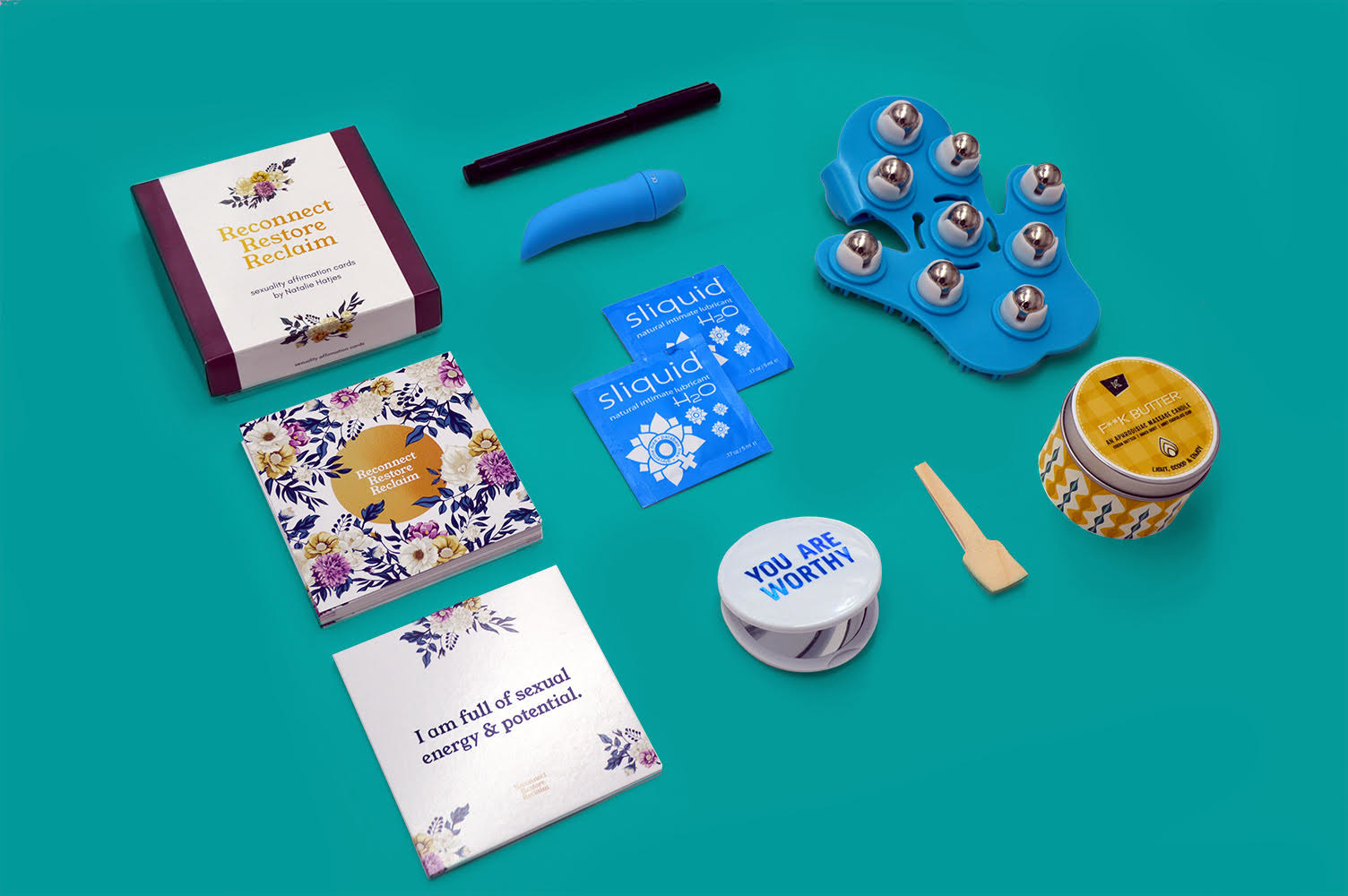 For me being a healer and being someone that workers with survivors. It was really important to be able to curate this box and make sure that it was created in a way that would allow survivors and partners to feel seen, supported, and safe. It is set up in a way that allows for gradual growth and pushing boundaries safely. As well as allows the survivor to control the narrative!
I asked was able to ask Candice what part of the box she was most excited about.
"I love every part of this box, but I am especially excited for the 'Boundary Framework" that gives couples an easy numeric code to check in with each other and see each others' headspace. It allows couples to communicate so much to each other without necessarily having to talk through or explain too much if they are not yet ready (or if they don't yet know how to express themselves). It is a versatile framework that can be used both inside and outside of the bedroom, and if used properly has the power to really become a fundamental part of a couple's communication and how they understand each other and approach both pleasure and conflict. "
Being able to help curate every step of this box was such a beautiful experience. For me, my favorite part is the games, that we have created and activities. I believe that is where healing and connection with communication is.
Some of the Games in the Kit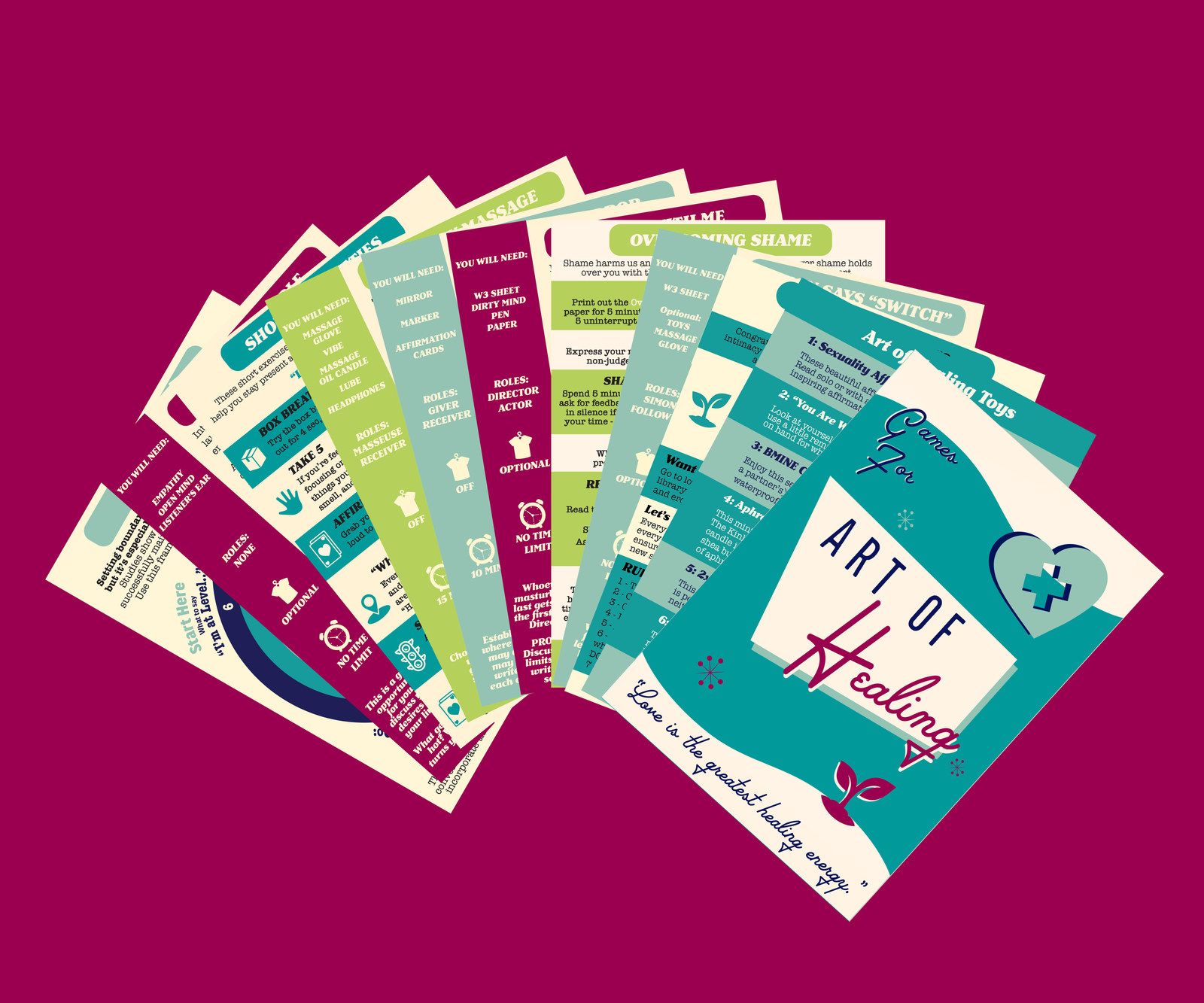 My hope for this box is that survivors are able to elevate their bedroom activities. Expand the connection with themselves so that they are able to ask for the things they want and say no to the things that they do not.
Candice also shared her hopes with me about the box.
"I hope that this box can strengthen survivors' bonds with their partners, that it will give survivors a communication framework to open mutual understanding about their needs, desires, and limits. I hope that survivors will be able to begin or continue their healing journey with their partners. Even if just one sexperience in the whole kit unlocks a new level of intimacy for a couple, or gives them a new way to communicate and understand each other, I will feel like the kit has been successful."
Where can you get this box?