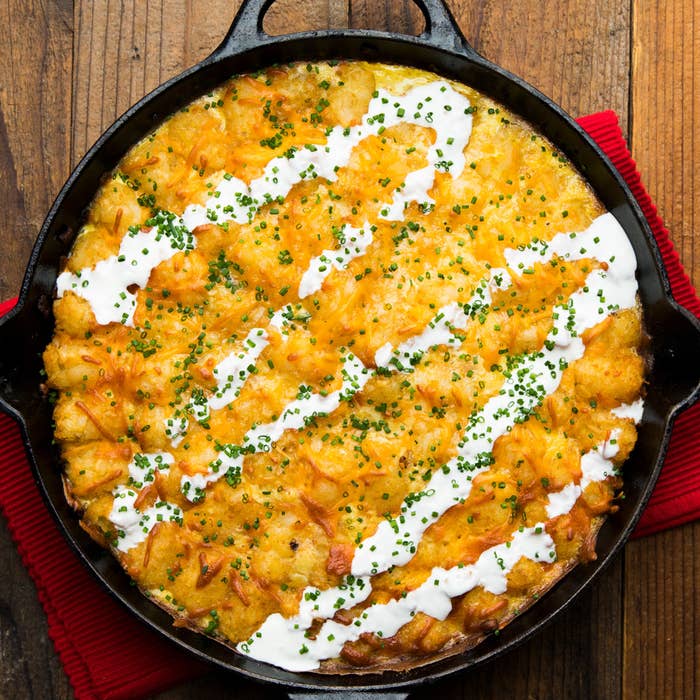 Ingredients:
1 tablespoon olive oil
Half a yellow onion, chopped (about 1 cup)
8 ounces baby bella mushrooms, sliced
21⁄2 teaspoons kosher salt, divided
1⁄2 teaspoon ground pepper
1 package Jimmy Dean Premium Pork Sausage 2 handfuls baby spinach (about 1 cup)
10 eggs
2 tablespoons heavy cream
2 cups (8 ounces) shredded cheddar cheese 11⁄2 pounds (24 ounces) frozen tater-tots Chopped chives, for garnish
1⁄2 cup sour cream
Juice of 1 lemon
Preparation:
1. Preheat oven to 400oF (375oF for convection ovens).
2. Heat olive oil in a 12-inch ovenproof skillet. Add onion, cook, and stir for about 5 minutes until tender. Add mushrooms, 1 teaspoon kosher salt, and pepper. Cook and stir until mushrooms begin to take on color, about 2 minutes.
3. Add sausage and cook over medium-high heat 8–10 minutes or until sausage is thoroughly cooked, stirring frequently. Turn off the heat and fold in baby spinach to wilt.
4. In a medium bowl, whisk together eggs, 11⁄2 teaspoons kosher salt, and heavy cream. Pour mixture over skillet.
5. Sprinkle cheddar cheese evenly over the top, reserving half a cup. Arrange frozen tater-tots in an even layer over the entire skillet. Sprinkle the reserved cheese on top.
6. Place in oven and cook for 40–45 minutes, until eggs are cooked through and tots are crispy. (If tots begin to get too brown before eggs are cooked, cover pan with foil and continue cooking.) Remove from oven.
7. Whisk together sour cream and lemon juice. Drizzle over skillet. Garnish with chopped chives and serve!