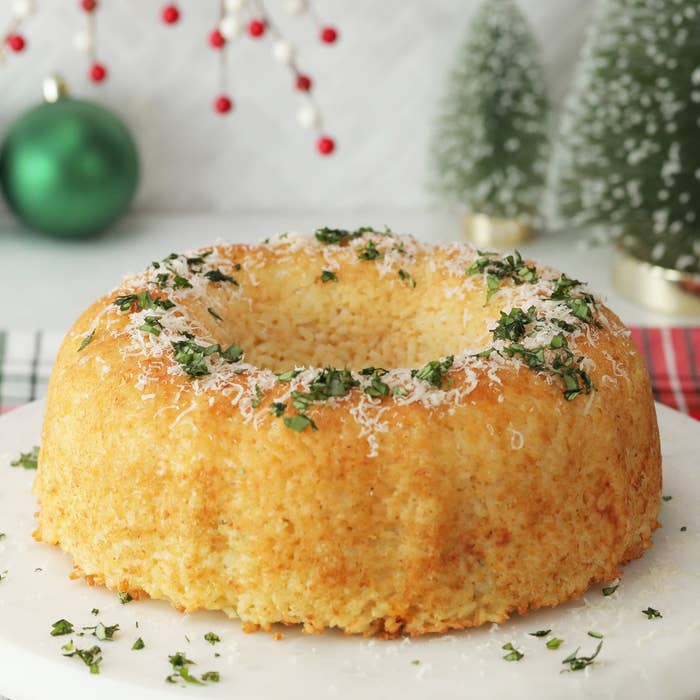 INGREDIENTS
Rice
4 cups arborio rice
5 cups chicken broth
3 eggs
1 cup (4 ounces) grated Parmesan cheese
½ teaspoon salt
2 tablespoons dry breadcrumbs
1 tablespoon butter, softened
Filling
1 package Jimmy Dean Regular Pork Sausage Roll
1 onion, chopped
4 garlic cloves, minced
1 can (28 ounces) diced tomatoes
½ teaspoon salt
½ teaspoon pepper
8 ounces fresh mozzarella, cut into ½-inch cubes
2 tablespoons chopped fresh basil
PREPARATION:
1. Preheat oven to 375ºF. Grease bottom and sides of bundt pan with butter. Set aside.
2. Rice: Place arborio rice and chicken broth in a large pot. Bring to a boil. Cover, reduce heat, and simmer for 15 minutes. Transfer rice to a bowl and cool slightly (about 10 minutes). Mix in eggs, Parmesan cheese, and salt.
3. Filling: Cook sausage, onion, and garlic in a large skillet over medium-high heat for 8–10 minutes or until cooked through, stirring frequently. Stir in diced tomatoes, salt, and pepper. Cook and stir for 10 minutes. Strain off liquid. Stir in fresh mozzarella and basil.
4. Sprinkle breadcrumbs into bottom and sides of buttered bundt pan, shaking off any excess. Press half of the rice firmly into the bottom and sides of the pan. Top with sausage filling. Press remaining rice firmly over sausage to cover completely. There may be a small amount of rice left over.
5. Bake for 30–35 minutes or until edges are lightly browned. Remove from oven and let cool for 10 minutes.
6. Carefully flip rice mold onto serving platter. Garnish with additional Parmesan cheese and basil, if desired.