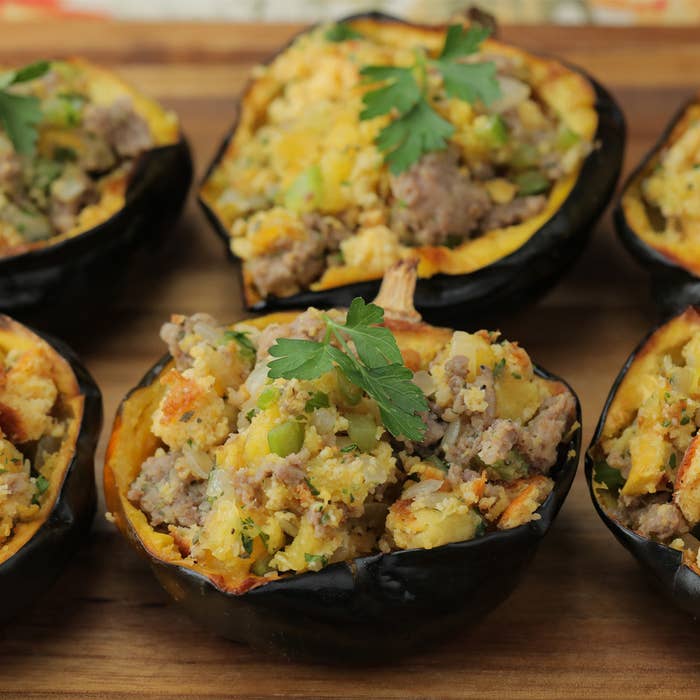 INGREDIENTS:
Squash
3 acorn squash, cut lengthwise in half, seeded
Olive oil
Salt
Filling
1 package Jimmy Dean All Natural or Sage Pork Sausage
1 medium onion, chopped
4 stalks celery, chopped
1 teaspoon chopped fresh thyme leaves
1 tablespoon chopped fresh sage leaves
½ teaspoon salt
½ teaspoon ground black pepper
1 package (8.5 ounces) cornbread mix, baked according to package instructions, cooled, and
broken into 2-inch pieces (2 cups of baked cornbread)
⅓ cup chopped parsley
PREPARATION:
1. Preheat oven to 400ºF.
2. Squash: Place squash cut-side up on a baking sheet. Rub squash with olive oil and sprinkle with salt. Bake for 45 minutes, or until tender. Cool. Scoop out centers, leaving ¼-inch shell. Chop squash.
3. Filling: Cook sausage, onion, celery, thyme, and sage in a large skillet over medium-high heat, 8–10 minutes, or until cooked through, stirring frequently. Transfer to a large bowl. Add in cornbread, squash, salt, pepper, and parsley, mixing lightly until combined.
4. Scoop stuffing mixture into squash bowls. Bake in oven for 5–10 minutes, until hot. Garnish with additional herbs, if desired.