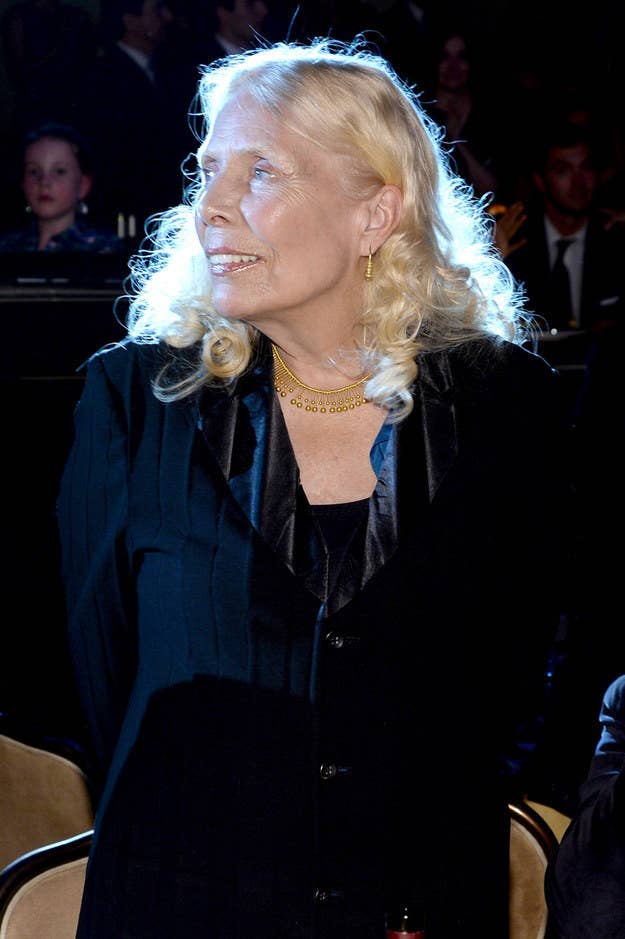 A friend of Joni Mitchell is seeking conservatorship of the legendary singer who continues to recuperate at a Los Angeles hospital.
According to documents filed Tuesday by Leslie Morris — a self-described long-time friend of Mitchell's — the "Big Yellow Taxi" singer cannot make decisions for herself, the AP reported. Morris is now asking a judge to make her Mitchell's conservator.
The court documents cite a doctor who described Mitchell as unable to make court appearances for as long as six months.
In a statement to BuzzFeed News Tuesday, a representative for Mitchell, Allisse Kingsley, acknowledged that Morriss was seeking the authority to make care decisions for the singer upon being discharged from the hospital. But Kingsley rebuffed earlier reports by TMZ and other outlets that Mitchell's health was failing, or that she was in a coma.
"Contrary to rumors circulating on the internet today, Joni is not in a coma," Kingsley said. "Joni is still in the hospital — but she comprehends, she's alert, and she has her full sense. A full recovery is expected."
JoniMitchell.com — which purports to be the singer's "official" site that acknowledges having "no 'direct line' to Joni" — also refuted the reports in a message posted on Tuesday.
Mitchell was hospitalized March 31 after collapsing at her Los Angeles home.

"As we all know, Joni is a strong-willed woman and is nowhere near giving up the fight," Kingsley added. "Please continue to keep Joni in your thoughts."
Mitchell rose to fame during the Woodstock era.
Originally hailing from western Canada, Mitchell eventually moved to the U.S. and ultimately settled in L.A. In 1970, she wrote "Woodstock" about the eponymous festival that took place a year earlier. She is perhaps best remembered for "Big Yellow Taxi."