ESPN Columnist Bill Simmons Suspended After Slamming NFL Commissioner Roger Goodell
In expletive-laced comments, Simmons called Goodell a liar, then challenged ESPN to censure him.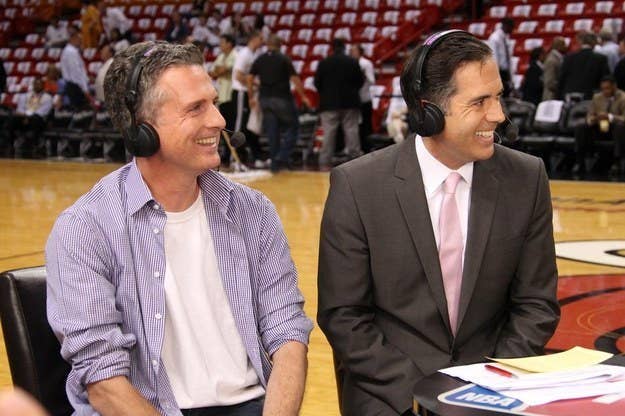 ESPN sports writer Bill Simmons earned a three-week suspension Wednesday for comments he made about NFL Commissioner Roger Goodell.
On his B.S. Report podcast Monday, Simmons repeatedly called Goodell a liar. The comments were in reference to a video showing former Baltimore Ravens running back Ray Rice hitting his then-fiancée in February. Simmons said the NFL knew about the video before it went public, despite Goodell claiming otherwise.
I'm just saying it. He is lying. I think that dude is lying. If you put him up on a lie detector test, that guy would fail. For all these people to pretend they didn't know is such fucking bullshit. It really is — it's such fucking bullshit. And for him to go in that press conference and pretend otherwise, I was so insulted. I really was.
Simmons later challenged ESPN to penalize him, saying he really hoped "somebody calls me or emails me and says I'm in trouble for anything I say about Roger Goodell. Because if one person says that to me, I'm going public."
In response, ESPN suspended him for three weeks:
Every employee must be accountable to ESPN and those engaged in our editorial operations must also operate within ESPN's journalistic standards. We have worked hard to ensure that our recent NFL coverage has met that criteria. Bill Simmons did not meet those obligations in a recent podcast, and as a result we have suspended him for three weeks.
The podcast in which Simmons made the comments was not available Wednesday on Grantland's website.
Simmons' suspension applies to all mediums, according to Sports Illustrated writer Richard Deitsch:
Simmons has consistently been a critic of Goodell in recent weeks.
Earlier this month, Simmons wondered "how the hell" Goodell still had his job. He later wrote that "Goodell is the worst sports commissioner of my lifetime." He has also tweeted critically about Goodell:
Simmons has been suspended before.
In 2009, ESPN suspended Simmons from Twitter for two weeks over a tweet to a Boston radio station. And last year, Simmons was suspended from Twitter again for violating ESPN's social media policy over comments about sports program First Take.