1. Figure out a budget that works for you.
No sane human being enjoys budgeting. I personally would rather eat a bowl of glass shards than sit down and take a good hard look at my debit card purchases. But alas, keeping a tighter rein on your money has tons of benefits. Pick some of your key financial goals and do some research on how to make it happen. An easy way is to get a phone app that links to your bank account and does all the calculating and analyzing for you. It's definitely depressing to get that alert that you've spent $75 on cheese fries this month, but maybe it is time to start making your own cheese fries at home.
2. Donate your old books to the library.
Books can be so hard to part with, but just think of all the other people who will get to discover new favorite novels!
3. Set up a monthly recurring donation to a charity, even if it's just $5.
4. Go to Coachella or another music festival.
After you turn thirty, your enthusiasm for music festivals will go way down. Grab a bunch of your closest friends and embrace the chance to wear your craziest costumes, camp out or stay in a cabin, and put your responsibilities on hold for a week.
5. Have your portrait taken.
Whether you get a professional photographer to style and snap you or just have a friend take some artsy candids for social media, you'll capture a slice of your life that you'll have forever.
6. Ask your grandparents what they were doing when they were your age.
Were they already married with three kids? Working at a factory or in medical school? Serving in the army?
7. Memorize one of your favorite poems.
You can recite it at a special event such as a friend's birthday, or keep it to yourself as a special memento.
In 2007 I bought some clumsy oversized knitting needles and cheap acrylic yarn and taught myself how to knit as a way to relieve the constant stress of being in graduate school. After a long day of studying and writing papers I would come home to my tiny apartment in Connecticut, plop down on the couch with my needles, and not think about anything besides moving my hands. The end product? A lopsided, scratchy scarf that was much too short. But the outcome didn't much matter for me; it was all about the soothing relief of powering down my brain for an hour and focusing on nothing but rote stitch after rote stitch. If you do get really good at knitting, you can make homemade gifts for everyone on your holiday list, but it's also okay to savor a relaxing hobby that's just for you.
9. Give a gift someone will remember forever.
Write down ten (or more!) things you love about your loved one on colorful pieces of paper, put them in a mason jar, and garnish with a ribbon.
If you know that you were born without green thumbs (I'm with you), try a cactus or an air plant. You can also check out low-maintenance potted plants such as the pothos or the snake plant. And if those do fail, there's always fake greenery.
11. Host a fund-raiser for a cause you believe in.
This can be anything, from something small, like a bake sale, to something big, like a gala.
Whether it's someone in your career field, or someone you just admire, seek out an individual through your company or social events who can offer guidance.
13. Learn a new language in your spare time.
Got five minutes to spare while waiting in line at Walgreens? That's enough time to learn how to say "How much does this shampoo cost?" in Italian using an app such as Duolingo or Memrise.
14. Do a state park road trip.
Grab your driving buddy and hit the pavement to see some of America's most spectacular sites, whether you're into red rocks or really tall trees. Depending on how much time you have, you can see two parks in one trip, such as Yellowstone and Arches, Yosemite and Big Sur, or Joshua Tree and the Grand Canyon.
15. Get a really, really comfy pair of shoes.
The older you get, the more you'll appreciate function over fashion—and a shoe with a nice cloud-like sole over a trendier shoe that pinches your toes.
16. Become a regular somewhere.
You'll probably move at some point in your twenties, and moving to a new city is tough. I've learned that one tiny way to feel more at home is to make the same place a routine stop, whether it's a café, a drugstore, or a wine bar. It feels warm and fuzzy when the barista sees you coming and has your drink ready to go for you, or when you can vent to your favorite bartender about your difficult day. You'll eventually meet your fellow regulars, too, and maybe develop a new, exciting friend circle outside of work.
17. Develop a go-to cheap and easy dinner recipe.
You come home from a long workday, exhausted but ravenous, and open the refrigerator. What are you cooking? My personal favorites include pasta with broccoli and lemon zest and a quinoa vegetable bowl.
18. Use the FORD acronym.
Stuck not knowing anyone at a party or wedding? Here's an easy guide to making (gulp) small talk with strangers:
F: Family—Ask them about their parents, siblings, or close friends.
O: Occupation—Ask them what do they do for a living. What's their commute like? How long have they worked there?
R: Recreation—Ask about their hobbies, travel plans, exercise routine, or favorite toy from childhood.
D: Dreams—Ask them what they wish they did for a living, or where they would most want go on vacation.
19. Stop putting pressure on yourself to be an early success.
Did you know that Julia Child worked in advertising before writing her first cookbook at age fifty? Or that Jon Hamm was thirty-six when he was finally cast in his breakout role on Mad Men? The world of fame may seem like it's populated with people who are barely pushing twenty-three, but resist the pressure to have it all figured out and to be on top of your game in your twenties: the best may be yet to come. ●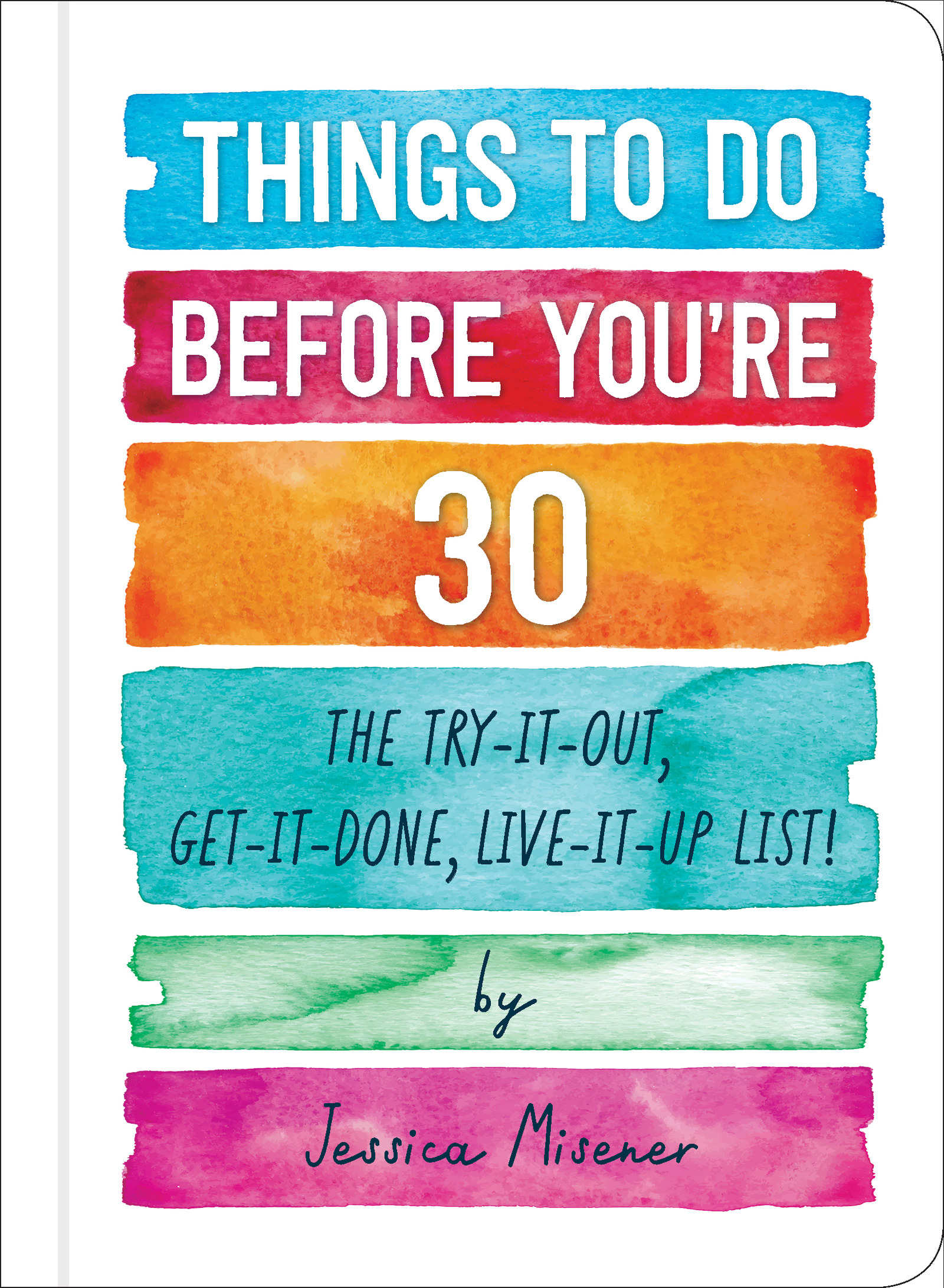 Excerpted from Things to Do Before You're 30: The Try-It-Out, Get-It-Done, Live-It-Up List! by Jessica Misener. Copyright © 2018 Adams Media, a division of Simon and Schuster. Used by permission of the publisher. All rights reserved.
Jessica Misener (San Francisco) is the former deputy editorial director of BuzzFeed, whose writing has appeared on Huffington Post, Cosmopolitan, The Atlantic, and more. She's also worked as a T-shirt folder, dry cleaning assistant, grocery store cashier, librarian, and ancient Greek tutor. She lives in San Francisco, where she regularly eats twice her weight in burritos.