Kim Kardashian Gave A "Tech Talk" In San Francisco Last Night
Keeping Up With the Kultural Kommentary.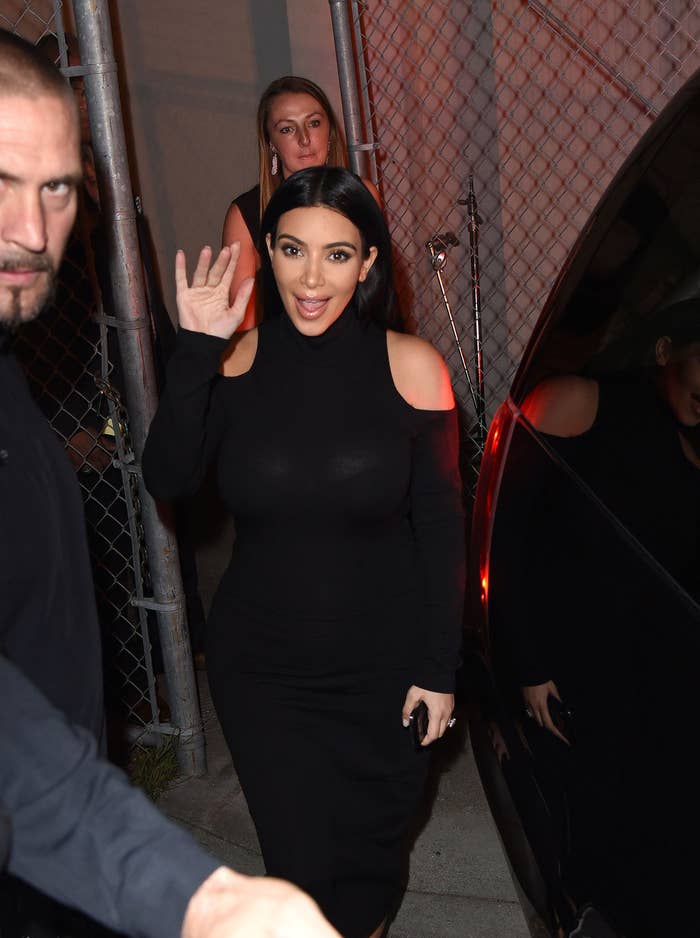 LaDoris Cordell, a retired state judge from Northern California, is onstage, seated in a very Kris Jenner-style white armchair, comparing outfits with Kim Kardashian.
"Jones New York, DSW and LensCrafters," she says, gesturing to her outfit, shoes and eyeglasses. "And now you do the same."
Kardashian smiles. She's petite, dressed in all black.
"Balmain dress, Manolo Blahnik shoes and Spanx."
"I wear pregnancy Spanx," she adds.
Having an opinion about Kim Kardashian is one of the easiest things in the world. Just pick a random card from the constant reshuffling of the internet commentary deck: "Famous for a sex tape!" "Ugh, she's had so much plastic surgery." Or perhaps something from the backlash against the Kardashian backlash: "Kim is a successful businesswoman and let's leave her the hell alone."
Having an opinion about Kim Kardashian giving a talk on the "objectification of women in media," as the event listing reads on the website, is even easier. Is there a sentence could glug cheaper irony?
As expected, then, this week's Kardashian Bay Area appearance has been fraught with intellectual hand-wringing. Kardashian is being hosted by Inforum, a wing of the prestigious Commonwealth Club of California, which has also accommodated the likes of Martin Luther King Jr., Nancy Pelosi and Franklin Delano Roosevelt. "SHAME on you for having hosted half-wit Kim Kardashian instead of some other, much more intelligent and deserving person," writes one person on Commonwealth's Facebook page, amidst others who have angry-typed the same. "Agree with [Kardashian] or disagree with her, we're looking forward to a spirited conversation and a different perspective," Commonwealth posts in response.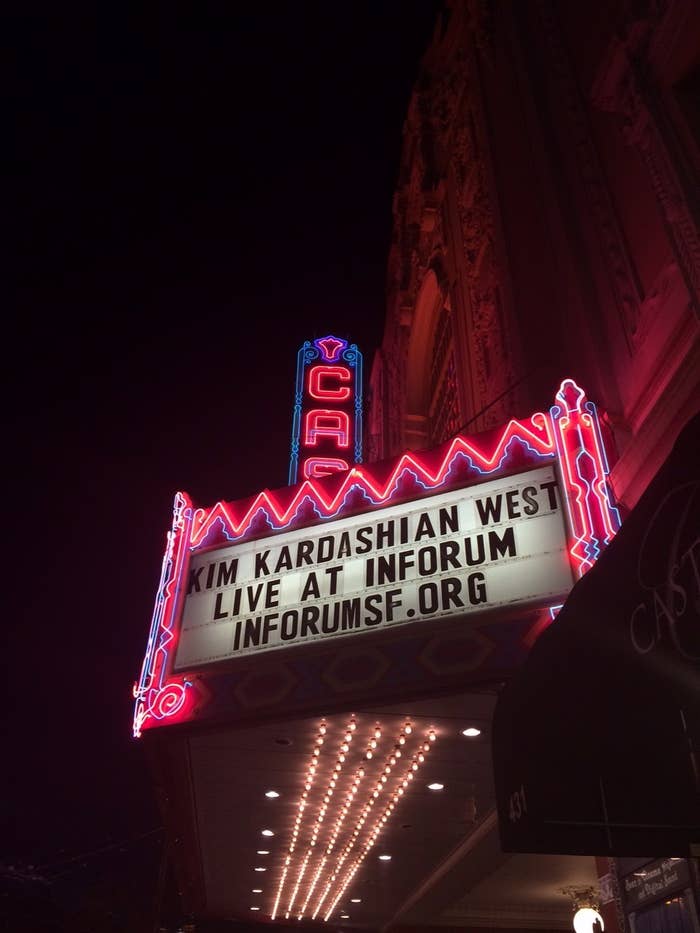 The venue has been moved at the last minute from Oakland to the Castro Theater, which, hardly sold out, is dotted with empty seats all the way to the end of the program. Each seat contains a goodie bag: a Kim Kardashian West tote bag containing a copy of Selfish, Kardashian's new selfie anthology, which at 445 pages feels as hefty as the Oxford English Dictionary.
Cordell, a Stanford graduate and the outgoing San Jose Independent Police Auditor, has been chosen to interview Kardashian on "the Kardashian Jenner clan, the business of millennial culture, and more." Her questions range from the wild success of Kardashian's mobile game to the Supreme Court's recent same-sex marriage ruling. The answers come, in Kardashian's trademark flatline intonation. Like the talking head interviews you see on her E! program, most of them are blandly positive. She speaks in halting sentences.
"The key to a good selfie is lighting."
"I'm so open. I do share a lot on social media."
"My game has brought a feminist audience to the gaming world."
The answers don't really seem to matter. Seeing Kim Kardashian in the flesh, fame incarnate, is what matters. "We love you!" someone shouts. (The crowd "woo"s everything Kardashian says. She mentions Kanye — people woo. She mentions Caitlyn Jenner — people woo. "Get it, girl!!!" a person yells when she mentions Paper magazine, her infamous nude cover that was intended to "break the Internet." Everyone woos a woo of affirmation.)
"KRIS JENNER FOR PRESIDENT!!!" a man shouts. Kim pauses. "I'll tell her, she'll love that," she says.
At times you believe Kardashian is in on the joke, the irony of someone who's made a living of seeming shallowness participating in these more erudite events. She was recently on NPR's quiz program Wait Wait...Don't Tell Me!, which caused public radio fans to revolt in a similar huff. Perhaps Kardashian's strongest asset is her ability to feign ignorance to the punchline. Of the backlash to the Commonwealth event, Kardashian says in an interview with MarketWatch: "It's a voluntary thing you can show up to. So if you're not into it then do something else. Don't show up."
Kardashian is one of the most recognizable and photographed people in the world, and she's gotten there by embracing and embodying all of our opinions on her, good and bad. She says she's been to Haiti three times to help with earthquake relief, then quips when Cordell asks about confronting racism, "My dad was pretty certain when I was a teenager that I was going to end up with a black guy." Buoyed by Kris Jenner's chugging and brilliant public relations engine, her self-promotion strategy is unapologetic: be in the media, as much as possible. She is the Angela Ahrendts of herself.
Part of the undeniable appeal of the Kardashians' show is that they, like us, do nothing. They munch takeout salads. They drive around their suburban town. They sprawl on the couch, glued to their phones. Their lives aren't that different from ours, save that they're texting their friends from queenly Calabasas estates instead of Toyota Camrys and sterile office parks. Under the hot glare of national television, we could be them. We would be them.
Trying to project anything on Kardashian, then, seems futile. She is a blank canvas on which to fling all of our opinions. Is she a feminist because she speaks in simplistic brushstrokes of third wave self-empowerment? Or is she not a feminist, for reasons every anonymous commenter would be happy to convince you of?
"Kim, do you think the media objectifies women?" Cordell asks.
"Absolutely. But I also think that if you have the power… because I think women do themselves. But I think you can take that power and put out there something you want people to look at and that you feel beautiful in."
"Do you promote unhealthy beauty standards?" Cordell tries again. Kardashian launches into a vague, rambling "no," but concludes with what seems like a commercial: "If I'm selling my makeup line or hair care line, I'm giving you the best products at an affordable price."
"Are you a feminist?" Cordell asks. A pause.
"I guess people would call me a feminist, but I don't like to label myself," Kardashian says. "I love supporting women in business and in life."
The woos come, more hesitantly.
It's time for word association, Cordell says.
Givenchy? "Cool. Like, chic."
Beyoncé? "Strong."
Will Hillary Clinton be our first female president? "I think so."
Kim is an irony-free person. When Cordell asks her for an idea that will change the world, and she says gun control, that "maybe my security out front of my house can have guns, but nothing in the house," she sees no tension. When she talks about her Glu mobile game — noting that she "doesn't try to understand coding" but will phone up the developers if they've misrepresented a shoe's detail — you can LOL, but, well, that's probably exactly how it goes down.
After it's all over, we squeeze onto the theater's outdoor back stairwell, watching, waiting. Kim is supposed to be exiting this way.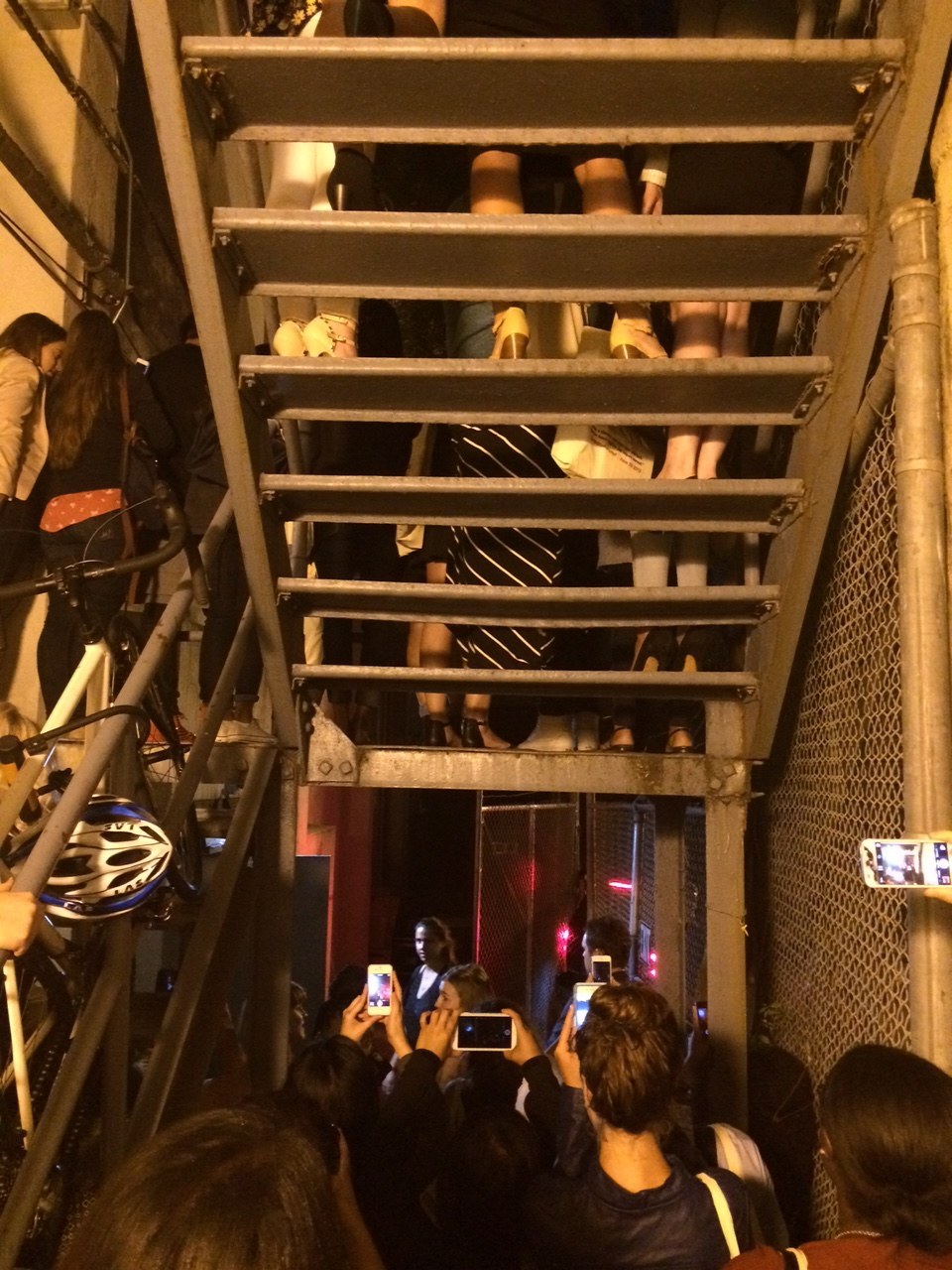 "KIM, I LOVE YOU!!!" a girl screams, but she's trolling. Kim hasn't come out yet. A black SUV carefully backs up to the theater's side door, minimizing the space between Kim and the car, Kim and us, Kim and a dark-tinted semblance of privacy.
A young man and woman who haven't been to the event see the crowd and walk up to the stairs from outside.
"She talked about tech??" the woman asks the man.
"Yeah, she has a video game," he says.
"She has a video game??" she says, incredulous.
"Yeah." He pauses.
"Dude, I want to go to a tech talk with Kim Kardashian."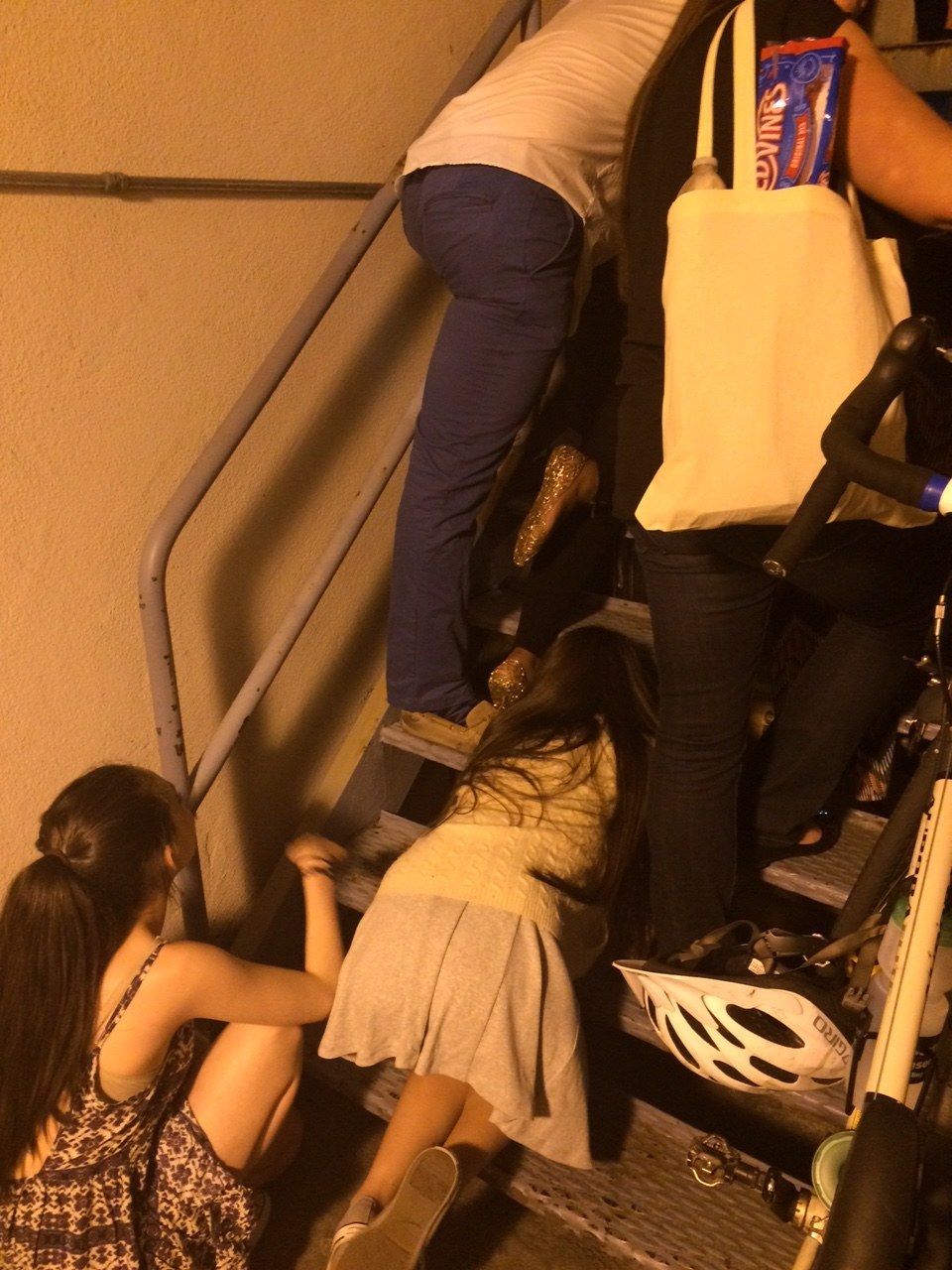 Suddenly, actual squeals erupt. "KIM!!!!!" A tiny figure is swept up out and into the car, a maneuver of expert orchestration. The crowd of fans immediately bolts from the staircase. They know what to do.
A brief minute later, the Kardashian SUV inches out into traffic onto Castro Street. Fans snake after it. People start taking selfies with the car. If you get close enough to the vehicle, you can a shadowy silhouette of Kim through the tinted window, offering us all an anodyne wave. Then as soon as the car turns onto Market Street, the crowd vanishes into the night, their night's confetti pop of fame come and gone.