Chocolate Pretzel Crust Pie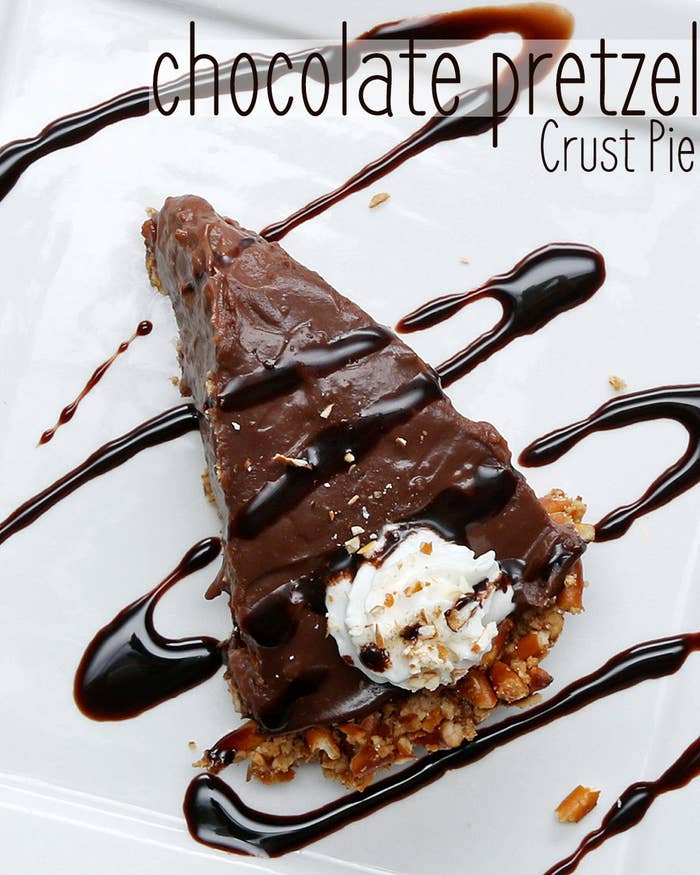 INGREDIENTS
Servings: 8
For the pretzel crust:
5 cups crushed pretzels
1 stick (8 tablespoons) melted butter
⅓ cup brown sugar
For the chocolate pie filling:
¼ cup cornstarch
1 ½ cups sugar
¼ teaspoon salt
4 egg yolks
3 cups milk
7 ounces bittersweet chocolate, chopped
2 teaspoons vanilla extract
2 tablespoons butter
2 tablespoons lemon juice
PREPARATION
1. Preheat oven to 350˚F/175˚C.
2. Combine pretzels, butter, and brown sugar. Press mixture into pie pan.
3. Bake for 10 minutes or until golden.
4. Let cool to room temperature.
5. Whisk cornstarch, sugar, and salt in a medium saucepan.
6. Mix in egg yolks and milk, and heat mixture at medium heat.
7. Gently mix for about 6 minutes or until the mixture thickens like a pudding.
8. Once thick, take the mixture off the heat and immediately add your chocolate, vanilla, butter, and lemon juice.
9. Mix until ingredients are incorporated into a smooth pudding texture.
10. Pour filling into the cooled crust and smooth with a spatula as desired. (Any extra filling can be saved in cups and eaten immediately, or chilled for pudding cups.)
11. Let the pie chill in the fridge uncovered for at least 4 hours.
12. Enjoy!
Want BuzzFeed Tasty right in your inbox? Sign up for our newsletter!