1.
A silicone finger puppet toothbrush so you can efficiently and effectively brush your baby's teeth while also soothing sore gums. Bonus, they are dishwasher safe for easy cleaning!
Check out a TikTok of these cute toothbrushes in action. 

Promising review: "I don't usually write reviews, but this has been a game changer for us! I have a 13-month-old who hates having her teeth brushed (we tried EVERYTHING before getting this). We've only had it for two days, and there have been no tears since getting it! I let her brush with her regular toothbrush and then follow up with this. She loves it!" —Tyler Parsons
Get it from Amazon for $9.95 (available in four colors). 
2.
A grape cutter that will save you from having to chase all the random grapes that fly off the cutting board when you are just trying to cut them small enough for your kid to safely eat.
Check out a TikTok of a mom quickly quartering grapes.
Promising reviews: "Yes. TikTok made me buy it. It's awesome In my opinion. I use it for my fruit salads and my son's snacks. It's helpful, and I think it saves a bit of time." —Amanda
"We bought this little gadget with low expectations and fully anticipated using it two times before throwing it in our kitchen drawer where it would inevitably sit for a year before we threw it away. Boy were we wrong. It only took one use before we realized that what we thought would be another useless novelty, was actually a parent's HOLY GRAIL of food preparation. No joke, I literally used it the other day to cut THREE grapes for MYSELF, just for the enjoyment. If your little one enjoys eating grapes, do yourself the unimaginable pleasure of buying this...you wont regret it." —Michael

Get it from Amazon for $11.95.
3.
A pack of Crayola Globbles so your kiddos can finally throw something at the wall because that's its purpose, not because they are full of rage. Or for those that are ~calmer,~ these are also super fun to stretch and squeeze. Plus they won't leave behind any nasty residue for you to deal with.
Check out a TikTok of the globbles in action.
Promising review: "My 15-year-old asked for these after seeing them on TikTok. I got them as a stocking stuffer thinking they'd be tossed aside. Unbelievably he and his 17-year-old brother have spent time lying in the floor, tossing them up to the ceiling, and waiting for them to fall so they can catch them. I never expected them to get this much use. Bonus is they're off their phones and in the family room with us." —Amazon Customer
Get a set of six from Amazon for $8.45+ (also available in 16 count).
4.
A Tushbaby hip carrier designed to make holding your mini me SO much easier. Not only will this provide a comfortable seat for your kiddo, it will help reduce back, arm, and shoulder strain for you. Wins all around!

Check out a TikTok of the Tushbaby in action. 

It's recommended for children between 8 and 45 pounds and can be used in four different holding positions — feeding/breastfeeding, side carrying, front facing, and face-to-face. Learn more about how to prevent back pain while carrying your child in this article from the American Academy of Orthopaedic Surgeons. 
Promising review: "This has been one of MANY items I have purchased thanks to TikTok, and I'm glad I did. Super easy to use, easy to adjust, and most importantly it helps with support tremendously. It comes with pockets and a place to hold bottles/sippy cups, which can be very handy. My 8-month-old weights around 30–35lbs, and he's basically attached to me 24/7, carrying all day was killing my back and arms! Thank God for this invention, my arms and back can rest." —Jennifer Calle
Get it from Amazon for $84.99+ (available in four colors).
5.
A foldable indoor slide that quickly POPS 💥 open so when your kid is screaming that they are bored you can make sure they are entertained (and hopefully a little tuckered out) in seconds. Plus when they are finally done running around, you can fold it up for easy storage.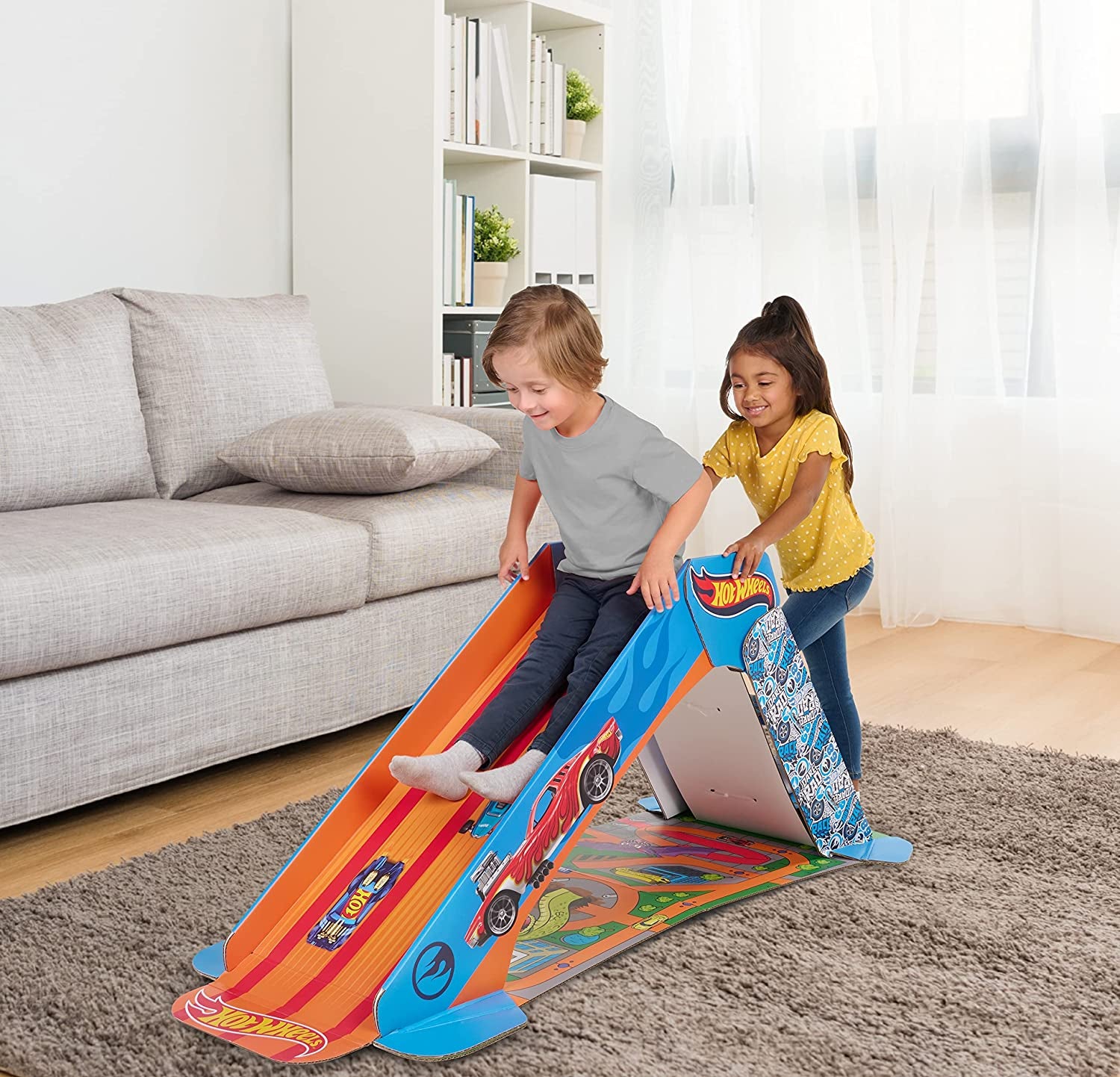 Check out a TikTok of this slide in action. 
Promising review: "I got this for my 2-year-old daughter's birthday and she LOVES it. She is a little nervous on the playground and she took to this right away. It folds down easily and sets up easily — the design is brilliant. It was actually so easy that I watched the 30 second set up video just to be sure I got it right lol. My 8-year-old son got on it too and it held up. We live in an apartment so this is something that she can climb on safely without taking up a ton of space. Love this product!!" —jenna

Get it from Amazon for $28.99+ (available in three designs).
6.
A travel urinal to finally put an end to those potty disasters that always seem to happen at the most inconvenient times while driving aka when you just passed the last rest stop for the next 40 miles.
Check out a TikTok showing the features of the travel urinal. 
Promising review: "My son goes to the bathroom often and after several accidents in the car I decided to have a back up. I thought it was cute and perfect for my son. Tried it the very next day after receiving it. It was a coincidence and I was glad I had it in the car! He used it no problem, and it's spill proof, it has a funnel type lid under the top lid which prevents any liquid from spilling out. Once you lock the lid you can set it in a cup holder and take it with you to empty it in the nearest bathroom. For cleaning you unscrew the top and drain in the toilet. Then you can rinse it as you would a normal cup, clean and then sanitize. It's very convenient and easy to carry. I personally keep it in the car just in case!" —Yelitza Rodriguez
Get it from Amazon for $9.99+ (available in eight variations).
7.
A snack spinner perfect for tossing in your bag before heading out for the day. The compartments are all completely separate (so no food touches anything else), and the spinning adds a fun factor to encourage your kiddos to try all the different snacks.
Check out a TikTok of the snack spinner in action.
This is top-rack dishwasher safe.
Promising review: "My 2-year-old loves it, he gets excited every time he pushes the button and sees it spin. He spins it, grabs a piece of strawberry, spins it again, grabs a blueberry; keeps him entertained. It's easy to clean and compact for easy on-the-go snacks. Great product!" —Noe G.
Get it from Amazon for $29.95+ (available in three colors).
8.
A kids art frame for any parents of kids who hand them a new piece of artwork about every 30 minutes. This frame allows you to store multiple pages in one frame so you don't have to feel guilty for throwing away another work of art. The frame easily pops open and you can stick the paper in and put the rest behind the elastic straps.

Check out a TikTok of the art frames in action.

Promising review: "Wish I'd known about these with my first kid, or my second. Now I'm on my third and our kitchen was littered with art projects. These were a great solution to clear out the clutter and make my kitchen look less like a kindergarten classroom. The frames store A LOT of art in them and each kid has their own frame and can decide which picture to put on display. Magnetic case makes it easy to open but stays shut when it's supposed to." —probooks627
Get it from Amazon for $20.99+ (available in nine colors and multi-packs).
9.
The Pink Stuff, a ~magical~ all-purpose cleaning paste, so you can effortlessly clean off your child's latest artwork that somehow made its way onto the walls instead of their paper.
Check out a TikTok of the Pink Stuff in action.
Promising review: "This stuff is magic! Found this product on TikTok. I don't think I've ever seen value like I do in this product! Literally use it on EVERYTHING!! Kids and teens have dirt, grime, and grease on their walls? This will make it look like a new paint job. Baseboards need some love? A pea size amount of this makes them look brand new. Need a shoe cleaner? PERFECT for sneakers. I could name a million more uses, but I can ASSURE you this is worth every penny. What's more? You need such LITTLE of this product; it will last a VERY long time. Thank you, TikTok!!!" —Rachel in CLT
Get it from Amazon for $5.97.
10.
A bug bite suction tool, invented by a mom, that removes the irritant from the bug bite to help reduce itching and swelling. Plus it's so easy, even your kiddos can do it!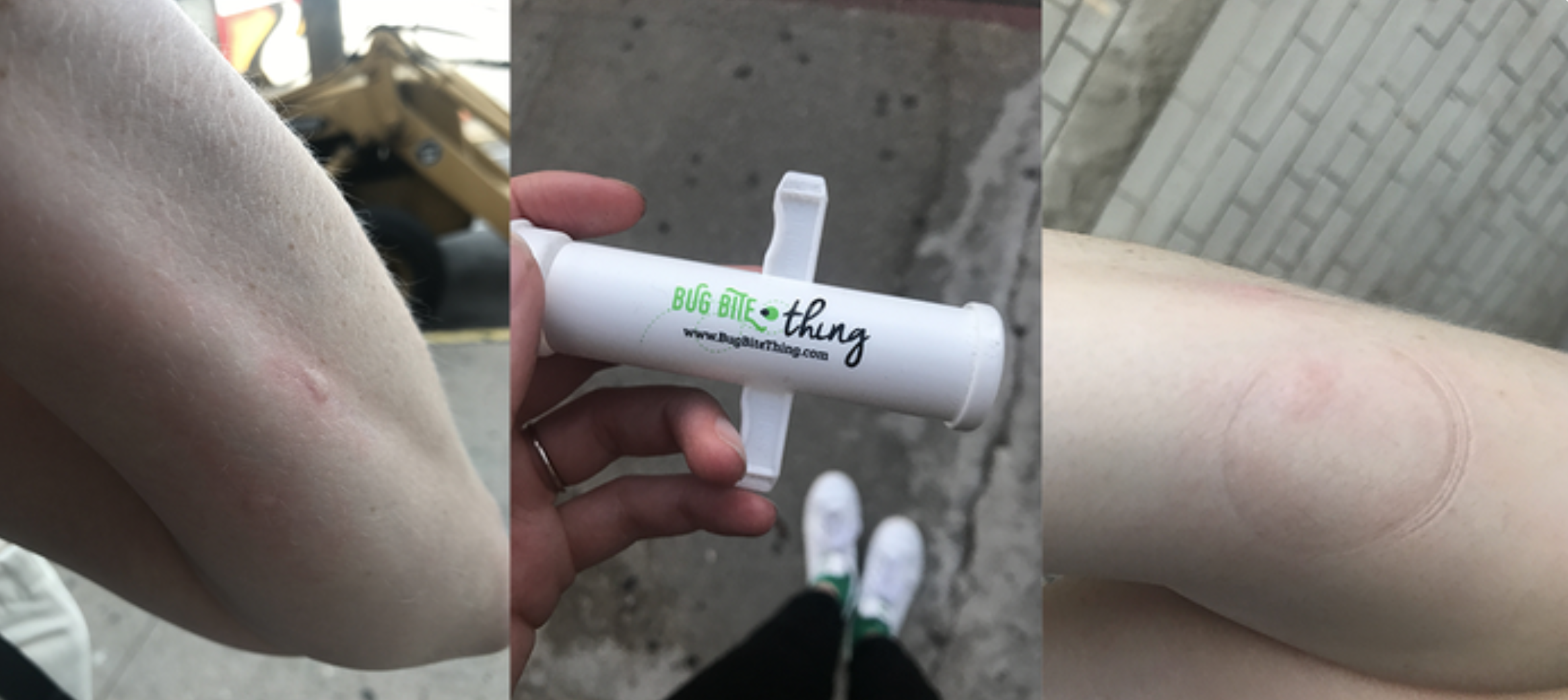 Rebecca O'Connell / BuzzFeed
Check out a TikTok of the Bug Bite Thing in action and how it can be used to remove splinters too!
You may have seen this product featured on Shark Tank! It is chemical-free, reusable, and safe to use on all ages, including children, toddlers and babies. Be sure to use light pressure. If you do it too forcefully, you can leave a mark on your skin!

Promising review: "I saw this product on TikTok and had to get it. I'm super glad I did. My daughter and I always get a ton of mosquito bites, and this helps alleviate the itching as soon as you pull the suction back. It's great." —Rebekka Talley
Get it from Amazon for $9.90+ (available in four colors and multi-packs).
11.
A set of kid-safe plastic knives so your budding chef can ~safely~ help you out in the kitchen. These knives are basically magic — sharp enough to chop, but not sharp enough to slice any fingers. 
Check out a TikTok of the knives in action.
PSA: children should still be supervised while using these knives!
Promising reviews: "My daughter loves these. I saw these on TikTok then ordered them for my little kitchen helper. We cut up all types of veggies with no problem." —Maia
"I've only had these for a couple of days, but already my 4-year-old daughter keeps asking me for things to chop up. They're perfect for the little chef in your life or the kid who want to be a big helper. So far she's easily (and safely) chopped up: lettuce, apples, bananas, strawberries, potatoes, even carrots! I can run my hand along the blade and not cut myself and yet it's designed in a way that you can still chop through veggies and fruits. Another pro is they are super easy to clean and dishwasher safe. They came exactly as pictures for me: in three different sizes and colors, with a slight grip texture on the handle for little hands. They're nice and lightweight as well so it's not cumbersome for younger kids. Love them!" —Abby Roeller

Get a set of three from Amazon for $9.95 (available in two color combinations).
12.
An elephant bath sprayer that is not only adorable but incredibly practical. You can go ahead and throw away the assortment of cups on the edge of your tub that you've been using to rinse shampoo out of your little one's hair. 

Check out a TikTok of the sprayer in action. 
Promising review: "If you have babies or toddlers, this is a must-buy! I saw this on TikTok and decided to try it out. I love this and my kids love this. My kids were so scared for me to rinse their hair and now that we have this they even want to do it themselves! I also just had a baby and she loves it as well! We have had it for a couple of months now and the batteries are still going strong....which if you have kids you know some stuff it feels like you can never get the batteries to last because they are always playing with them. I highly recommend this to every parent!!!" —Amber
Get it from Amazon for $24.99+ (available in six colors). 
13.
A stroller so lightweight and compact that it can literally fit into the overhead bin on a plane (!!) so you can keep it with you for your whole journey. I may not have kids, but I do recognize the struggle of having to worry about it getting damaged coming out at baggage claim. 
Check out a TikTok of the stroller in action. 

It folds up so small that it was awarded a Guinness World Record in 2014 for the most compact stroller. It can hold kids who weigh up to 55 pounds and only weighs 9 1/2 pounds.

Promising review: "The best stroller for traveling! We bought this on a whim for our last-minute trip to Houston. Our toddler is two years old, and what a breeze this was to stroll through the airport, and fold up so it can stow away under our seats on the plane. It is so compact, so easy, and my husband enjoys entertaining everyone and showing them how small it gets. If you have a little jet setter and fly frequently with a little one, I highly recommend!!" —Kimmie Paulo
Get it from Amazon for $159.96+ (available in three styles and two colors).