1.
A packing checklist because space is ~limited~ and you can't afford to accidentally pack 40 pairs of socks and wonder why you don't even have room for one sweater!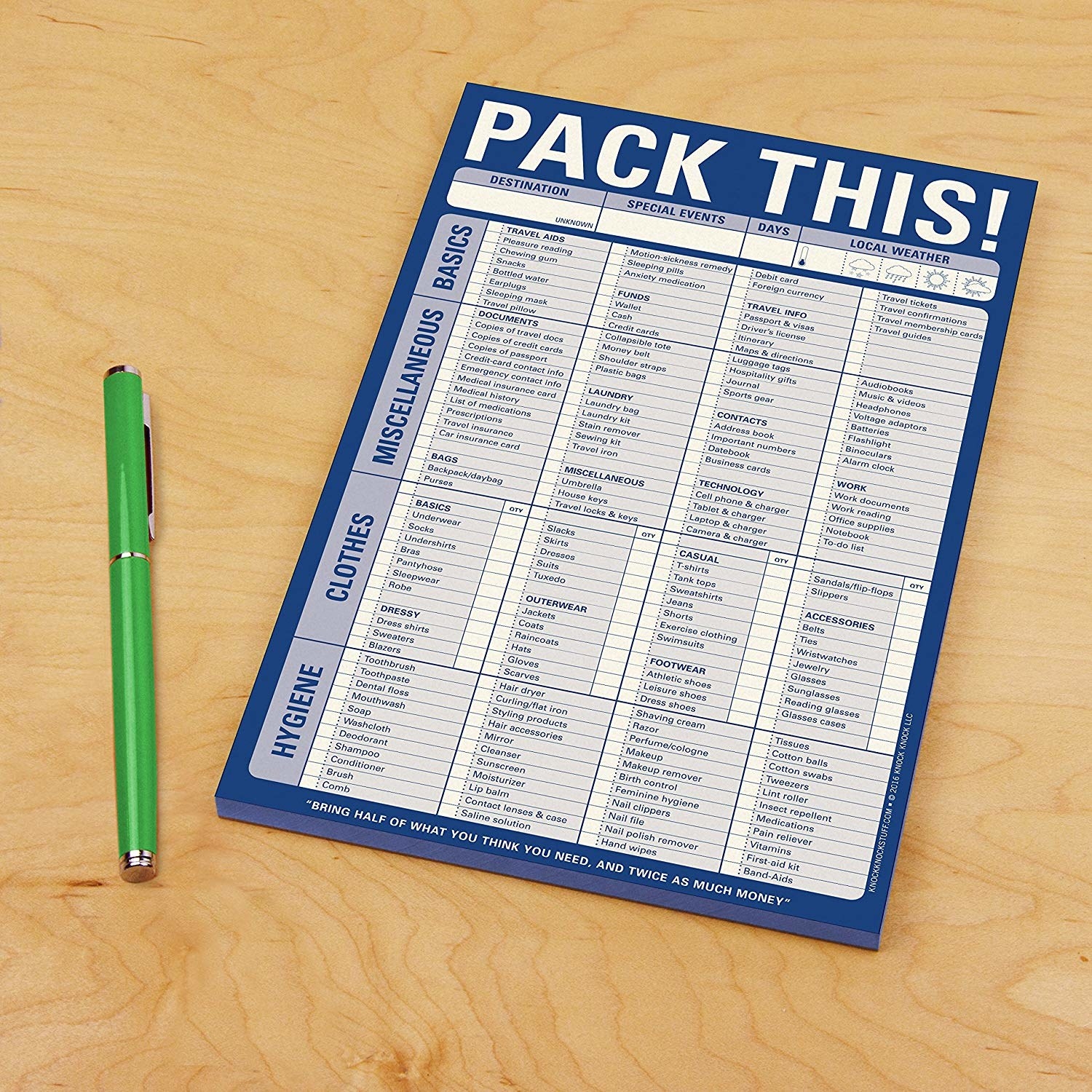 Promising review: "We travel frequently and have two children. As any parent knows, packing for yourself and your children can be overwhelming (especially for trip longer than a few days). I have found this list to be a lifesaver and I also give it as a gift for other traveling families. It is easy to plan, organize, and list out items that are easily forgotten. You can also list the quantity of each item needed. It has a variety of clothing options and space to add more. Overall, wonderful purchase and has likely saved me many forgotten items!" —I-really-bought-this
Get it from Amazon for $7+ (available in three versions).
2.
Away's popular The Carry-On so you can skip the bag check lines while still having enough room for allllll the clothes you want. (It fits 5–7 outfits and has a laundry compartment!) Plus, the TSA-approved lock will make sure no one is able to sneak a peek inside your bag.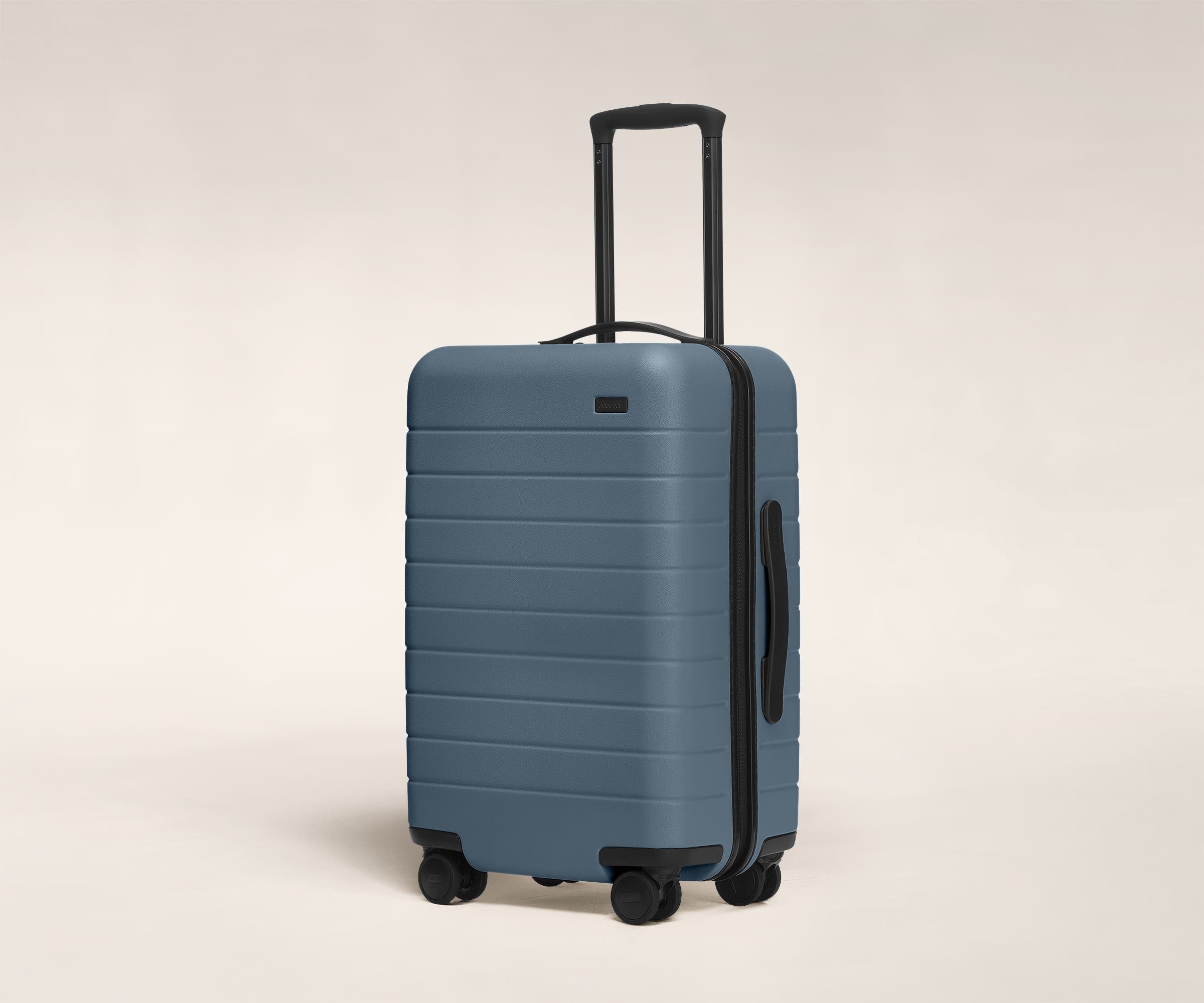 Promising review: "I was in Rome and Florence, Italy for nine days, and the Away Carry-On was just perfect. Stylish and very versatile. It also kept my belongings packed beautifully, plus the perk of a laundry bag for my dirty clothes. Getting through security was a breeze, plus the added compliments of how beautiful it was. You have a customer for life. I was very happy and impressed." —Keith H.
Get it from Away for $275+ (available in nine colors and with optional personalization, for an additional charge). 
3.
Orrrr an expandable suitcase that honestly changes the game. This unassuming lil' guy seems like a regular suitcase from the outside, but when you open it up, you'll discover fold out shelves so you don't even have to unpack because you can easily live out of your suitcase in a way that seems like you're living out of a closet. 

Promising review: "This suitcase is a closet on wheels! I don't like to fully unpack my clothes at hotels so this suitcase with its mini shelves is perfect. I put lingerie and accessories on the shelves when I get to my hotel and leave the clothes in the main section. And one side of the suitcase is fully closeable so I put all of my clean clothes that I didn't wear on that side and leave my dirties on the other. It is the most thoughtful design." —Catherine

Get it from our Goodful shop for $415.
4.
A set of vacuum seal bags perfect for overpackers (guilty 🙋‍♀️) who just cannot seem to narrow down their clothing selection even when the suitcase literally will not close. With these you can easily shrink down your clothes to a more manageable size…so now you can pack even more stuff LOL.
Promising review: "A must-have so you don't have to ask the staff for the vacuum, and the bags are thick and high quality. Highly recommend for traveling saving you a ton of space. Great for at home too but a definite traveling need." —Samantha Garvey
Get them from Amazon for $19.99+ (available in four sizes, a hanging version, and four quantities).
5.
Or a collection of compression packing cubes that can be reused endlessly to not only help you save space in your bag, but to help organize all your clothes into neat sections so you actually know what's in which bag.
BuzzFeed Shopping editor Elizabeth Lilly has these and says, "Just be sure to look up any weight restrictions on carry-on luggage. I recently ran into that problem myself but the person at the airport check-in counter that gave me some trouble about my bag, just seemed to care about my roller carry-on. So I'd suggest using these in a backpack or tote bag you plan to put under the seat." 
Promising review: "My daughter challenged me to travel her way with just a backpack to our recent five-day trip to Portugal. When I found these on Amazon, I thought they were just what I needed. I have cubes, but they don't compress. I was so impressed that I bought a set for my daughter and son-in-law. The large one contains a swimsuit, cover-up, sun shirt, windbreaker, shrug, dress, cardigan, T-shirt, capris, and underwear. My husband's medium bag contains swim trunks, shorts, two shirts, one long-sleeved T-shirt, and two pairs of underwear. The small contains misc. items." —Trish
Get a pack of four from Amazon for $25.99+ (available in three colors and also a pack of eight).
6.
A folding toothbrush with its own protective case so you don't have to get the heebie-jeebies when you open your toiletry bag and realize the cap on your real toothbrush fell off so it's just been marinating with all your other products for the past five hours. Plus it folds to like half the size of a regular toothbrush, and any space saved is a bonus when you're living out of one small bag.
Promising review: "Finally, it appears that I have found a toothbrush for travel that I'm happy with. I have been using my home toothbrush (once I found an effective cover for the head), but its length can be a problem; plus if it gets dropped or contaminated it becomes unusable so for any long trip an extra should be taken. It is difficult to find a folding brush with really soft bristles, but finally I have. Looks good so far. I am using the brush every day for a week or two to see how it holds up." —KG
Get a pack of two from Amazon for $5.99+ (available in two versions).
7.
An expandable dirty laundry bag that will help make sure you don't have to put the sweaty bra and stinky socks in the same compartment as your nice (NOT dirty) sweater. This pack is tiny when zipped up and extends into a full-on laundry bag that can hold up to a week's worth of laundry. And you can easily dump it all into your hamper when you get home.
Promising review: "Omg!!! Let's see, where do I begin? So for starters, I bought this after seeing my mother's. I was getting ready to take a trip and she had just come back from one. She had it sitting on top of her luggage getting ready to put it away. I knew I had to order one for myself. So just a little side note: I ABSOLUTELY HATE FOR MY DIRTY CLOTES TO BE IN THE SAME BAG AS MY CLEAN CLOTHES, ESPECIALLY DIRTY UNDERGARMENTS. I usually have some type of Walmart bag or something for my intimates or I have them wrapped in my dirty clothes in a corner until it's time to pack up to go back home. I'm so glad I found this. It opens up to a large laundry bag so you can put almost your entire wardrobe of dirty laundry in it, depending on how long you're going to be gone. But I definitely believe everyone who travels need this in their bag." —no brainer
Get it from Amazon for $8.28+ (available in 10 versions).
8.
A TSA-approved travel toiletries pack so you can toss that grungy old plastic baggie you've been reusing for the past who knows how many trips. This will easily hold all your toiletries and the silicone bottles make it easy to get every last bit of your product out. 

This set includes a high quality plastic bag, four bottles (two different sizes), four jars (two different sizes), two spray bottles, two product spoons, one funnel, one cleaning brush, and one page of labels.
Before buying this I had just a hodgepodge of random travel size products and a bag that didn't really fit any of it. I wanted to find a cohesive set, all of which actually had a place to go. Enter this guy. Not only is it all matching, but the variety of bottles, jars, and spray bottles is super convenient for all kinds of different products. The labels are also really helpful for making sure you don't end up conditioning your hair with body wash. The bottles are incredibly easy to fill because the openings are super wide and you can easily pour directly from the full size bottle.
Promising review: "I absolutely love this travel set!! First of all it looks great, clean, classic. Not only does it come with bottles and jars and spray bottles, it also comes with a spoon, a funnel, a cleaning brush and a page of labels. They thought of everything. The larger bottles for shampoo etc, are made of silicone, so you can squeeze the product out. My favorite thing about this set is the size. It fits into luggage so easily." —Funnymom
Get it from Amazon for $12.99+ (available in four colors).
9.
And some extra leakproof travel capsules perfect for getting your necessary beauty products, other liquids, or small items through TSA in a convenient, easy-to-fill, container. Plus, these are magnetic so they will stick together in your bag so you don't have a mini heart attack when you can't find the bottle of your precious face cream.

Cadence is a woman-owned small business specializing in personal care travel solutions. Each mini capsule is created from recycled ocean-bound plastic and is refillable and reusable!
Check them out on TikTok here.
Former BuzzFeed Shopping editor Jasmin Sandal uses these travel capsules and said: "I love my little containers that allow me to downsize but still carry my necessities while I'm traveling. They're not only cute to look at but they're pretty practical. I have used mine to store my vitamins, earrings, face cream and have not run into any issues. They have tight, screw-on tops so you know everything is secure *and* you can customize their labels so you know exactly what's in what. Oh, and the fact that they're magnetic? Genius. This way, they stay tightly together in your case or can be conveniently stored in a makeup bag." 

Promising review: "This is my go-to for all my travel, gym, camping trips. I can keep enough for four to five days of skincare. The best set I've had for carry-on toiletries." —Cadence Customer
Get a set of six from Cadence for $76 (originally $84; available in eight colors and 34 label options).
PS — When you choose your bundle size, each capsule can be a different color and comes with a pre-made label (custom labels are available for an additional charge).
10.
Or, if the thought of transferring your liquids into small bottles is too much, a fully stocked toiletries bag designed to take away at least some of the stress of packing. It comes loaded with everything you may need for your trip — shampoo, conditioner, lotion, deodorant, toothpaste, a toothbrush, flossers, a spare bag, and a styling comb — all in TSA-approved sizes. And when you get home you can just shove the whole bag away since these aren't your at-home products, which means you don't need 'em till your next trip.
Pro tip! A lot of people brought these for their hospital stays to have their kids!
Promising review: "This is amazing!!! Like imagine everything you would need for a short trip and visualize it in front of you. This kit: perfection! Everything you would need! They even supply you with a medium plastic bag to put everything in if you were to go on a plane (since they request you put your toiletries in a see-through plastic bag anyway) this is amazing and I have nothing but nice words to say. This is such a genius idea and it's perfect for any short trip!!! 5 stars!!!" —Alexis 
Get it from Amazon for $9.57+ (available in five versions). 
11.
A cosmetic travel bag to help you keep all your makeup brushes, makeup, and all the other random stuff you brought organized and not randomly scattered throughout your suitcase.
Promising review: "This purchase was so worth it! I had my makeup in three different bags and was able to consolidate everything into this one makeup case. Easy to travel with and great to organize everything. The inserts to separate items were a little strange but I made it work by overlapping them." —Tammy Otarodi

Get it from Amazon for $18.99+ (available in two sizes and two colors).
12.
A Subtl Beauty Stack that'll store five makeup products in one convenient and easy stack. And if you need more, you can create your own version with all the products you want. No more rummaging in your bag for your concealer because they'll all be connected!
This small biz specializes in innovative, on-the-go makeup essentials and is known for its compact and customizable beauty product stacks.
The five-piece set comes with concealer, highlighter, bronzer, lip cheek, and shine control powder.

Promising review: "This is the best makeup kit I have ever experienced! It is the perfect starter kit to build on, with all the right products included. The makeup itself is silky soft, buildable, super easy to apply, and the most portable ever! I am completely in love and fully intend to continue to add to my Stack!!!" –Tina

Get the Starter Stack from Subtl Beauty for $60 (originally $70; available in 19 tones), or customize your own stack starting at $12+ per layer.