1.
A baseboard cleaner so you don't have to get on your hands and knees and crawl all over your house in order to clean those pesky baseboards. Now you can just quickly swipe over them, making a horribly time-consuming chore much more manageable. 

Promising review: "We have A LOT of white woodwork in our 3,300 sq. ft house...baseboards, crown molding, columns, elaborate trim around windows. The stuff is everywhere! And it was all dusty! I did not relish the idea of getting down on my hands & arthritic knees to clean all this woodwork. Enter the Baseboard Buddy! It works wonderfully on all the woodwork...not just the baseboards. I stopped periodically to clean the pad with a damp rag and then removed and washed the pad in hot soapy water when I was done. I had no problems with the cleaning head rotating unless I moved it. The long pole made it easy to clean at the top of tall windows. My baseboards and other woodwork looks like new again. Highly recommended!" —Lily of the valley
Get it from Amazon for $24.99.

2.
A miracle carpet cleaning solution you can put into the carpet cleaner machine you already own to quickly and easily get up those stains that have been haunting you like the ghost of Christmas past. This stuff is all natural, so you don't have to worry about any harsh chemicals making your kids or pets sick.

Sunny & Honey is a family-run small business that specializes in cleaning products, specifically in homes with pets. This miracle carpet cleaner is certified cruelty-free and Sunny & Honey donates 10% of all profits to animals in need!

Promising review: "I have a dog and two young boys, and I'm constantly cleaning the rug and sofa. I have tried other name-brand cleaning solutions, vinegar solutions, Resolve, and nothing works as well as this. All the other ones have a weird smell that almost just mixes with the bad smells and makes it worse. This has a very clean and fresh scent and actually removes the odors!!!! Works well on carpet, rugs, and sofa upholstery. I use it in my upright carpet cleaner and small portable carpet cleaner. The best!" —momj
Get it from Amazon for $19.99+ (available in two sizes).
3.
Or if you don't have a carpet cleaning machine, a stain and odor eliminator to clean up those tough messes you've already used sooo many products on. Not only will this stuff get rid of the stain after just a few sprays, but it will get rid of the smell…pet stains can be STANKY, iykyk. 

Rocco & Roxie Supply Co. is a family-owned small business named after the family's pets Rocco, a Labradoodle, and Roxie, a former shelter tabby cat. They make a variety of pet supplies, including cleaners, treats, grooming tools, accessories, and toys.
Promising review: "I have an elderly dog who has occasional accidents and a cat with chronic bladder issues. Without this product, I'm pretty sure I would've burned down the house. On fresh accidents, it works with just one treatment. It removes the stains, and more importantly, it completely removes the odors. On older, setting stains, it completely removes stains and odors after several repeat treatments. I've tried so many products over the years. Hands-down, this is the best." —SR Kelly
Get it from Amazon for $19.97+ (available in two sizes).

4.
Bottle-cleaning tablets so your emotional support water bottle you've been using for the past year (without washing…) can be restored back to its freshly purchased state that is *actually* safe to drink out of. Even better, all you have to do is drop in a tab, let it sit, and rinse it out.
Promising review: "I admit I was skeptical that this would work on my deeply coffee stained, stainless steel coffee tumblers. Usually I have to boil hot water and use vinegar and dishwashing liquid in them and let them sit overnight to get them clean. So I was definitely skeptical how one small tablet with warm water for 20 minutes was going to get them sparkling. The truth of the matter is...it actually did a killer job! I popped one tablet in the bottom of each clean tumbler. Then, I added hot water that I had boiled on the stove (as an added benefit) and left them uncovered for 20 mins. Halfway through I stirred the water with a bottle brush and then let it sit for the remaining time. Before rinsing them out, I used a bottle brush again and then rinsed. OMG! SPARKLING LIKE NEW!!! SIMPLE, FAST & EASY. I HIGHLY RECOMMEND!" —Bliss Om
Get a pack of 12 tablets from Amazon for $8 (also available in 36- or 78-pack).
5.
A Eufy robot vacuum because what's better than being able to clean quickly? Not having to clean at all!! This vacuum will do all the work for you so you won't miss a second of your movie marathon.

I ~hate~ vacuuming. It is very possibly my least favorite chore, so when it came time to make my wedding registry, this was one of the items I KNEW I needed to include. It makes my life soo much easier. We have two cats who shed (and tbh I suppose my hair is part of the problem as well) and it is such a hassle to try to keep up with vacuuming when the hair accumulates so quickly. Having this little gadget has been such a time saver. We usually just turn it on when we are leaving the house and it gets to work right away. I live in a three-story townhouse so we typically empty it between each floor since we have to carry it upstairs anyway (still desperately waiting for someone to invent a robot vacuum for stairs), so I can't attest to how much it can collect at once, but we've never had any issues with it handling each floor of our house. 

Promising review: "This is a great tool for a lazy person like me. I've run it every day since I got it a week ago, and it's picking up all the dirt, dust and cat hair I have neglected for ages. I still have to empty the dust collector and clean the filters, but it's nothing compared to having to drag the vacuum cleaner around the house myself! Definitely worth its price!" —Lina L. Y.
Get it from Amazon for $129.99+ (available in black or white).
6.
A foaming garbage disposal cleaner that is SO easy to use. Just throw one down the drain, run some water and the disposal, and watch the blue foam come up, cleaning out all the gunk and grime from all the holiday dinner recipes you've been testing.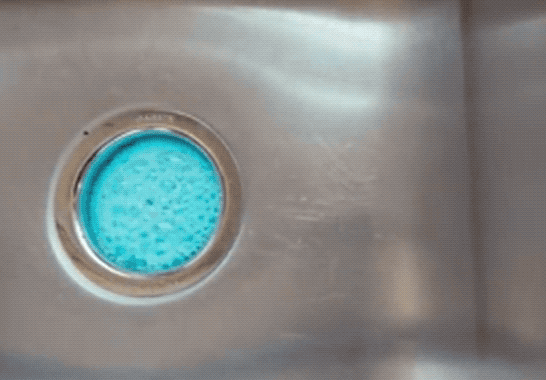 Promising review: "Saw on TikTok (don't judge) and automatically added to cart. So easy to use, takes probably a minute to fully bubble up and clean, and you're left with a clean sink! I use with other drain cleaning products, but would 100% recommend for weekly maintenance." —Jessica Hamilton
Get a four-pack from Amazon for $3.78 (also available in 24-pack).
7.
A container of The Pink Stuff because this slightly abrasive paste is literally amazing and can clean all the dirt and grime off any surface that you couldn't get rid of with any other products (without extra elbow grease!!). 

Trust me, this stuff actually works — whenever I have a stubborn mess that I can't clean with my traditional products, I always reach for this and it has yet to fail me.

Promising review: "My 3-year-old recently decided to channel his inner Van Gogh on our stairwell wall, and red crayon was EVERYWHERE. I tried every possible cleaning solution, and nothing was getting it off. I heard about the Pink Stuff on TikTok and decided it was worth a shot. This stuff is a miracle worker! With a sponge and some elbow grease, I was able to remove all the crayon within 10 minutes." —Casey B.
8.
An oven cleaning spray so when the cheese off of your frozen pizza melts onto the bottom of the oven you don't have to live with it there forever. Simply spray this fume-free cleaner on, come back in a few hours, wipe, and be amazed.

Promising review: "I did the overnight clean, and sprayed it with the baking racks in the oven not thinking too much about it, got up the next morning and looked in and at first was a little disappointed, it didn't look like it had done anything. So I grab my sponge and start to wipe up just the window and holy cow, I couldn't believe how much grease it had removed. I do have to do my oven again because I had left the baking racks in when I sprayed, and I need to get to where those were, but it also did a great job on the baking racks, and you couldn't smell any fumes. Will definitely buy again and recommend it to anyone!" —Jennifer H.

Get it from Amazon for $11.70.

9.
A set of cleaning cups for your Keurig if you're starting to notice a ~funky~ taste in all your drinks after having your Keurig for a long time and never cleaning it. Just pop one of these in and run it like normal, and by the time you're ready for another hot chocolate it will be allllll cleaned.

Simply insert one of these pods like you would a coffee pod and run it on the largest cup setting. Reviewers suggest running one to two additional cycles of just water after the initial one just to make sure all the gunk is fully removed.
Promising review: "I had no idea that little needle would get so darn dirty! I was shocked at what came out of it when I threw one of these babies in. I admit I haven't been great about cleaning my machine out given how much use it gets, but it was still a surprise to see how black the water was, and the amount of sediment when the cycle was done. Coffee taste great! I will use this product regularly from now on." —Isabel
Get them from Amazon for $9.95+ (available in six- or 12- pack).

10.
A ChomChom to remove all the pet hair from pretty much every surface in your house — furniture, upholstery, blankets, clothes — without constantly having to rip off *another* sticky sheet or break out the vacuum. 

Promising review: "I opted to buy the original ChomChom in the hopes of at last having something practical that will help us remove black cat hair from upholstered and carpeted areas of our home. I've used several things over the years, but nothing really worked 'as advertised.' The ChomChom made short, easy work of cat hair removal! No electricity, no big complicated two- or three-part device...just a well designed, efficient roller that gathers up hair as one rolls it back and forth and deposits it in a closed compartment, easy to clear out for dumping into the trash. Now, if someone could explain to me how one small cat can continually produce and shed so much hair, I'm all ears." —Marilee

Get it from Amazon for $31.95.
11.
Or an aesthetically pleasing, reusable lint removal brush so you can quickly remove the fur from the blanket you and your fur baby have been cuddled up with for the past three movies. This lint remover creates no waste and has a comfortable wood handle to make cleaning a breeze.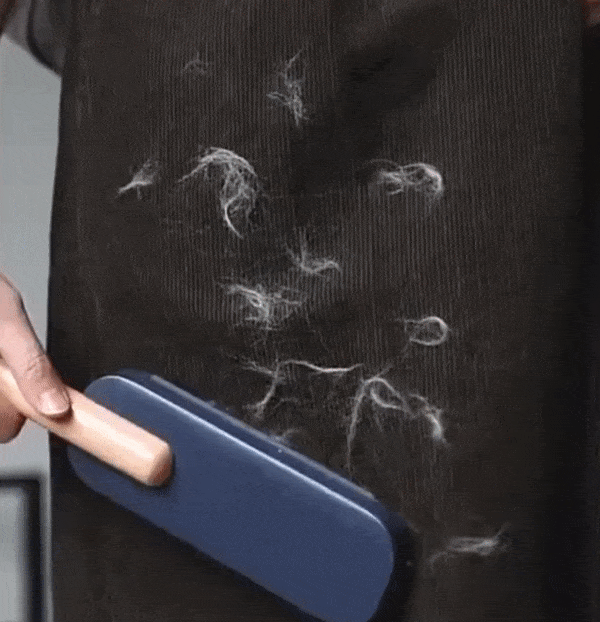 Modern Pets Living is a small business based in Newport Beach, California that combines modern design with traditional pet products.
To use, simply remove the brush from its cover, and brush upwards. Then to get the hair off the brush, insert and remove it from the cover repeatedly. The hair will come off and get stored into the cover, which has a removable base where you pull out the collected hair.
Promising review: "Very excited about this. So nice to be able to get through all the dog hair without either using wasteful, single-use traditional rollers or an all-metal one that would pull up on my rugs. Also, I didn't realize how big it would be, and I was very pleasantly surprised!" —Bree F.
Get it from Modern Pets Living on Etsy for $14.99+ (available in four quantities and three colors).

12.
A shower cleaner that doesn't require scrubbing 😩🙌🏼. Just spray it on and when you wipe it away (8–12 hours later), you will be *shocked* by the results…this may be the best holiday miracle yet. 
Reviewers suggest using this product for a few days in a row if you have extensive buildup. Once you get rid of that, you will only need to use it once weekly as recommended.
Promising review: "Holy cow! The only thing I'm mad about is that I didn't know about it sooner! I have three teenage daughters. My shower sees body oils, creams, hair dye, etc. DAILY. Scrubbing once a week wasn't enough. The girls didn't always remember to use the daily shower spray. This stuff WORKS! I can see the difference after two uses two days in a row. Could see a change on day one. I think one more use will have my tub looking like I scrubbed with bleach for an hour!" —Jon W.
Get it from Amazon for $18.61+ (available in two scents and two sizes).
13.
A pack of dishwasher cleaning pods to clean the nasty you can see, but also the *nasty* you can't see. Just place one where you would put a normal dishwashing pod (no need to get on your hands and knees to try to scrub the back corners), run a cycle, and marvel at the results.

Promising review: "I had so much white scale on my dishes no matter what I did. I even bought a new dishwasher about 18 months ago, which did the same thing. I had to rewash dishes after using the dishwasher from all the scale on it (no matter what I did, it happened). I actually stopped using my dishwasher because it was more trouble than it was worth. I tried one of these tabs with little confidence. The dishes had no scale! None. I have done about a dozen dishwasher cycles since the one time I used the tab, and I still haven't had any scale on my dishes." —gar 3
Get it from Amazon for $8.99.