1.
A Rubbermaid scrubber so you can stop breaking a sweat every time you find a new gross stain, and instead, break out this electric power scrubber that will do all the heavy lifting.

I was recently influenced to purchase one of these, and I can tell you it genuinely works. I wasn't really expecting it to do much, but when I used it in my shower, I could see the water stains getting lifted immediately. The grout cleaner attachment is especially helpful for the awkward corners of my shower that I couldn't seem to reach with any other brushes. It really takes out most of the work and allows you to get a deeper clean without as much elbow grease.
Promising review: "In my kitchen especially, the detailing on my cupboards and floor molding were starting to look like they could grow a garden in them. I saw a review for this tool, took a chance, and just completed two cabinet doors in 20 minutes that would have taken me forever by hand (toothpick, toothbrush, etc.). Love it!!! I learned not to press on it; the circulating bristles don't require any pressure. Just let them do the work. Can't wait to attack the baseboards and feel clean again." —Ms.Mac
Get it from Amazon for $17.38.

2.
A Revlon One-Step dryer that will give you a salon-like blow out in the comfort of your own home. No more juggling a blow-dryer and a hair brush, this tool combines them and will make your life soooo much easier.

P.S. Revlon also has a One-Step Styler specifically for curly hair for only $34.18! It has nearly 40,000 5-star ratings and is just as loved as this original One-Step dryer.

Promising reviews: "This dryer surprised me. I'm a Black female with 4b/c hair. It actually worked really well to dry my hair. The high heat works really well to dry my hair. The bristles are strong and haven't broken. Drying is now as easy as combing my hair." —Love J.
"LOVE this brush dryer. I have thin, fine hair and this dries it quickly with so much body. Hair is smooth, shiny and so soft to touch. I tried it with and without additional products. Didn't notice much difference but still like to use some heat product and root lifting sprays with it. Need to make sure to remove hair from it after each use." —TJLJ
Get it from Amazon for $34.49+ (available in two versions and three colors).

3.
An Apple Watch so you can send messages, make phone calls, track exercise, and so much more, all FROM YOUR WRIST. Plus the ~underrated~ bonus of being able to ping your phone when you've lost it in the couch, again.

Check out a bunch of other versions of the Apple Watch (if you're looking for something a little bit different or maybe you're interested in one with cellular capabilities) here!

Promising review: "I personally have never been disappointed by any Apple products. The watch is no exception. I use it mostly as a backup for my iPhone. I don't miss calls, email, texts or alarms. Since I am often not sure where I left my phone that is very handy. I bought the SE because it was the most reasonable priced. I'm glad I did." —Diane
Get it from Amazon for $239.99+ (available in two screen sizes, two band lengths, and three colors).
4.
And now that you've added another Apple device to your collection, a 3-in-1 charger that lets you charge all your Apple products in one place without having to worry about those ugly cords taking up your whole side table.

**Note: There is not a watch-charging cable included, but there is a place for the round part of the charger to go and a compartment for you to wrap up the cord to eliminate the extra cables. If you need a new watch charger, grab one here.
Promising review: "If you are looking for a 3-in-1 wireless charger, you don't have to look any further. I've had it for a little over a month now, and haven't had any issues. I keep it on my nightstand and charge my devices overnight. I like that you can turn the charging indicator light on and off as well, so sleep interruption isn't a concern for me. I actually pack this in my travel bag and use it in my hotels as well. One feature I really like is the ability for the charger to charge your phone vertically or horizontally. Sometimes I'll turn the phone horizontally and watch videos while the phone charges. This is a great option to charge your phone overnight since it can take a while longer than a corded charger. Overall, I'm happy I purchased this product." —Todd H.
Get it from Amazon for $34.99+ (available in five colors).

5.
The Nori Press, the perfect love child of a standard iron and hair straightener. Now you can get wrinkle-free clothes without worrying about water leakage or burn marks, or trying to figure out how to open up that ironing board you haven't touched in years.
Nori is a woman-owned small business based in Connecticut hoping to make your life easier with this all-in-one travel iron and steamer.
Promising review: "I am not an iron girl, but this product sold me. It is so easy to use. The Nori is portable, so I take it with me everywhere. It has helped me to look sharp at weddings and weekends away. At home, I can refresh my dresses and shirts before starting work and going out. I would highly recommend this product to everyone who might be thinking of a change. No more heavy irons and dry cleaning for me. Thank you Nori!" —Elizabeth M 
Get it from Nori for $120 (available in five colors).
6.
A motion-sensor trash can so you don't have to worry about dropping any food scraps on the floor while you fumble to open the trash. This will smoothly and quietly open with just a wave of your hand.
Promising review: "I know, I know! It's strange to be in love with a trash can, but I am. This thing is just great! Smooth, quiet, sleek — and the semi-round shape and footprint (size) was critical to where it could fit in my small kitchen! Now, you are talking to someone who, for years, never used a real trash can and only relied on loose grocery shopping bags for their trash. I didn't know what I was missing!" —Amazonshrimpy
Get it from Amazon for $192.93 (available in five finishes).
7.
A smart bottle attachment to help make sure you're staying hydrated even when you're too busy to remember yourself. When it's time for you to drink, this little gadget will start blinking and won't stop until you've tilted it (aka taken a drink).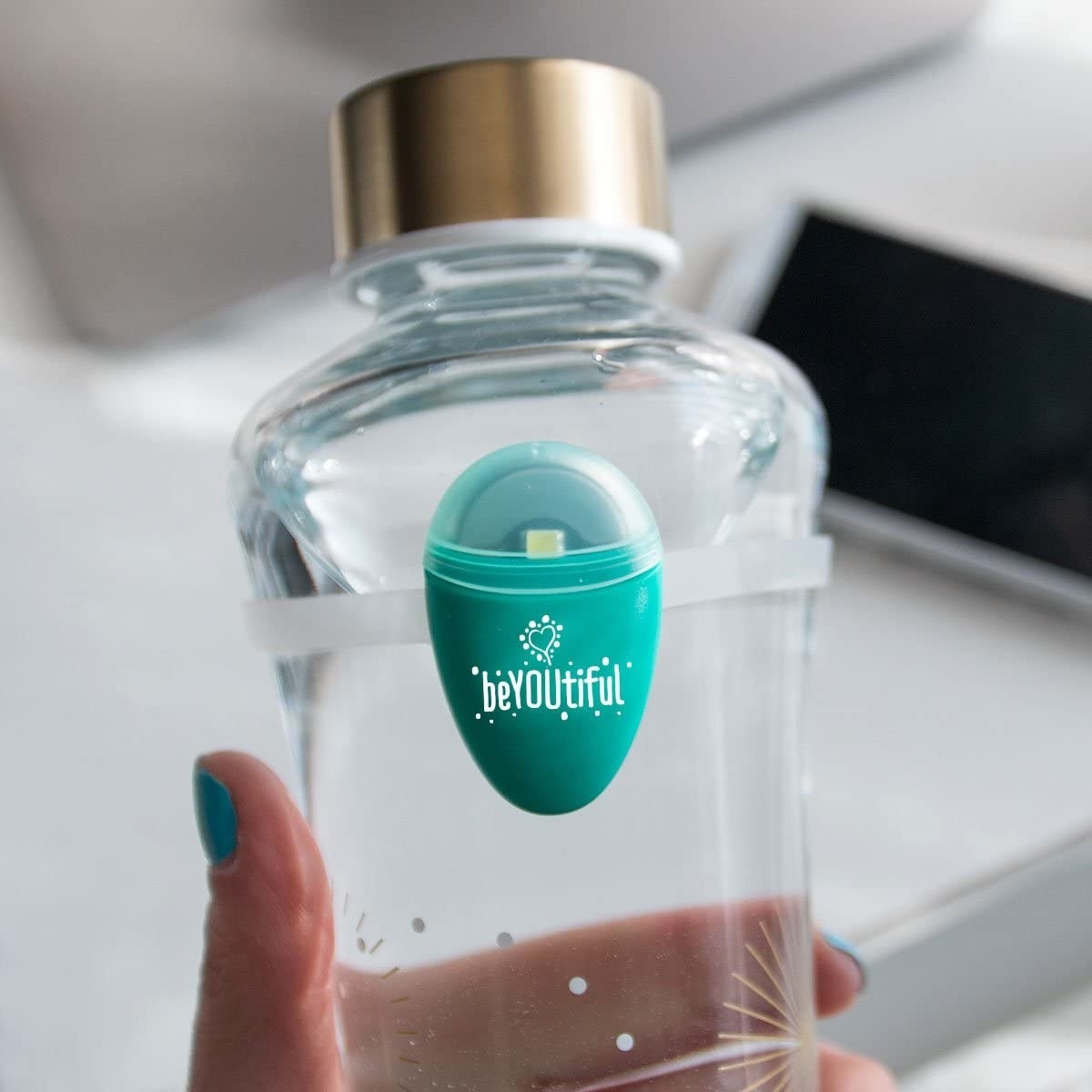 It works on any water bottle!
Promising review: "I finally consume more than a single sip of water every morning. Lover this reminder! I am a workaholic, don't drink more than a dixie cup full per day and end up dehydrated. This little gadget does not stop flashing until I take a drink. Love it!" —Mimi
Get it from Amazon for $25 (available in four styles).
8.
A wireless pocket projector so you can carry your own full-on cinema in your pocket that you can put on whenever you get the urge to watch a movie.
Former BuzzFeed writer Yi Yang has this and says, "I actually own and love this pocket projector. Despite its compact size, this little guy can actually project quite far (I tested it at 14 feet or so, and the image measures approximately 50 inches by 60 inches). I've used it to watch films and shows, and it truly feels like I have my own personal movie theater. (The darker the room, the clearer and crisper the images are, so I always use it at night with the lights out. However, blackout shades would work, too!) It can connect to a phone or computer, AND it has its own speakers (though you can connect it to an external speaker as well). For longer binge sessions, I like to have it plugged in so it doesn't run out of juice, but it can last through a couple of 40-minute episodes unplugged just fine. The best part is once I'm done with it, it fits nicely into my drawers for storage. Easy peasy."
Get it from Amazon for $179.99.
9.
A multi-purpose bedside lamp with four brightness levels, an adjustable light arch, wireless phone charger, sound machine, and Bluetooth speaker all in one!!

Check out all its features on TikTok!

Promising reviews: "Such a steal!! I love this so much! Can't wait to buy another one for my husband's nightstand. Bright enough for me to read a book in bed, and the speaker is amazing! I love, love, love this and can't say enough great things about it!" —Bonnie Lynn Falero
"I was a little bit nervous on how well this would work, but it's awesome! Amazing sound and charges any phone with no problem. It even stays connected to my Bluetooth a pretty good distance away. Couldn't be happier with my purchase, so I bought my husband one for his office at work. His coworkers then bought their own as well 😊." —Amazon Customer
Get it from Amazon for $53.99.
10.
A super-quiet, lightweight, portable electric pet nail trimmer that will be a game changer for even the most skittish cats or easily spooked doggos. It is very quiet and the gentle vibrations help keep your pet calm and you scratch free.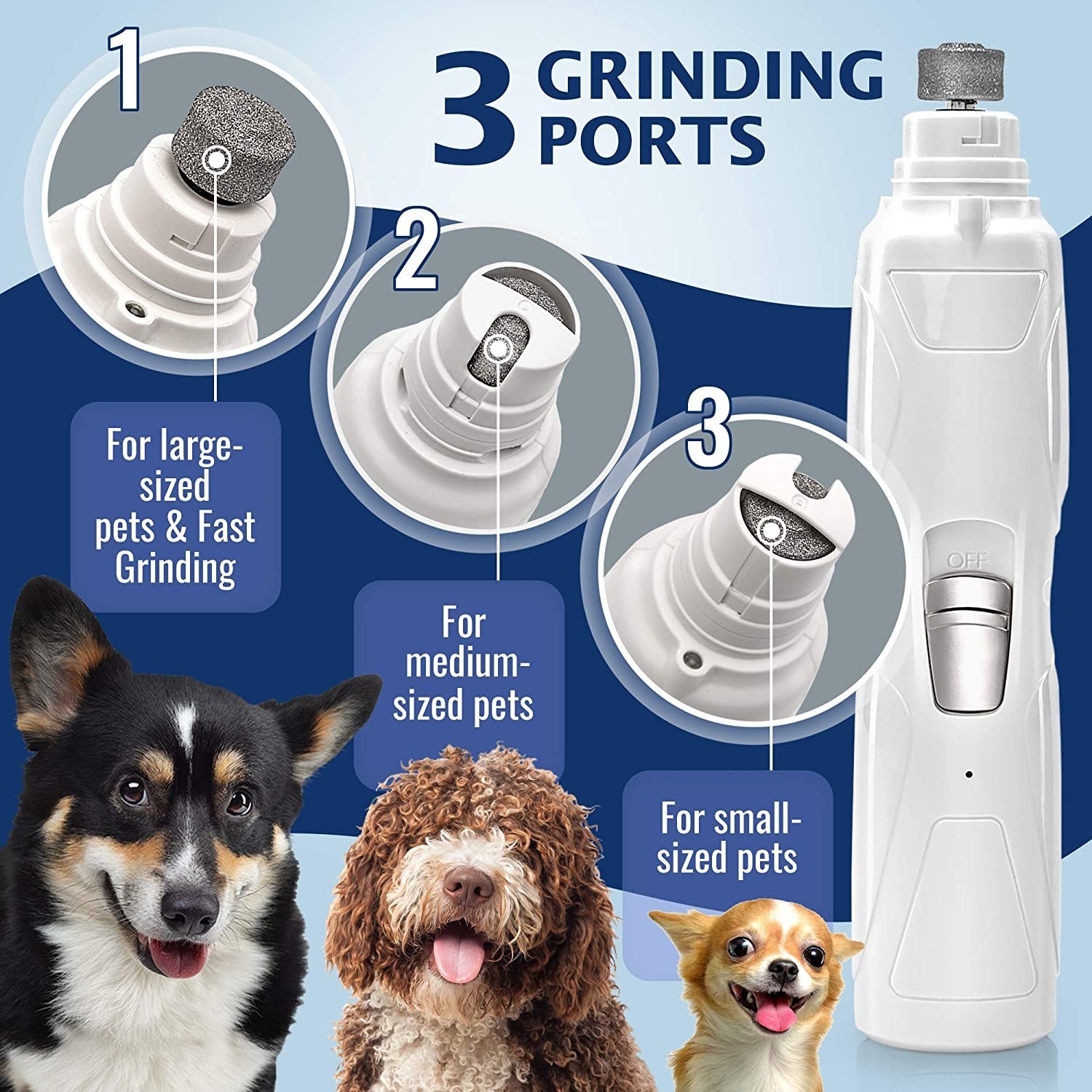 Rexipets is a Utah-based small business that specializes in products for easier, safer pet grooming.
Promising review: "This works very well for my golden retriever and husky. Both are very big dogs and scared of getting their nails trimmed. The Rexipets grinder is quiet and easy to use. I expected the battery to die and need charging after one dog, but I was able to trim them both. The great features allow me to be comfortable when taking care of my pets and that puts them at ease as well. I highly recommend!" —Robert
Get it from Amazon for $39.99.
11.
A hands-free Bluetooth remote so you can easily scroll through TikTok while on the treadmill without having to worry about losing your balance. It also doubles as a camera shutter so you can get those model-worthy photos without a photographer.

It's also great to use while scrolling in the bath so you don't get your phone wet — check it out in action on TikTok!

Promising reviews: "The best purchase. Honestly, this is the coolest; it's lightweight, and it's easy. I'm glad I bought it." —Justine Laviolette
"TikTok made me buy it. I got it to use for my Anki decks, and so far have been loving it. Makes changing slides so much easier." —Amazon Customer

Get it from Amazon for $22.95+ (available in three colors).
12.
A fingerprint door handle designed to protect your privacy even when you live with nosey people. Plus, it has a key code entry system in case you need someone to grab something for you when you aren't home or you just don't feel like getting up off the bed to let them in. 

Check it out in action on TikTok!

Promising review: "All I can say is WOW! Great value for the price. Extremely easy to install; it took me five minutes, and tools were included in the set. The door closes and locks much more securely than with a standard household handle. The fingerprint reader is user-friendly, and so is the numeric keypad. It even comes with a manual key and can program several sets of fingerprints at once. I bought this for my bedroom and couldn't be happier." —Jennifer
Get it from Amazon for $69.99 (available in square or round base).