1.
A set of two ~zero gravity~ reclining porch chairs so you can toss those uncomfortable traditional folding chairs. These are so comfy you'll feel like you're floating, and they come with a pillow — perfect for naps — and a side table — perfect for snacks!
These chairs also fold up for easy transportation or storage.
Promising review: "Bought two of these chairs. They are perfect for spring/summer, easy to relax in, and the tray attachment lets me keep my drink and my book at my side. It's easy to recline and the locking mechanism keeps you from moving when you don't want to. I'll be spending a lot of time in my chair this summer!" —John Wetmore
Get a set of two from Amazon for $99.99 (available in 24 colors/patterns).
2.
A set of outdoor yard drink holders perfect for outdoor barbecues, picnics, or hangout sessions. You and your guests will now have a place to set down your drinks instead of just placing them in the grass and hoping no one accidentally kicks them over.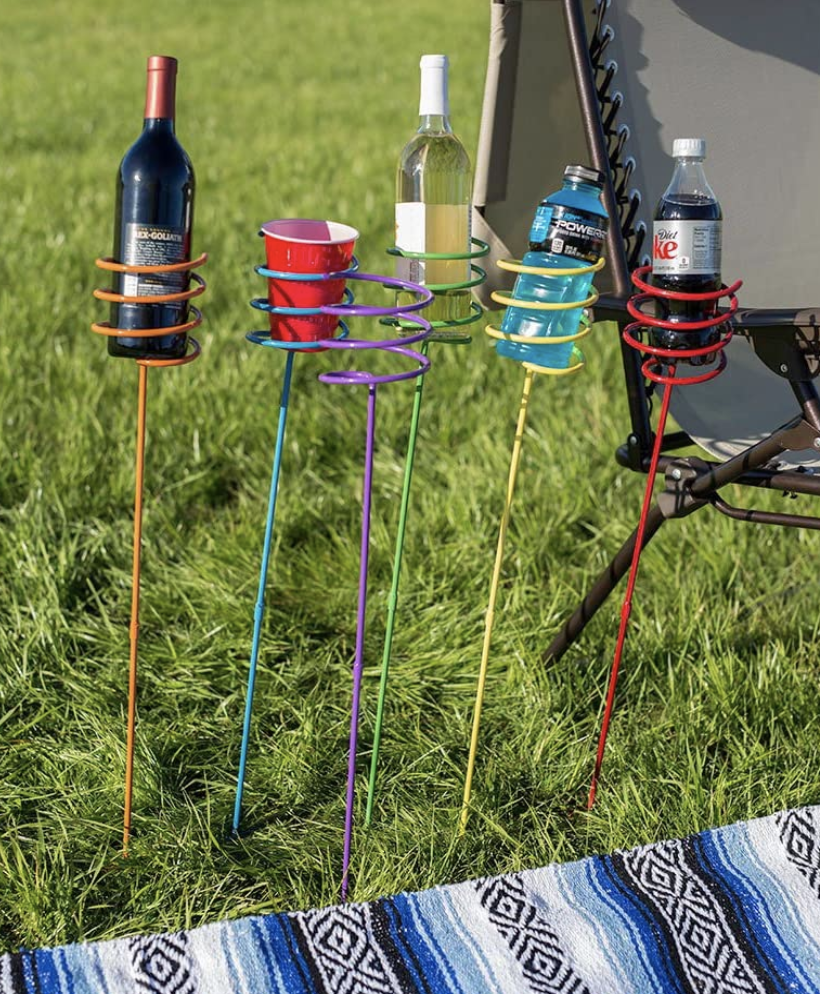 Promising review: "One of the best items I have ever bought for the beach and backyard! Whether playing cornhole or lounging in a chair, your drink is always clean and cold. No more sandy or dirty cans or bottles. It even holds your drink with a koozie on it!" —Amazon Customer
Get a set of four from Amazon for $32.95+ (also available in a pack of six).
3.
A tin of sweet, spring-themed cocktail sugar so you can create cocktails way more delicious than the boring vodka soda you'd have at a bar (and no, it won't cost you $15 for one drink).
BuzzFeed Shopping writer Emma Lord has been putting hers to good use: "I started putting this on my end-of-the-week whiskey drink and it is SO darn satisfying. I tried the citrus petals version, and it's got a light lemon, faint floral, and vaguely minty taste with its sweetness that just makes the whole experience a delight and a half. The container it comes in is actually quite wide, so what we did was pour lemon juice on the top half to prep the rim, and a bit of sugar in the bottom half to coat it. In other news, I am officially too fancy to exist."
Promising review: "I love this stuff. it adds a little magic to my drinks and the flavors are delicious. The citrus and petals is my favorite and really compliments fruity vodka drinks and lemonade. You just need to add a little moisture to the rim and this stuff sticks! Really fun to have around." —Lomarie66
Get it from Amazon for $7.80+ (available in seven flavors and a two-pack).
4.
A tabletop fireplace with removable glass so you can enjoy making s'mores on those chilly spring nights, even if you don't have a backyard.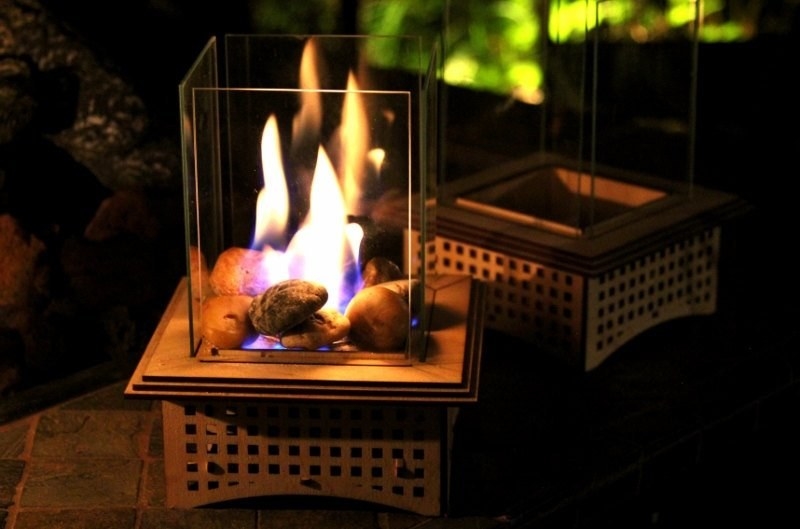 1 Man 1 Garage is a small business based in Nashville, Tennessee creating unique artisan designs.

You can order this with or without the sand and rocks. The only thing that you will need to purchase separately is the 2.6-oz. gel fuel cans, which you can get from Amazon. The mini fireplace version (which doesn't come with rocks) uses a tealight candle only. 
Promising review: "Soooo cute and easy to put together. We bought a clear spray to put on to protect it and because we actually really liked the look of the burned side. Boyfriend and I bought it to make s'mores for Valentine's. It was a perfect night in." —Bethany Schneider
Get it from 1 Man 1 Garage on Etsy for $31.20+ (available in three styles).
5.
An adjustable mister you can attach to your hose to keep you cool while you lounge in your backyard. You may not have a private pool, but this will make you feel like you're living the most luxurious life.
The mister will cool the surrounding area by 20 degrees, and it comes with an interchangeable flower-shaped misting head for a fun, whimsy detail.
Promising review: "Works exactly how I want it to. Provides a fine, cool most on the patio, allowing us to enjoy the backyard until sunset without breaking a sweat. Easy to set up. It was out of the box and cooling us off within minutes." —Debra L. Kusek
Get it from Amazon for $32.63+ (also available in multi-packs).
6.
A ruffled mini dress with airy sleeves that won't have you feeling trapped and sweaty when the temperature starts rising much higher than the weather forecast said it was going to.
Promising review: "I LOVE this dress! I purchased it to wear to a bridal shower.  It's very comfortable and looks so cute! It reminds me of something from a boutique. I literally got so many compliments on it and I can't wait to wear it again!" —Kindle Customer
Get it from Amazon for $33.99+ (available in women's sizes S–XXL, long or short sleeves, and 40 colors/patterns). 
7.
A gorgeous solar wind chime that charges itself during the day so it can glow beautifully with changing colors at night. This is so unique and beautiful you'll find yourself mesmerized by it every time you sit on your porch.
Promising review: "When I first took this out of the box, I thought 'oh boy I don't know about this,' but I went ahead and hung it up outside to charge. When nighttime came, it started to light up and it is so neat. The colors gently change and none of them are muted. I am so happy with it." —Mom of 2
Get it from Amazon for $23.99 (also available in other shapes).
8.
A gold watering can and mister perfect for anyone who is looking to upgrade from that gross old plastic container they found in their parents' garage. The beautiful gold is sure to stand out from the green of your plants.
Promising review: "This watering can is so easy to use, and it holds a lot more water than you would think by the size. I also love the cap that comes on the end of the spout — a great way to avoid spills!! Appreciate the pretty mister that comes with it, too. Both look very nice on the shelf where I house my plants in front of a window." —MC Phillips
Get it from Amazon for $26.99+ (also available in black).
9.
A side table with a little secret…it's also a cooler! Get one for your next BBQ and watch all your guests' eyes grow wider when they finally figure out where you're hiding all the cold drinks!
10.
An ice pop mold to create absolutely delicious and refreshing treats from whatever ingredients you have on hand. From fruit and juice to pudding and ice cream, the opportunities are only limited by your imagination.
This set comes with a collapsible funnel, cleaning brush, reciple book, 10 reusable ice pop sticks, 50 disposable ice pop sticks, and 50 disposable baggies.
Promising review: "Love love love these ice pop molds! I make my boys watermelon ice pops every summer for them and our neighborhood kiddos. I decided this summer to try a different mold and settled on this one. Great quality and made extremely well! I'm ordering a second mold!" —Christi
Get it from Amazon for $23.99.
11.
A fun, abstract handmade ceramic vase with such a beautiful design you'll want to showcase it even when you don't have any flowers in it.
Promising review: "This is my favorite vase! It's beautiful for a centerpiece on my dining table. Love the print, the quality, and the size. Very unique. Already received tons of compliments." —Laura Demetrious
Get it from Amazon for $24.99+ (available in two colors and two styles).
12.
Or, a cool handmade ceramic lips planter that is the perfect home for whatever plant you grabbed at the farmers market. Now, the question is, will you keep your lips sealed or spill the beans on where you got this? 🤔
Shelby Sells Co. is an Odessa, Texas-based small business with lots of cute planters, mugs, dog bandanas, and more!
Promising review: "This is gorgeous. I got one for my friend's house warming gift and she loves it!! It's unique and beautifully crafted. It'll leave you gobsmacked!" —Ashley Crowe
Get it from Shelby Sells Co. on Etsy for $16+ (available in three colors).
13.
Globe string lights to create the perfect, twinkly ambience that will keep the party going long after the sun has set.
Promising review: "Absolutely love the dim feature! These bulbs are more round than oval like others, but I love them. When they are off, there's a cool yellow in them that offers a lovely aesthetic when not in use. Our pergola is wired for lights so we mounted them on and almost always dim them because the white pergola reflects the light. These lights have made our patio my new favorite spot in the house. My husband and I find the evenings so relaxing, we've literally grown closer together from spending time out under the lights in our new favorite place." —fishurmo
Get them from Amazon for $17.99+ (available in 27, 48, and 97 feet and three colors).
14.
A set of vacation-inspired earrings with nine pairs to choose from so you can have the perfect set for every outfit.
Promising review: "I honestly did not expect a lot, but boy I was surprised! They are so easy to wear and just gorgeous! I was afraid that my ears were going to hurt from them not being silver or gold but I can wear them for hours and just not worry about any irritation or my ears hurting from them being too heavy! Perfect for summer and spring!" —Ana
Get the pack of nine pairs plus a bracelet from Amazon for $17.99.