1.
A linen sheets set so you can snuggle up into your bed and drift into sleep feeling like the queen or king you are in your luxurious and ultra comfy sheets.

Promising review: "I'm gonna start by saying WOW!! These bed sheets are just perfection. 🥰 Honestly I've been looking for good quality bed sheets and I stumbled upon these specific ones and I am beyond impressed! It's been hard to find a good brand and good material, I've bought so many different types for example silky sheets: I would wake up with my back sweaty sometimes 😞 and it wasn't pleasant, but as soon as I changed to these new bed sheets after a soft wash, I woke up feeling fresh and no sweats! I was so surprised. 🤣 I have zero regrets about buying these sheets and would definitely 100% recommend these sheets and will buy more colors. I still like to use silky pillowcases since they help a lot with hair care but that's just preference." —stephssbeauty

Get it from Amazon for $18.99+ (available in six sizes and nine colors).
2.
A latte art stencil that'll have you dropping your daily coffee shop run because you can't bear the idea of not having adorable art on your coffee ever again. You choosing homemade coffee instead of your typical Dunkin' or Starbies? It's almost unbeleafable.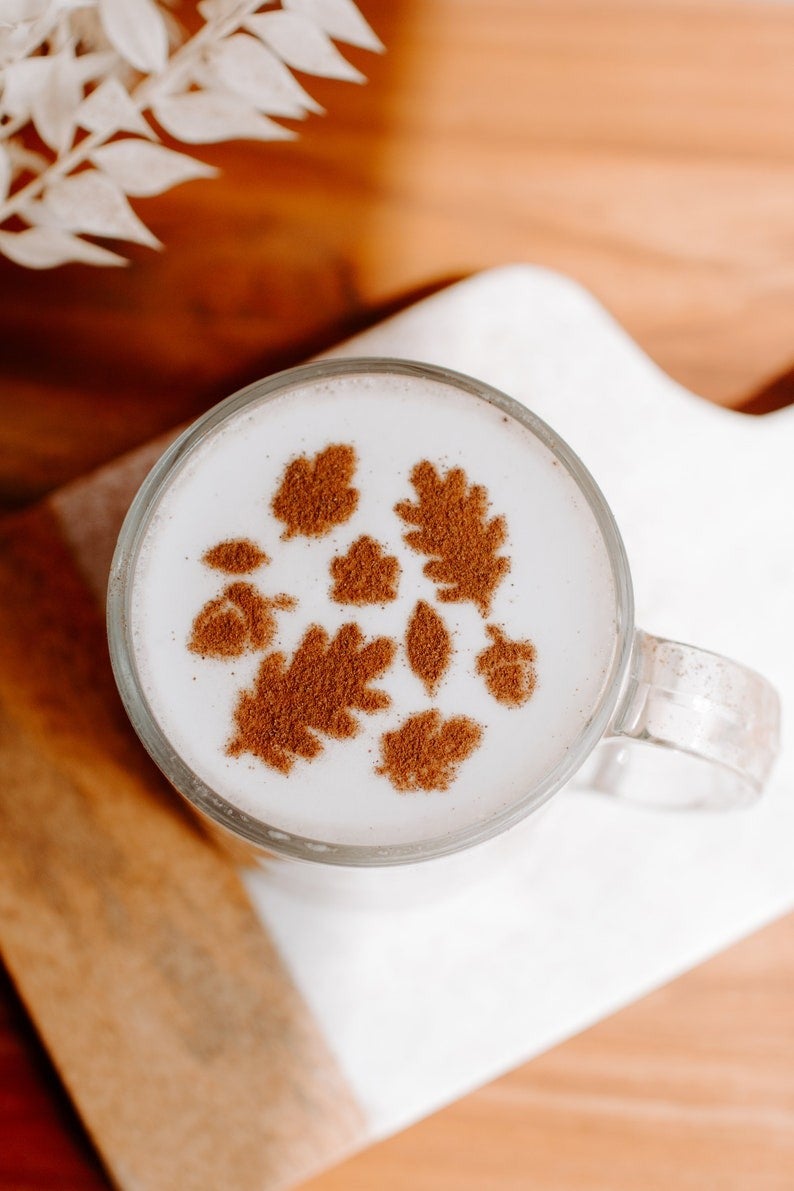 BNB Creative Co is a small business based in Bakersfield, California that sells fun latte art stencils.

Promising review: "Lovely, delicate fall leaves etched in cinnamon on my latte! Makes for a delightful moment and surprise for my husband. Thanks!" —Judith Stone

Get it from BNB Creative Co on Etsy for $12.
3.
A turtleneck sweater dress for any fall photoshoots you may have planned, or if you're just heading out to a brewery with your friends and wanna switch up your standard outfit of leggings and a sweatshirt.
These are popularly worn with knee-high boots if you're skipping tights/leggings!
Promising reviews: "This dress is exactly what I was looking for! I have a family photoshoot coming up soon and this will look beautiful on a fall background. I love how easy it is for me to pair it with several different shoes in my closet and add accessories as needed. If you're thinking about buying it, please do, you won't regret it." —Rebecca Ward-Bayse
"I can't wait to wear it this autumn and winter. The 'brown' is a great rusty orange color, very soft and warm. Perfect length to wear either on its own on a crisp warm fall day or over leggings on cool and downright cold days." —Shay
Get it from Amazon for $33.59+ (available in women's sizes S–3XL and 43 colors/patterns).
4.
A bath caddy because the only thing better than a warm bath is a warm bath where you don't have to worry about getting your book, tablet, or phone wet. Plus, there's a super convenient cupholder so your drink is never out of reach.
Promising review: "Absolutely love this! The craftsmanship and quality of it is fantastic. I was worried as the inner ledge of the tub is small that it would be wobbly or would fall in, but it was completely stable and I was able to slide it up or down the tub with ease! 100% the upgrade bath time needed!" —Mallory Kalinoski
Get it from Amazon for $34.99+ (available in four colors and with personalization).
5.
Or, if you don't need a place for anything else, a cupholder caddy that attaches to the wall beside your tub so you can sip your wine while relaxing and letting all your stresses melt away.
Don't worry if you're not a wine drinker, this can hold cans and bottles too!
Promising review: "This is a strong suction cup glass holder and doesn't slip down when affixed to a tiled bathroom wall. It can be kept in its place for days and not slide down. It's actually better than the photo shows — and it's not too bulky or big that it sticks out of the wall. I love this item — it's motivated me to take more baths (and have more wine). I highly recommend this as a gift for wine lovers!!" —Dara M
Get it from Amazon for $9.99+ (available in five colors).
6.
And a bath pillow so you don't have to experience the *shock* of getting in a warm bath, leaning back, and feeling the horrifyingly cold tub against your bare skin.
Promising review: "Our bathtub is placed so close to the bathroom wall, that there really is no place to rest your head — other than against the wall. Very bad design! However, this pillow saved the day, in fact it saved every day when we take a bath! It is absolutely amazing! We have used it so much and it still looks as new. I love how large it is, one can rest not just one's head on it, but one's shoulders and upper back, too! What's even more amazing is that it came with a special 'pouch' that you can wash and dry it in! This shows the manufacturer went above and beyond. It's the little details that count! I don't have to wash it often, it's just that sometimes it touches the water and being able to wash it once in a while helps keep its scent fresh and clean. I absolutely recommend this pillow!" —Amalia Young

Get it from Amazon for $42.99+ (available in four styles).
7.
Anti-skid memory foam slippers to keep your feet warm and cozy alllll autumn long. The sole is designed for indoor and outdoor use, which is a win because be honest, you've definitely worn your house slippers outside before to get the mail or run a quick errand, they've gotten damp going through fallen leaves and then they're ruined. That won't be a problem with these bad boys!!
Promising reviews: "I have bought a pair of these each fall for seven years. I love them!! I wear them everywhere. When you first get them they feel tight but once the memory foam forms to your feet they fit great." —Jessica C DeAngelis

"I love my slippers! They are very comfortable! I like that I can wear them outside when I need to go to the mailbox. They are so warm and squishy!" —Amazon Customer
Get them from Amazon for $24.99 (available in women's sizes 5–12 and nine colors).
8.
A portable 120-inch screen so you can host the most epic outdoor movie nights your cul-de-sac has ever seen! No more projecting movies onto the side of your house and wondering if you're looking at an important detail of the movie or just an impurity on your wall.
This screen is lightweight yet incredibly sturdy and reviewers rave about how easy it is to set up. Plus, it's wrinkle free so your picture stays pristine and crisp.
Promising review: "This projector screen is easy to set up and for the money, it is a great value. It is a stretchy material. The stakes are definitely needed if you set up outside as it is basically a big sail. When you have it strapped down, it does make it feel sturdy. So far we have used several times outside with no issues. It comes in a simple bag, which is nice to pack in the closet as well. This projector is worth the investment." —Audrey Wooten
Get it from Amazon for $119.99.
9.
And a mini projector to complete the ultimate setup. Picture this: you're sitting on a blanket under the stars, your favorite movie is being projected, and you have a bowl of popcorn on your lap…doesn't get much better than that.
This projector is Wi-Fi compatible, so you can connect this with your phone, tablet, or computer. And even if you're somewhere without a Wi-Fi connection, you can connect your phone to the projector with the included cable.
Promising review: "I bought this projector to use outside on my deck and it works perfectly for that… The picture is very clear, even better than I thought it would be. The projector is light and small which makes it perfect for travel use or even camping… I would recommend this projector to just about anyone." —rachel forman
Get it from Amazon for $99.99.
10.
A wall-mounted electric fireplace for anyone who loves the heat and appearance of a fire, without all the extra work. Dare I say this is better than a traditional fireplace? With different speed, brightness, and color options for the flames, touch screen buttons, *and* a remote control, you won't find yourself missing anything.
Promising review: "Put this fireplace in our bedroom. It is everything that I wanted and stalked Pinterest for. Love all the colors and that you can dim it so it does not shine too bright when you want to sleep, and that you can set a timer too. We found it easy to install and it heated up fast when we tried the heater. Super easy to install, but we did watch a YouTube video on the install first to decide how we wanted to mount it." —Amazon Customer
Get it from Amazon for $153.99+ (available in six sizes).
11.
A faux sheepskin throw so you never have to worry about getting out of your comfy, warm bed and suffering through putting your feet on the freezing ground. Don't worry if you have carpet, you can still use this to add the ultimate level of cozy to that chair you always avoid sitting in.
Promising review: "Absolutely gorgeous! It's better than expected. Super soft and it looks so beautiful, exactly what I was looking for. Now I just want to read on the floor on this rug. I am ordering two more for the rest of the house. Must buy!" —Michelle C.
Get it from Amazon for $15.99+ (available in five sizes and 10 colors).
12.
An outdoor heater to provide a little extra heat on those chilly nights, and to make sure your backyard oasis doesn't have an expiration date and instead can be enjoyed all year long.
The heater stands 87 inches tall.
Promising review: "Had a Hampton Bay patio heater from HD that got blown over from the winds and decided to take a chance on an Amazon Basics heater. Surprised at the quality of the heater, sheet metal body seems thicker, and the water-filled base actually helped keep it standing against moderate winds. Wheels helped with moving it around. But the best pro here is that it's around $100 vs. $250 at the stores while being as good or better in quality." —Han
Get it from Amazon for $151.59+ (available in three colors and two finishes).