1.
An illuminating essential oil diffuser to create some ~immaculate~ vibes with seven soothing color options and continuous or intermittent mist to add some extra moisture to your room.
The diffuser can also be used as a color-changing nightlight, plus it has programmable on/off cycles and auto shutoff once the water runs out.
Promising review: "This diffuser is very quiet and it diffuses very well. If you add essential oils to it, it also diffuses the scent very well. Not only is it easy to use, but it's also cool/fun that you can put it on a light mode. You can set the light to one color in particular, or you can leave it on the setting that rotates through the colors. You should definitely buy this if you don't want to spend a fortune on a diffuser." —Lexi
Get the diffuser from Amazon for $15.99 (available in four finishes).
2.
And a set of essential oils you can add to the diffuser if you don't want to have to commit to just one scent. These have you covered whether you're wanting to relax before bed or get uplifted in the morning or anything in between.

The six scents included are: orange, tea tree, peppermint, lavender, lemongrass, and eucalyptus.
Promising review: "I bought the six pack essential oils gift set and they are wonderful. I use them in my humidifier and they really do help me. I use a combo of three of the oils to help with keeping my lungs clear and it really does help me tremendously. In addition, I put the lavender in at night to help me with my sleep and it has surely made a difference. Furthermore, I have to say that I totally love the way the sweet orange smells. Without a doubt it is one of my favorites. I will certainly buy it again and it also makes a great gift. The box that the oils came in was utterly beautiful and it is very sturdy, it had foam all on the inside of the box to cushion the bottles. I just can't say enough about these oils. You won't be sorry if you buy it." —Jo Ann R.

Get the set from Amazon for $9.99.

3.
A thick fleece sweatshirt with a satin-lined hood (as seen on Shark Tank) designed for anyone who loves wearing their hood but doesn't want their hair to get frizzy. This hoodie is the perfect choice to keep you warm and cozy, plus the high-grade satin reduces friction to protect your hair — talk about a win-win!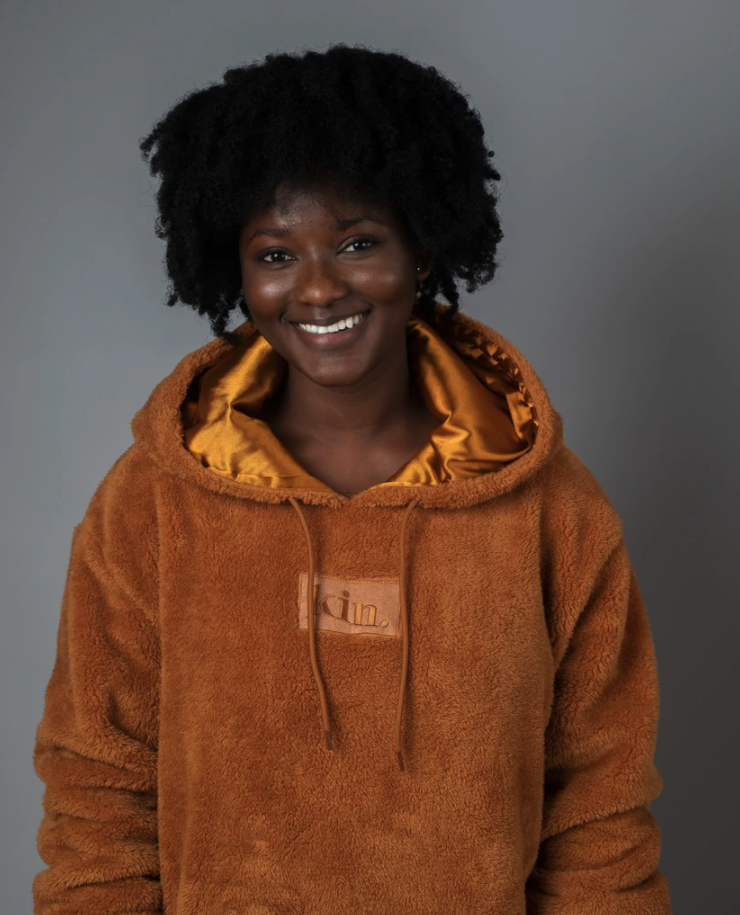 Kin Apparel is a Black woman-owned brand founded by haircare content creator Philomina Kane. Her hoodie line is inspired by her Ghanaian culture and her passion for natural haircare.
Promising review: "OBSESSED. I love to wear this while I study. It keeps me the perfect amount of warm and I get to wear a hood even if I have day one hair! It's perfectly huge and also perfect for flights. No more trying to sneak a bonnet under your hood in public." —Maya M.
Get it from Kin Apparel for $79.99 (available in unisex sizes XS–4XL and other colors available here).
4.
A set of LED curtain string lights to create a perfect soft, dreamy glow that will bring some hygge into your life and make you never want to leave your room again.
These string lights are also perfect for your living room and outdoor spaces, including patios and porches.
Promising review: "This is exactly what I wanted for my living room window to add a warm, cozy ambiance. They have way more settings and speeds that I even expected, so that was a nice bonus! I usually keep them on a slow fade, but I'm planning to speed it up for Christmas. These lights create a soft glow and a very relaxing environment, but you can change the mood by using different speeds. Money well spent!" —LeslieE
Get it from Amazon for $19.99+ (available in seven colors and two lengths).
5.
A wall-mounted electric fireplace for anyone who loves the heat and appearance of a fire, without all the extra work. Dare I say this is better than a traditional fireplace? With different speed, brightness, and color options for the flames, touch screen buttons, *and* a remote control, you won't find yourself missing anything.
Promising review: "Put this fireplace in our bedroom. It is everything that I wanted and stalked Pinterest for. Love all the colors and that you can dim it so it does not shine too bright when you want to sleep, and that you can set a timer too. We found it easy to install and it heated up fast when we tried the heater. Super easy to install, but we did watch a YouTube video on the install first to decide how we wanted to mount it." —Amazon Customer
Get it from Amazon for $229.99+ (available in sixes sizes and with or without logs).
6.
Or, an electric fireplace perfect for creating the *ultimate* cozy vibes of curling up with a hot beverage by the fire, without worrying about smoke or keeping the embers burning.
This electric heater actually gives off heat and looks incredibly realistic!
Promising review: "Wow! For an electric fireplace, this thing is pretty slick. I have done a ton of research because I am really picky about the flame looking as realistic as possible. The appearance of the flames comes from a projection that reflects off of whatever surface is behind the unit. The flames are adjustable mechanically, but can further be adjusted to your liking by moving the unit closer to or farther away from the reflective surface behind it. I feel like this flame is fairly realistic, especially as compared to most other electric fireplaces on the market." —dguzi
Get it from Amazon for $145.49+ (available in three sizes).
7.
A faux sheepskin throw so you never have to worry about getting out of your comfy, warm bed and suffering through putting your feet on the freezing ground. Don't worry if you have carpet, you can still use this to add the ultimate level of cozy to that chair you always avoid sitting in.
Promising review: "Absolutely gorgeous! It's better than expected. Super soft and it looks so beautiful, exactly what I was looking for. Now I just want to read on the floor on this rug. I am ordering two more for the rest of the house. Must buy!" —Michelle C.
Get it from Amazon for $19.89+ (available in five sizes and 12 colors).
8.
A set of heat-safe microwave bowl holders because there's something so pleasant about snuggling up under a blanket eating a hot bowl of soup, and now you don't have to worry about ruining that experience by burning yourself when you grab it out of the microwave!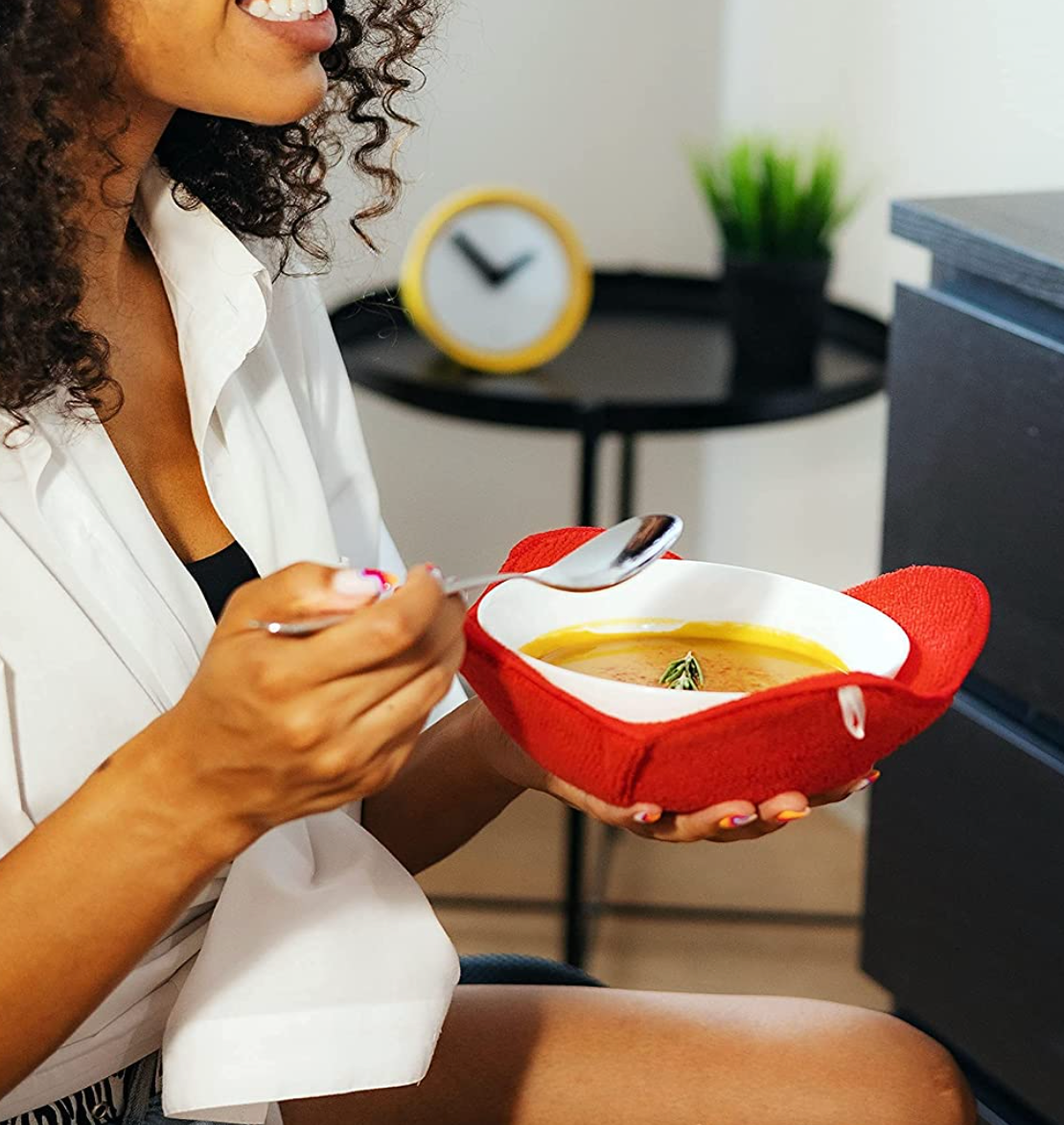 Check out a TikTok of the microwave bowl holders in action. 

Bonus — the insulation of these also keeps warm food warm longer, and cold food like ice cream colder for longer (and helps prevent your fingers from freezing!). 
Promising review: "Buy these for yourself and everyone you know. They are soft and fit a variety of sizes of bowls to put under them in the microwave and eat from. My kids love them. We bought some to gift to other people too, and I will get some for my son to use at college. Made of a heavy terry cloth that can be thrown right in the washer when needed. We used towels before under our bowls, but these cradle the bowls so they are easier to hold. We bought some bigger plate sizes too." —Heidi J. 
Get a set of four from Amazon for $24.99 (available in four colors). 
9.
A tin soy candle with a wood wick to add that crackling ambience that is soo soothing along with amazing smells (we're talking fresh coffee, tobacco vanilla, lemon lavender, and more!). You'll find yourself lighting one of these *at least* once a day.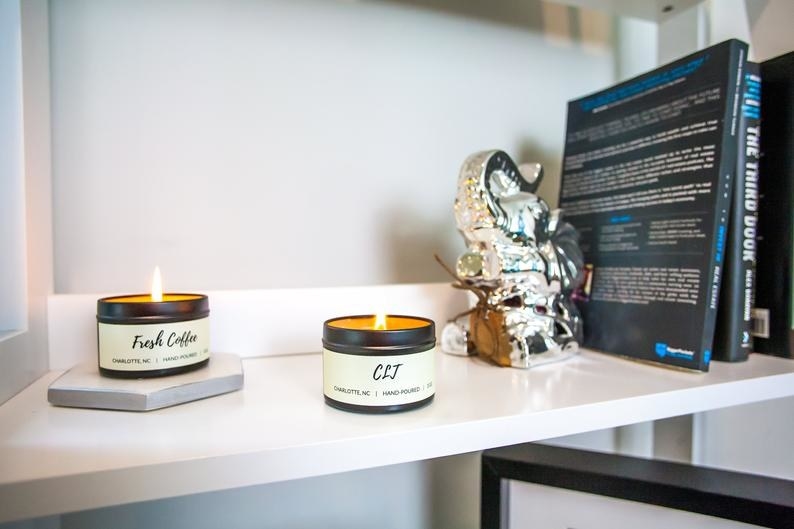 Pretty Honest Candles/Etsy
Pretty Honest Candles is a Black- and woman-owned business based in North Carolina that sells handmade soy candles and home fragrance goods.
Promising review: "These candles smell so good I wish I could eat them. If there's a way to put them on auto-ship, I'll happily sign up, because I'm never buying from my usual places ever again! Our whole house smells like happy elves live here baking cookies all day. Do yourself a favor and buy one or five." —Etsy Customer
Get it from Pretty Honest Candles on Etsy for $15 (available in six scents).
10.
Or a set of flameless candles if you're going for the cozy aesthetic without wanting to worry about forgetting to blow them out before you leave to run your errands. These come with a remote control timer *and* have a realistic flickering effect, so no one will even know they're fake.
P.S. — AA batteries are required but not included, so grab some here.
Promising review: "These are the prefect battery-operated candles. I am so pleasantly surprised with the quality of them. They look like real candles yet they won't start a fire. The remote works well and I love all of the options. You can adjust the brightness and turn off the flicker if you so desire as well as set a timer which I haven't done. I ended up buying a second set because I like them so much." —Mikaela
Get a set of three from Amazon for $20.39.
11.
A moon lamp to create a unique, dreamlike vibe with 16 different colors that can flash, fade, strobe, or fully illuminate.
BuzzFeed Shopping writer Emma Lord has this lamp and loves it. She writes, "UMMMM I bought this because it was on one of Amazon's top selling products pages for so long that I was like 'Why are people so obsessed with this moon?!' And now, my friends, I know. First of all, it really does look hyper realistically like a small moon and adds a chill vibe wherever you plant it. But it's also just so soothing to watch and have in the periphery. You can control dozens of different colors for it and either keep it on those colors or have them alternate, fade quickly, or fade gradually. It's super easy to charge and controlled by a remote, so you can move it off its stand and have it light up wherever you want. These days I tend to turn it on for my designated ~me time~ night every week, in which I will light a candle, pour a glass of red wine, read a romance novel, and, of course, light my lil' moon. Definitely one of my favorite 'the internet made me do it' purchases."

Get it from Amazon for $21.99+ (available in seven sizes). 
12.
A tufted chenille cushion so you can cozy up anywhere in your house, *including* your floor. Whether you're playing with your pup, baby, or just prefer sitting on the ground, you can now do it *without* worrying about any pain in your booty.
Promising review: "I LOVE these cushions! The fabrics feel really nice and the cushions are springy and soft! We use these on the floor during tummy time with my lil one and they work great. I hate laying on the hard wood floor so these are perfect. We set three out together and lay there with baby. I'm obsessed with all the colors and still want the dark blue to complete my set!" —ShayMaySza
Get it from Amazon for $26.78+ (available in eight colors).
13.
A bath caddy because the only thing better than a warm bath is a warm bath where you don't have to worry about getting your book, tablet, or phone wet. Plus, there's a super convenient cupholder so your drink is never out of reach.
Promising review: "Absolutely love this! The craftsmanship and quality of it is fantastic. I was worried as the inner ledge of the tub is small that it would be wobbly or would fall in, but it was completely stable and I was able to slide it up or down the tub with ease! 100% the upgrade bath time needed!" —Mallory K.
Get it from Amazon for $26.99+ (available in four colors).
14.
Or, if you don't need a place for anything else, a cupholder caddy that attaches to the wall beside your tub so you can sip your wine while relaxing and letting all your stresses melt away.
Don't worry if you're not a wine drinker, this can hold cans and bottles too!
Promising review: "I like to drink. I also like to shower. So why not both at the same time? I've had this item for a few years now. Even moving a few times, this suction cup sticks like day one! Perfect for keeping your sipper cold and not watered down while you scrub-a-dub-dub." —TXMags
Get it from Amazon for $13.50+ (available in six colors).