Welcome to Cooking Up Change, a series in which BuzzFeed food writers sit down with some of our favorite cooks to talk about how they are using food to ignite change.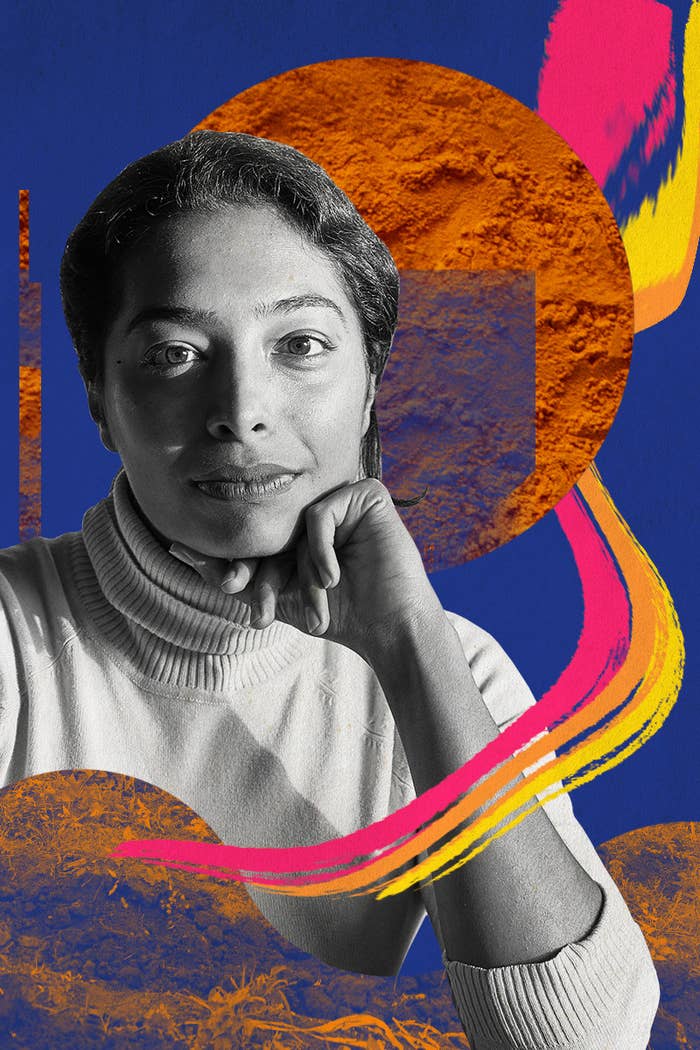 Over the past 10 years, turmeric has popped up in everything from bath salts to drink mixers to turmeric lattes. Yet despite its growing popularity, there has been little information shared about the history of the spice, where it comes from, and who is responsible for growing the world's supply.
In India right now, the commodity market price for turmeric (what the farmers actually get) is about 96 cents per kilogram. Compare that to Amazon prices for turmeric, which range drastically from $7 to well over $100 per kilogram, and you're looking at a significant profit margin that never makes it way back into the pockets of the farmers who grow the prized root.


When Sana Javeri Kadri learned this fact, it didn't sit well with her. As a Mumbai native turned Oakland transplant, she has seen both sides of the story: the economic inequities of farming turmeric in India, and the growing desire for the spice in the United States. But instead of simply being frustrated, she saw an opportunity to steer the economics of turmeric in a direction that felt more equitable. "I understood that Indian supply chains hadn't changed since colonization," says Javeri Kadri. "The entire spice aisle needed updating." She used her food studies background to rethink the dated business model and get to the root of the problem.
To do so, Javeri Kadri went straight to the source. She made countless phone calls to Indian farmers in the hopes of connecting with agriculturists who shared her vision, but found little success. "I realized that business is not done over the phone in India," says Javeri Kadri. "It's done in person." It wasn't until she booked a flight back to India and visited the Indian Institute of Spices Research, an organization that preserves heirloom varietals of turmeric, that she found a community of farmers who were looking for the same partnership she was craving: one that rewarded both parties equally. She connected with Prabhu Kumar Kasaraneni, a farmer growing heirloom turmeric in India, and began a working relationship that allowed him to profitably grow the spice without having to rely on heavy pesticide use to make ends meet. By paying him a fair price for his crop (upwards of six times the commodity price), Javeri Kadri shifted the focus from quantity to quality.
Diaspora Co. now sells single-origin, heirloom turmeric that is sustainable, equitable, and radically different from most conventional turmeric on the market. The company has become a beloved staple within the food world, demonstrating how equitable business practices can lead to superior products. Diaspora Co. turmeric is one of the few sustainably grown turmerics on the market and has amassed critical attention within the industry for its vibrant color, potent flavor, and unparalleled freshness. A quick search on Instagram for #DiasporaCo results in almost 200 photos of chefs and influencers singing the praises of the product. By focusing on the farmers that are responsible for the world's turmeric supply, Javeri Kadri has provided cultural context to a movement that has been misappropriated, recontextualized, and often misrepresented in the Western market.
Diaspora Co. now sells its turmeric online and has recently partnered with Abraham Chacko, a farmer in Yela Mala (located in the Western Ghats), to begin selling single-origin, heirloom cardamom as well. The growing company is unapologetic about its roots and proudly markets itself as a queer woman of color–owned business, demonstrating how identity politics and food justice can go hand in hand. Javeri Kadri is not only a champion for farmers, but a champion for women and queer people of color within the greater food industry. She is a radical entrepreneur decolonizing an industry that has been desperate for change.
BuzzFeed caught up with Javeri Kadri to talk about her growing company, the benefits of direct trade farming, and the connection between identity and business.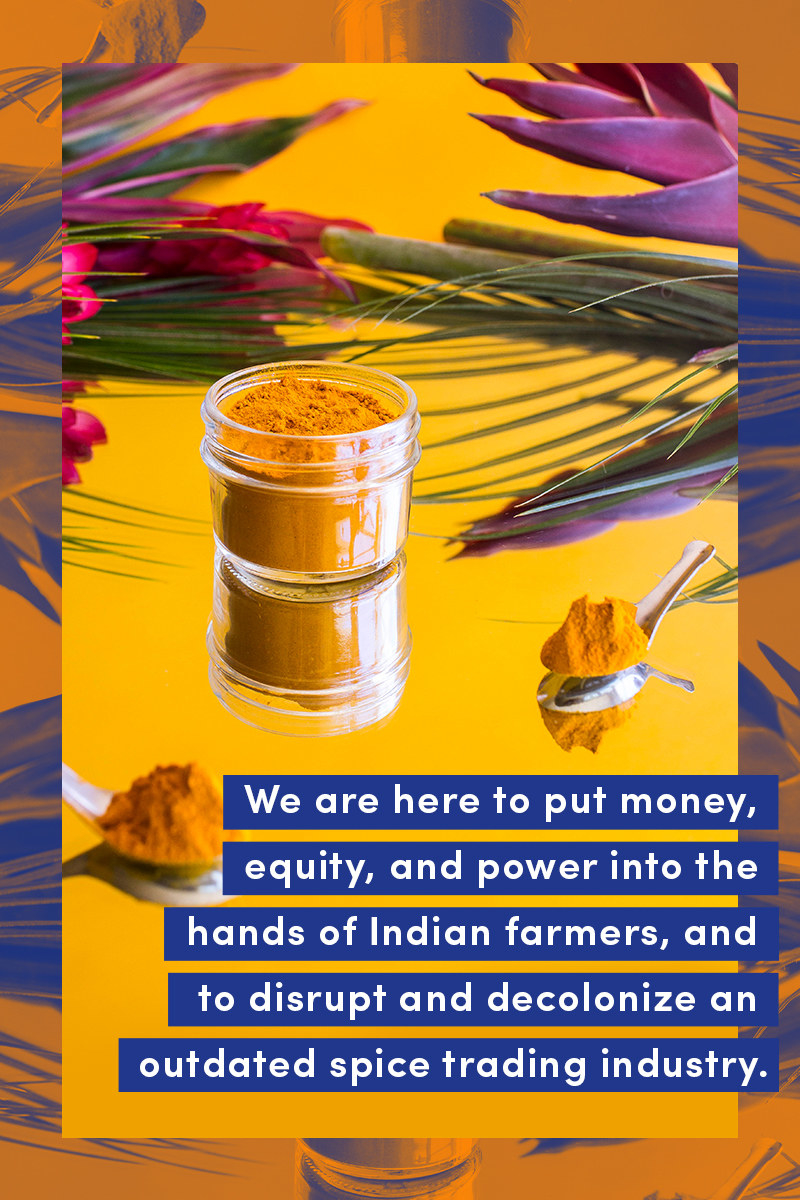 Thanks so much for chatting with us! So where did you grow up?
Sana Javeri Kadri: I grew up in Mumbai, India, and am a third-generation Mumbaikar, so the building of the city is in my bones. My grandparents saw Mumbai transform from a colonial city into the financial hub of independent India, and I feel a lot of pride being from a city of dreamers, fighters, and hustlers.
My parents briefly lived in Berkeley in the '80s when they were finishing up graduate school, so I grew up hearing a lot of stories of how my mom discovered feminism, postcolonialism, and the magic of Californian avocados. We often joke that I'm reliving her life in the East Bay from 30 years ago. Sometimes I go to Berkeley Bowl and stand in the avocado aisle, and it feels like life's come full circle. I now have the privilege of splitting my time between Mumbai and Oakland, which has been such a gift.
When and why did you move to California?
SJK: I moved to California seven years ago. During my childhood, my mother would tell me about her time at Berkeley and how it was really her feminist coming-of-age of sorts. It was where she came into her own, so I've always viewed Berkeley as this magical place that was forever frozen in the '80s. I knew that if I had the opportunity to go to school in America, I wanted to go to California.
I ended up at Pomona College in California, which I thought would be like Hollywood but actually ended up being more like the desert with strip malls and cactus. I'm so grateful for my liberal arts education, but my biggest takeaway from college was definitely the deep dive into consumption that walking the aisles of suburbia's endless grocery stores provides.
When did you first become interested in food systems and the spice industry?
SJK: I ended up getting a job at the Pomona College organic farm. I was introduced to pink radishes, persimmons, and other fruits and vegetables that I had never seen or heard of before. This is how I discovered I wanted to study food systems, and I took that on as part of my undergraduate degree.
In my senior year of college, I started researching postcolonialism. India was colonized for a very long time, and so much of how our country works is still defined by colonization. The spice trade was made profitable to colonizers by colonizers, so everything about how spice trade works today was created to profit the trader. In my senior year of college, I started to realize just how much our food system has been affected by our 200+ years under colonial rule and, more importantly, how those food systems still haven't changed.
A lot of things were coming together for me at this moment. On one hand, I was realizing that the entire spice aisle needed updating — it was a realization that dawned on me when working in the marketing department of a grocery store. I was coming at it as a postcolonial Indian who understood that Indian supply chains hadn't changed since colonization, and I was also coming at it as a consumer myself. I cooked using as much of an Indian pantry as a "New American" pantry, and my needs as a consumer weren't being met. Essentially, that's how Diaspora Co. was born.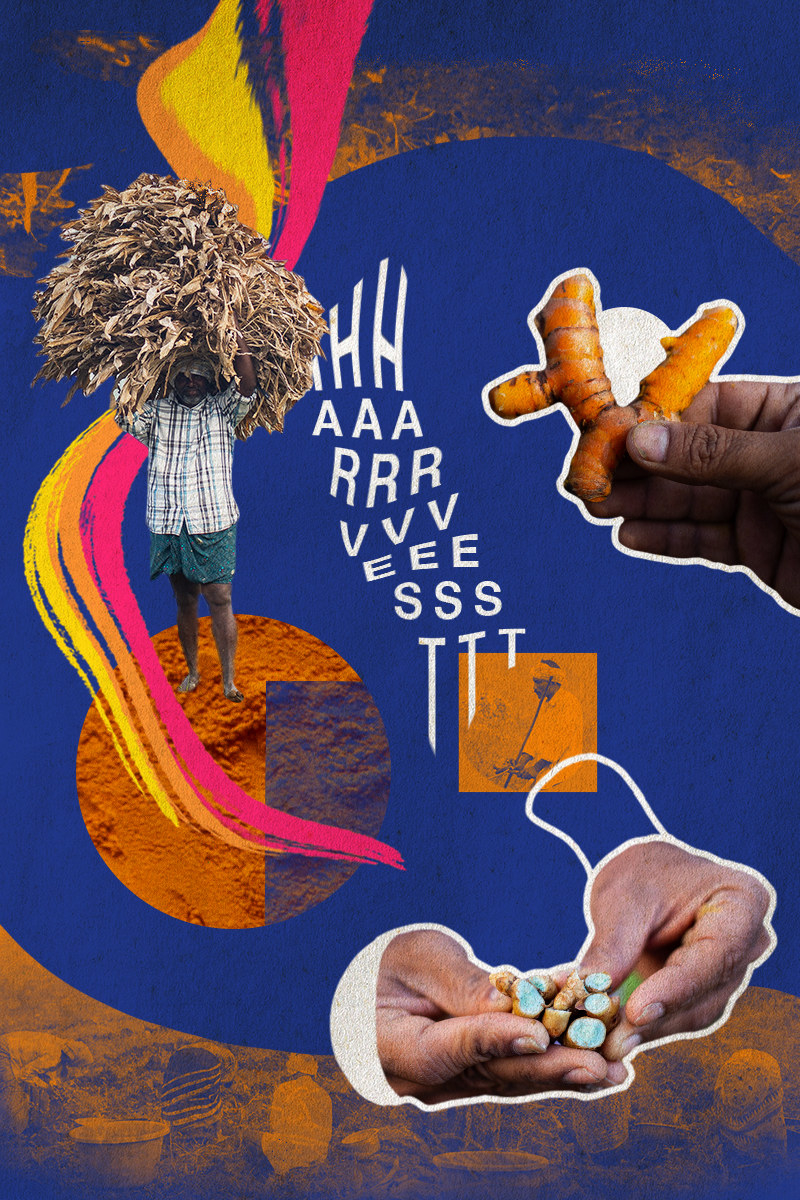 Tell me about the very early stages of starting Diaspora Co. and how you got connected to the Indian Institute of Spices Research.
SJK: I showed up to the Indian Institute of Spices Research completely unannounced and realized that's the only way to do business in India. The minute I showed up and they realized I was serious, they really took me under their wing.
A lot of Indian farmers are recognizing that the old ways of selling to an auction house or to traders is simply not profitable. In my case, the IISR became a matchmaker — matching me with farmers growing the quality of spices I was after. As long as the farmers could provide a product of optimal quality, the price was suddenly a nonfactor.
How do you choose which farmers you want to work with?
SJK: I'm looking for turmeric that is grown organically or beyond organically (such as biodynamically). I'm also looking for farmers who could commit to giving me just one variety of crop — they aren't mixing one type of turmeric with another. Many people don't realize that there are many varieties of turmeric, but we are all about sourcing just one kind and really spotlighting how special it is.
The farmers also have to be willing to work with the quirkiness of our system, meaning that we will ask them to weed out some of their lower-quality stuff early on. Their labor cost working with us will probably be higher, but we are able to give them a larger premium.
Do you have a collaborative relationship with the farmers?
SJK: Absolutely. If the farmer I work with raises his prices by 25% next year, I won't object. I know that he's doing everything he needs to do to cultivate the best possible product he can. There is a real investment on both sides. When our farmers set the prices, all I'll ask is, "What do you need to make this crop really excellent, to live a good life, and to pay your farm labor well?"
One of the most admirable things about Diaspora Co. is your commitment to paying farmers a fair price for their turmeric. Was it difficult to figure out a business model that was both equitable to the farmers and still profitable?
SJK: I will be honest and say that my initial business model was rubbish. My first business model was a pie chart in Microsoft PowerPoint. Equity and quality were always my number one priority.
Since there was no trader, exporter, or importer involved — it was just me buying from a farmer, marking it up to include shipping to the US, and then selling it directly to the consumer — the math was good. Running Diaspora Co. over the past two years has been the best crash course in profitability I could've asked for. My gut feeling was that if I do this as a direct-to-consumer venture, the profit margins will be good. We've been able to break even, more or less.
On your website, one of the biggest, boldest pieces of text states that Diaspora Co. is a queer, woman–of–color–owned business. Why do you make a point of combining your identity with your business?
SJK: For me, having that statement on the site demonstrates that first and foremost, this company is about equity. We are using food and supply chains in a way that enables people to find their freedom and independence. In this case, we're enabling the farmers — but inadvertently, I'm enabling myself and the queer women of color and people of color that we hire. Queer businesses do a lot in terms of bringing visibility to the grocery store shelf, which is traditionally a straight, white male–dominated space. Shaquanda's Hot Pepper Sauce is another amazing example of a company bringing queer representation, as you know!
There are a lot of assumptions about what a product made in India means and those implications are often very outdated. I'm trying to complicate the narrative of what it means to be from India — and proclaiming ourselves as a queer business really helps with that. Our identity is our DNA and what guides us forward as a company. It is our mission statement, our vision.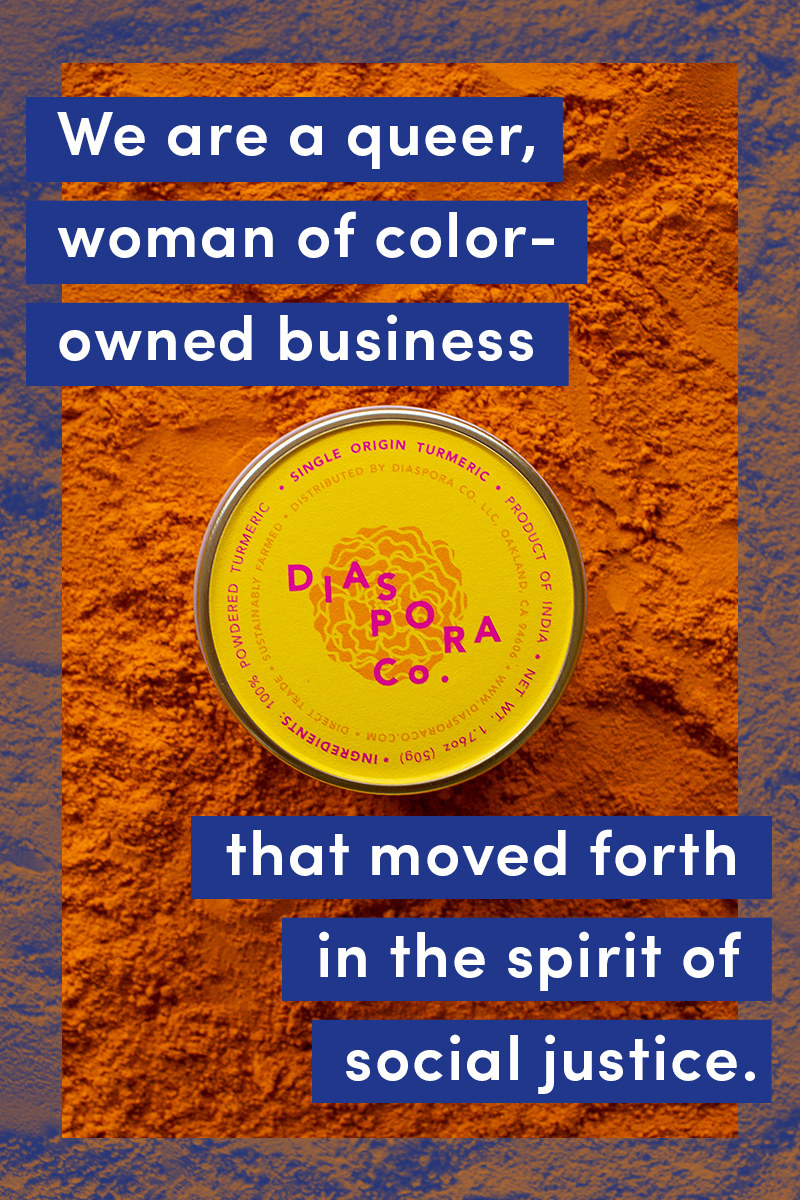 I agree! Often queer folks are the ones shouldering the responsibly to fight for equality — be it in politics or the spice industry.
SJK: We are always carrying the emotional labor!
Truth. You've described India as a place that rejected certain parts of your identity growing up, yet you're now devoting your entire life to investing in its economic wellbeing.
SJK: I was raised in a family that was very devoted to giving back to India. Both of my parents are architects devoted to sustainability in India. The last three generations of my family have always been passionate about giving back to the country that gave them all that they have.
I was very keen to feel connected to the rapid development of India, whilst still following my passion and working in the food industry. It took a while, but leading lives both in Mumbai and California has helped me come to terms with my identity through my work and through the lens of sustainable agriculture, which has been such a gift.
Going forward, what does the future of Diaspora Co. look like?

SJK: We are adding three new spices in October and plan to add five more in 2020. Eventually, we hope to include 10 spices from all over India. As far as the immediate future, we'll remain committed to what we've always been committed to: partnering with some of India's best farmers and giving our customers the best possible spices.
And of course, where can we buy your turmeric? And is there a recipe you suggest people unfamiliar with turmeric start with?
SJK: You can purchase the turmeric through our site. And for people interested to give turmeric a try, my fun favorite these days is turmeric popcorn. Making the turmeric spice blend for the popcorn is an amazing way to see its color, smell, and experience its full magic.
This interview has been edited for length and clarity.

You can follow Diaspora Co. on Instagram, Facebook, or the company website: Diaspora Co.