If you haven't heard, Donald Trump released a letter from his doctor on a very...episode of Dr. Oz today.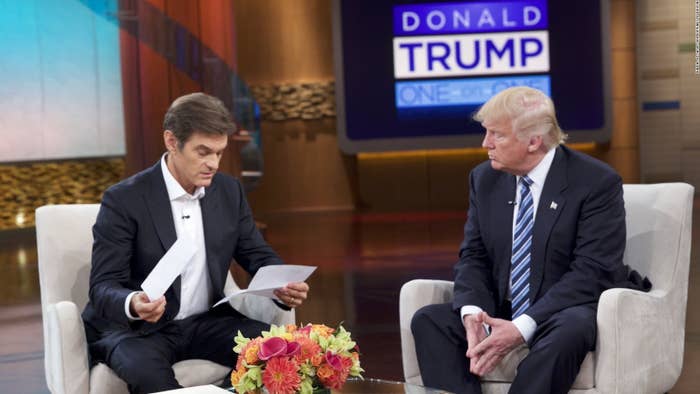 The note specifically mentions the date of July 10, 2013 — the date of his last colonoscopy.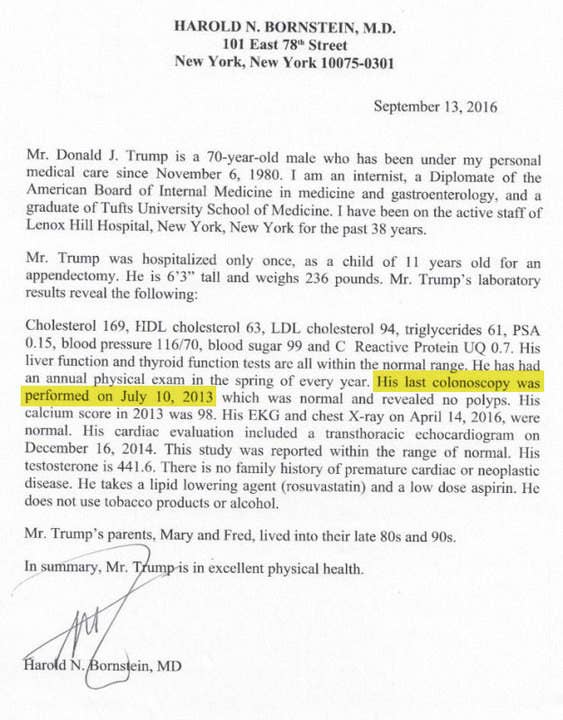 So since the world is ending anyway, here's everything he tweeted that day.
8:21 a.m.: Prepares for his own colonoscopy by ripping Eliot Spitzer a new asshole.
8:38 a.m.: Talks about a lousy businessman who owes all he has to his rich father (still talking about Spitzer here).
8:39 a.m.: Manually retweeted praise from a fan — but come on, we all do that.
9:13 a.m.: Back at it with the criticizing Spitzer, and now he's dragging Anthony Weiner into it.
11:11 a.m.: He met this woman.
12:07 p.m.: Vancouver finally has a "pool bar nightclub"!
12:44 p.m.: Now he's getting amped for a press conference he's going to do with comedian Adam Carolla.
1:38 p.m.: Sends props to Elisabeth Hasselbeck for her move from ABC's The View to join the team at Fox & Friends.
2:09 p.m.: More Fox News props, this time to Gretchen Carlson on getting her own show! Go Gretchen! Just kidding, run. Run as fast as you can.
2:33 p.m.: He met that woman.
2:40 p.m.: Tweets an article explaining that an award Hillary Clinton is receiving should instead go to Donald Trump, thus starting the chain of events that will lead to the end of human civilization.
3:21 p.m.: Speaking of history.
3:23 p.m.: Wouldn't surprise me if this was meant to be a sext.
3:27 p.m.: RIP Obamacare.
3:45 p.m.: Seems to be thinking an awful lot about health care tod— oh right...
3:56 p.m.: More history!
4:34 p.m.: Don't let Joseph Gordon-Levitt see this.
4:46 p.m.: For those who are too young, in 2013 New York legally mandated tweeting about Derek Jeter once a day.
4:52 p.m.: "—Donald Trump"