29 Things To Remember Before The "The Mandalorian" Season 2 Finale
Here is a recap of all the Mando madness before you watch Season 2's final chapter.
A year ago, in a galaxy far, far away, a father took care of his weird, green son...or something like that. I don't know.
Listen: a one-sentence explanation can't catch you up, because this season of The Mandalorian has been a roller coaster from the word "Lucasfilm" and on.
The Mandalorian (played by Pedro Pascal), also known as "Mando" or "Din Djarin," is searching the galaxy for the Jedi in an effort to find the people of his Force-wielding, alien son simply called, "The Child" (played by...The Child).
We start with Chapter 9 (spoilers ahead if you have not started, but also, why are you here?). Mando and the Child return to the sand planet of Tatooine, where Mando thinks he located another Mandalorian. Instead, it turns out to be a random guy, a town marshal named Cobb Vanth (Timothy Olyphant) in some oddly familiar armor.
This not-so-bad wolf in Mandalorian clothing ends up handing over the Beskar armor after Mando helps defeat the menacing Krayt Dragon.
Better. Now, turn the page to Chapter 10 and enter Frog Lady. Yes...Frog Lady.
It's another job for Mando. He transports this Frog Mom as a passenger (and her eggs) aboard his ship, the Razor Crest.
It wouldn't be Star Wars if things didn't go wrong. We get New Republic pilots, Space Spiders, Mischief with the Child, the Razor Crest gets dismantled (again).
In Chapter 11, Mando transports Frog Lady in a beat-up Razor Crest to a planet covered in high seas. There he eventually meets a fellow Mandalorian named Bo-Katan (Katee Sackhoff).
This apparent heiress to the Mandalore throne hints that the Dark Saber belongs to her. That's that same wacky, black laser sword we saw Moff Gideon (Giancarlo Esposito) wield in the Season 1 finale. Oh, and Koska Reeves (Mercedes Varnado) graced the screen.
Oh, yeah, there was also an Ahsoka Tano name drop here.
For Chapter 12, Mando returns to Nevarro in order to get better repairs on the Razor Crest. He meets up with his old friends Cara Dune (Gina Carano) and Grief Karga (Carl Weathers). Together, they sneak inside an imperial facility to discover mysterious cloning tanks.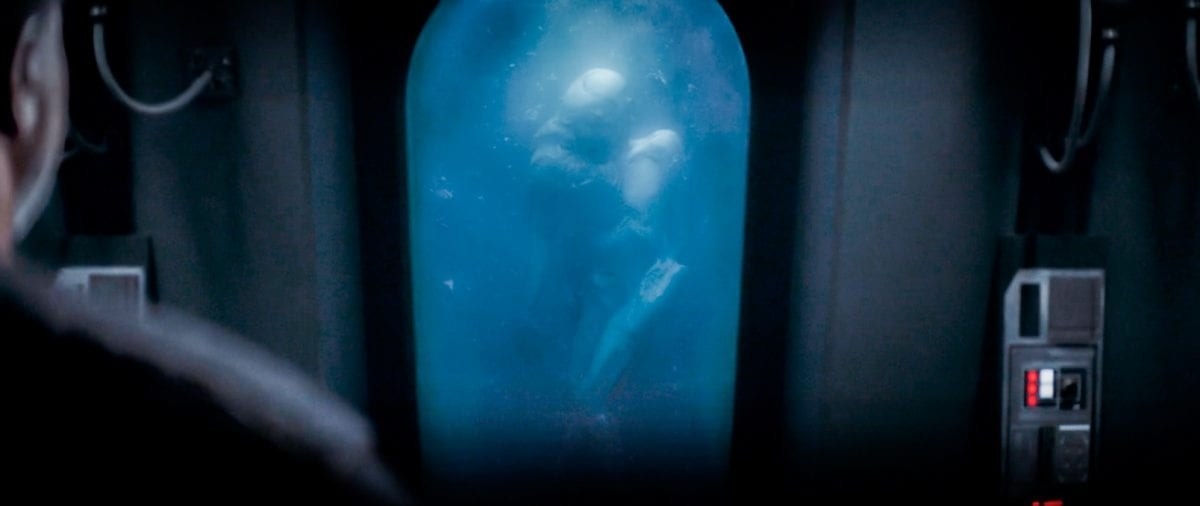 The siege turns into an intense chase to escape Imperial Scout Troopers, and the Razor Crest makes a triumphant return.
Fast-forward to Chapter 13, Mando finally finds that Jedi (but not really a Jedi anymore) named Ahsoka (Rosario Dawson).
She drops a bombshell, the biggest name drop since Cosmo Kramer in Seinfeld: Turns out the Child's name is "Grogu." Sidenote, she is looking for Grand Admiral Thrawn.
That was a lot to take in. Bet Chapter 14 is a little lighter...
Yikes. This story is full speed ahead. Turns out (somehow) everybody's favorite Star Wars Holiday Special character has returned. Boba Fett is back with Temuera Morrison stepping into that infamous green suit.
The million-of-a-kind man (ha, ha...clone jokes) teams up with Mando, along with Season 1 assassin, Fennec Shand (Ming-Na Wen). She had guts last season, but now (with help from Boba) they are mechanical.
I don't see why this particular episode was titled "The Tragedy," it seems pretty badass...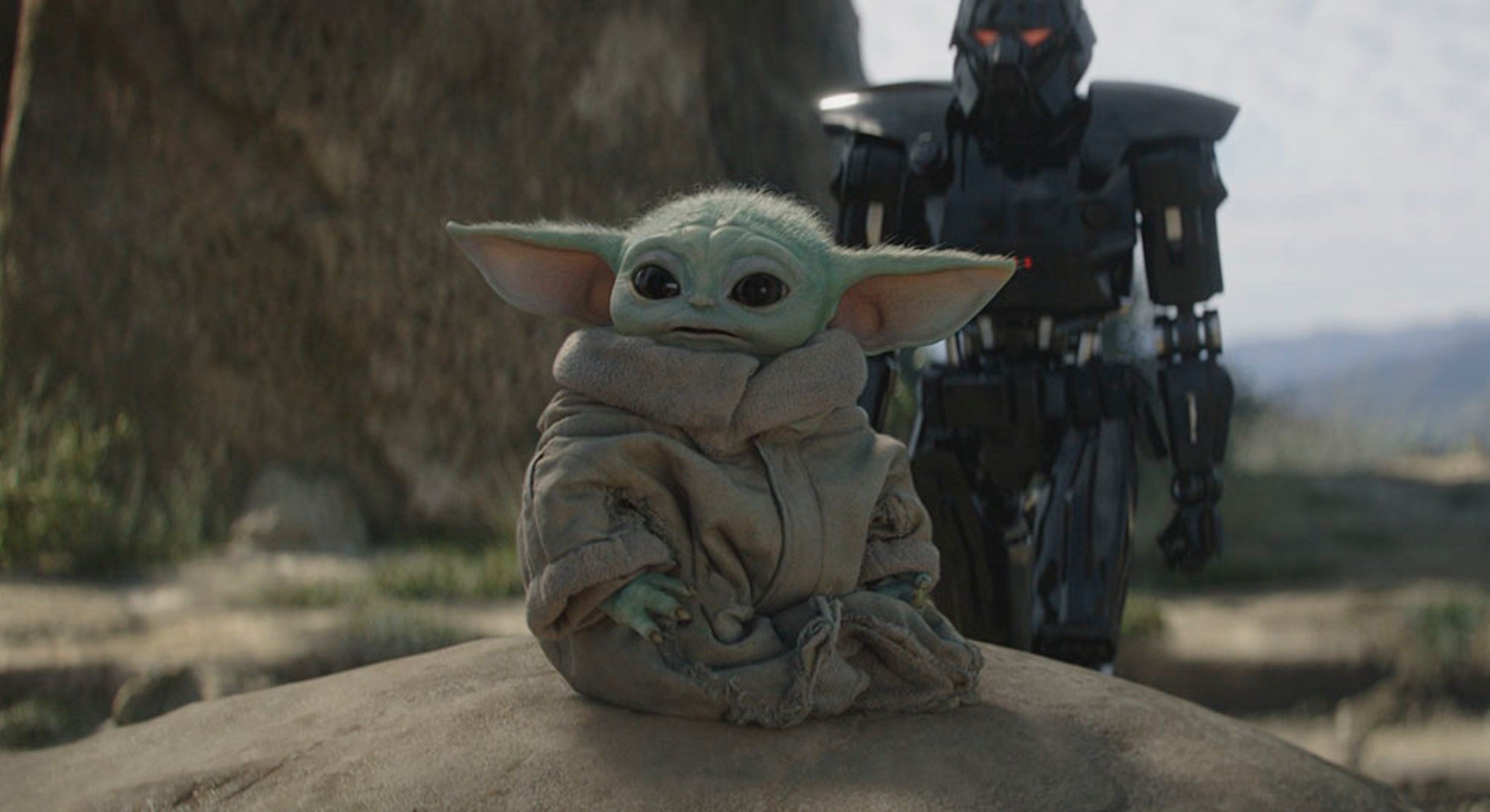 ...Crap. Moff Gideon's Dark Troopers kidnapped Grogu. Well, Mando got the little guy back in the first season. That's not too tragic. Everyone is now ready to hop in the Razor Crest and:
After pouring one out for the Razor Crest, Boba promises Mando he will help him find Grogu, and he offers him a ride. Welcome back, Slave I.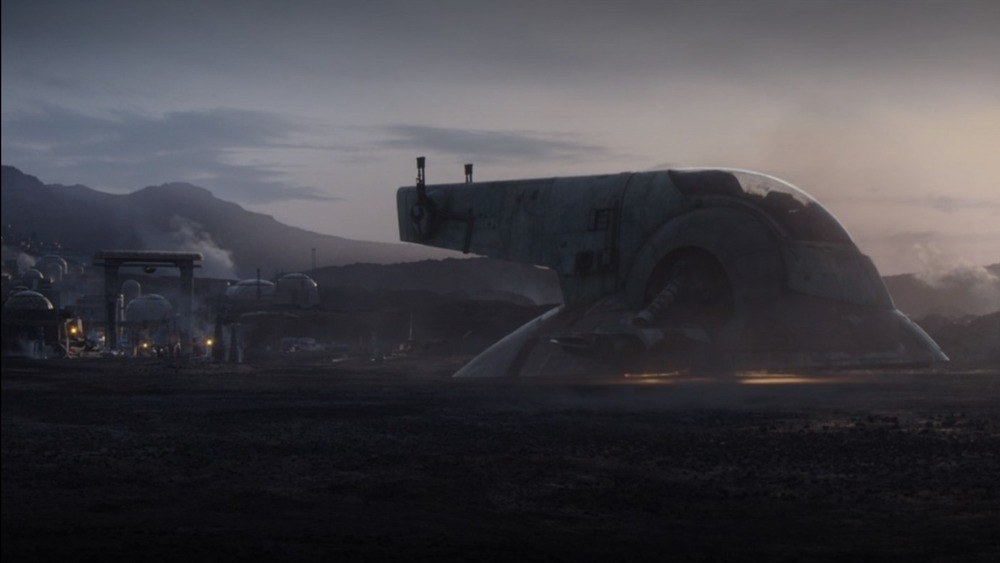 ...Plowing ahead into Chapter 15, we get another Mayfeld (Bill Burr) episode.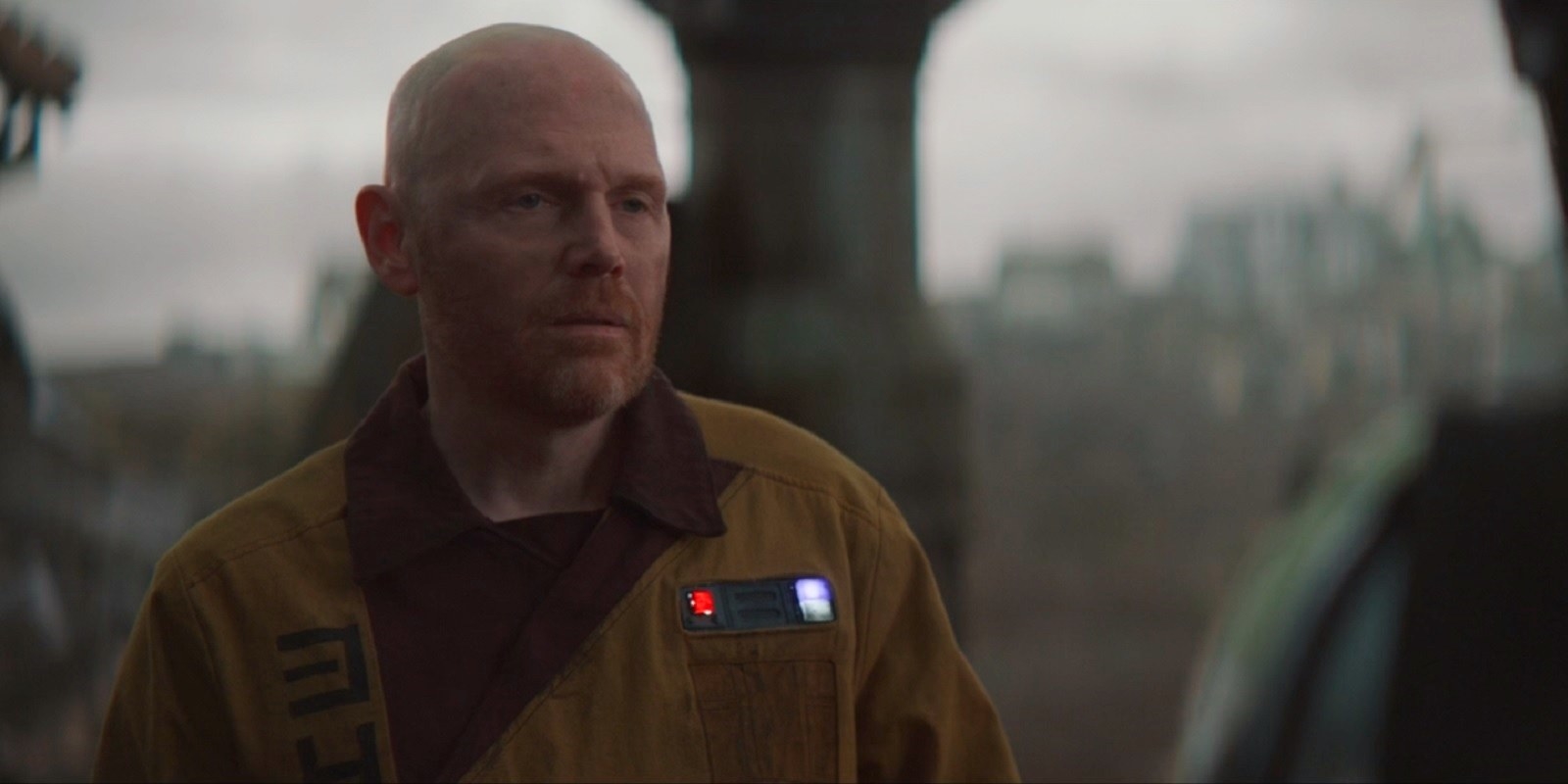 Mando needs the ex-stormtrooper's help to retrieve coordinates of Moff Gideon's ship. During an intense undercover mission inside a Imperial facility, a desperate Mando removes his disguise to get what he needs to save Grogu. It also gives us our second ever look at Din Djarin.
Mayfeld sees Din's face and isn't a jerk about it. He also goes full darkside and gets revenge on an Imperial Officer and everyone in the base. He sort of destroys the whole place in a moment of rage. Mando lets Mayfeld go free, but more importantly, now he knows where to find Gideon.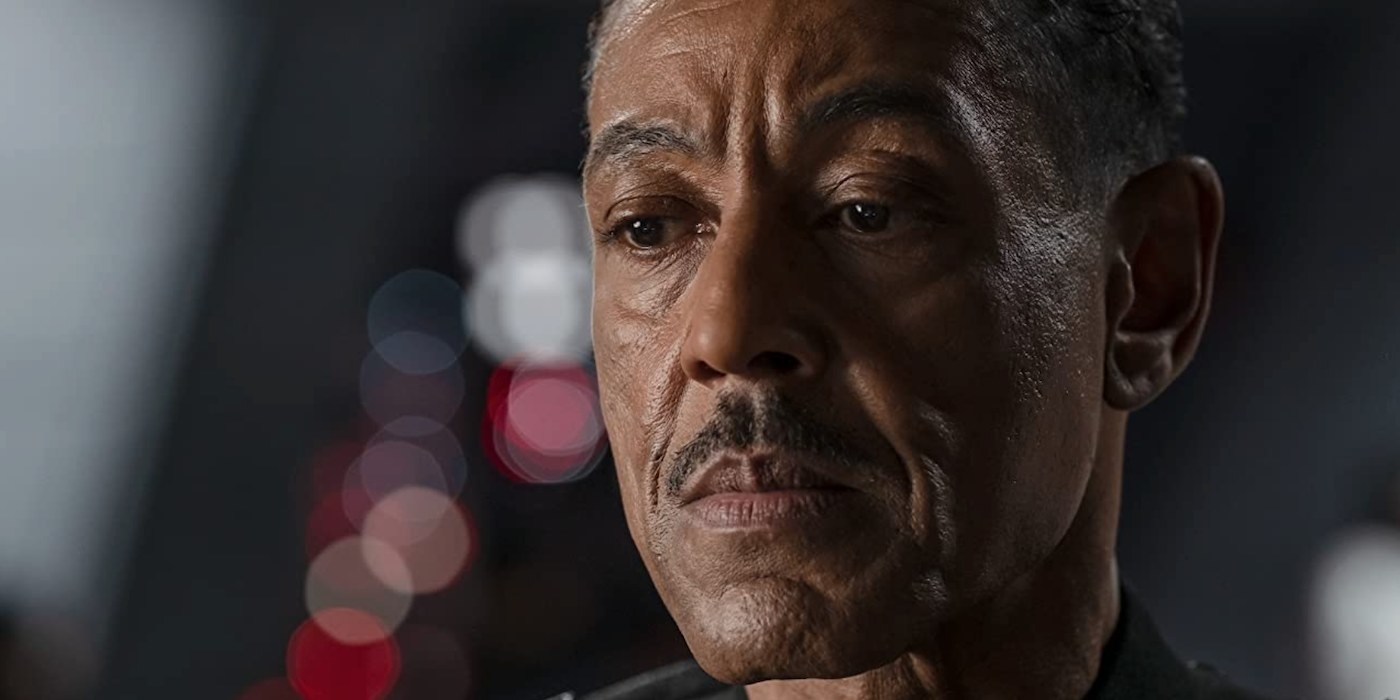 Mando felt it was a good time to do a callback and recite Gideon's speech from Season 1, reminding the kidnapper that Grogu means more to him than he will ever know.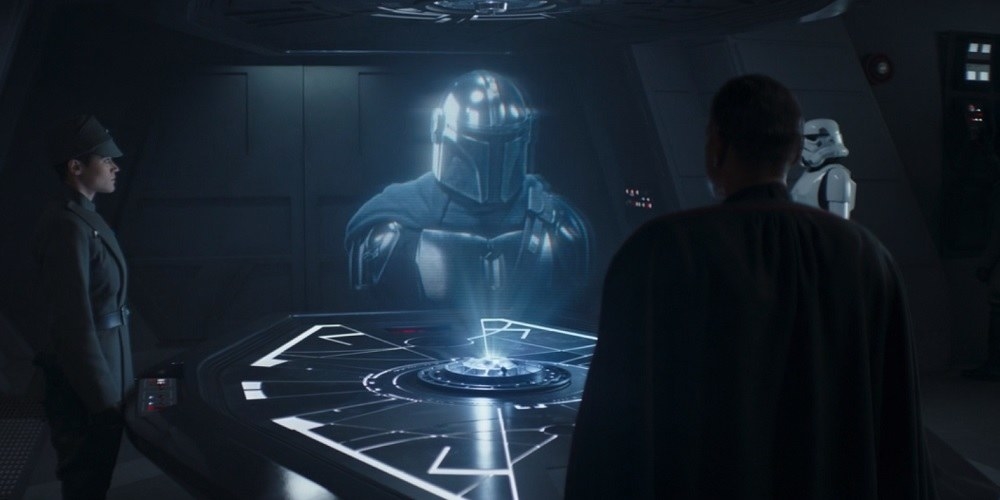 There you go. You should be all ready for Chapter 16, the Season 2 finale, available to watch this Friday on Disney+.
Whatever happens, Beskar helmets off to the creators for another well done season.