If you know me, you'll know that I loveeee Cava. I swear, I order their salads at least once a week.
So you could say I was pretty excited when I found out that the YouTube queen herself, Emma Chamberlain, has partnered with Cava to create her own menu item, called Emma's Fire Bowl.
The bowl, which is $14.17, is now available for ordering through the Cava app. It has a base of greens, and is topped with falafel, pickled onions, avocado, olives, Persian cucumbers, tomatoes, feta, the restaurant's Spicy Hummus, and Skhug, which is a Mediterranean sauce made out of chili peppers.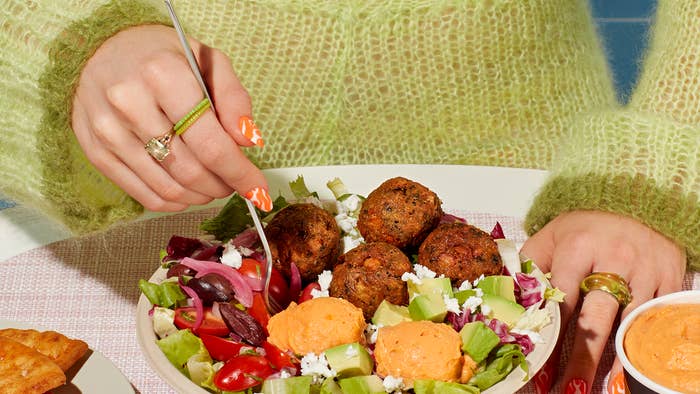 I already had pretty high expectations for this bowl, because Emma has said on her Instagram that she loves Cava's spicy hummus. And if she loves it that much, then it MUST be good.
She also has another menu item that includes the hummus and house-made pita chips, called Emma's Spicy Snack. It's $5.25 and is also available for order through the restaurant's app.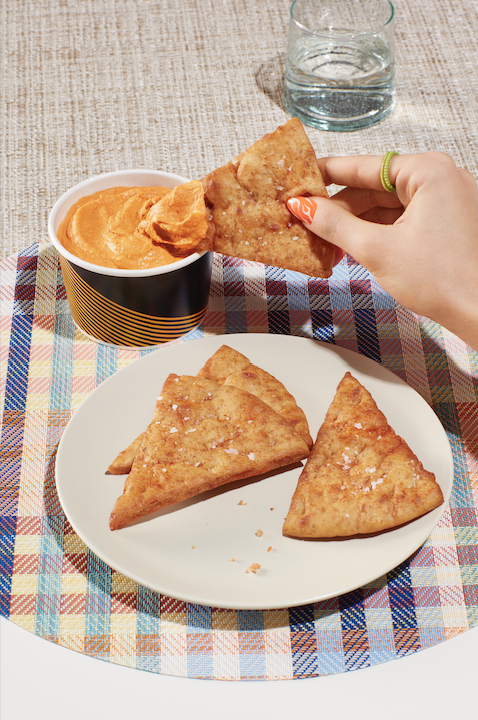 So, I walked over to the nearest Cava. And look! She was in the window. I couldn't help but take a picture.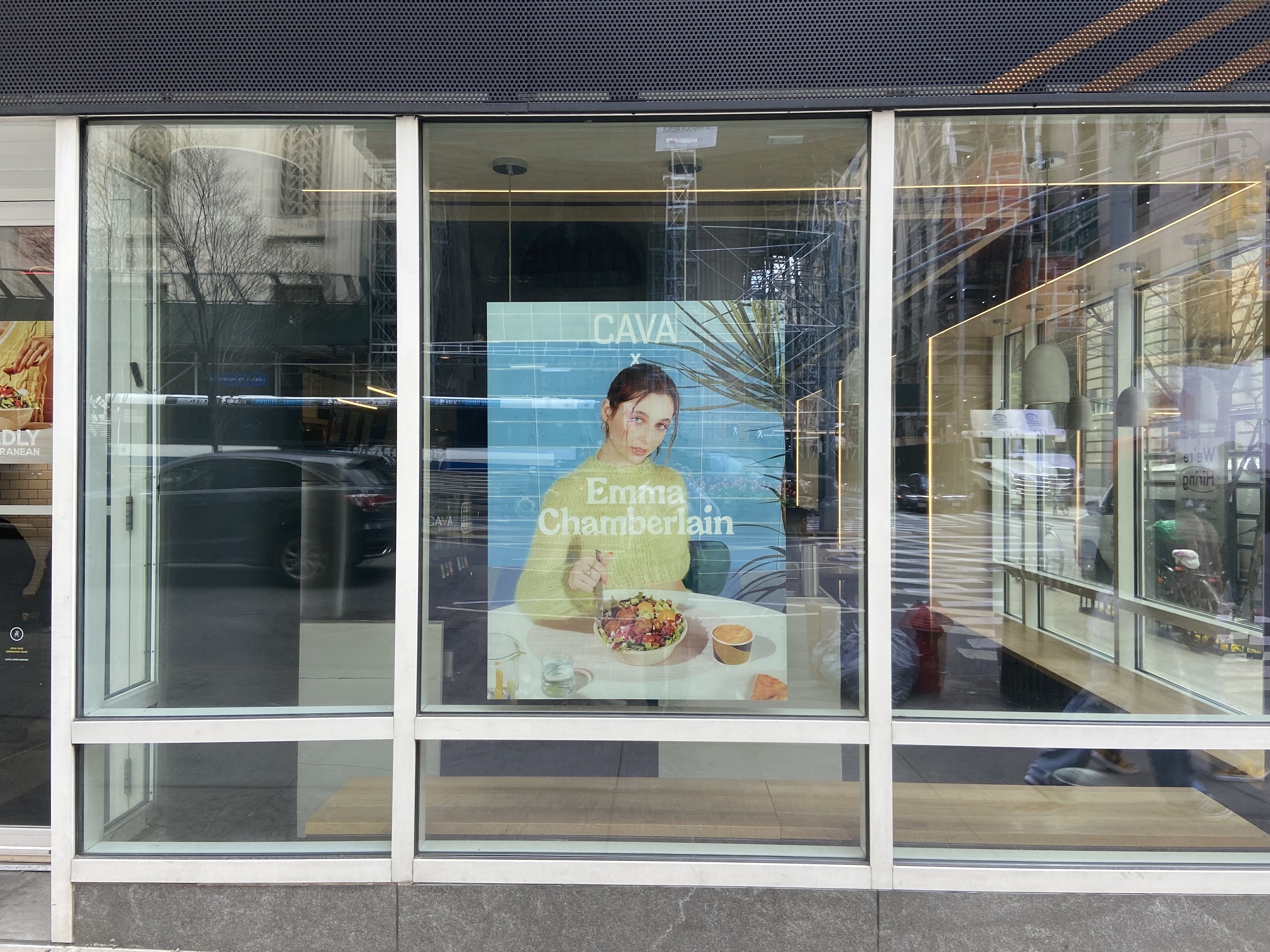 After ordering through the app, I procured it — Emma's Fire Bowl. And here it is!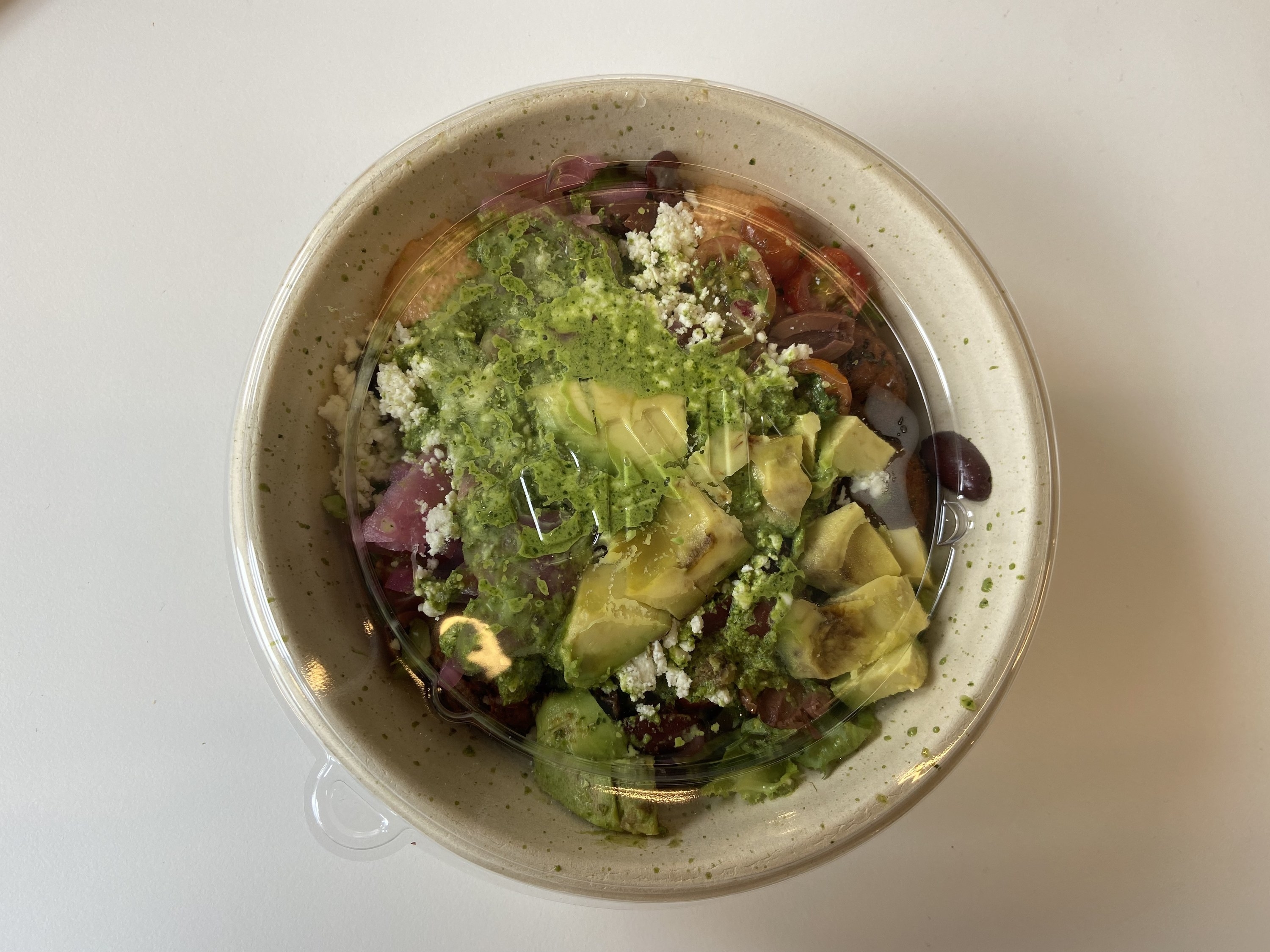 Could you tell I was excited to try it?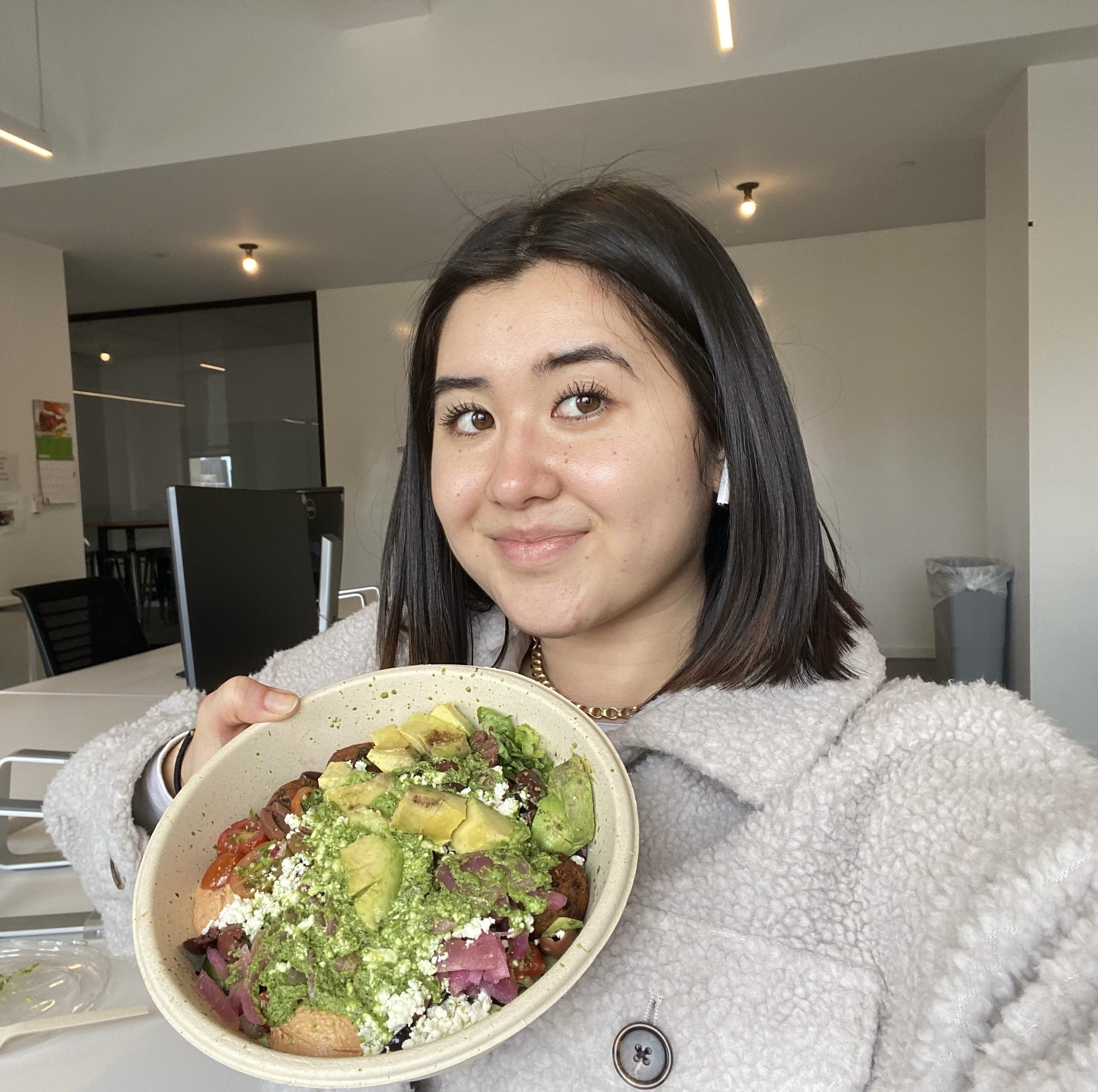 I mixed the bowl together to ensure that the sauce evenly coated all of the vegetables, and I dug in.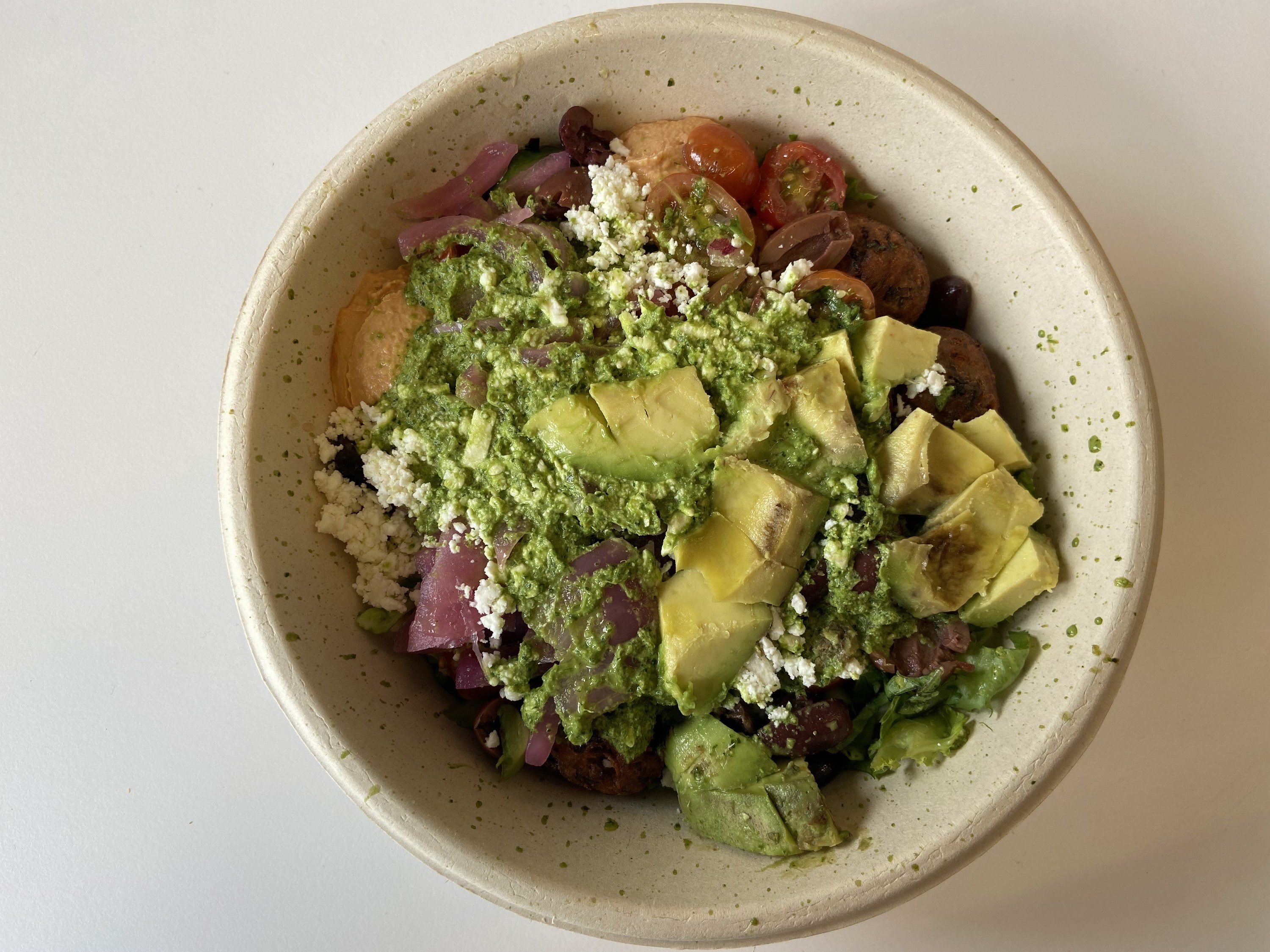 And the verdict is...it's GOOD! All of the vegetables really worked in harmony with the Skhug sauce, which was very herby and a little spicy. I loved the pickled onions and the olives because they gave a nice tangy flavor. The spicy hummus was also expectedly delicious and so creamy.
My only complaint is that the falafel definitely could have been crispier. The inside was soft and moist, but almost to the point where it was a little mushy. It was well-seasoned though, so I would say overall I'd give Emma's Fire Bowl an 8 out of 10.
Despite the falafel issue, I actually liked the bowl A LOT, so I ended up going back the next day and getting it again. But this time, I also decided to try Emma's Spicy Snack.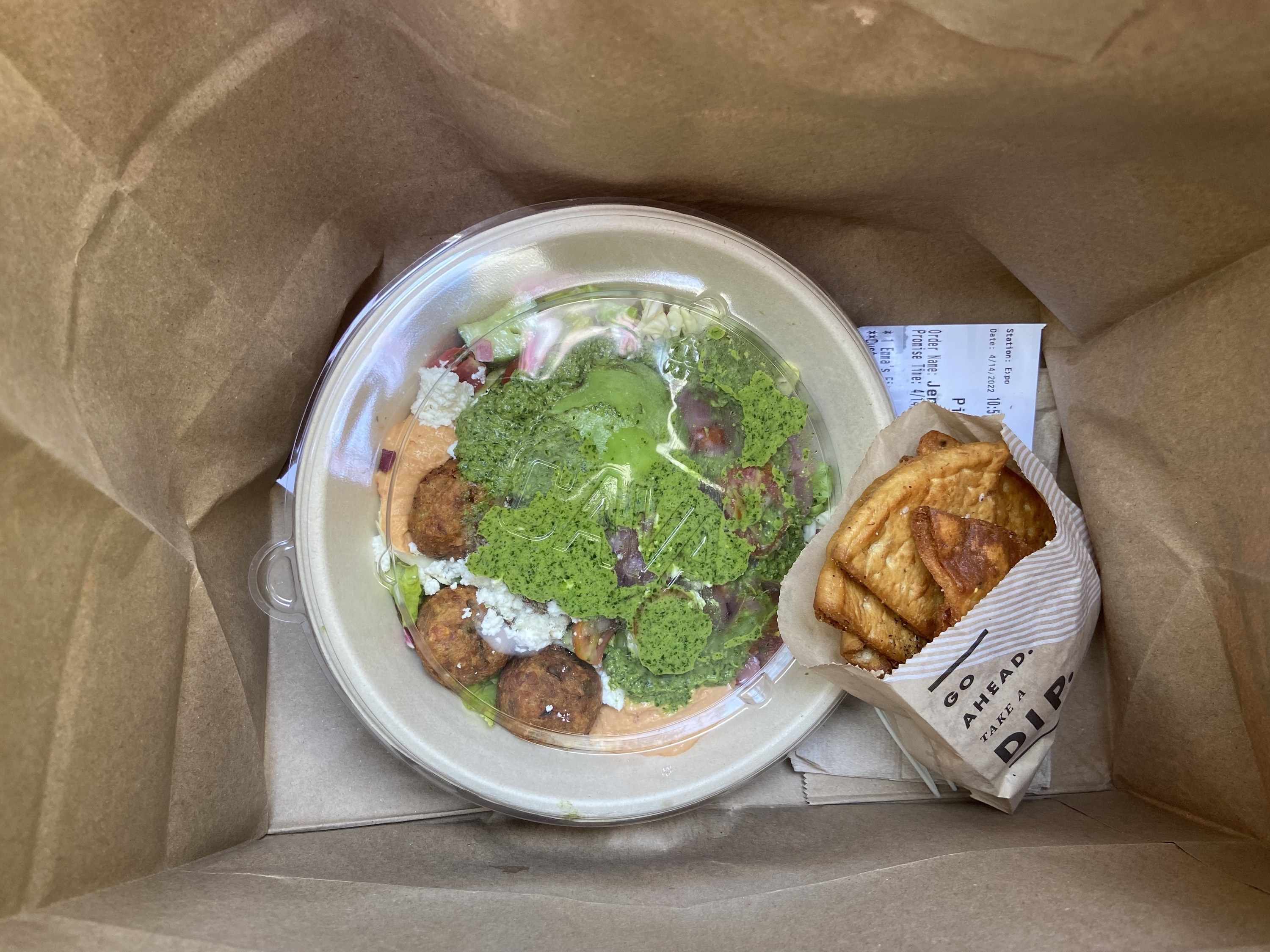 I didn't really know what to expect with the Snack. I knew it was going to be at least okay, because it was just pita chips and the Spicy Hummus, and you can't really go wrong with that.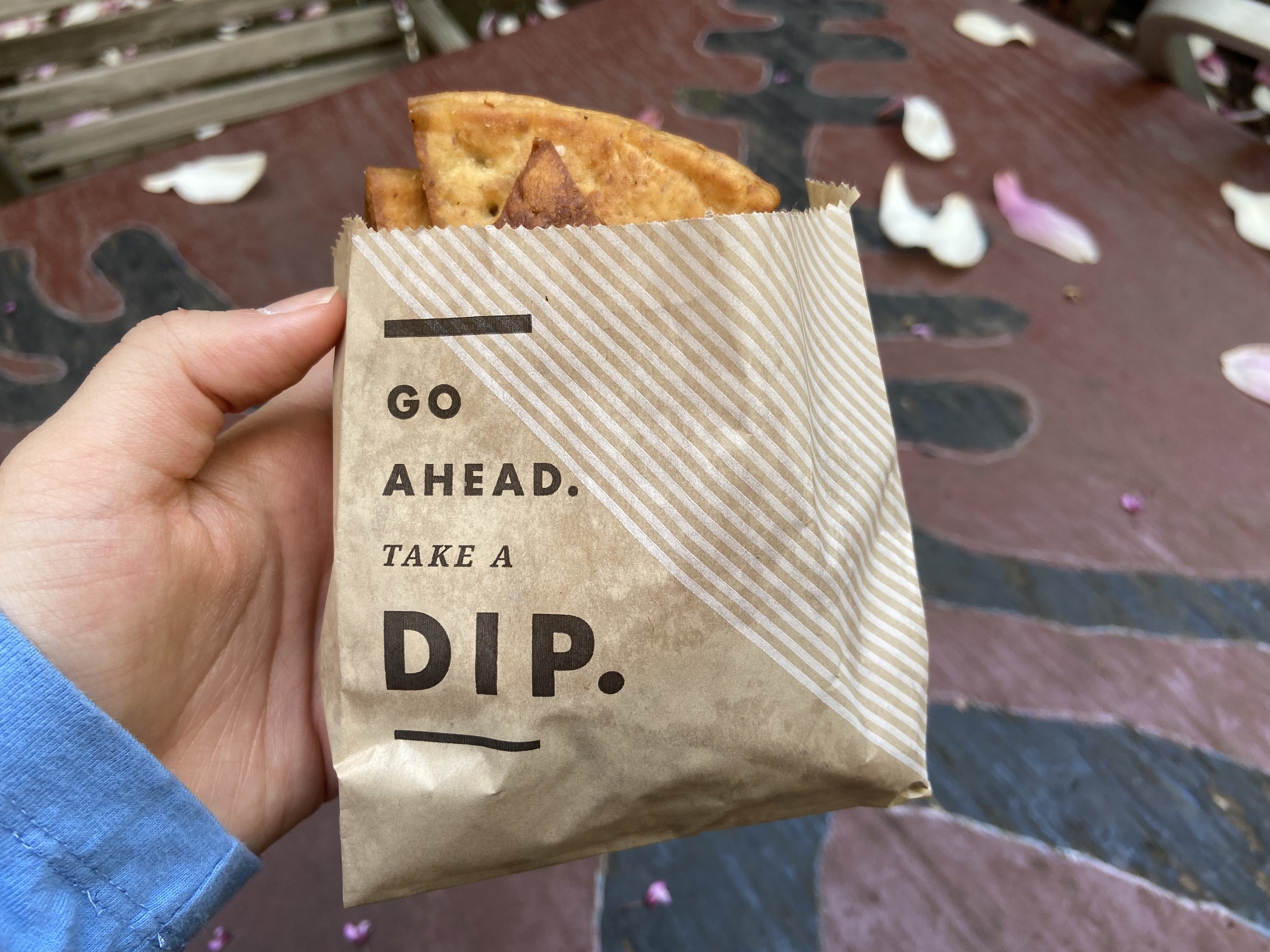 I transferred the pita chips and the hummus to a plate. Honestly, I was kind of disappointed with how little hummus they gave me, but then again, I guess it's supposed to be a snack, not a meal. I dipped the chips in the hummus and gave it a try...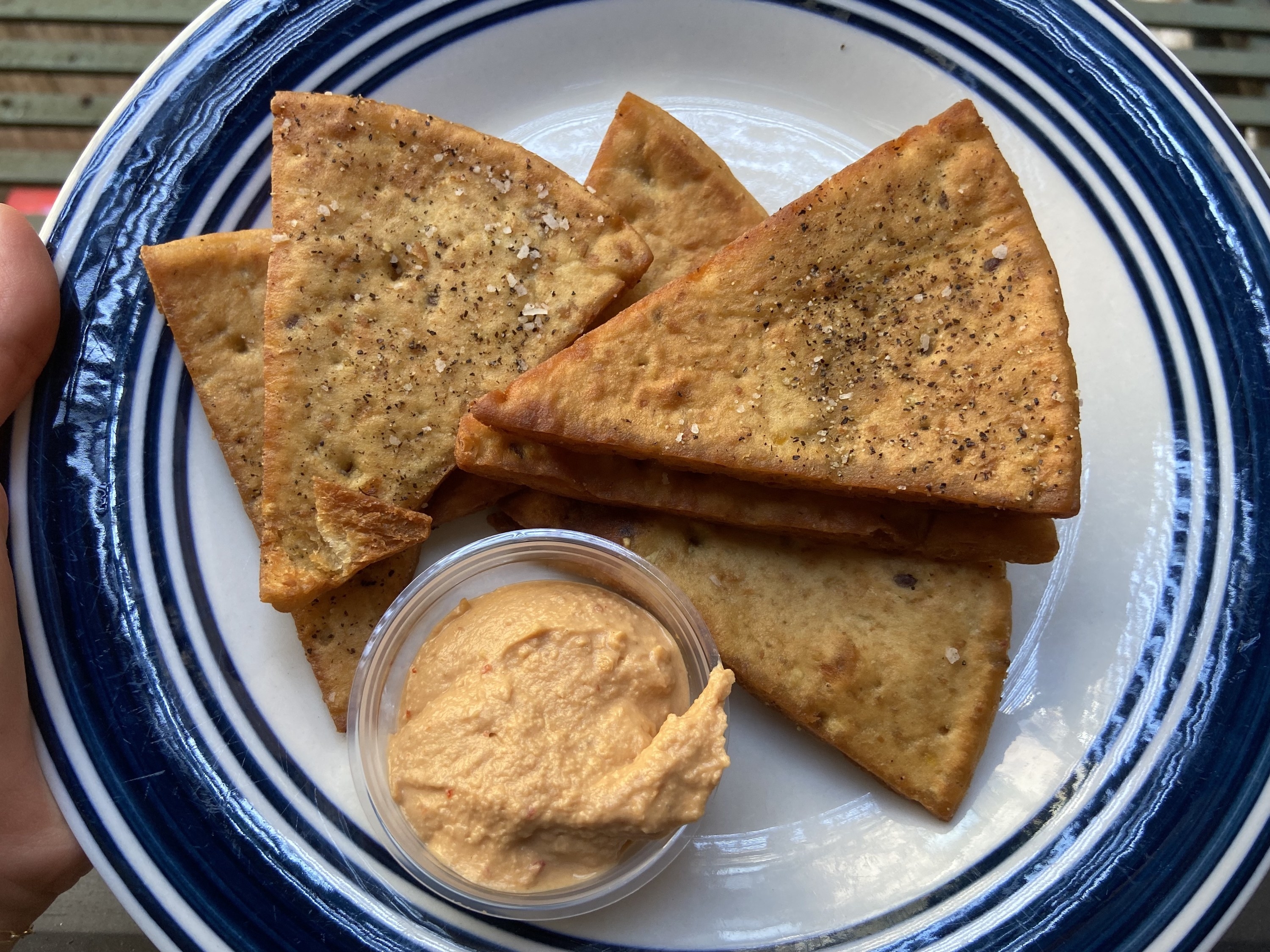 And I knew it was going to be good, but didn't realize it was going to be THAT good. First of all, these pita chips are shockingly delicious. They tasted fresh out of the oven, with a crispy outside and soft, chewy inside. They were also covered in salt and pepper, so the chip itself was suitable to eat on its own. The hummus was, of course, a great dip with the chips. And I guess in the end, the amount of hummus they gave me turned out to be the perfect portion. I'd give Emma's Spicy Snack a 9 out of 10.
Have you tried Emma's Fire Bowl? Let me know in the comments!