19 Reasons "The Prince Of Egypt" Is The Best Animated Movie Of All Time
"The Plagues" is such a bop.
1.
Let's start with the obvious — the animation in The Prince of Egypt is so breathtakingly beautiful. Reminder: This film came out in 1998.
2.
I mean, just look at these visuals!!!
3.
It STILL inspires artists everywhere.
4.
The voice cast is just an endless list of Hollywood A-listers...
5.
...but despite that star-studded list, the music itself is probably the BIGGEST star of the whole damn thing.
6.
Seriously, it's just perfect for truly any occasion.
8.
"The Plagues" is such a banger you forget that it's a dramatic AF song about plagues...
10.
Oh, and the Whitney Houston and Mariah Carey version of "When You Believe"? So iconic.
11.
I mean, could Disney EVER??????
12.
It's emotional!
13.
It's sexual!
14.
And it's so friggin' re-watchable that I'm going to go straight home and watch it again once I finish this: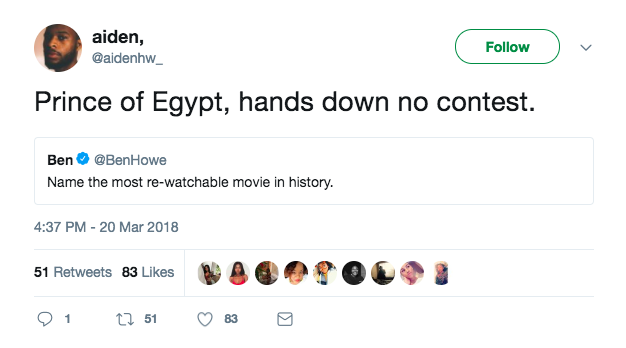 15.
The thing is, it's woefully underrated, like most important *art* is:
16.
Unfortunately this level of cinematic masterpiece just goes over some people's heads...
17.
...but luckily there's a sensible community of people who understand THIS TRUTH.
18.
DreamWorks really gifted us with a true winner.
19.
To summarize: the POE is the GOAT.