1.
Let's start with the obvious — the animation in The Prince of Egypt is so breathtakingly beautiful. Reminder: This film came out in 1998.
2.
I mean, just look at these visuals!!!
3.
It STILL inspires artists everywhere.
4.
The voice cast is just an endless list of Hollywood A-listers...
5.
...but despite that star-studded list, the music itself is probably the BIGGEST star of the whole damn thing.
6.
Seriously, it's just perfect for truly any occasion.
7.
Sing it loud, sing it proud.
8.
"The Plagues" is such a banger you forget that it's a dramatic AF song about plagues...
9.
...but please turn that shit ALL THE WAY UP.
10.
Oh, and the Whitney Houston and Mariah Carey version of "When You Believe"? So iconic.
11.
I mean, could Disney EVER??????
12.
It's emotional!
13.
It's sexual!
14.
And it's so friggin' re-watchable that I'm going to go straight home and watch it again once I finish this: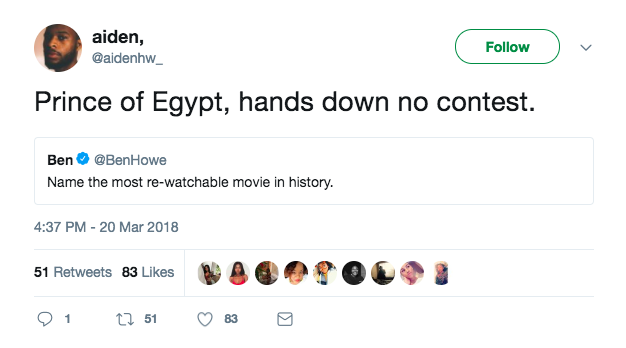 15.
The thing is, it's woefully underrated, like most important *art* is:
16.
Unfortunately this level of cinematic masterpiece just goes over some people's heads...
17.
...but luckily there's a sensible community of people who understand THIS TRUTH.
18.
DreamWorks really gifted us with a true winner.
19.
To summarize: the POE is the GOAT.