Taylor Swift's Lyrics Are Playing A Big Part In Sarah Hyland's Relationship With Wells Adams
"Call it what you want..."
Earlier this week, Sarah Hyland and Wells Adams from The Bachelorette made their relationship SMO (social media official!!!!) and they just seem so cute and happy.
But there's a part of this story dating back to last week (aka Nov. 3) that has to do with Taylor Swift — queen of providing the perfect soundtrack to any budding romance. In case you forgot, Taylor and Sarah are pals going back many years:
Plus, Sarah has always been obsessed with Taylor's lyrical genius:
So when Sarah posted this tweet about being obsessed with Taylor's new single, "Call It What You Want," I didn't really think twice about it:
And then Sarah followed up with these lyrics from the song, and it was clear she was drunk in love:
And then we all found out that it was Wells making Sarah so happy, and Sarah liked THIS TWEET: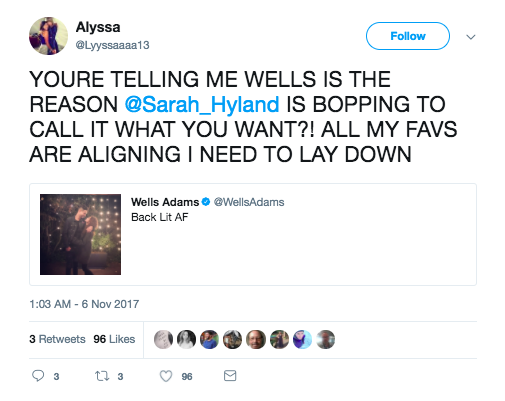 Well, last night Sarah took the whole thing to the next level. Remember that lyric above? "I want to wear his initial on a chain 'round my neck..." SHE LITERALLY PUT HIS INITIAL. ON A CHAIN. 'ROUND HER NECK.
And basically, what I'm trying to say is, I'm not even prepared for all of the cute and lovey dovey social media posts we have ahead for us when Reputation comes out on Friday and Sarah has so many more lyrics to use. THE END.