If you've been watching the Olympics obsessively, you probably already have at least a bronze medal in shipping THE HELL out of Canadian ice dancing gold medalists Tessa Virtue and Scott Moir. I mean, LOOK AT THEM: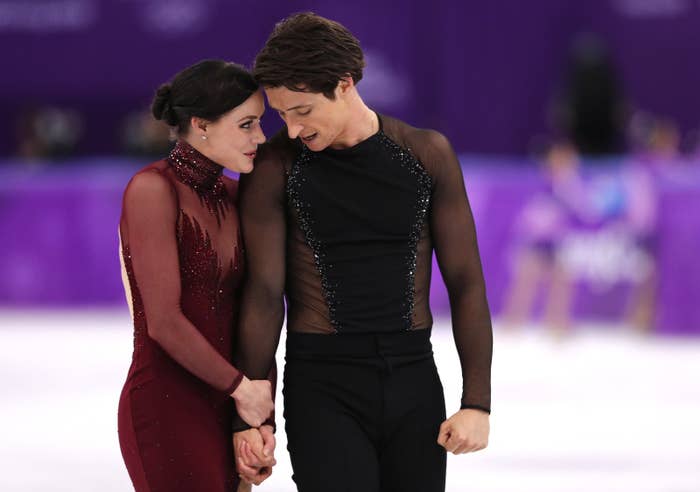 SERIOUSLY. LOOK. AT. THEM.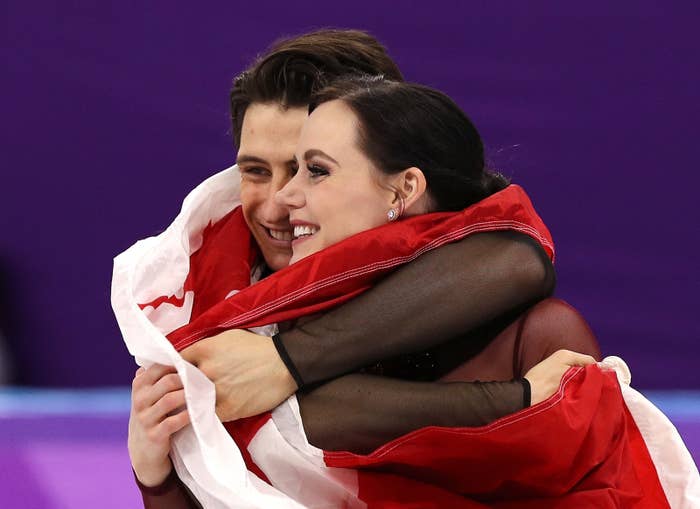 Now, the million dollar question has been: Are they together in real life??? And the truth is, we still don't have a hard answer. But I'm just going to let the evidence I've gathered speak for itself. Enjoy!
First there was this incident when Scott had this perfect slip-up while answering a question about sleep on camera:
Let's zoom in on that a little closer, shall we?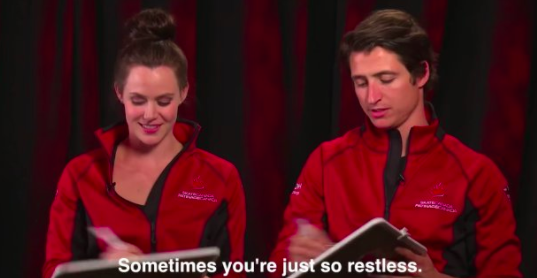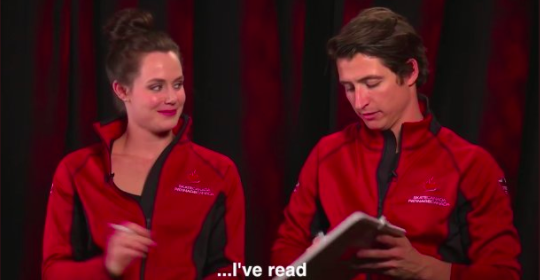 And let's not forget about this cute little slip-up:
There's also this moment when The Today Show's Savannah Guthrie and Hoda Kotb interviewed them and basically told them they wished they were together...
...and here's what Tessa said in response:
Well, that's such a compliment that you feel that when you watch us skate. We absolutely love performing together. We love storytelling, especially with Satine and Christian in the Moulin Rouge! program. That was really close to our hearts. We knew we wanted to skate to that music... Guess mission accomplished. That was the story we were telling, so I'm happy that you fell in love with that.
DOESN'T SOUND LIKE A NO TO ME!!!!
Now, let's roll this clip from today, where Scott and Tessa were asked point blank about their status, and here's what Scott said:
We love working together. We'll have to find in which way we want to do that. Relationship status is none of your business, but I can say that the last two years we've been in a very committed relationship with our sport. We're the type of athletes that dive head first into the whole process and I just honestly don't know where you would find time for that. And part of the reason maybe why we wouldn't continue was to open up that side of our life maybe and see where that goes. That's pretty... as personal as I'll get, but let's see what happens.
So it's none of our business, but also let's see what happens... Alrightyyyyy then, don't mind if I do!!!!!
The bottom line is: We may never get the real *answers*, so let's just keep on with our obsessive shipping ways indefinitely.