It's simple, just tell me if these plots are real things that happened on the Riverdale mid-season finale or if I just made them up. Okay? Okay.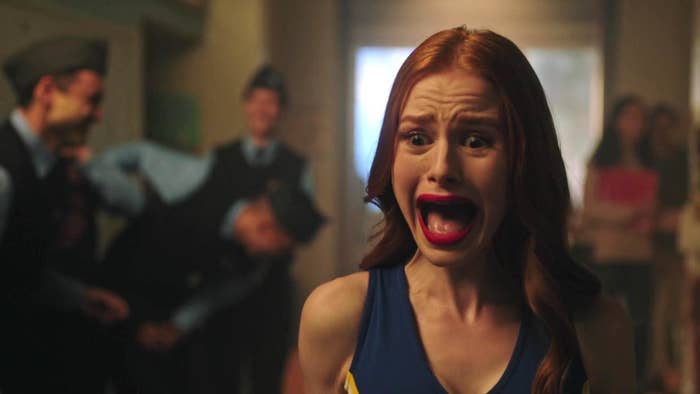 The cheerleaders had a mass seizure, much like the other seizures that have been plaguing Riverdale all season like a common cold — and you bet your ASS it's Hiram Lodge's fault!

CW

We finally met Jughead's sister, Jellybean, and learn that while she was on the run from Penny Peabody, she had to get a new face and hair to conceal her identity, which explains why she looks completely different from the photo we saw in Season 1.

CW

Nah, they just didn't explain that part at all, but that's chill!

Cheryl (a high school junior) asked her girlfriend Toni (also a high school junior) to move in with her.

CW

Yes, of course! This always happens in real life.

Veronica and Reggie finally had sex on the bar of the Bonne Nuit while an Imagine Dragons song played in the background.

CW

This hasn't happened yet, but somehow I can vividly see this scene happening? Did I dream it?

We also met Jughead's mom, Gladys, and she assumes Archie and Jughead are a couple.

CW

Cheryl's mom had a seizure, and Cheryl realized that even though her mom has done some horrific stuff, she's still her mom — so she nursed her back to health and they made up. For now.

CW

BAHAHHAHAHA, NO. Cheryl, a hero, just rolled her DAMN EYES.

In a devastating twist, we learned that Pop has actually been the mastermind behind Hiram's plots this entire time.

CW

Y'all, I can't even joke about this!!! Pop is too pure for this world.

Sister Woodhouse tells Betty and Ethel all of her darkest secrets about Gryphons & Gargoyles in approximately 2.5 seconds, because...exposition, baby!!!!

CW

She did do this, and basically explained that the Gargoyle King and G&G originated at the Sisters of Quiet Mercy as a way to keep their drugged patients in check (aka scared out of their goddamn minds!).

On a Fizzle Rocks-induced high, Betty realizes she no longer loves Jughead and decides that the Gargoyle King is her one true love and she must be the Gryphon Queen forevermore.

CW

Okay, no. Betty figured out how the Sisters were manipulating patients and figured the only way to get the other patients to agree to escape with them, she becomes the Gryphon Queen. Guys, what am I even typing right now?

In a sponsored scene, Penelope Blossom demonstrated a new line of Riverdale-themed maple syrup skincare products.

CW

Lol, nah. Cheryl and Veronica just casually torture her with syrup, as teens do.

We learn that this whole time Archie has a secret brunet twin brother named Arnold, and he will be the key to Archie eventually taking down Hiram Lodge once and for all.

CW

Nah, that's just Archie going on the lam!!!

Riverdale is officially quarantined, which was the big plan all along. Because...quarantine is the only way to stop contagious seizures, I guess?

CW

Yep! And Jughead and FP are trapped outside of the quarantine, a plot which I'm sure will be resolved within five minutes of the next episode.