1.
When Ariana Grande's friend Courtney hilariously heard "Thank U, Next" playing:
2.
When Erin Foster's dad, David Foster, sent this text after the whole college admissions scam:
3.
When Michelle Obama texted her mom after the Grammys and was humbled:
4.
When Chrissy Teigen wanted to borrow John Legend's mouth guard:
5.
When Serena Williams hilariously had a one-track mind:
6.
When Zendaya's mom compared her to a troll:
8.
When Ariana Grande's grandma got an iPhone for the first time:
9.
When Hilary Duff didn't want to share her cupcakes:
11.
When Camila Cabello shared a true MOOD:
12.
When Lil Yachty and Quenlin Blackwell had this great exchange about Solange Knowles and Frank Ocean: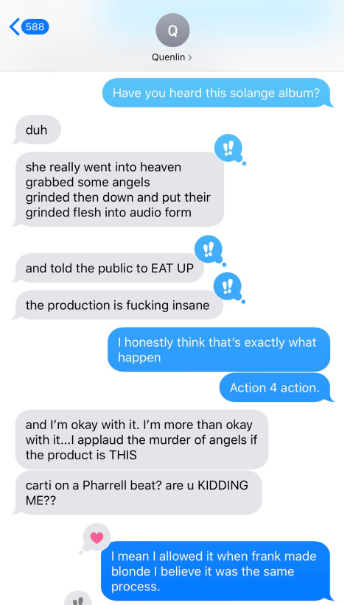 13.
When Anna Kendrick's brother was painfully honest with her:
14.
When Chrissy Teigen had questions about butt thermometers:
16.
When Maisie Williams' mom had a crush on Andrew Garfield:
17.
When Gigi and Bella Hadid basically spoke in their own language:
19.
And when B.J. Novak said what we all feel about cellphone communication in general: