Remember August 2018? Of course you do, it wasn't that long ago. But it was a glorious time when the INTERNET had a collective crush on Lana Condor and Noah Centineo of To All the Boys I've Loved Before fame.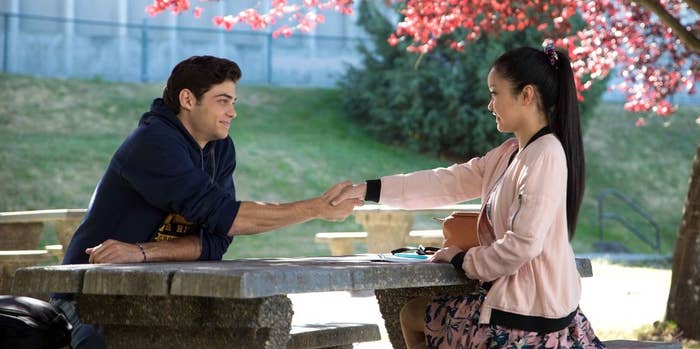 While they never claimed to be AN ITEM in real life (in fact, Lana clearly was with her long-term BF, Anthony De La Torre, the whole time) they certainly dropped little bread crumb hints that they had off-screen chemistry, like we were all Hansel and friggin' Gretel.

Fast-forward to today. Queen Lana is on the cover of Cosmopolitan this month, and I am legitimately glowing with pride. It's the happiest I've ever felt for someone not in my immediate friends and family circle.
But in the interview, Lana addressed the Noah dating rumors and admits that we didn't all have entirely over-active imaginations:
Noah and I definitely encouraged the speculation. But it's because we believe in the story and the characters and we genuinely love each other. You can truly love someone in a very platonic way.
I'm sorry, I'm very fragile right now and need a moment.
Okay, now that I've processed — the truth is, it's all very Lara Jean and Peter K. of them. Plus, it sounds like some of the fan comments were ultimately upsetting to Lana and Anthony, and I am SO not here for that:
It was so hurtful for both of us. This is supposed to be a good thing. Why are you ­coming for someone who has no part of this story? If you say you support me, why would you hurt someone I love?
The GREAT news is, Lana is in a loving and happy relationship with Anthony, and that makes me grin like an idiot.
So, let's keep the shipping strictly about Lara Jean and Peter Kavinsky (and...John Ambrose McClaren???) when the sequel drops.
Anyway, you must read Lana's full interview in the March issue of Cosmopolitan and also watch her play with puppies here.