10 Side-By-Sides Of The "Great British Bake Off" Bakes Vs. Their Drawings
That jelly art though...
Well, we've made it to the quarterfinal of Great British Bake Off, and it feels like just yesterday the season was starting. What is time, really?
Since I could stare at photos and pretty drawings of food all day, I'm back again with the quarterfinal side-by-sides of the drawings next to the bakes.
Note that the drawings are, of course, done after the final bakes by illustrator Tom Hovey (aka the man with the coolest job ever!). He once told Vulture, "My job is to illustrate what the bakers planned to create, not what they actually baked in the tent." So I just think it's pretty neat to see a side-by-side of what the bakers had planned next to how things turned out.
The theme of this week was Desserts Week, which started with a cheesecake signature bake. Here's how it went:
1.
Dave's "Celebration of Citrus" Cheesecakes: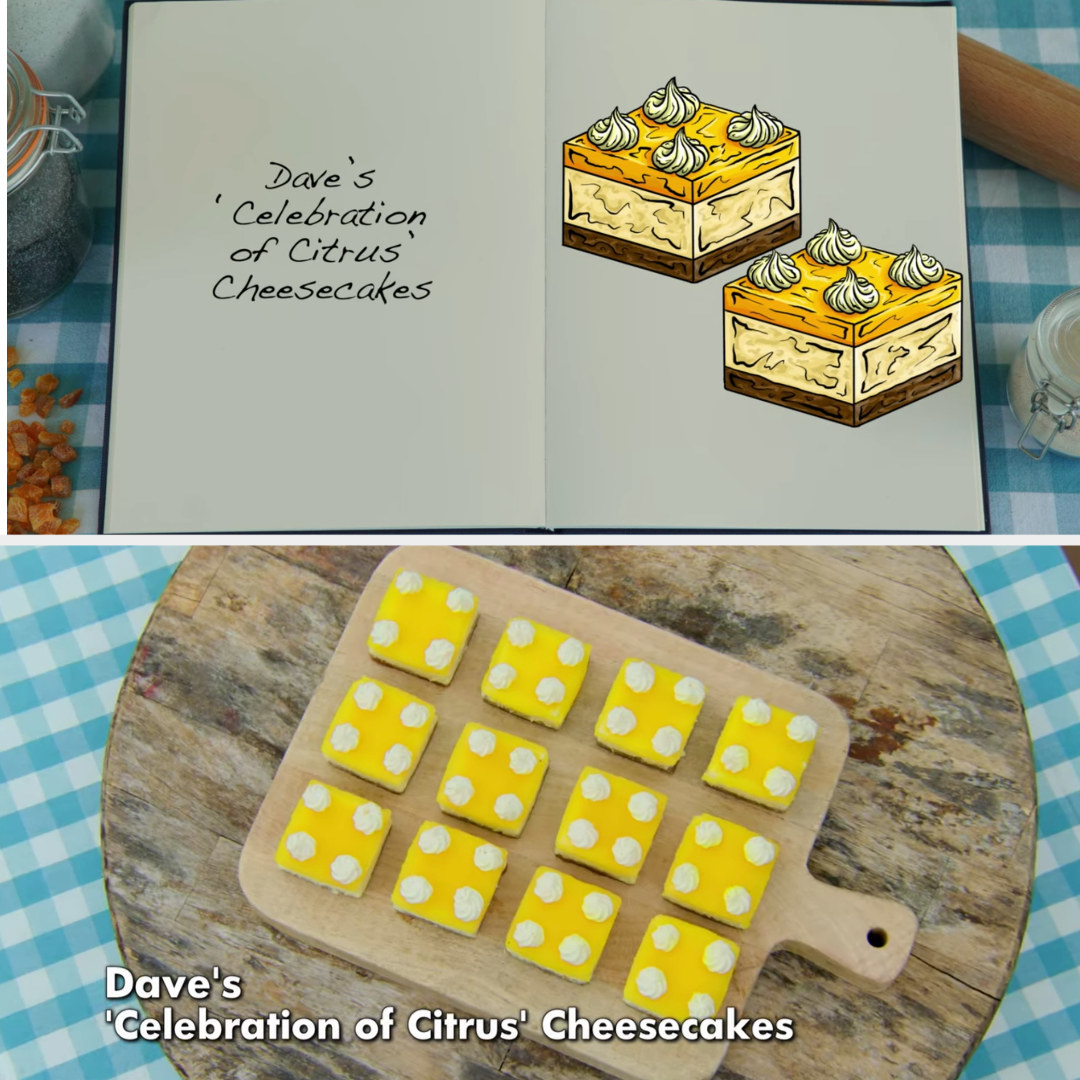 2.
Laura's Passion Fruit Cheesecakes:
3.
Hermine's Passion Fruit Cheesecakes:
4.
Marc's New York Style Vanilla and Mascarpone Cheesecakes:
5.
Peter's Lime & Ginger Cheesecakes:
The technical challenge was Sussex Pond Pudding and, well, I'm trying to forget about this round entirely, tbh.
Finally, we moved on to a showstopper challenge of jelly art cakes, which is pretty much exactly what it sounds like. Here's how it went down:
6.
Peter's Snow Globe Jelly Cake: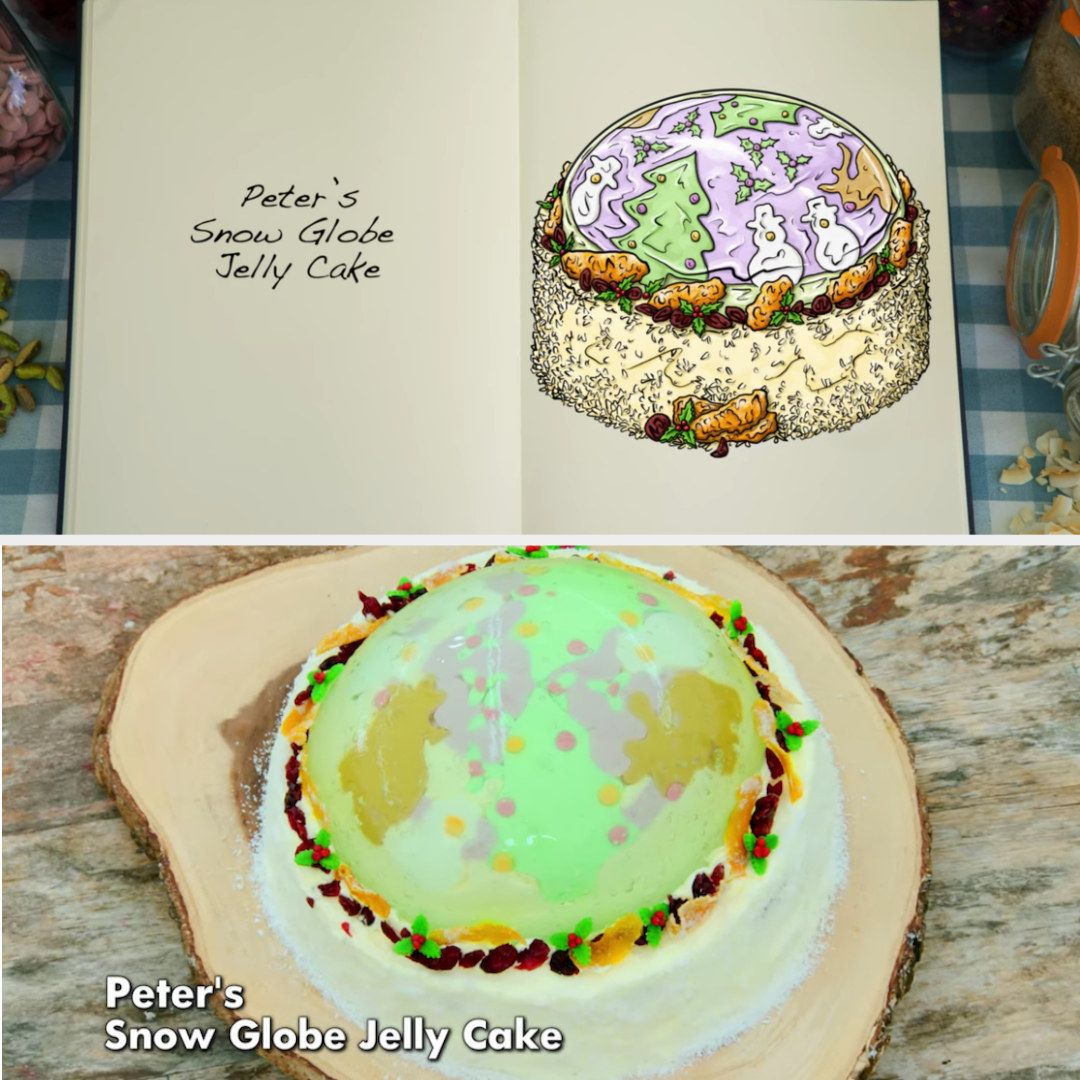 7.
Hermine's Chocolate and Raspberry Mousse Jelly Cake: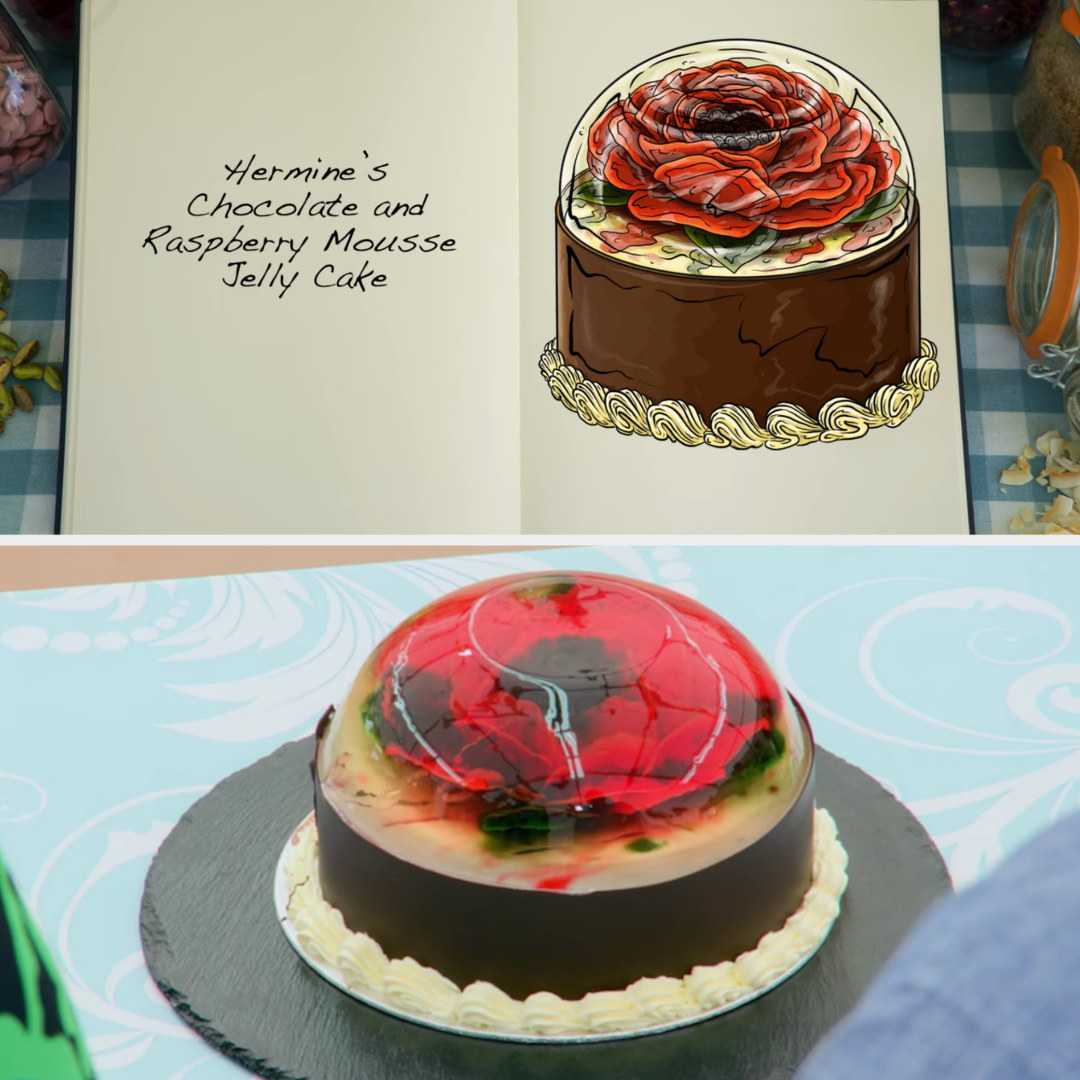 8.
Dave's Newquay Beach Scene: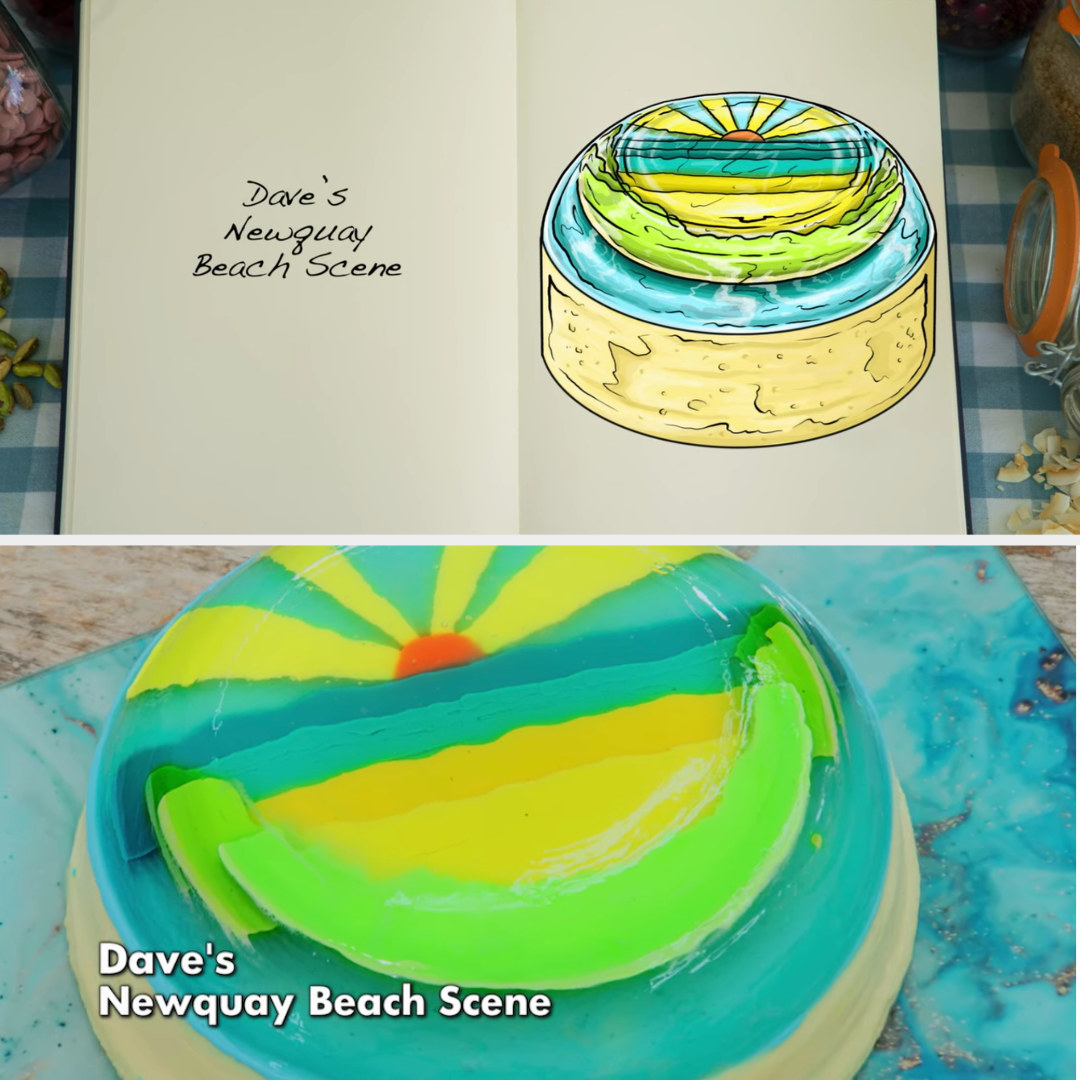 9.
Laura's "Flower Power" Koi Jelly Art Cake:
10.
Marc's Apple Jelly with Chocolate and Strawberry Mousse: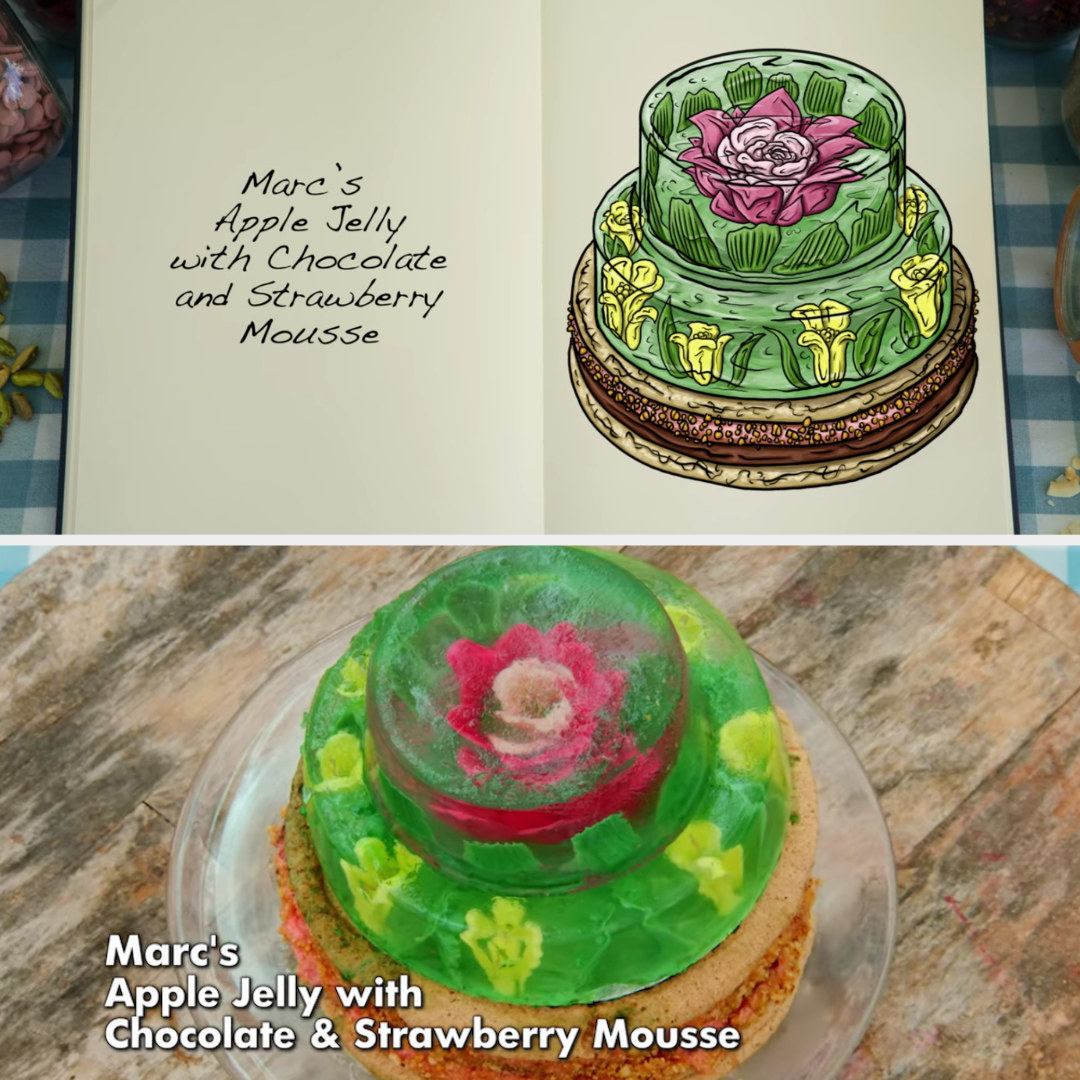 In the end, Hermine was named Star Baker (for the second week in a row!) and Marc was sent home. It gets harder and harder to say goodbye to someone each week, and this one definitely hurts.
And that's a wrap on the quarterfinal! Who are you rooting for? Who do you think will make it to the finals? Let me know in the comments!