ICYBLUAR (in case you've been living under a rock), Captain Marvel premiered over the weekend, and it's a bona fide smash hit.
But, since Wonder Woman is the most recent female-led superhero film to hit theaters, people have been pitting the two films/characters against each other. And it really stinks!
Well, today, Gal Gadot (aka Wonder Woman herself) shared a message of support for Brie and Captain Marvel on her Instagram story: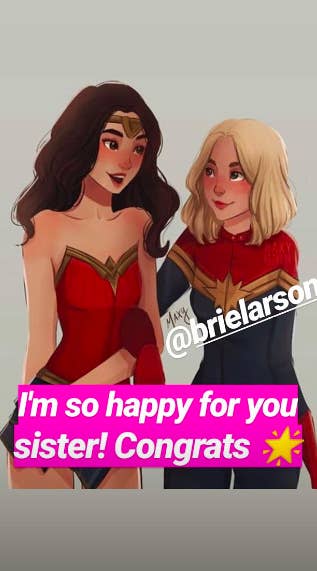 The artwork Gal shared is a sweet depiction of Wonder Woman and Captain Marvel linking arms, by 17-year-old artist Maxy Artwork.
And Gal wasn't the only one from the Wonder Woman camp to send love to Captain Marvel. Director Patty Jenkins sent congratulations before opening weekend:
Naturally, people are feeling ~emotional~ about the whole thing:
We love legends supporting legends!