In case you ~somehow~ missed it, Shakira and Jennifer Lopez performed the Super Bowl halftime show last night and absolutely crushed it!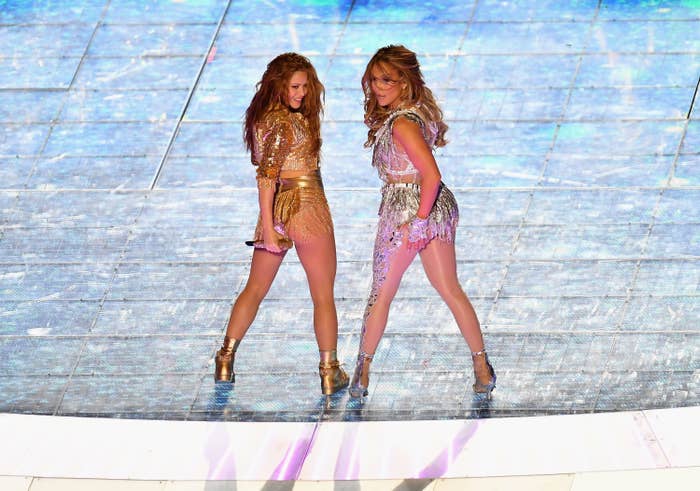 And no one was feeling it more than their fellow celebs. Here are some of the best reactions:
1.
For starters, Shakira shared this sweet message after the show:
2.
Jennifer Lopez also shared her gratitude…
3.
…and this perfect meme:
4.
Lady Gaga absolutely loved it so much that she used "sexy" twice and 12 exclamation points:
5.
Kim Kardashian West went through a journey (like the rest of us) that started with Shakira…
6.
…continued with J.Lo…
7.
…and ended with both:
8.
Khloé also live-tweeted the performance…
9.
…and was equally obsessed with J.Lo and Shakira:
10.
Leslie Jones had just one word for each of them…
11.
…but it got her point across perfectly:
12.
Liza Koshy made this perfect comparison:
13.
Antoni Porowski was way too familiar with meme culture…
14.
…and so was Questlove:
15.
Katharine McPhee took it a step further and made a meme:
16.
Keith Urban (and I'm deducing Nicole Kidman from that "we") LOOOOOOOOVED IT:
17.
Ja Rule had a shoutout to J.Lo:
18.
JoJo absolutely loved the pole moment and also every moment of J.Lo's performance:
19.
Rosie O'Donnell shared a pic of her TV… Stars, they're just like us!
20.
Fergie looked up to both artists:
21.
Christina Aguilera had kind words for all her girls:
22.
Pink felt the joy radiating:
23.
Ally Brooke was super inspired:
24.
Victoria Justice was living:
25.
Olivia Munn never wanted it to end:
26.
Charlie Puth added a new account to his feed:
27.
Tyler Cameron was sweating:
28.
David Dobrik changed his life plans:
29.
And Billy Eichner tweeted later in the game about already missing the halftime show and…same, tbh: