1.
When Chrissy roasted Kim for being late to the whole Bird Box craze:
2.
When Chrissy was way too excited about Kim shading Lamar Odom: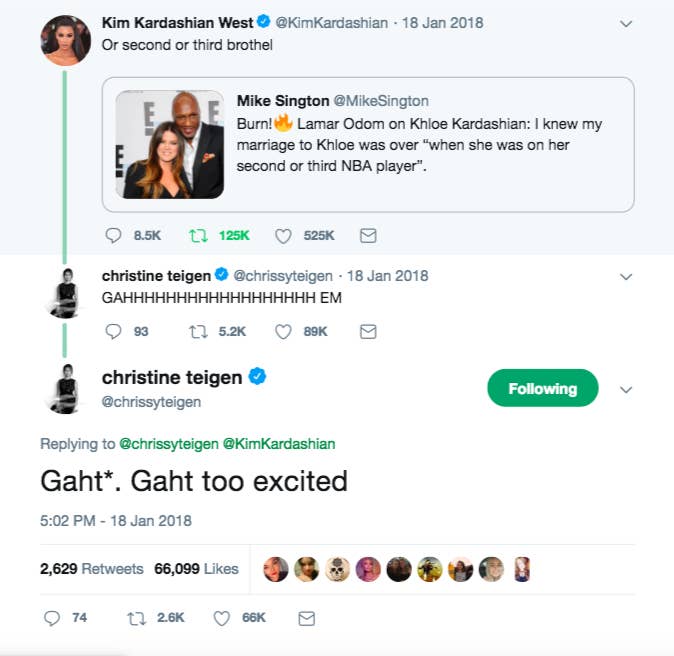 3.
When Kim got Chrissy on a "Are You More Kim Kardashian or Chrissy Teigen?" quiz:
4.
When Kim tweeted this...
...and Chrissy offered up a solution:
5.
And then they took the whole thing to the next level...
6.
...and ended it with this truly cinematic finale:
7.
When Chrissy thought these contour shades looked good enough to eat:
8.
When Chrissy weighed in after a rumor spread about a white powder in one of Kim's Snapchats...
9.
...and then hilariously responded to Kim's followup video:
10.
When Chrissy and Kim were involved in very different activities:
11.
When Chrissy couldn't help but laugh at Kim's list of "haters" for her perfume line:
12.
When Chrissy was amazed by the whole Kardashian fam's gifting skills:
13.
When Chrissy offered to send over some beignets to Kim, like a true friend would:
14.
When Chrissy and John were amazed by Kim's food:
15.
When Chrissy commiserated with Kim as a dog mom...
16.
...and as a human mom, too:
17.
When Chrissy demanded a churro Kimoji:
18.
When Chrissy NEEDED to know Kim's red carpet rules...
19.
...and, of course, when she dropped this wholesome truth about Kim:
Fin.