In the movie, directed by Jason Moore of Pitch Perfect fame, Poehler and Fey play – you guessed it – sisters.
The pair have to return home to clean out their childhood bedroom when their parents decide to sell the house.
The ladies decide to throw one last "high school" party to say goodbye to the place.
Naturally, hijinks and hilarity ensue.
The movie also stars Ike Barinholtz, Maya Rudolph, John Leguizamo, Dianne Wiest, James Brolin...and John Cena?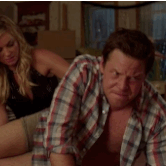 This is one ~sisterhood~ we want in on.