133 Thoughts We Had Watching Episode 4 Of "The Bachelorette" Australia
"This is like the start of a bad porno."
by
,
,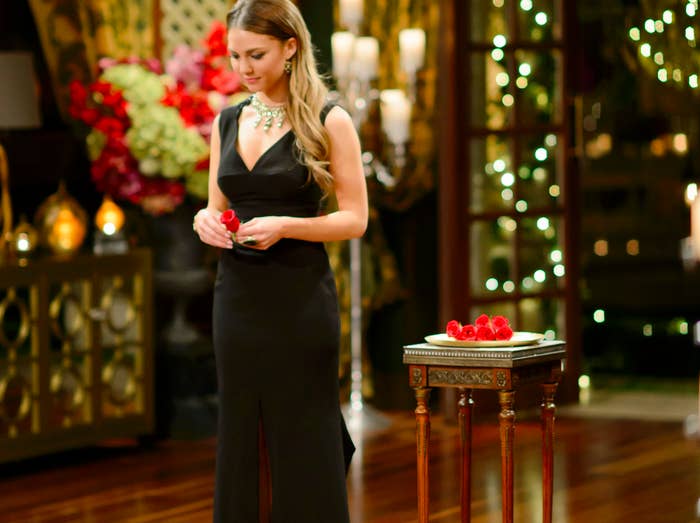 1. We're straight into bro time. AND OSHER.
2. Osher has an amazing ability to whip a date card out of nowhere.
3. That coat must come in handy.
4. Alex in his beanie is adorable, and I just want to hug him.
5. FINALLY HE'S GETTING A DATE.
6. I like Alex. He's really well spoken but also I feel like he's also sexy AF.
7. "Things that give me butterflies… a bad curry" - I am so here for Will, let's hook him up with Jacinda from The Bachelor. It's a match made in hilarious commentary.
8. Sash is low-key so jealous. Oh shit I hope those stories about a "favourite" leaving out of jealousy aren't true.
9. I NEED SASH TO WIN.
10. Like, I ship him and Sam SO HARD they basically could just finish the show rn.
11. Except not, because I love watching it so much.
12. Alex is from Bondi, he doesn't look like the beachy type tbh.
13. But must show him near beach to prove he lives in Bondi. And also it's not the Bachelor(ette) without a hot guy staring out over a body of water.
14. "I don't go out of my way to be charming." Alright m8 make us all feel bad why don't you.
15. OMG THAT PRODUCT PLACEMENT.
16. So subtle Channel Ten.
17. Colgate must be kicking themselves.
18. This does not look like a fun date, they don't even get to sit in the same plane.
19. That's like doing a roadtrip in different cars.
20. Meanwhile if a plane doesn't have a bar trolley rolling down the aisle then I do not want to get on it.
21. The reason these planes don't have roofs is so all your puke can fall out easily.
22. Oh god I want to be sick just watching this.
23. Imagine if you were hungover.
24. Omg I hate this, stop it.
25. Thank god that's over.
26. Sam thinks Alex is sexy. Saaaaaaame.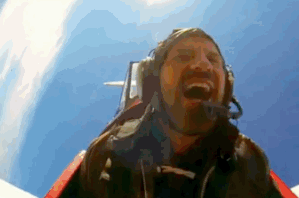 27. The clue for the group date is "game on" so I'm guessing it's whack-a-moll.
28. ~Game on, molls~.
29. Too bad International Moll went home last week.
30. Michael takes everything SO seriously. He needs some chill.
31. Are we in the Sound of Music now?
32. I'm just waiting for Sam and Alex to burst into song.
33. "Here's something I prepared earlier." "When DO you find the time, Sam?" I love how they're barely even pretending she sets this shit up.
34. Lol those strategically placed butterflies this is too much.
35. YAS ALEX TAKE IT OFF. Oh. Just the jacket.
36. There has not been nearly enough shirtlessness in this episode.
37. Especially after yesterday. Phwoar.
38. Alex really is so charming tho.
39. "Aaand I've been to South Africa." *crickets chirping*.
40. Can we just never mention anything to do with Blake again, please?
41. Sam, you've moved on, LOOK AT THIS GLORIOUS MAN HAREM YOU HAVE RN.
42. That hair push. Swoon.
43. Although I still kinda just want Sam to spend every date with Sash.
44. Oh god if he doesn't win I'm going to be crushed.
45. I do like Alex tho. And Dave. And Richie. And Kieren. And…
46. Seriously, Sam, Blake who??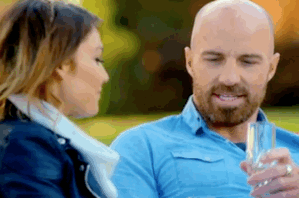 47. WHY ARE ALL THE ROSES ALWAYS OUT IN THE OPEN?!
48. Like, what if she doesn't want to give the guy one??
49. Woody always hid his so well.
50. Sam doesn't want to date smart arse larrikins anymore. Bye Davey.
51. OMG they're literally in a glass box of butterflies. NBD.
52. It feels SO staged and not like any kind of natural date at all.
53. Even if I went on this exact date with someone after dating them for ages, I'd still feel weird.
54. They'd be like "Why the fuck are we standing in this weird glass box thing touching butterflies?"
55. Same tbh.
56. Don't bow when you get a rose m8.
57. Sasha is low-key jealous.
58. OK not so low-key.
59. Oh Alex. If only you knew. That was at least the fourth kiss.
60. The other three were all Sash.
61. It was amazing tbh.
62. Sorry, where were we? I just started thinking about those kisses again.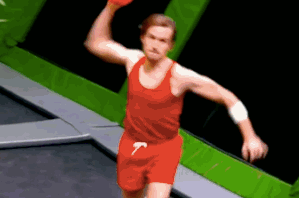 63. Dodgeball date! So boys bouncing around throwing their balls at each other. Sounds like every other episode tbh.
64. Lucky Alex isn't there because Sash would probably belt him.
65. "Dorks vs. Jocks." Can we not?
66. Although you know this is already set up for the "dorks" to win, with the amount of times the "jocks" tried to bag them out.
67. Also those "dorks" are three incredibly fit guys so like, just stop.
68. THOSE OUTFITS THO.
69. OMG they're like crazy children bouncing around.
70. They need adult supervision.
71. Or less red cordial.
72. Of course the "dorks" win. That's what you get.
73. WAIT. THEY ALL GET THE TURKISH BATH PRIZE?
74. All three of them just hangin' out with Sam in a bathroom in their bathrobes.
75. OH this is SO weird.
76. THEY'RE GOING TO EXFOLIATE.
77. WHAT. NO.
78. WHAT AM I WATCHING.
79. This is like the start of a bad porno.
80. Three guys, a girl and a mud bath.
81. (Would watch tbh.)
82. But yeah nah this is hella creepy.
83. "I really wasn't thinking about what the other guys were doing." Oh Richie.
84. "It was really weird." - Kayne, telling a true fact.
85. "Alex may have had the kiss, but we had the exfoliation." OK I love Will so much, he's grown on me A LOT.
86. I love how they're all taking the piss out of it.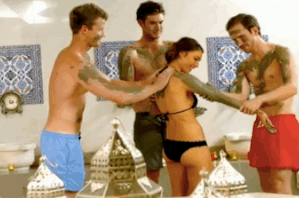 87. WAIT NOW SHE IS RUBBING WILL DOWN WHILE HE JUST LIES THERE WHAT.
88. This is so awkward.
89. This is NOT sexy.
90. "I've never been on a date where someone exfoliated me with an oven mitt." Seriously Will's commentary is such good value.
91. "This is actually how they used to bathe in WW1." But his flirting, not so much.
92. Yasss Richie gets the jacuzzi time.
93. Do people actually spend this much time talking about their parents on dates, really?
94. I feel like it's come up with EVERYONE.
95. Let go of the parent baggage, people.
96. Wait, did Kayne not get weird spa time on his own or are we just not going to see it?
97. I NEED TO KNOW.
98. Sam's look is FIRE tonight. As always.
99. Michael is low-key pissed he didn't get a date.
100. Sasha is low-key pissed Michael just grabbed Sam.
101. DID MICHAEL MAKE HER A MIX TAPE.
102. Oh. It's just a bunch of cards cards about himself.
103. Four is really bad luck in Chinese btw. Sorry Sam and Michael.
104. OK but this is a kind of genius move.
105. Look at his sneaky arm creeping up around her neck.
106. All the guys staring openly from the balcony, loooool.
107. I have to admit I don't really trust Michael.
108. I just get bad vibes.
109. Apparently Sam is getting some goooood ones though, she seems really into him.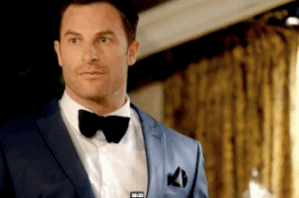 110. Tony is like "she REALLY likes Michael". I don't think Tony understands the point of this show.
111. Kieren "I don't think you need to give a gift to get her attention." Well. Might explain why you're not getting her attention tbh.
112. "Sash is in a comfortable position." Even the other guys know Sash has won this.
113. Oh he has a present too, good lord.
114. OH. IT'S A DRAWING. HE DID HIMSELF.
115. I AM SO NERVOUS WHAT IF THIS IS TERRIBLE PLEASE DON'T BE TERRIBLE.
116. SAM 4 SASH!!!
117. He put SO much thought into this. This is actually super cute.
118. It better have actually been him and not the producers.
119. "I listen when you talk." THIS GUY.
120. Interesting that Michael gave her a gift that was all about him and Sash gave her a gift that was all about her.
121. That was an awkward kiss guys, what is up. He wanted to go in again. SO DID SHE???
122. I feel like if they had more privacy they totally would have pashed again.
123. HNGGGG Sash's little smile at the end was so adorable I love him.
124. Also that suit on him is like. I can't even. Yes.
125. Oh no! Two guys are going home in this rose ceremony? We're chewing through them.
126. Richie is safe, cool bananas.
127. Davey continuously talks about not showing Sam the real side of him yet, like mate, you've had time, just hurry up and do it.
128. Real talk, I'm surprised Tony isn't going home.
129. Poor Kieren! He didn't get much of a chance. Like I feel like he had so much more to offer. (Pecs.)
130. Oh Will! I really enjoyed your last-minute moment in the spotlight. And I really hope you meet your future oddball partner and have a lifetime of dorky happiness.
131. The boys are all still so lovely when they leave?
132. Oh except that whole David thing. LOL.
133. But it just goes to show Sam truly is an amazing person.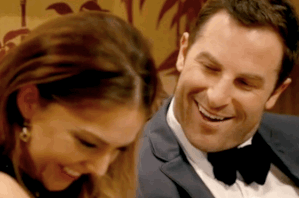 Like BuzzFeed Australia on Facebook