1.
When Emilia Clarke (Daenerys) and Kit Harington (Jon Snow) were thrilled to finally be filming scenes together.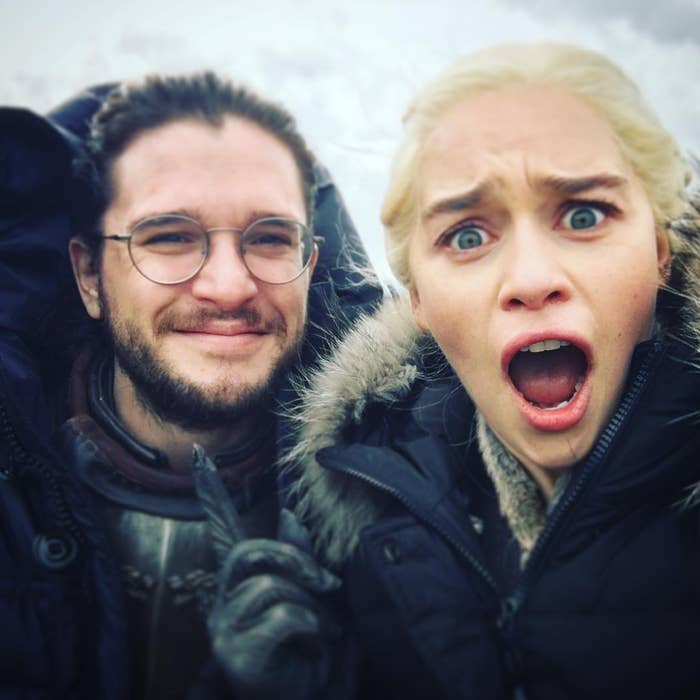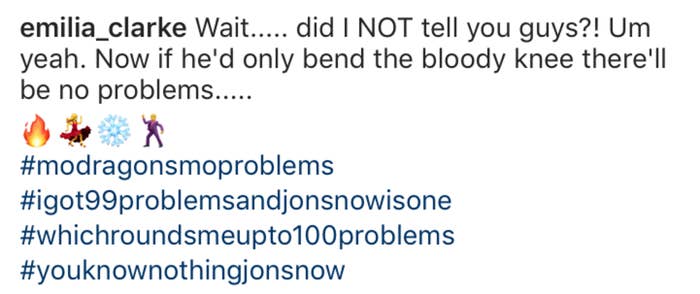 2.
And they seemed to have a lot of fun on set.

3.
When John Bradley West (Samwell Tarly) and Kit Harington shared their best ~puppy dog eyes~.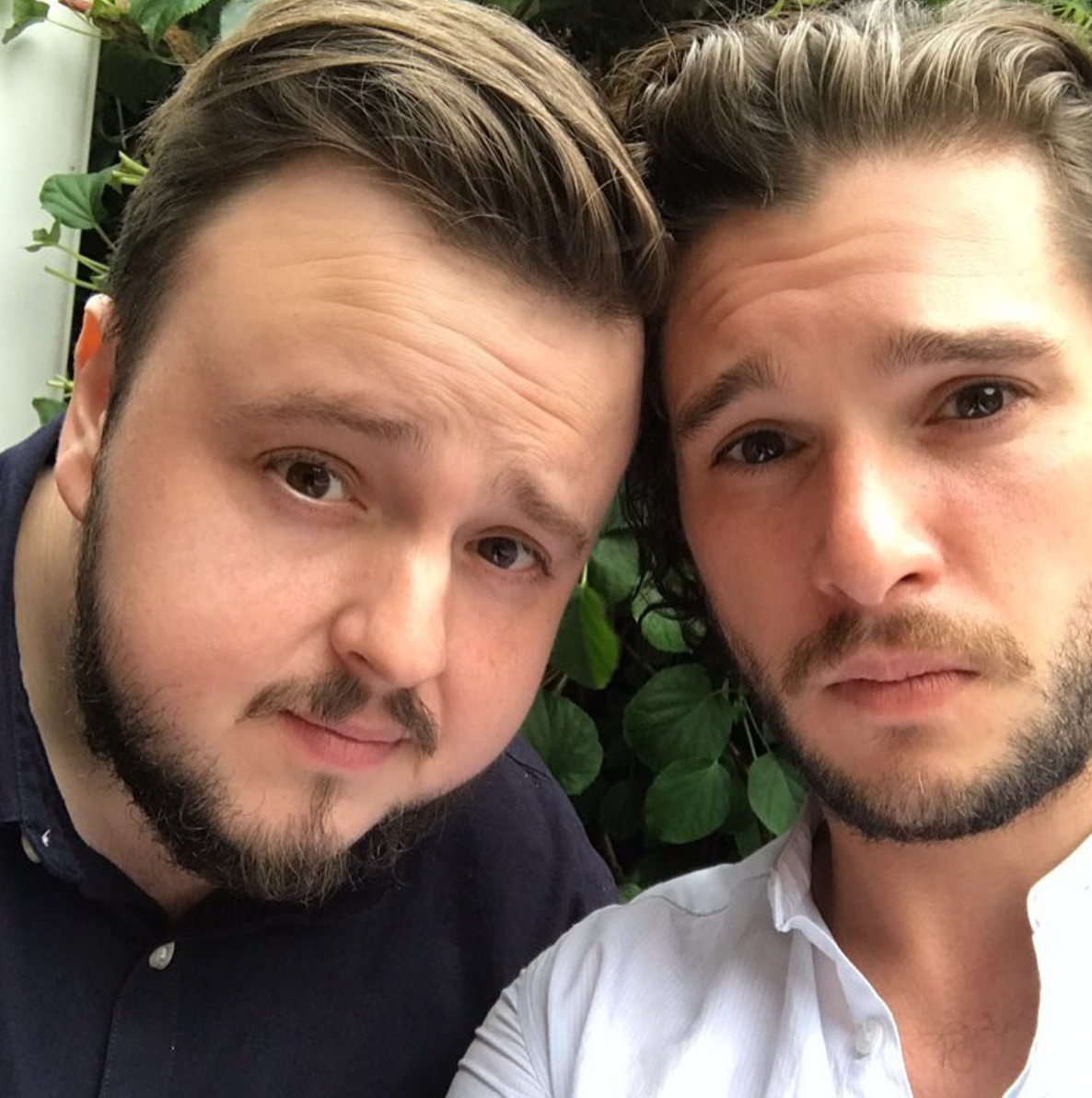 4.
When Carice van Houten (Melisandre) posted these throwback photos of the Season 6 Castle Black cast chilling on set.
5.
When Jason Momoa (Khal Drogo) caught up with Emilia in London, and she shared this photo, and he left an adorable comment on it.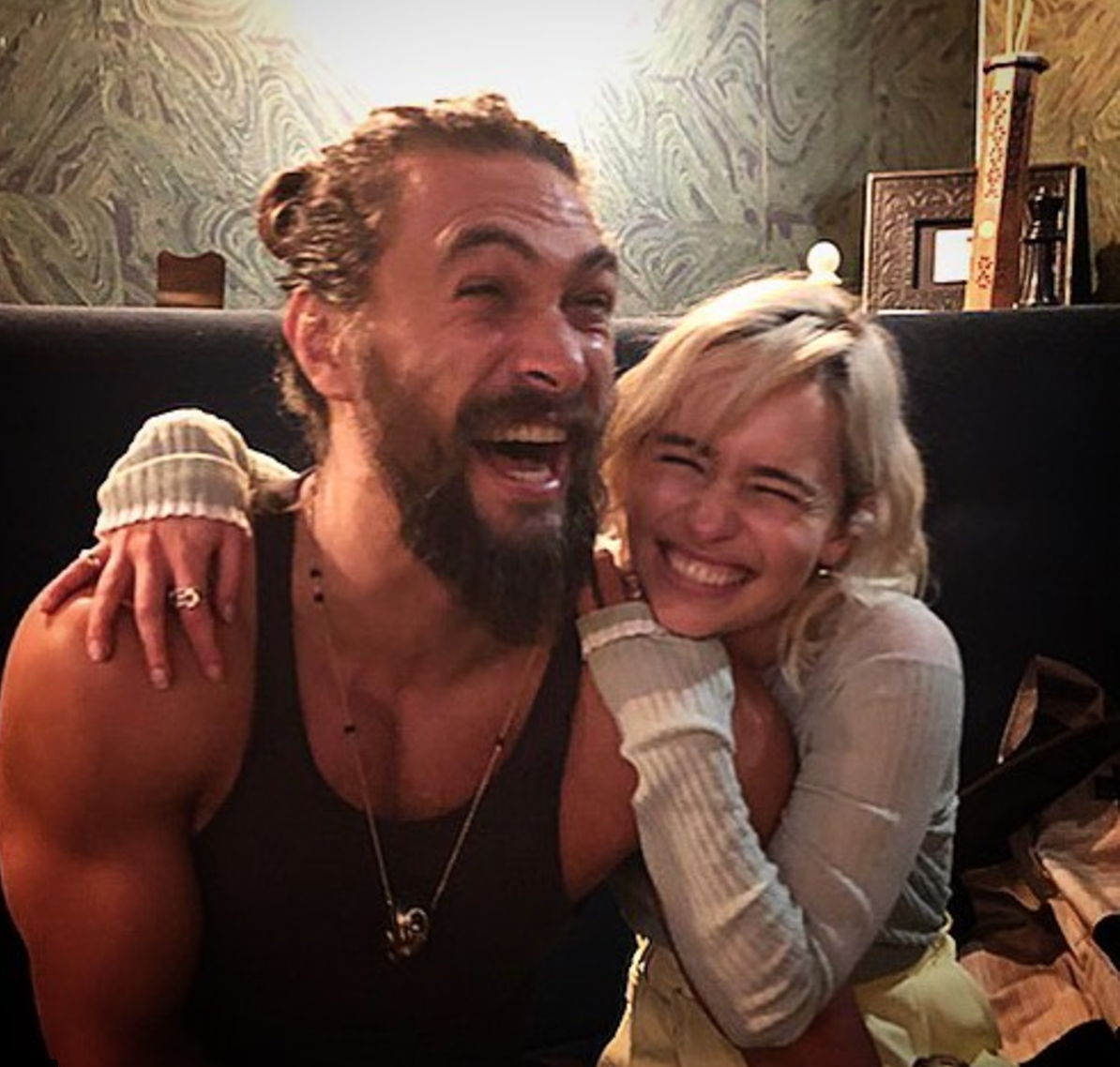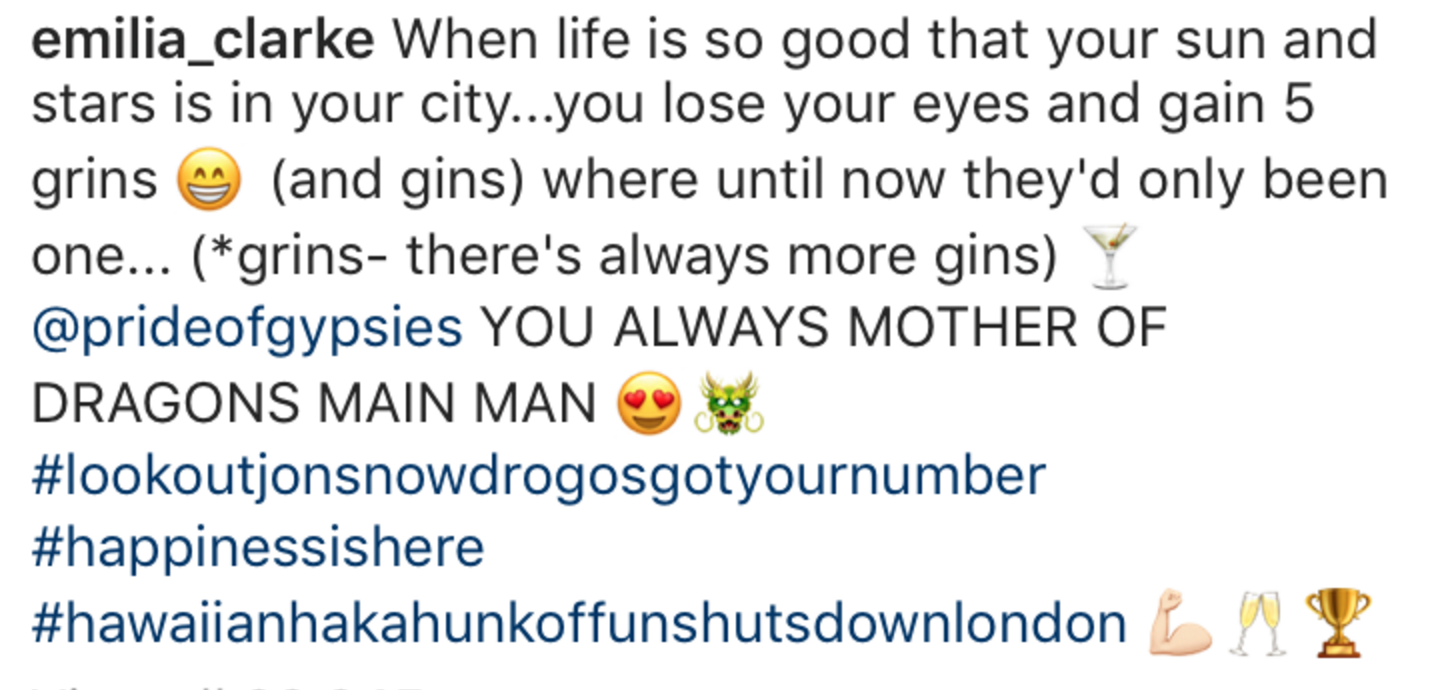 6.
And then she shared THIS photo, and he left another adorable comment.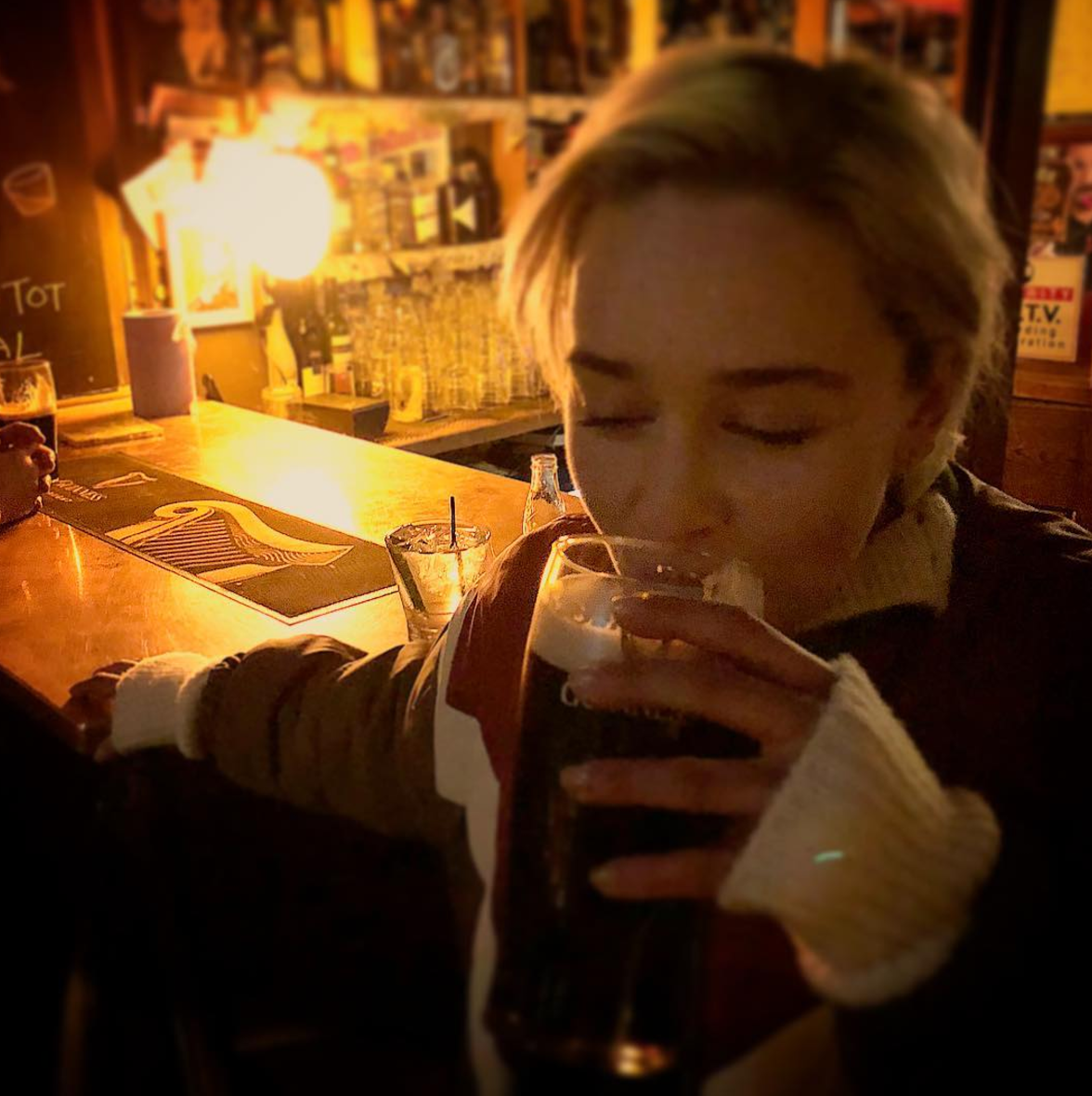 7.
Meanwhile Jason continued the love-fest on his own Instagram account.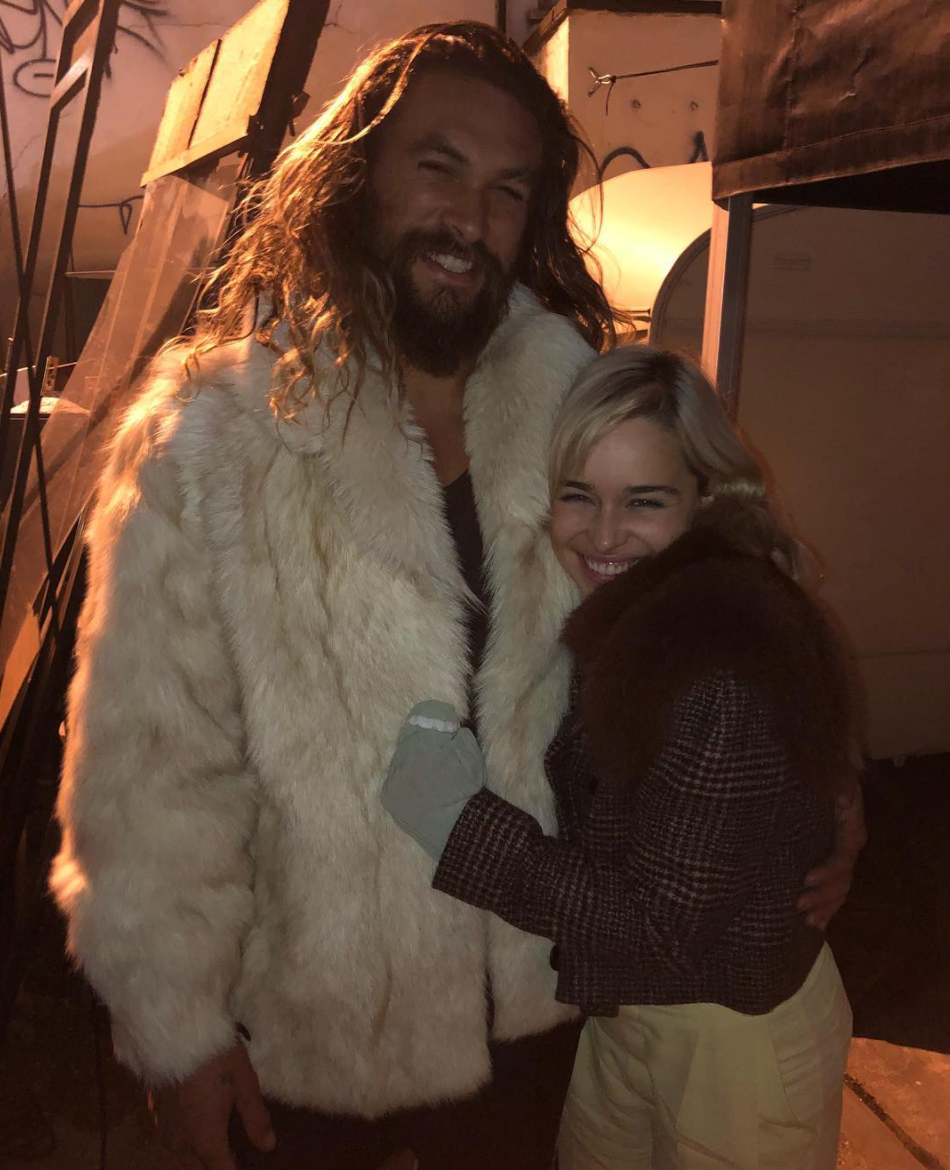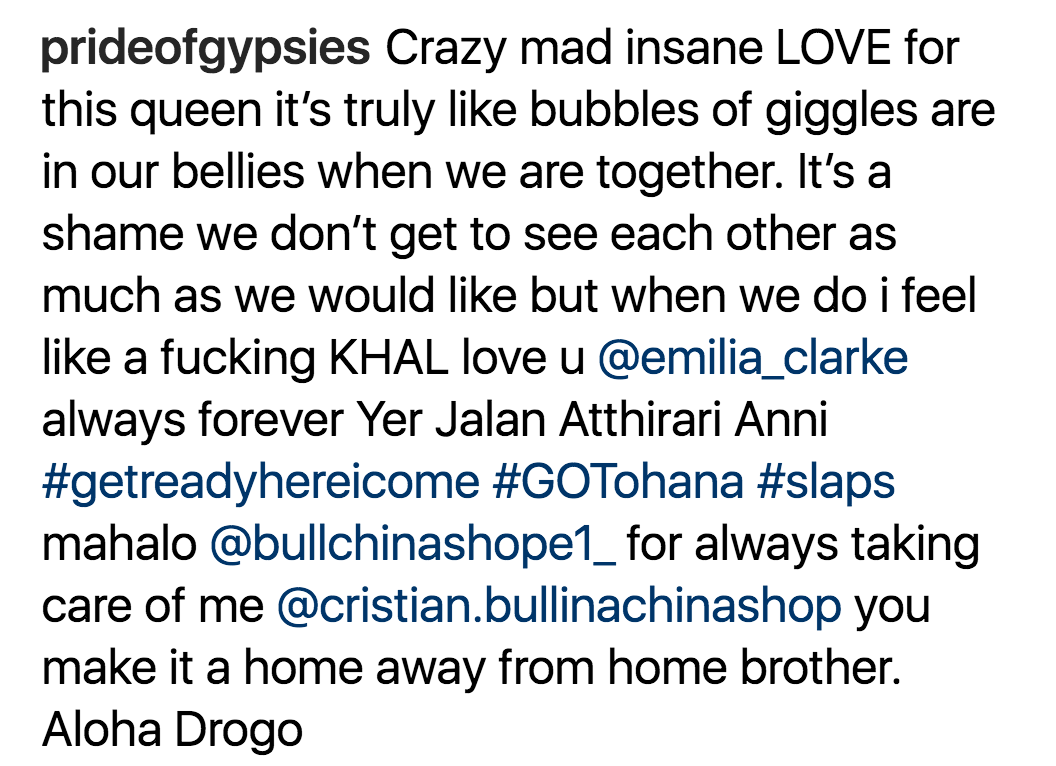 8.
And then he gushed over both Emilia and his Justice League co-star Gal Gadot.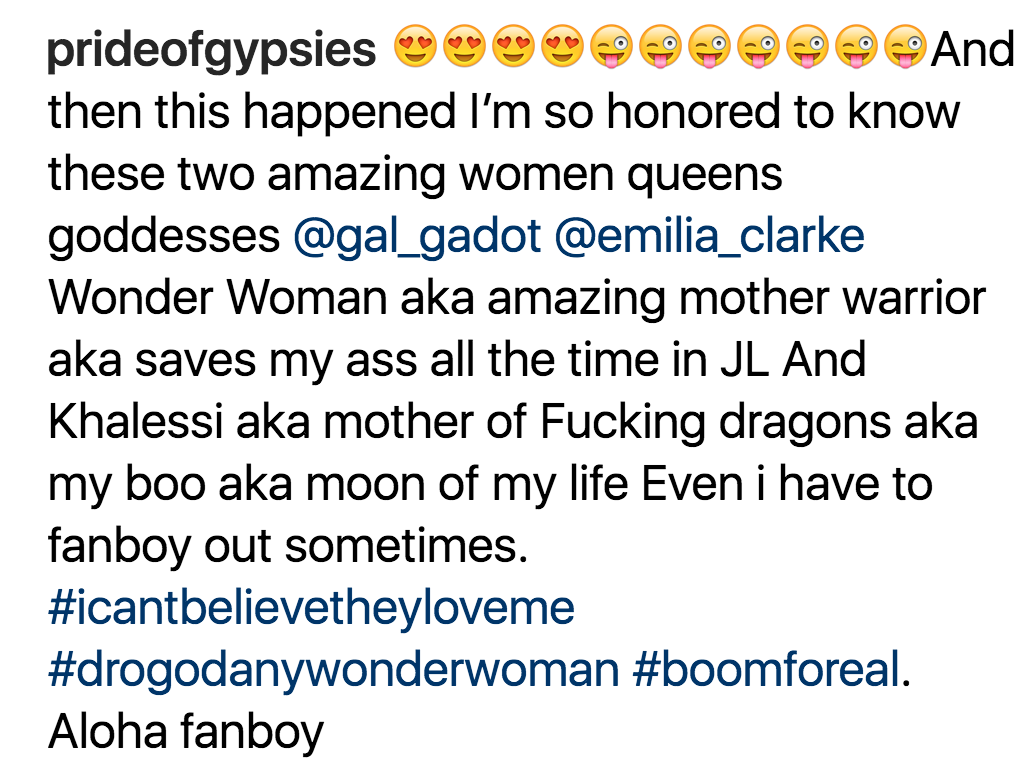 9.
When Jason moved on to Belfast and caught up with the rest of the cast and crew.
10.
And met Kristofer Hivju for the first time, marking the start of a beautiful bromance.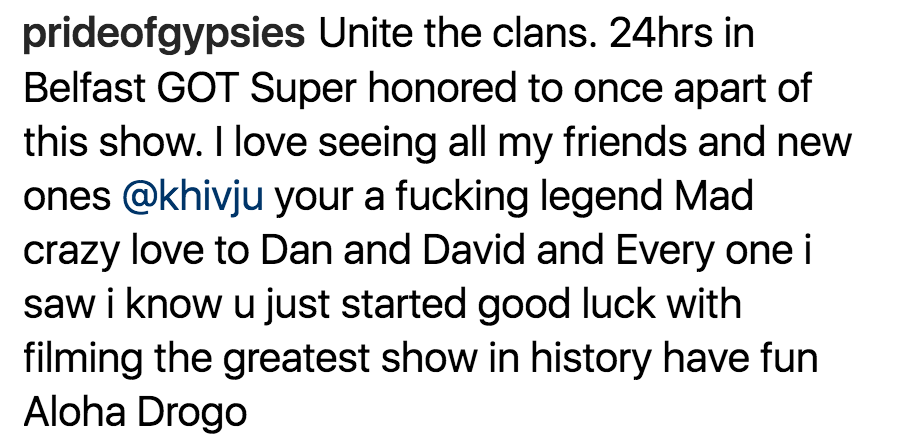 11.
When Maisie Williams (Arya) and Sophie Turner (Sansa) showed how devoted they are to each other.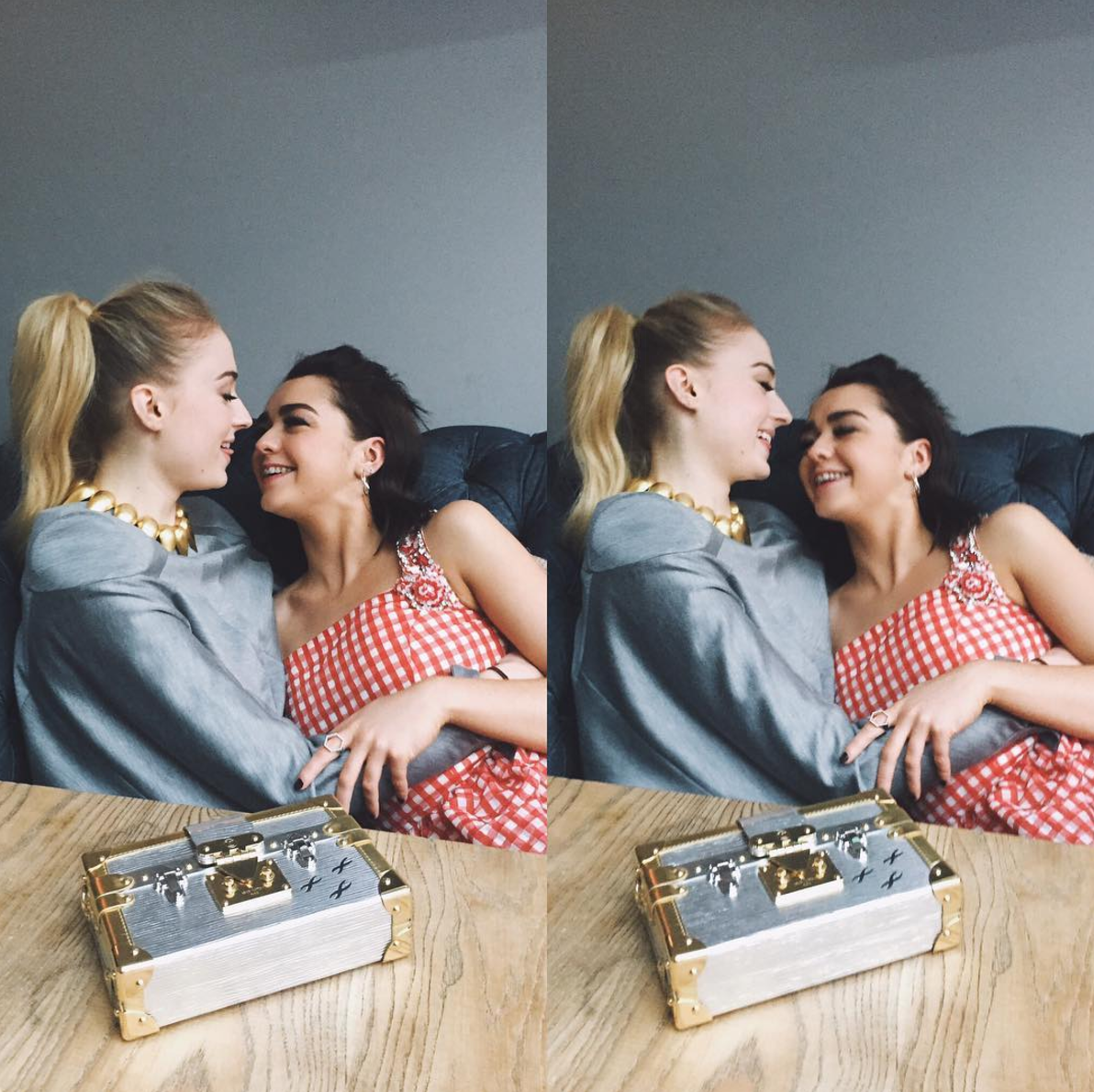 12.
And they shared this cute interaction on Twitter when they finally appeared on screen together again for the first time since Season 1.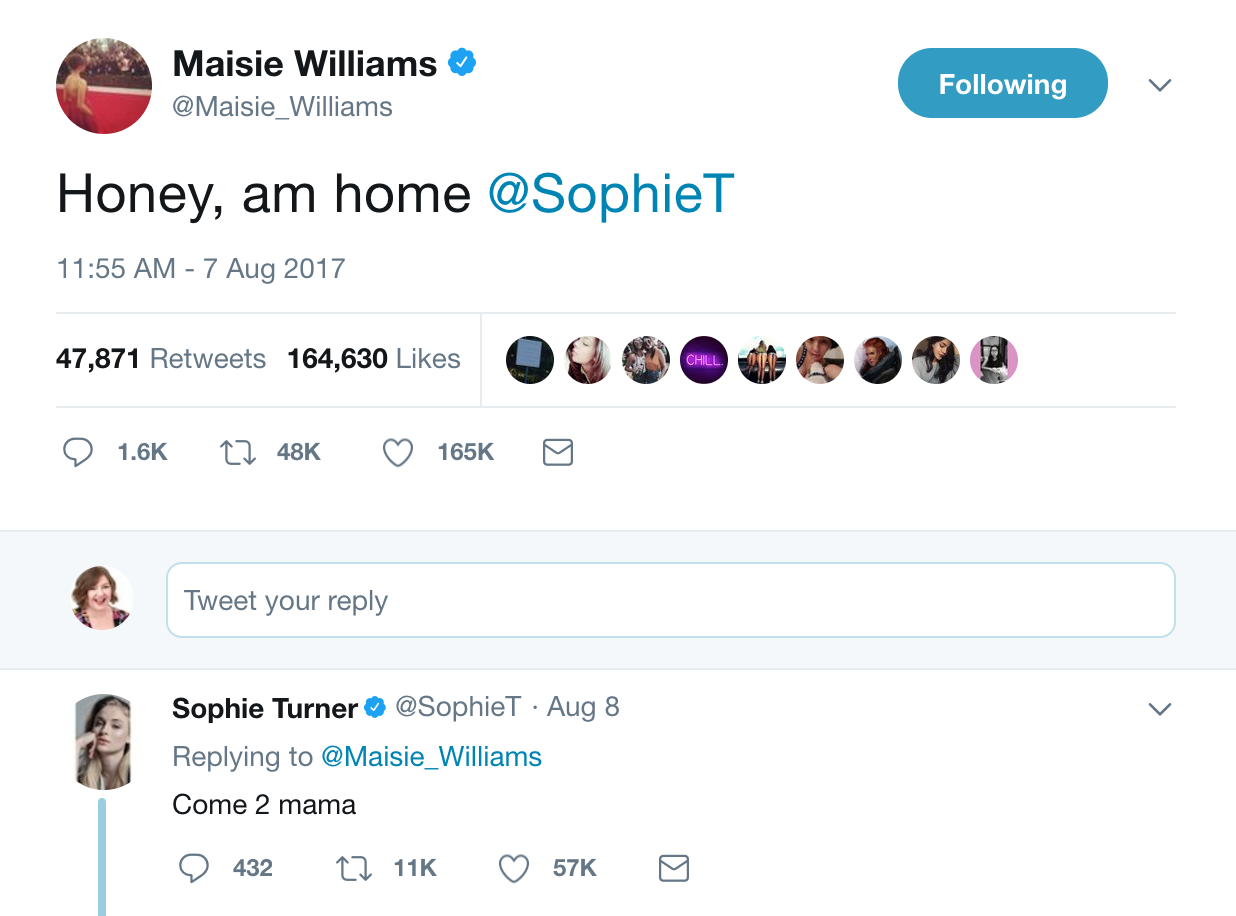 13.
When they reminisced about the early days of their fame.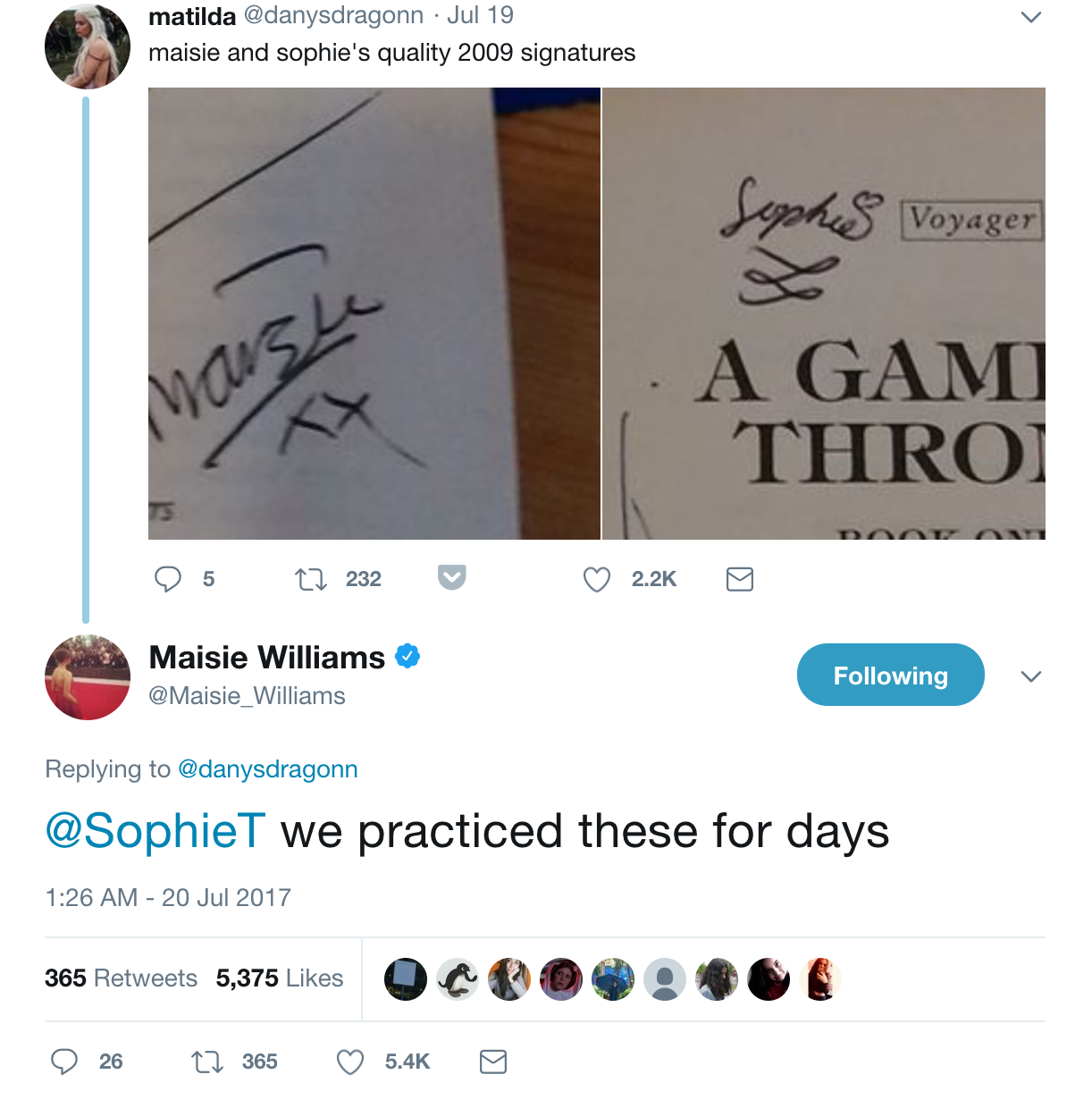 14.
And Maisie wished Sophie a happy birthday in the sweetest way.
15.
When both Maisie and Sophie celebrated the day they were cast on Game of Thrones – and the start of their beautiful friendship.

16.
When they shared the love on Sophie's engagement announcement.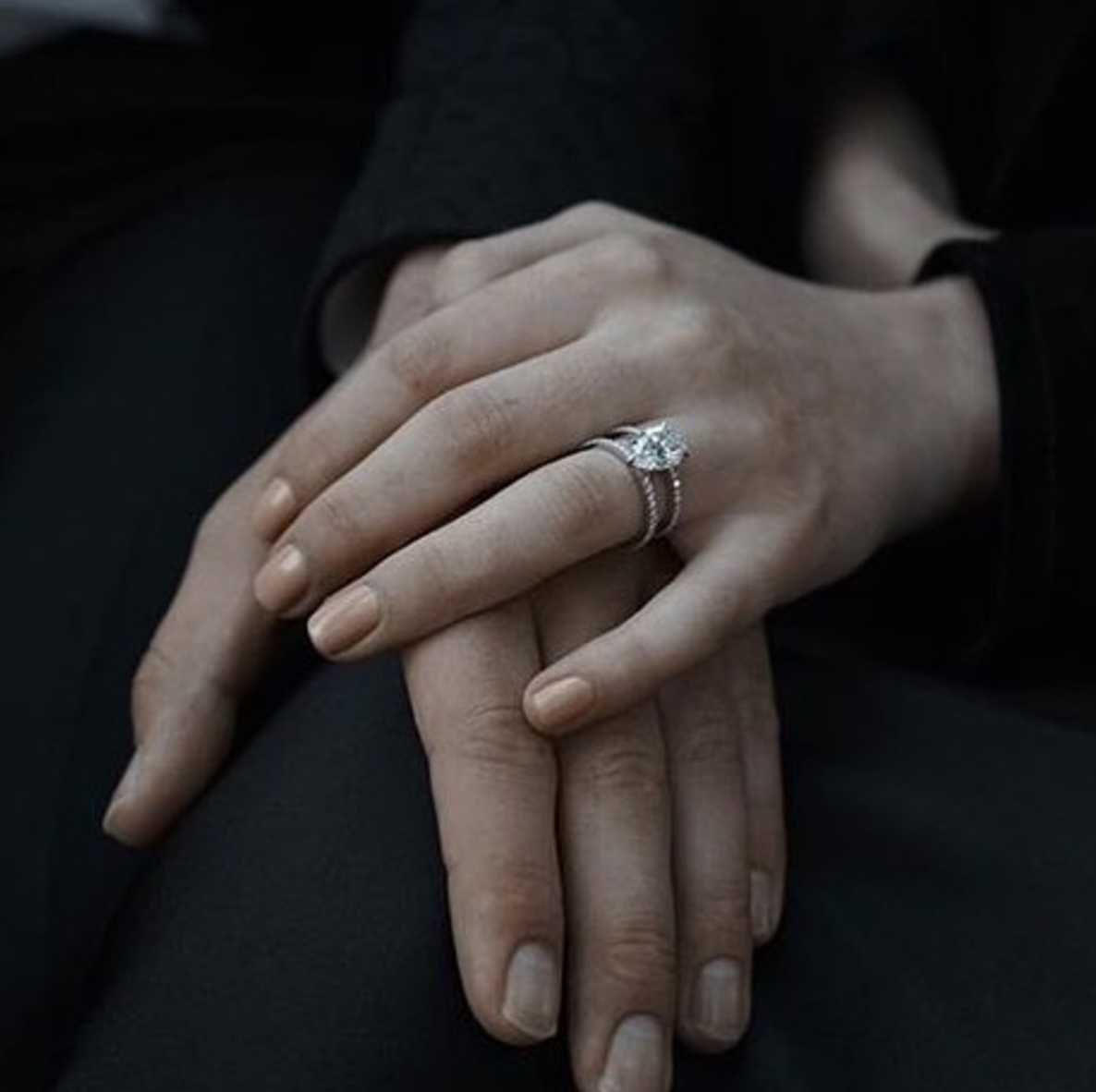 17.
And when Sophie was just as enthused about Maisie's love life.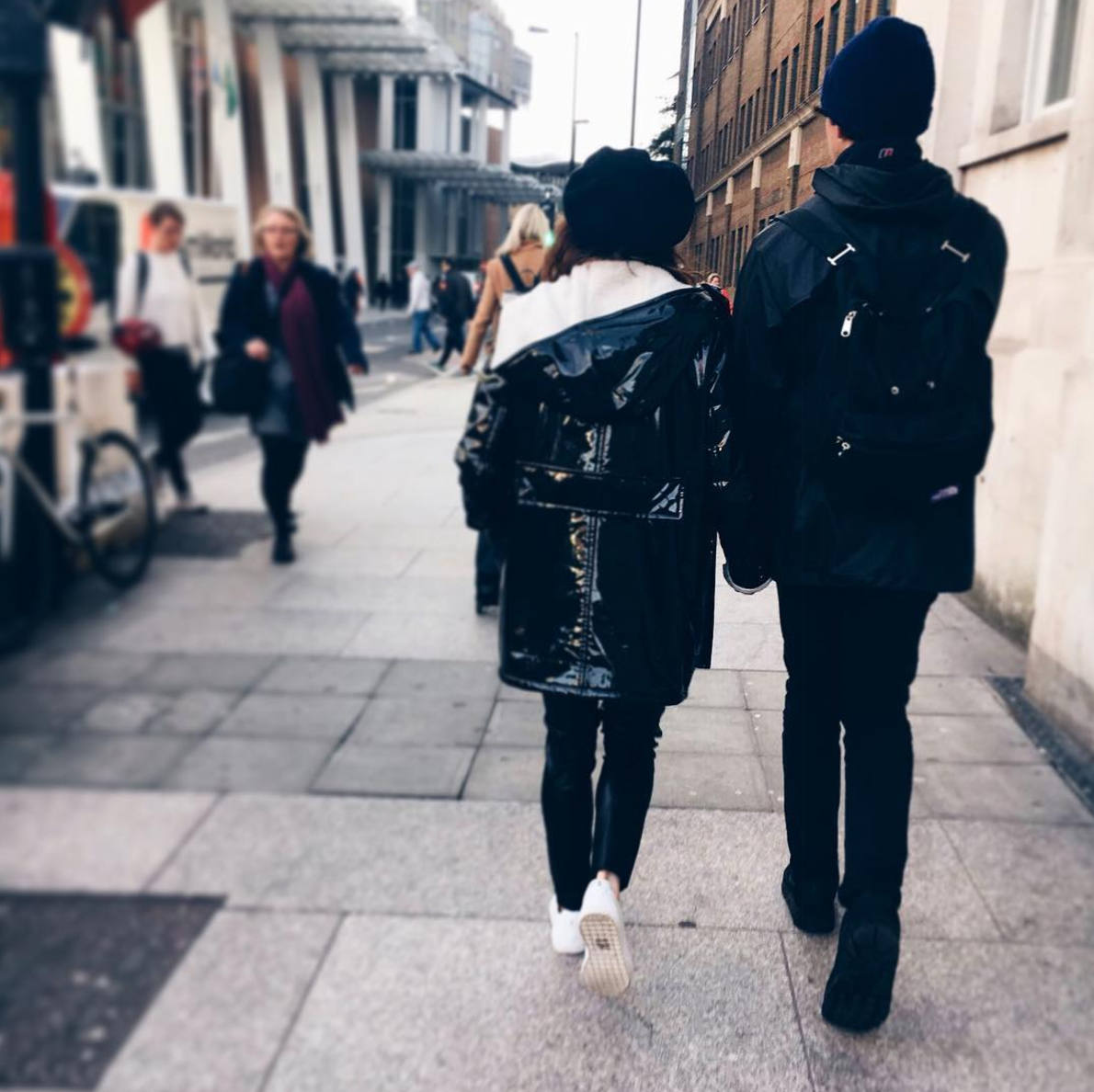 18.
When Gwendoline Christie (Brienne) and Kit served some Blue Steel realness during some downtime in the dragonpit, and Sophie was super into it.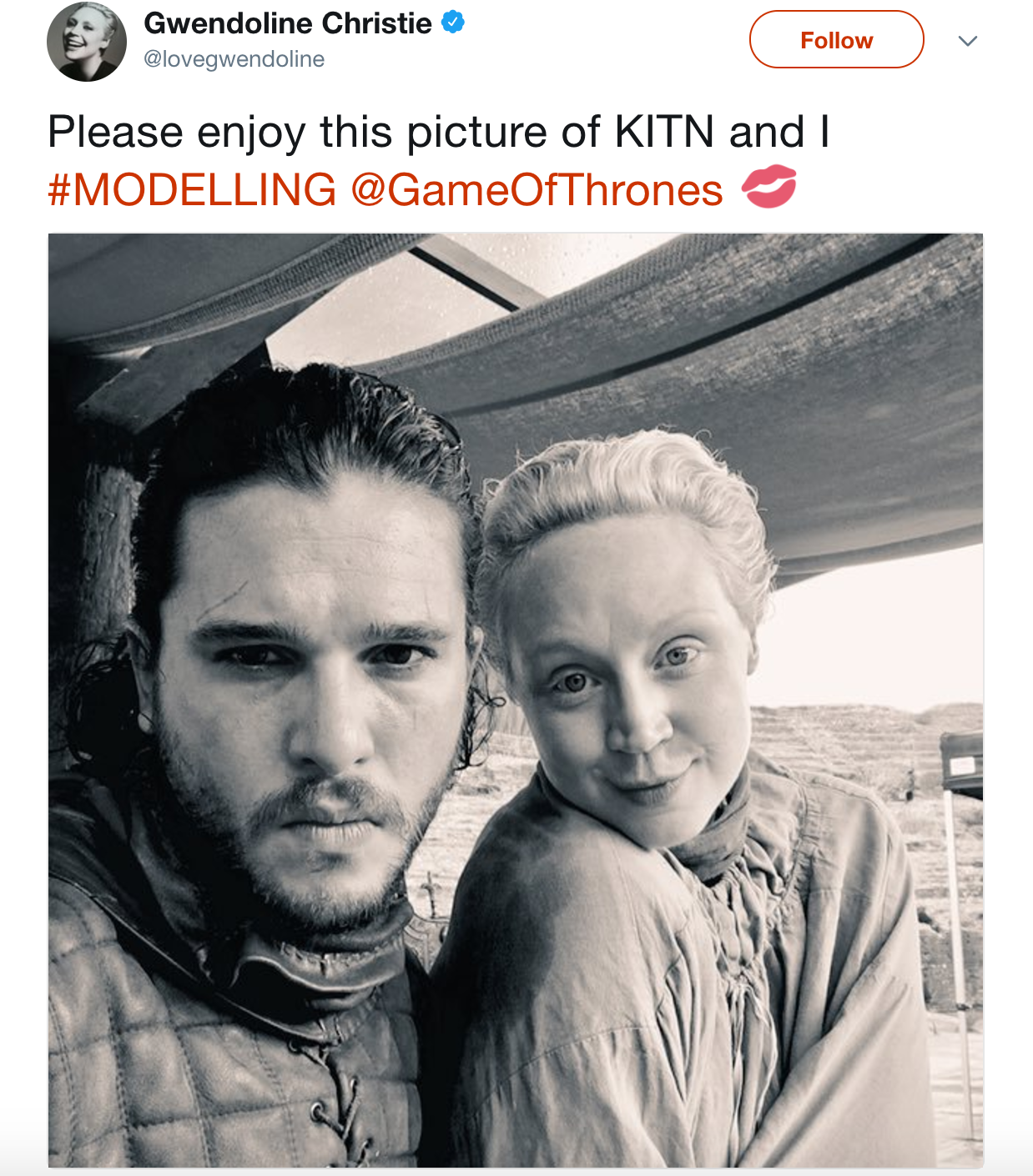 19.
When Gwendoline retweeted a cute gif of her playing with Liam Cunningham's (Ser Davos) beard, and referred to him as her grandad.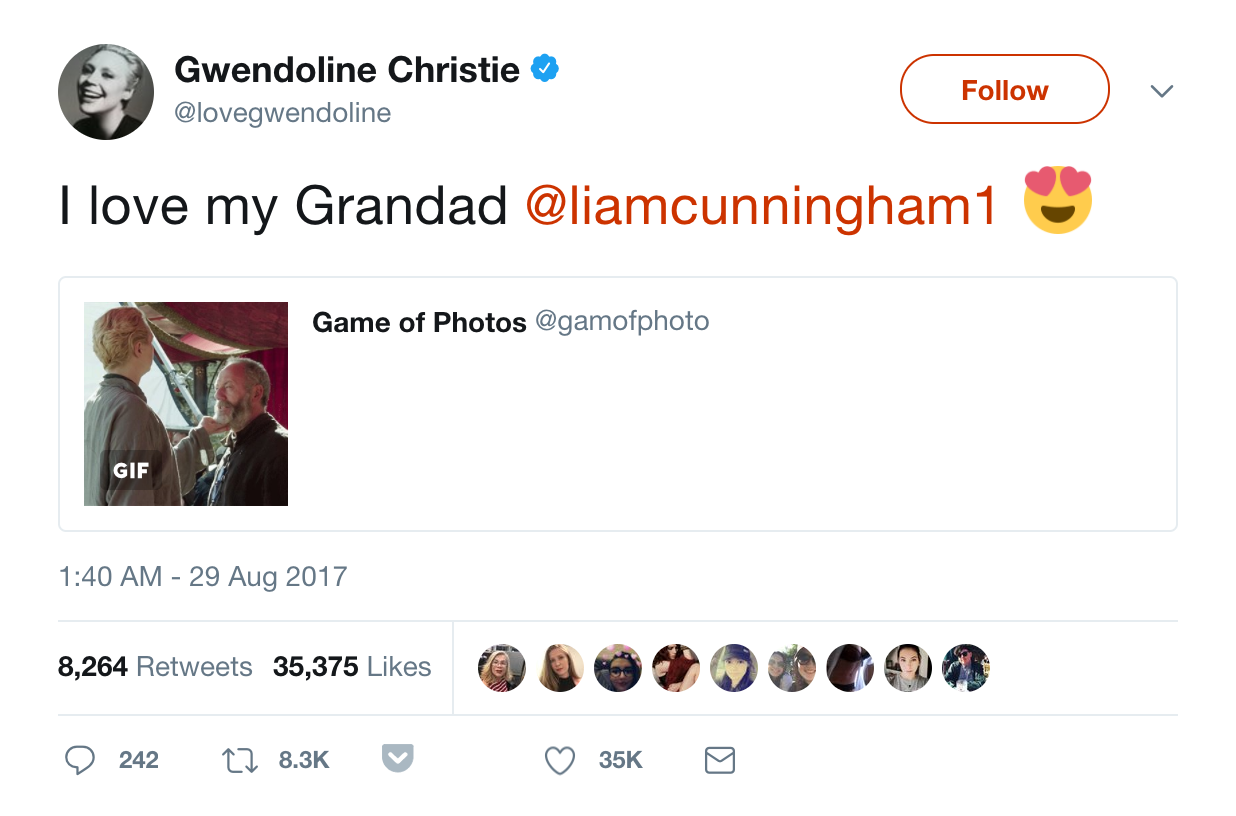 20.
When Nathalie Emmanuel (Missandei) posted a lovely photo and message for Emilia's birthday.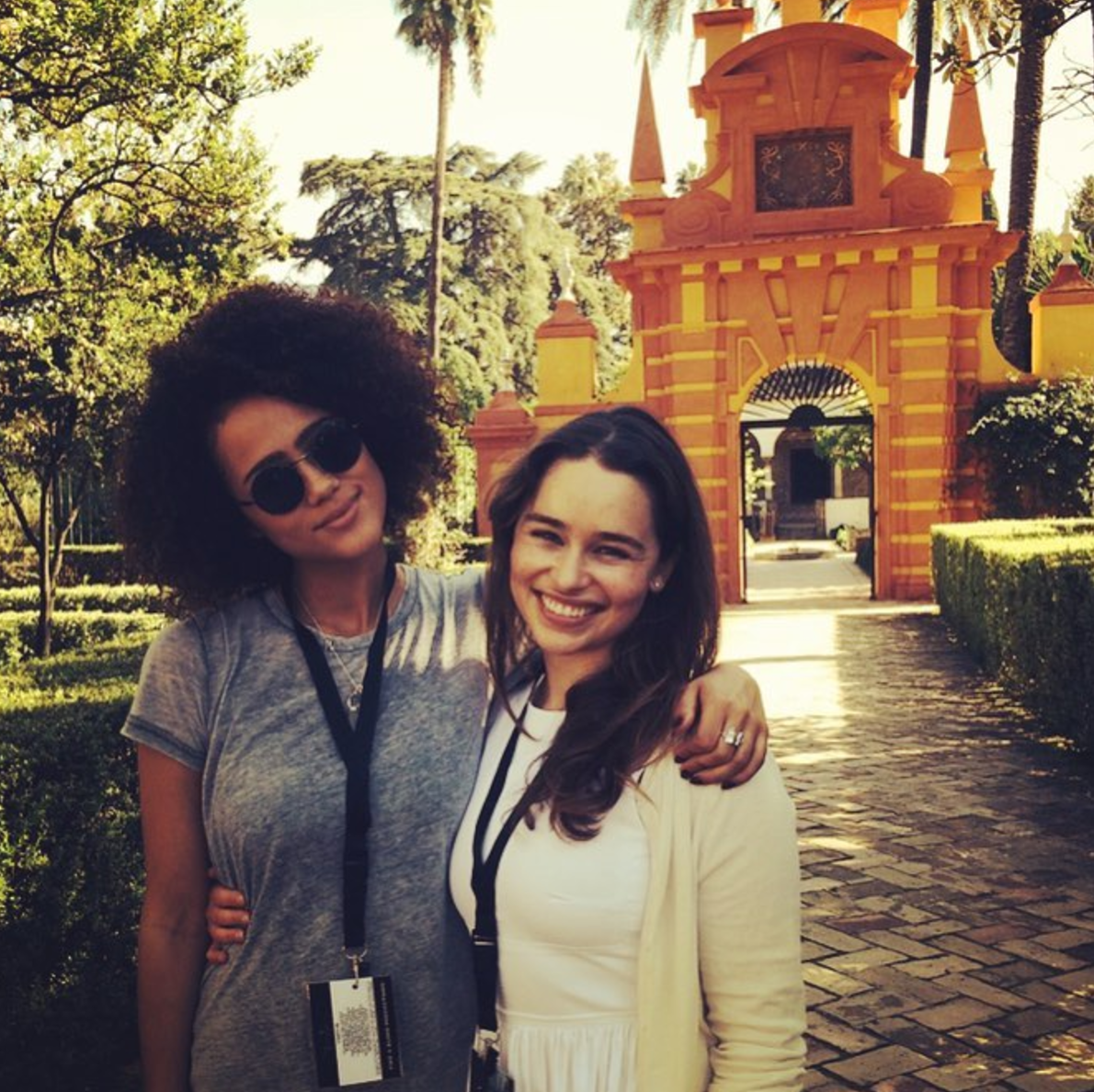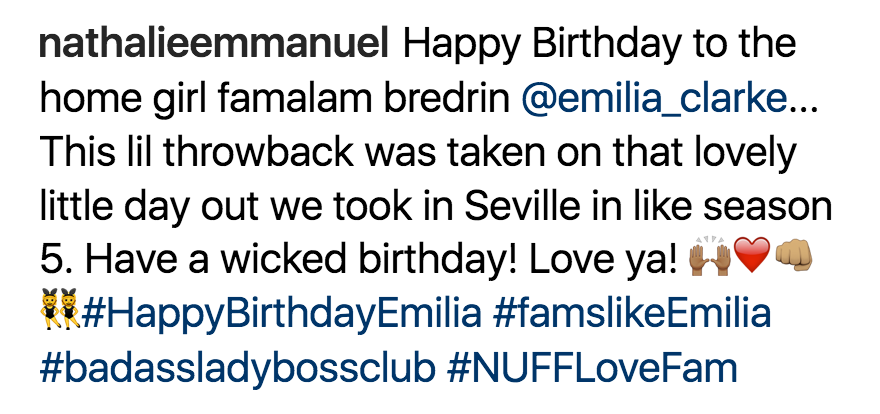 21.
When Sophie shared this photo of Maisie as "wife goals", and Maisie left the cutest comment.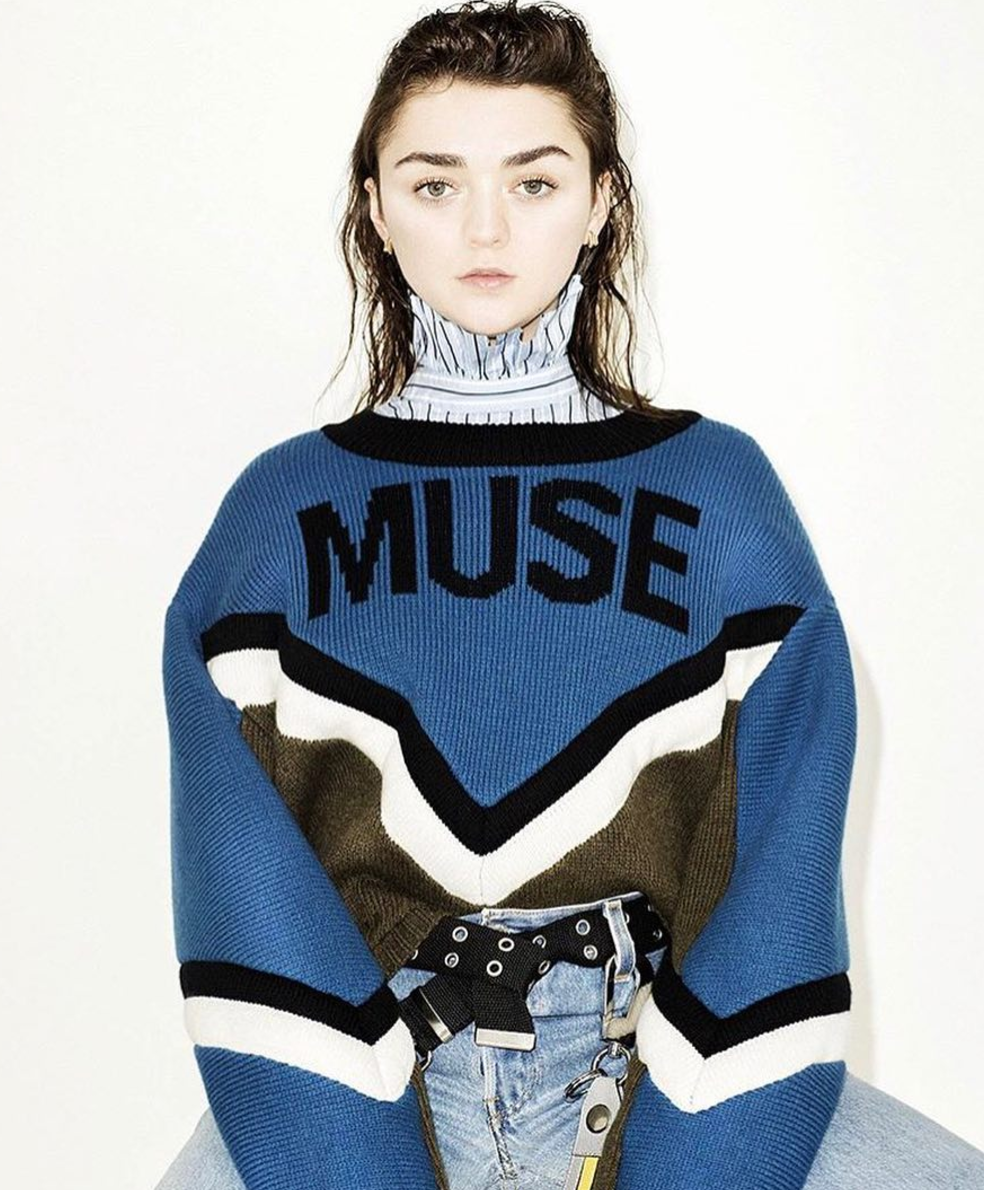 22.
When Maisie posted this photo and both Sophie and Alfie Allen (Theon) were huge fans.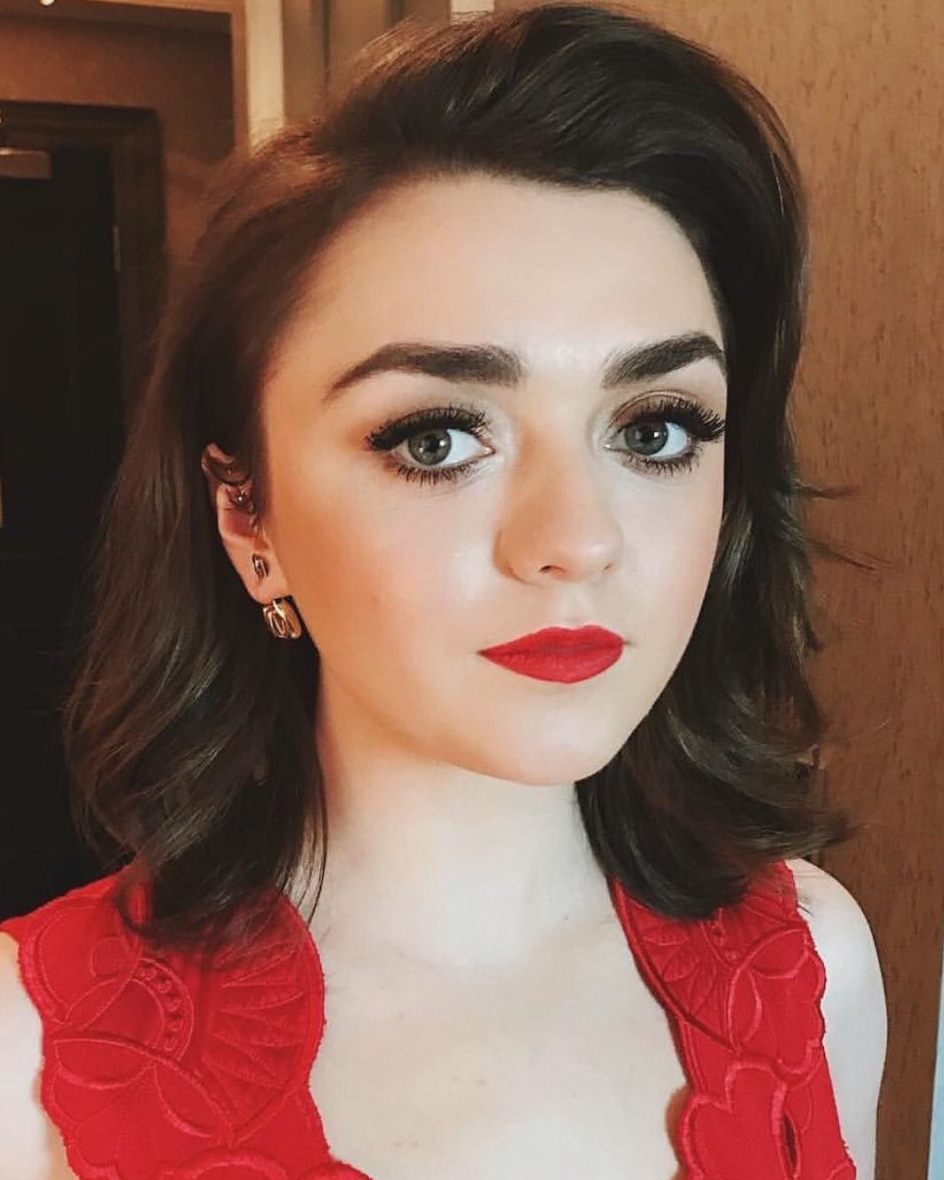 23.
When Sophie shared THIS photo and Maisie returned the love.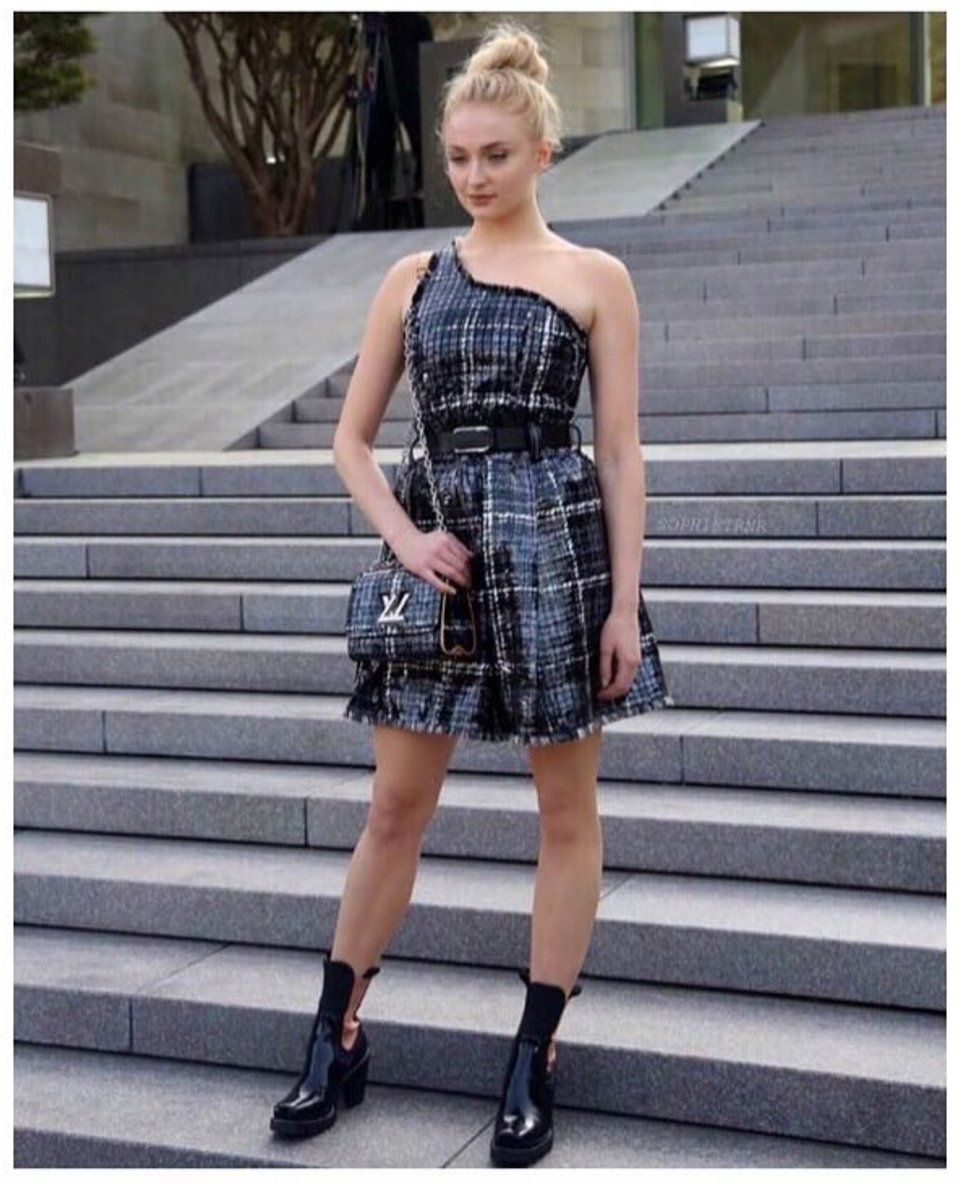 24.
Meanwhile Emilia shared this photo, and Nathalie totally fangirled.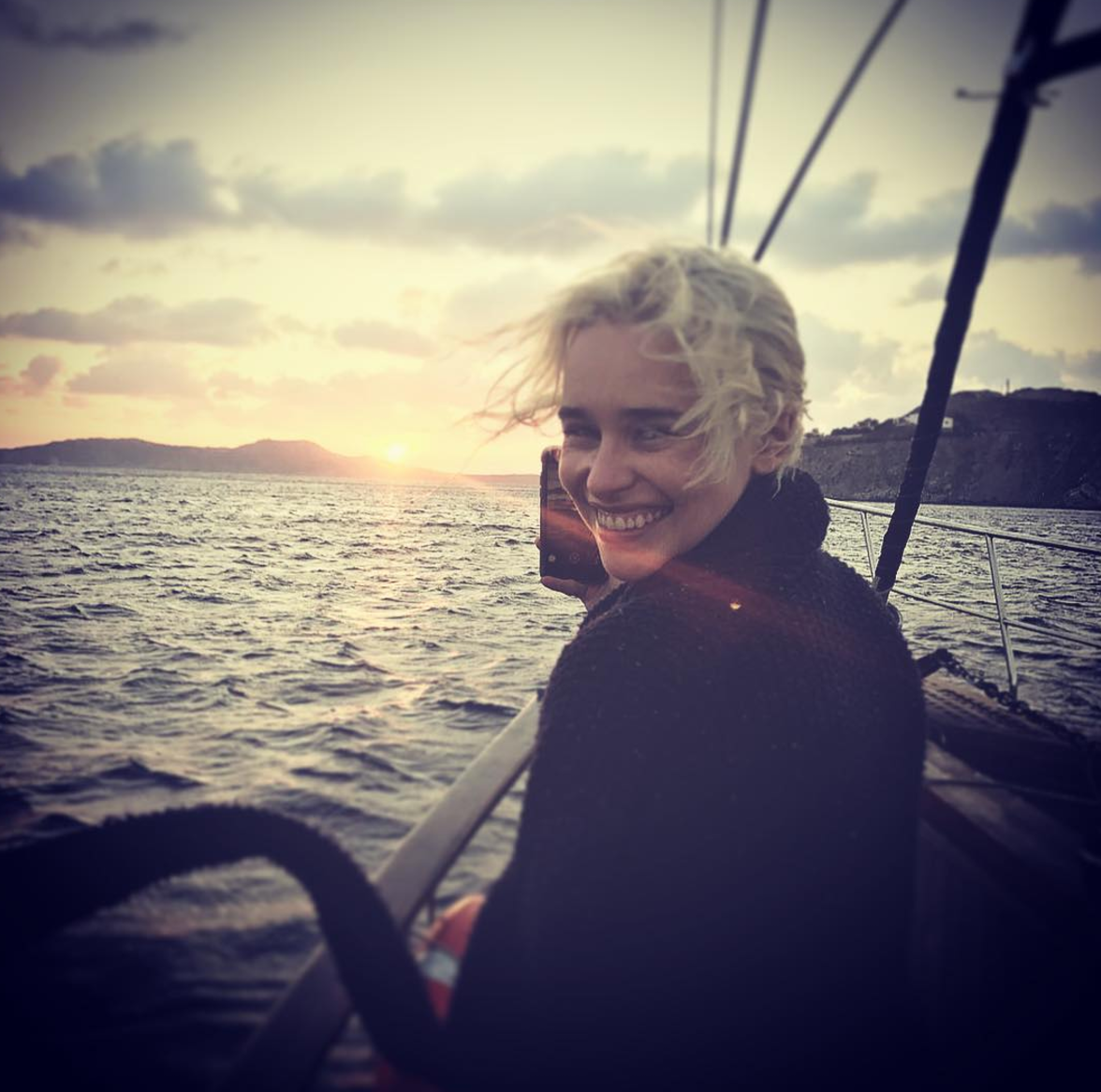 25.
Then Nathalie posed this one, and it was Emilia's turn to gush.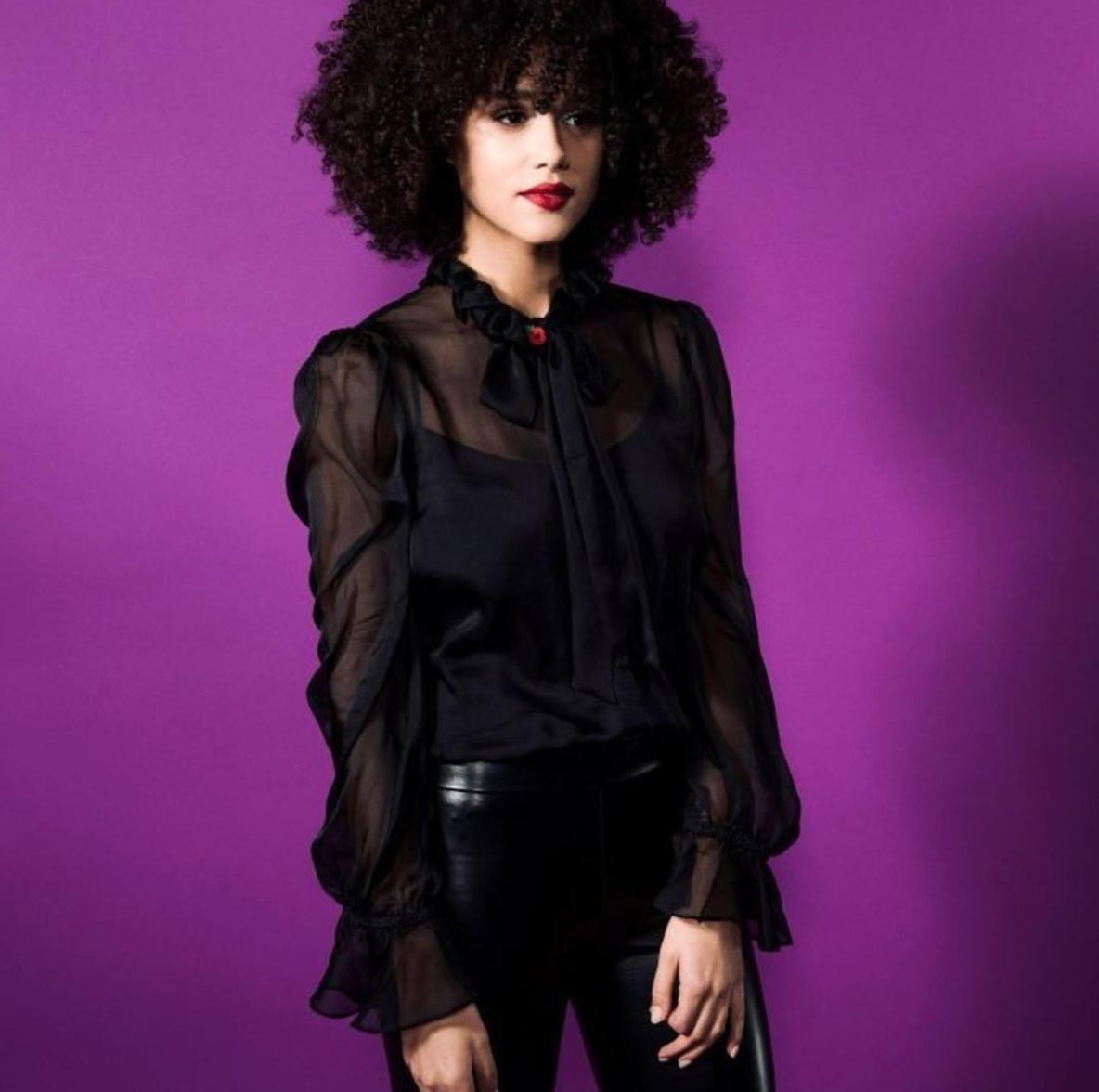 26.
When Nathalie and Gwendoline had a mutual love-fest on Twitter.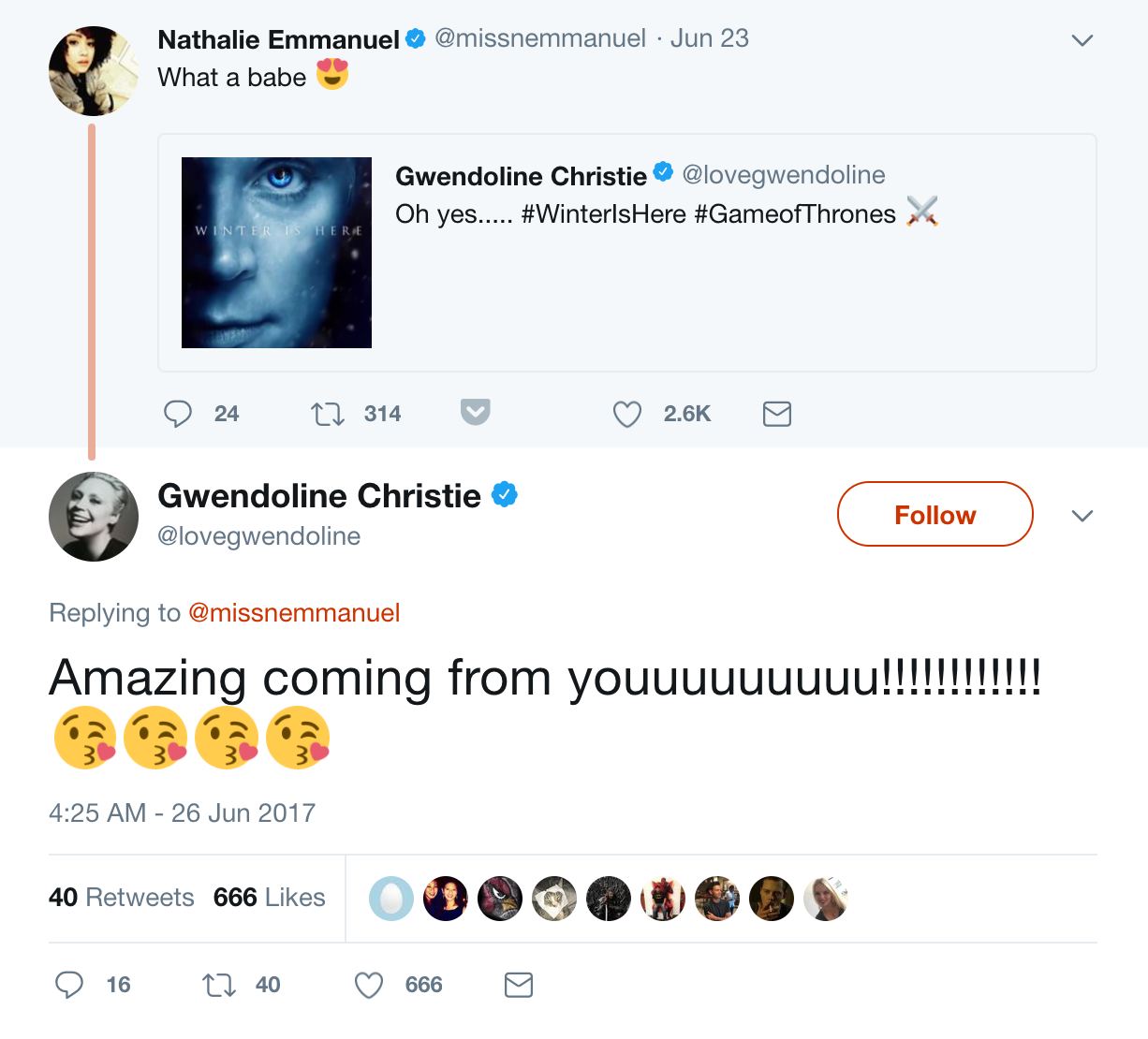 27.
And then Gwendoline and Lena Headey (Cersei) had one too.
28.
While Gwendoline and Bella Ramsey (Lyanna Mormont) shared this cute moment.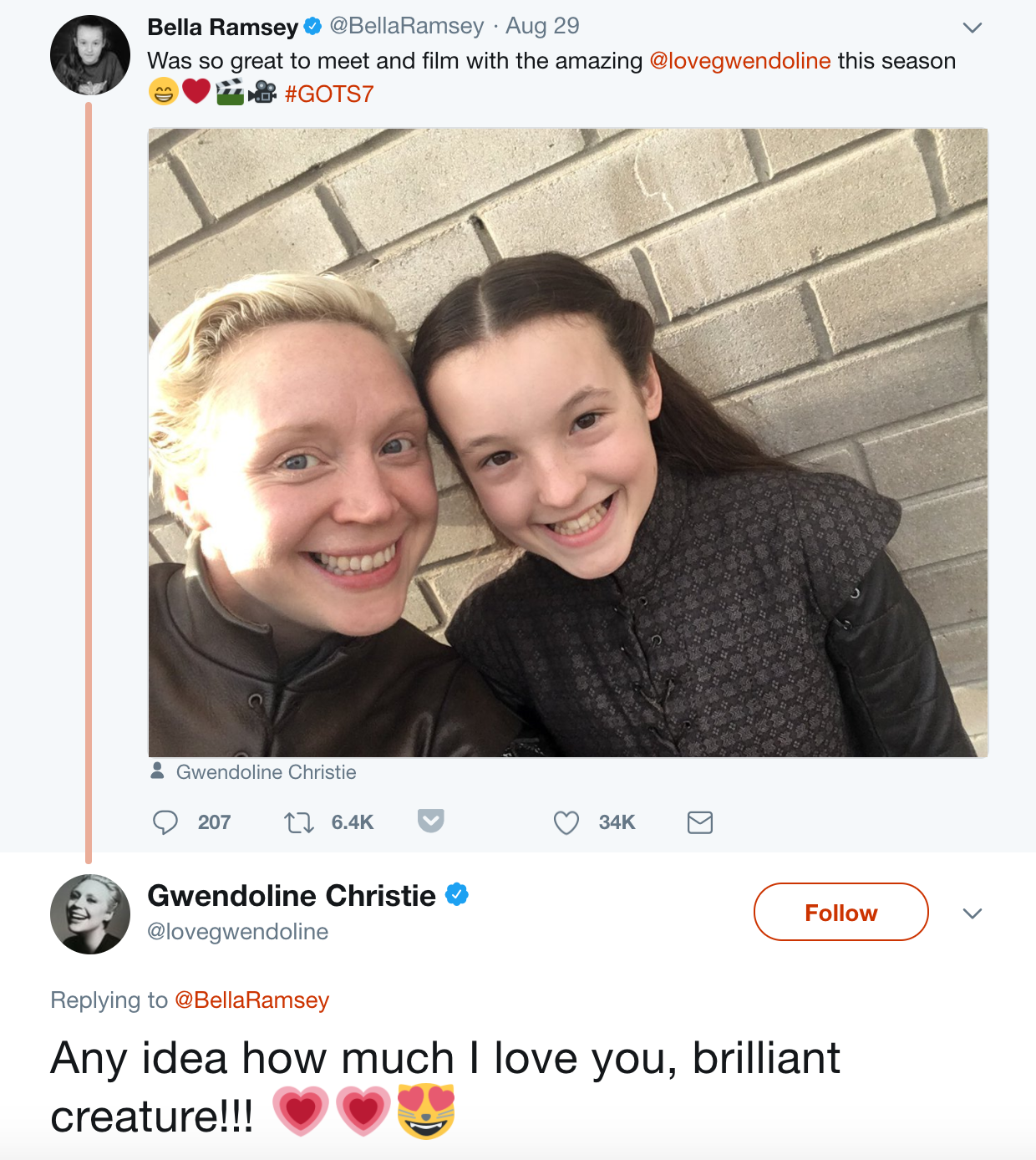 29.
When Jacob Anderson (Grey Worm) and Conleth Hill (Varys) got their cowboy on, and Nathalie and Emilia were here for it.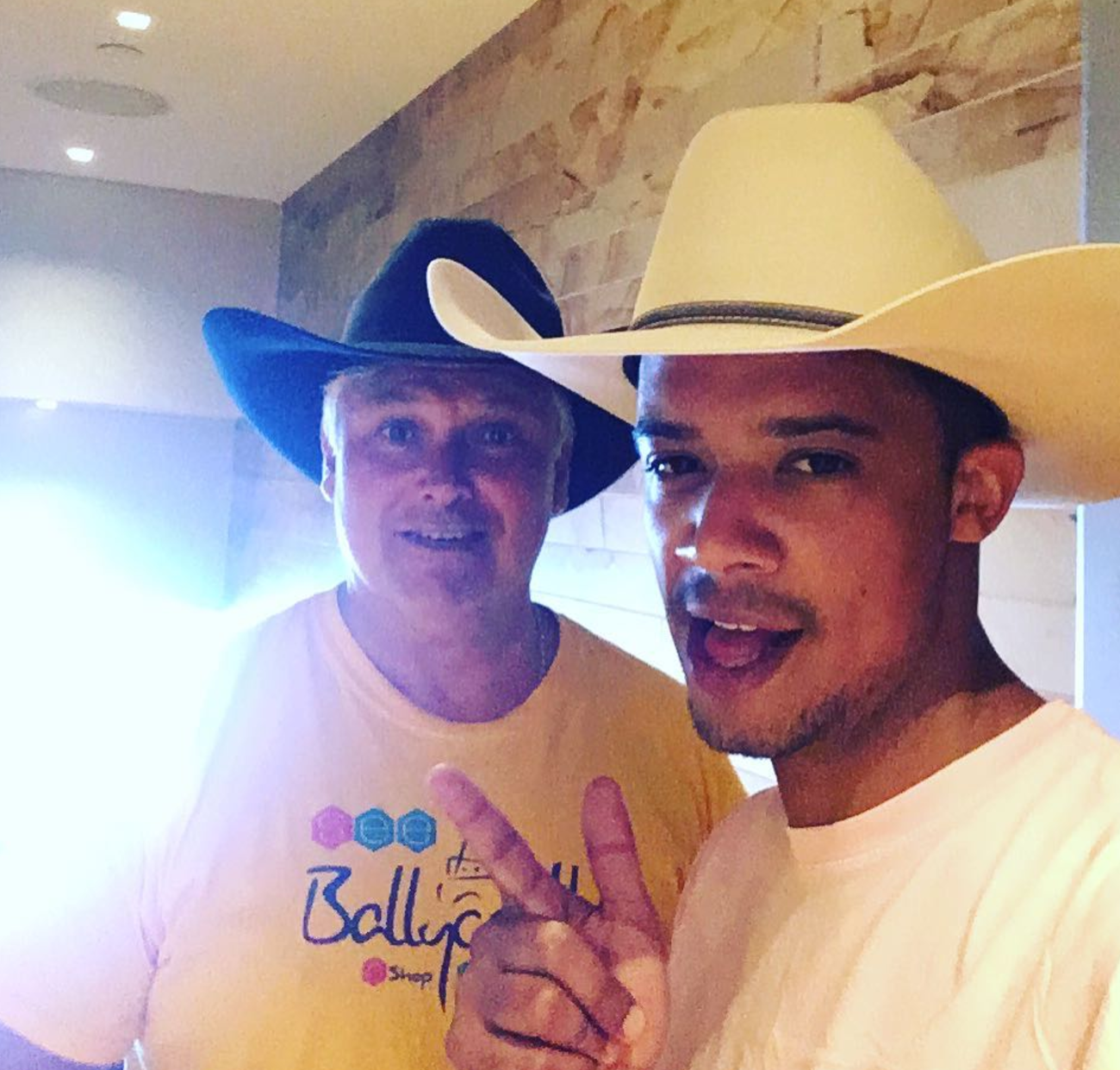 30.
When John fanboyed over Conleth's theatre work.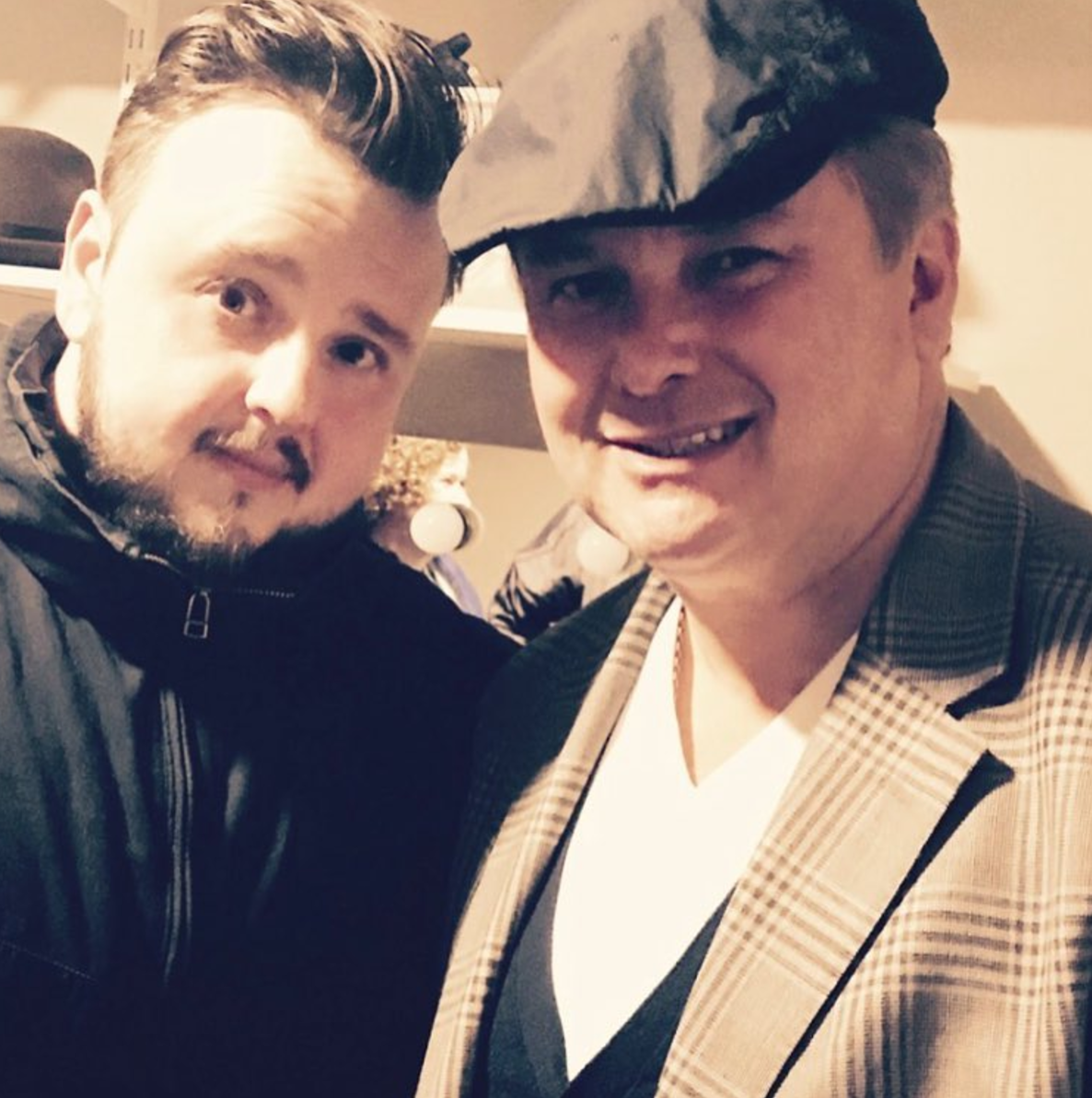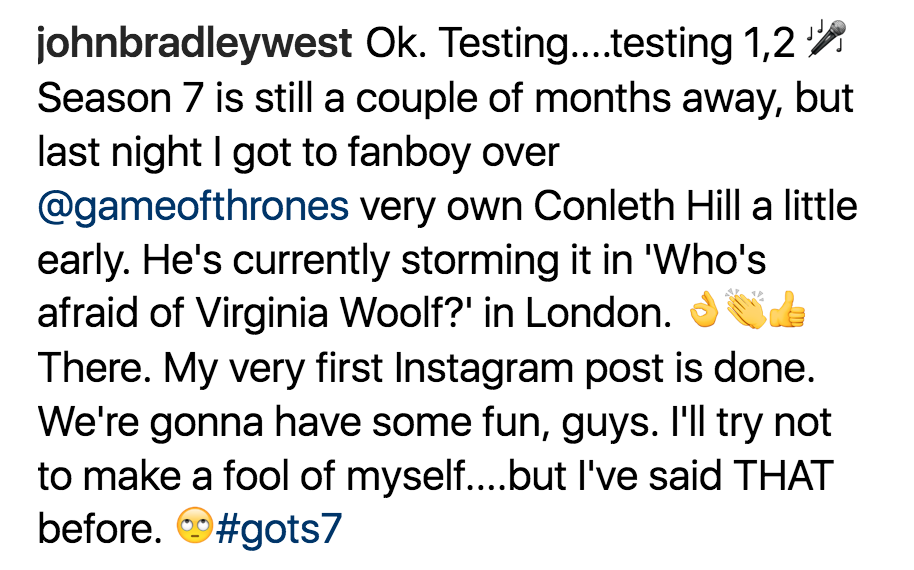 31.
When Nikolaj Coster-Waldau (Jaime) was so supportive of Lena.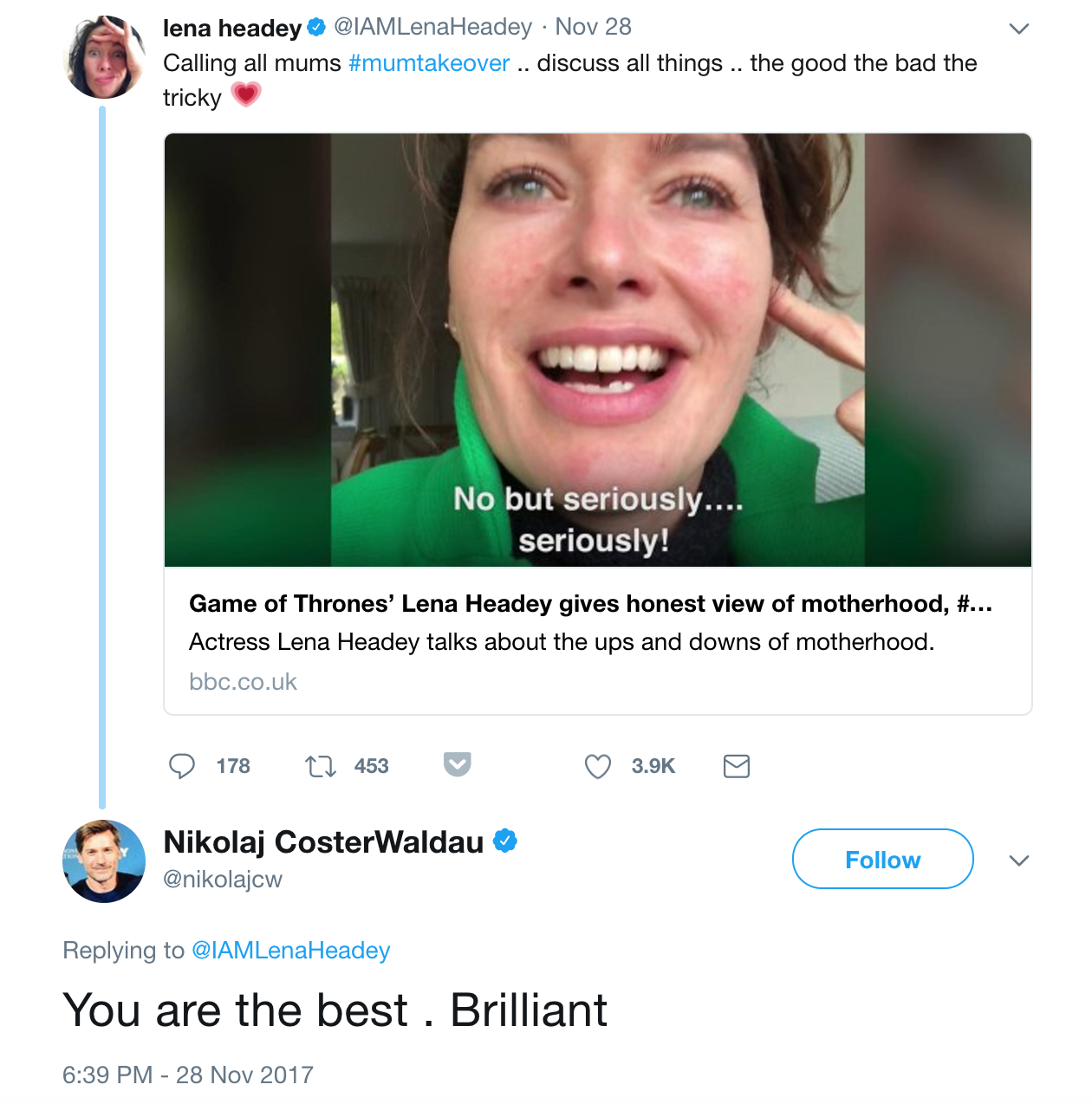 32.
More than once.
33.
When he was also supportive of Gwendoline and she called him a dream.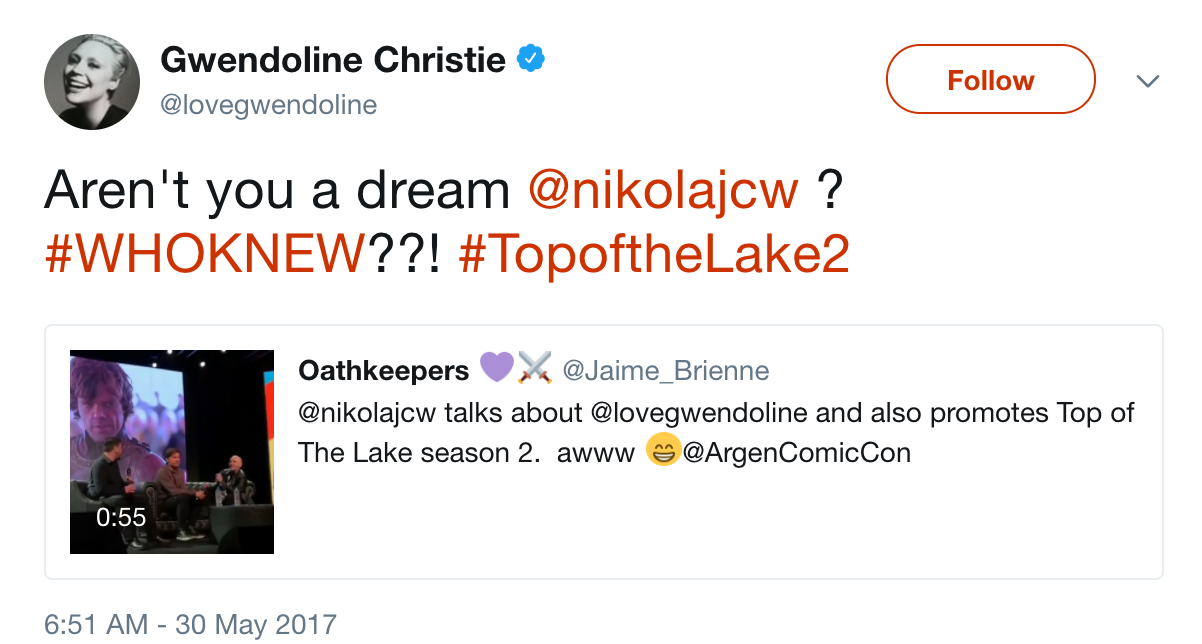 34.
When John shared one of the best days of his life with Joe Dempsie (Gendry).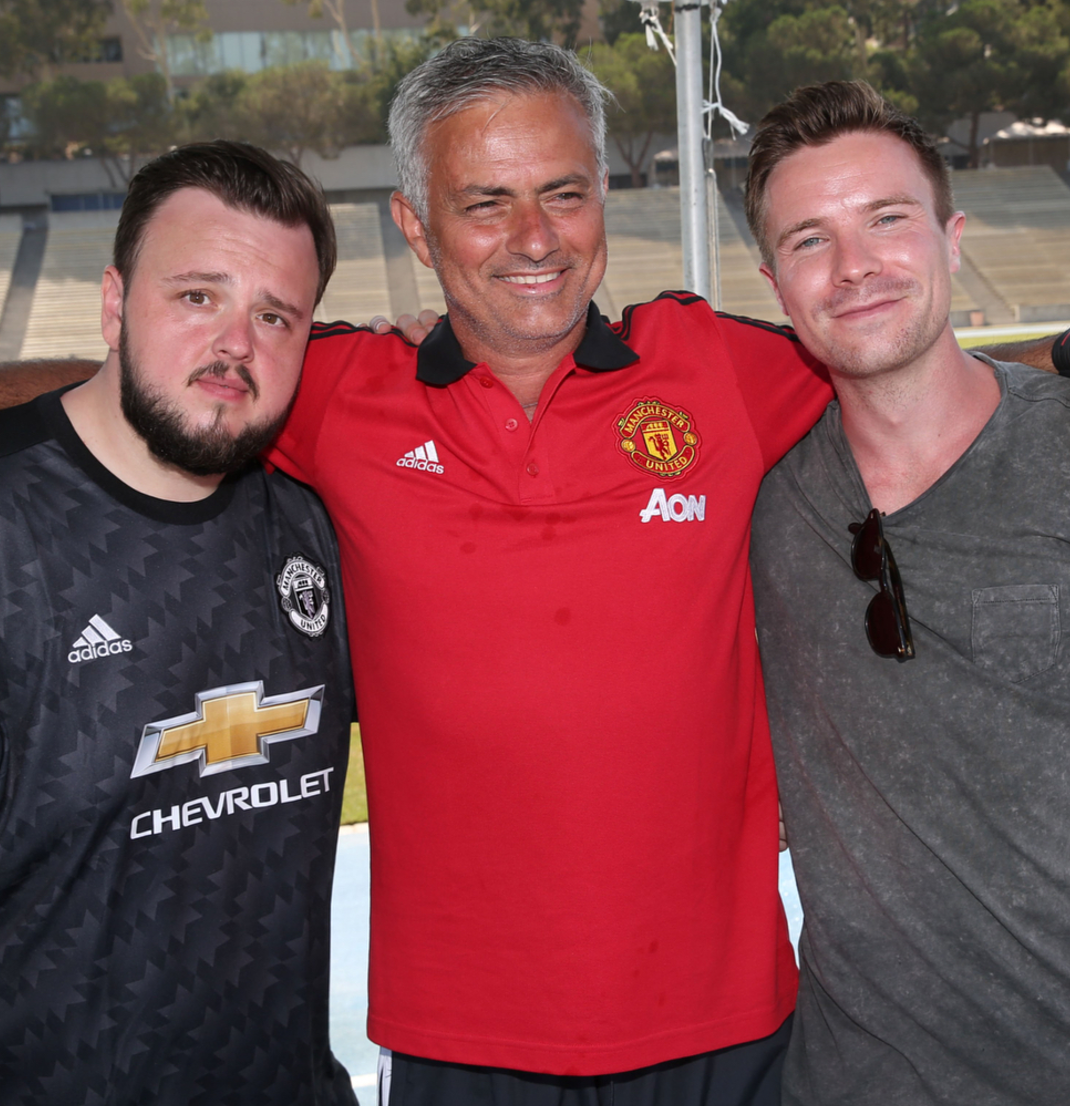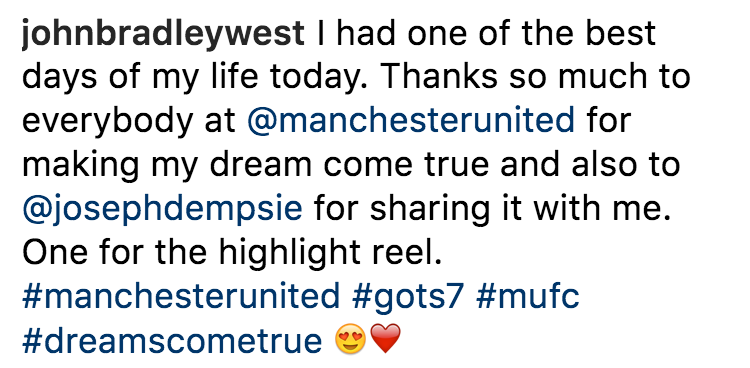 35.
And when he was pumped to be sharing screentime with Isaac Hempstead Wright again.

36.
When Issac and Dean-Charles Chapman (Tommen) shared the love on Twitter.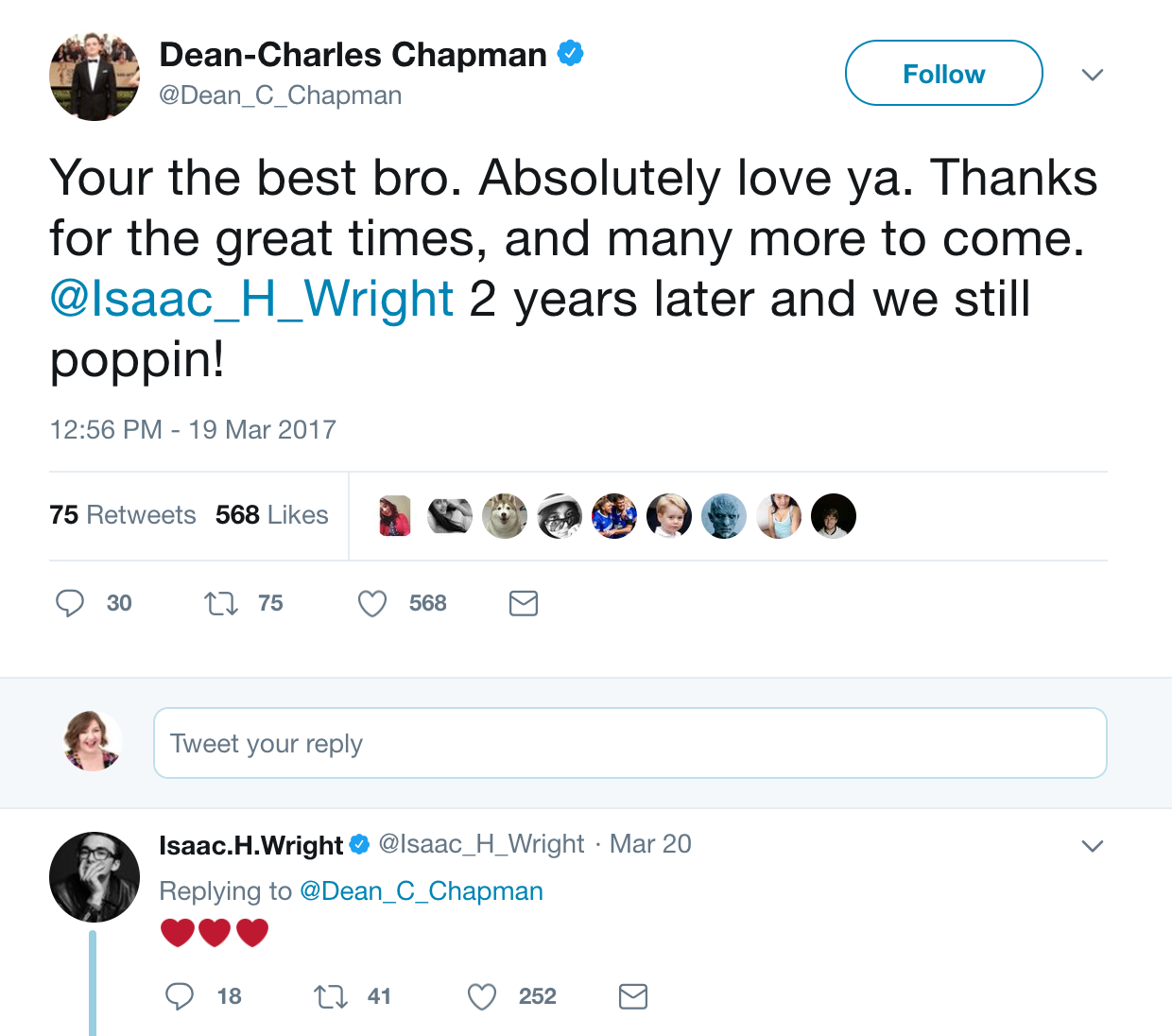 37.
And when John and Gwendoline had a lovely lunch date.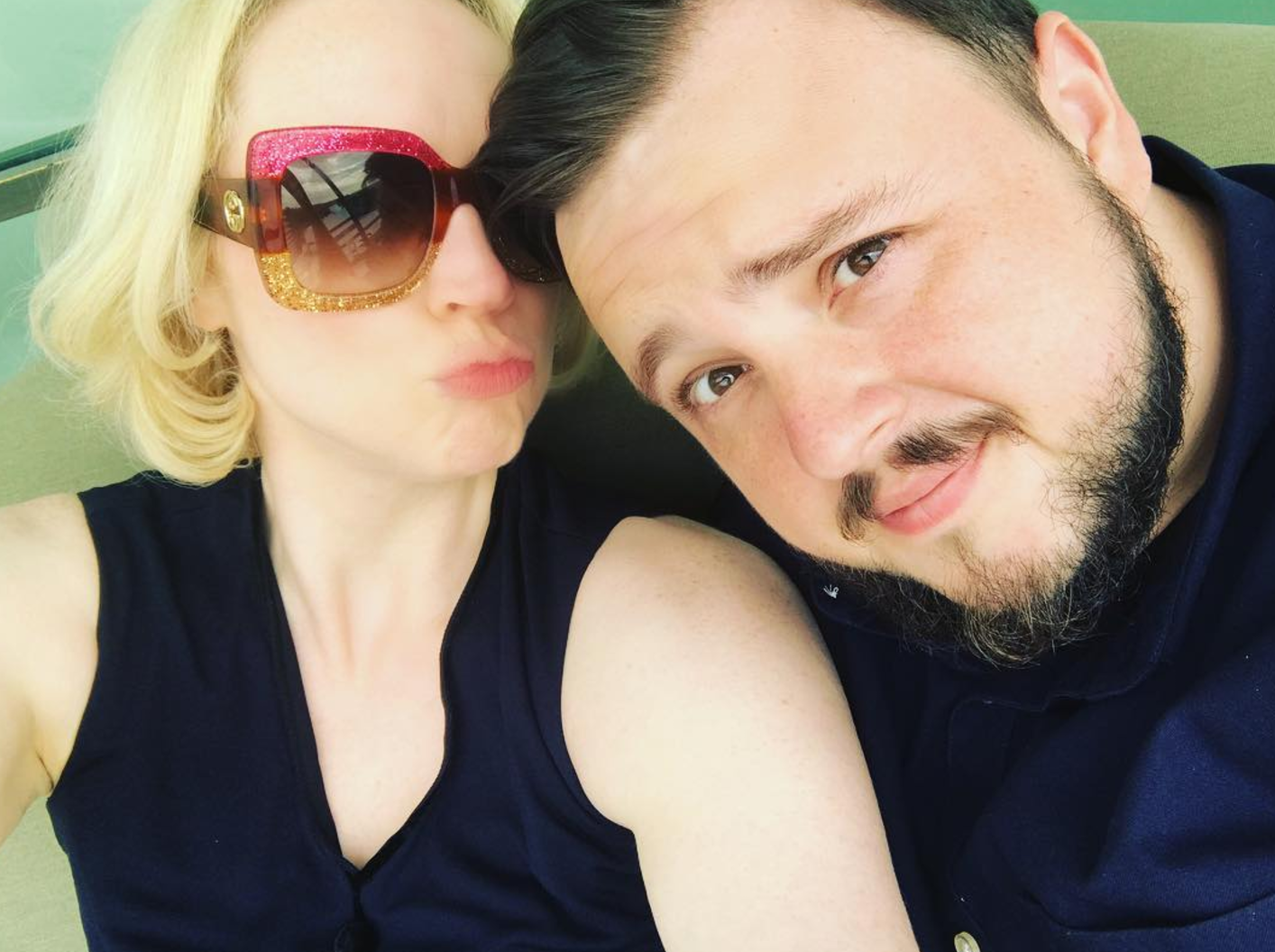 38.
When Conleth photobombed this fire selfie.

39.
And when the cast had some fun during a photoshoot.
40.
When John, Isaac, and Liam had a superhero moment.
41.
When Kristofer and Rory McCann (The Hound) killed some time on set with a singalong.
42.
And then Iain Glenn (Ser Jorah) and Richard Dormer (Ser Beric) joined in.
43.
When Nathalie had some fun with the Dothraki between takes.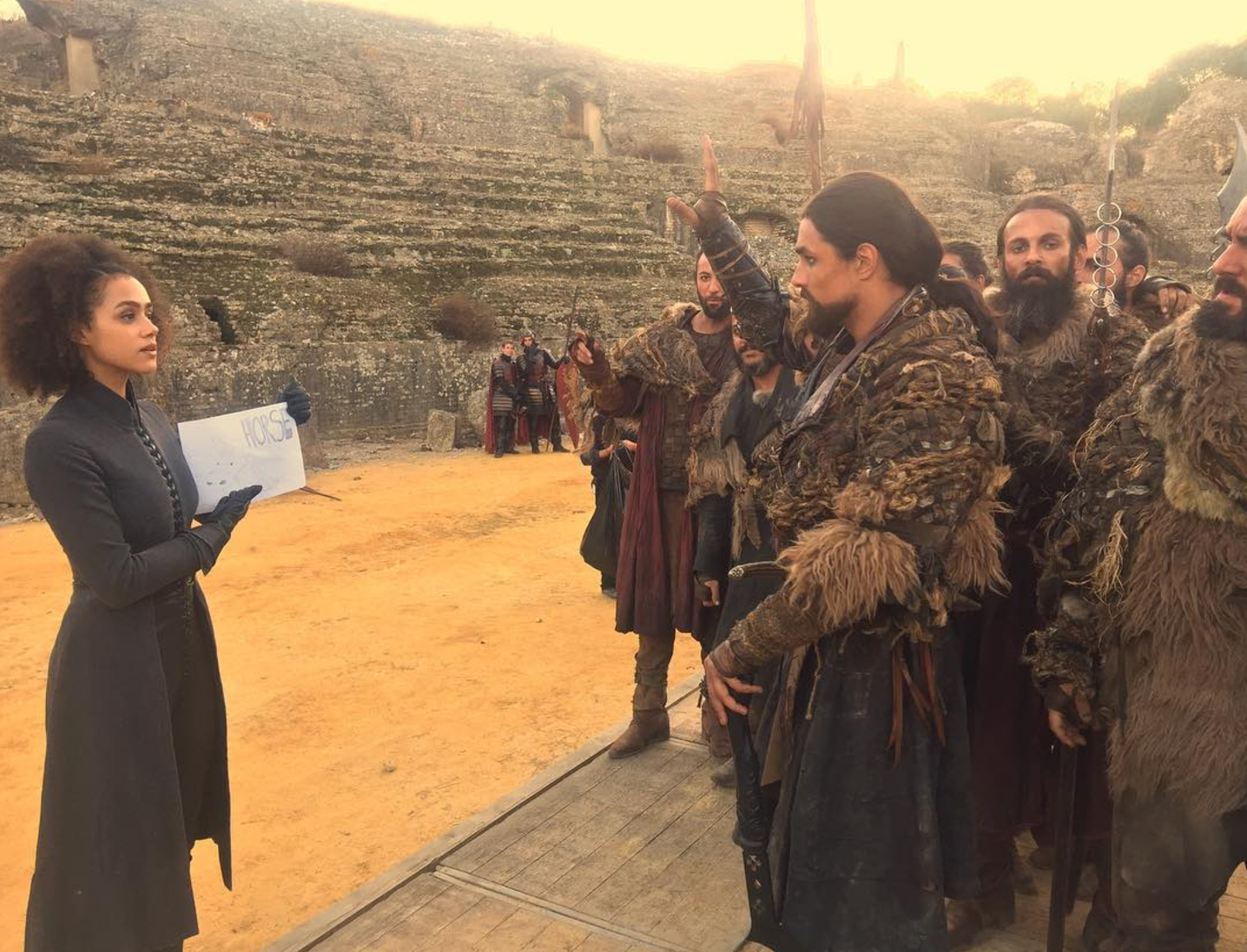 44.
When Daniel Portman (Podrick) voted Lena for James Bond.
45.
When Kristofer totally fanboyed over his Suicide Squad brothers.
46.
And when Nathalie shared these perfect selfies with Kristofer and Liam.
47.
When Carice and Jack Gleeson (Joffrey) caught up on the Iron Throne.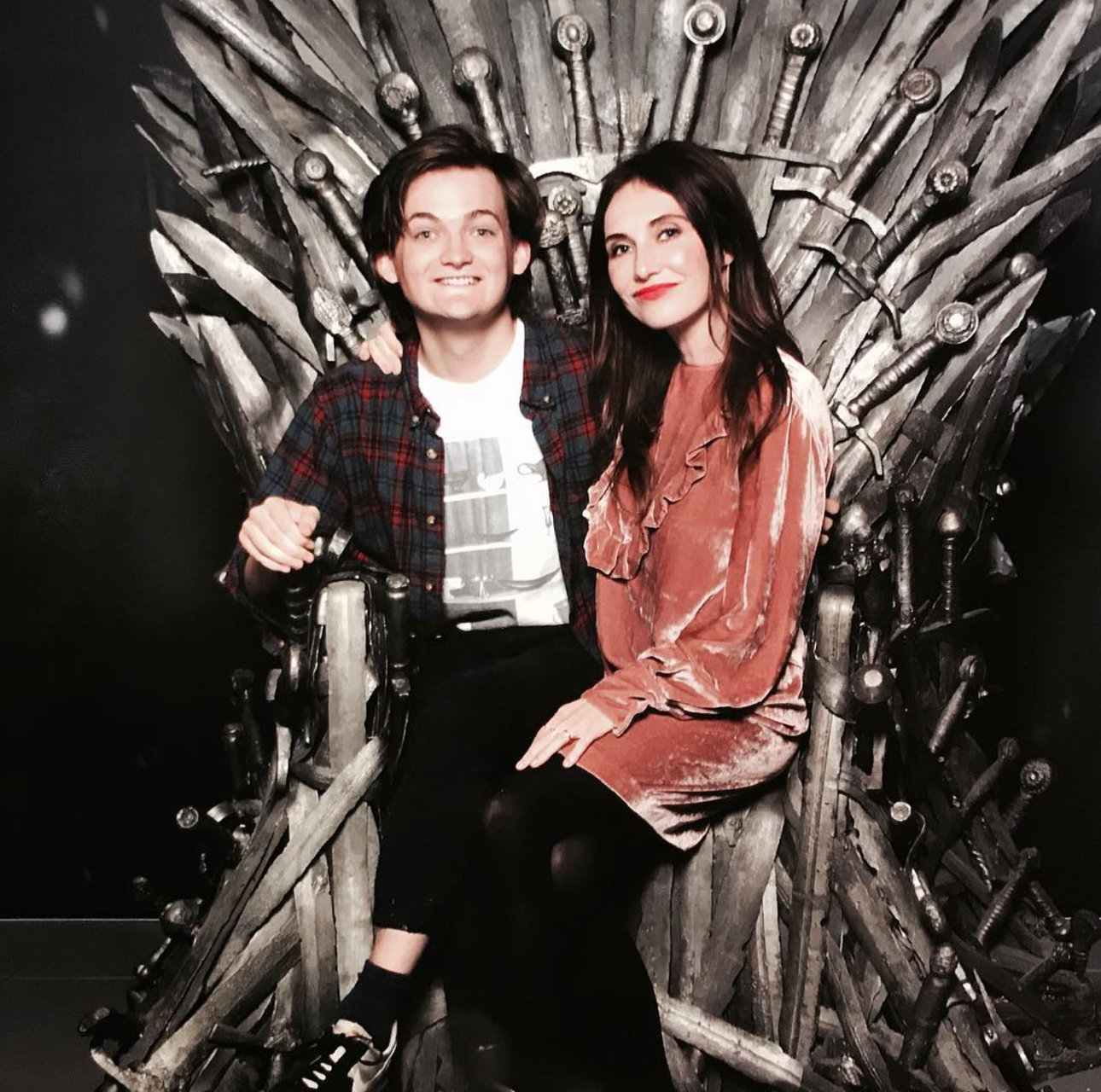 48.
When Daniel shared this cute photo of himself with Gemma Whelan (Yara).
49.
When Daniel caught up with Finn Jones (Ser Loras) and Kristian Nairn (Hodor).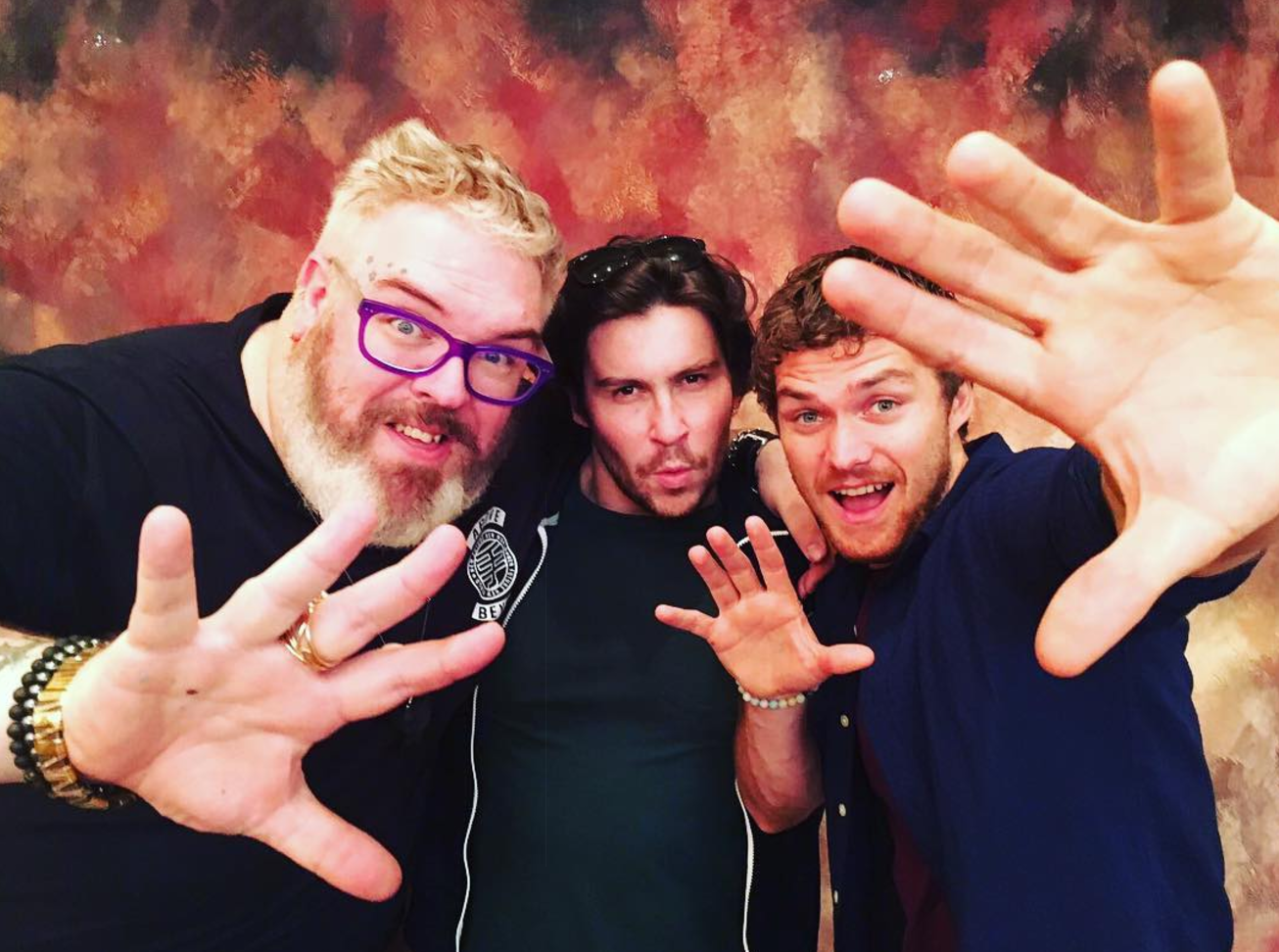 50.
And then he had dinner with Jack and Gethin Anthony (Renly).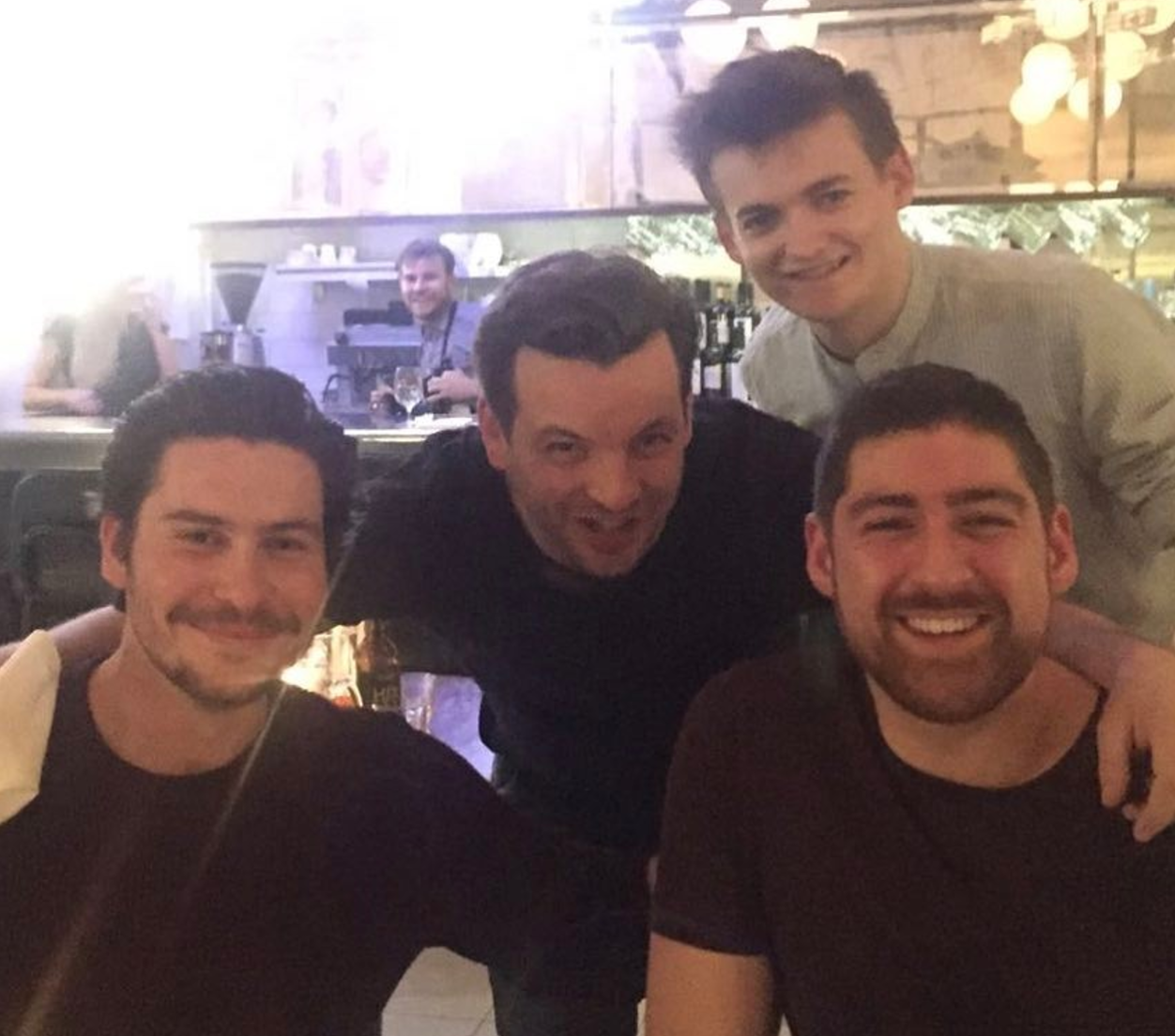 51.
When Gwendoline was super supportive of Carice.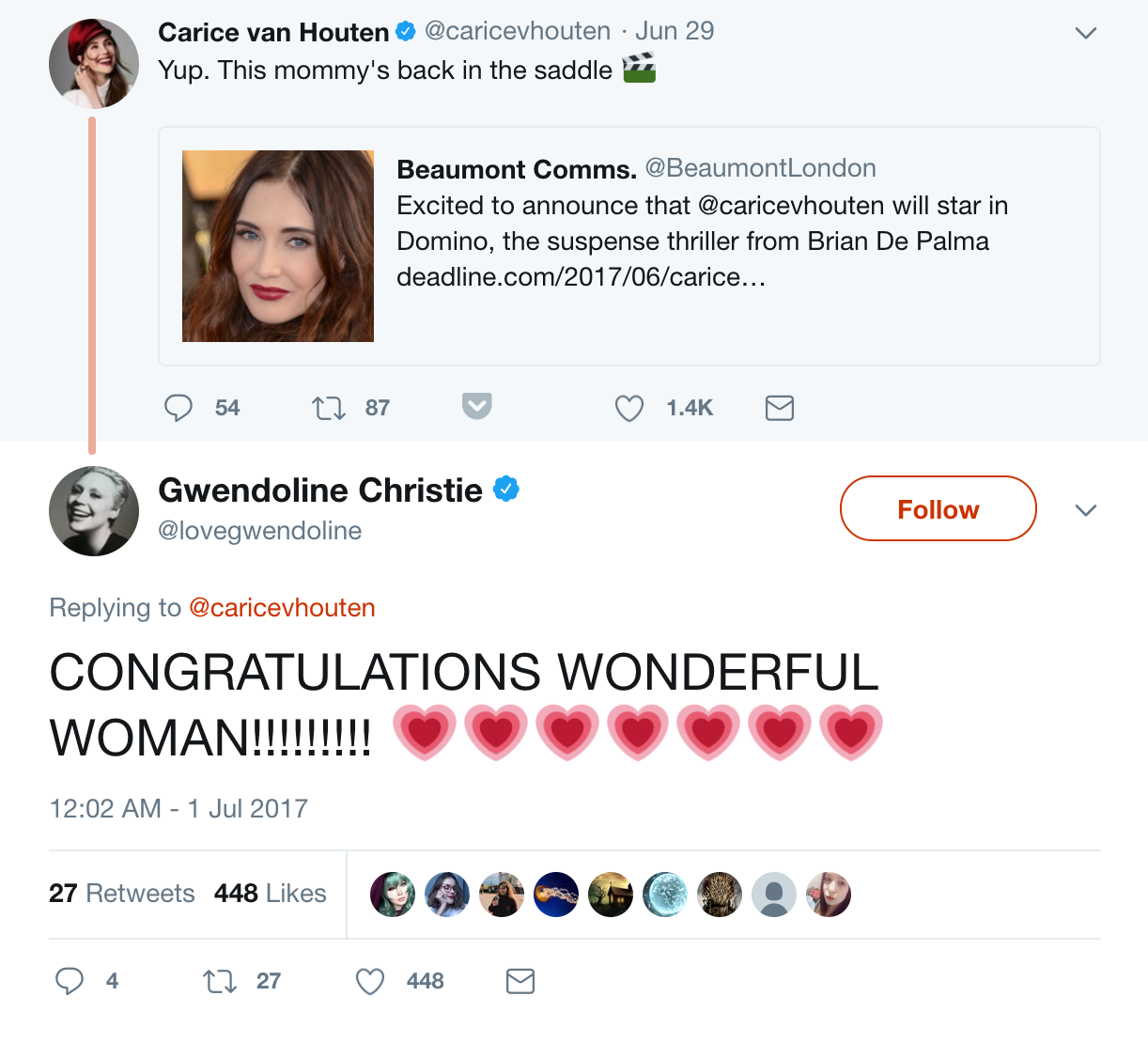 52.
And Lena was super supportive of Gemma.
53.
When Gemma sent some love to Pilou Asbæk (Euron), her uncle on the show.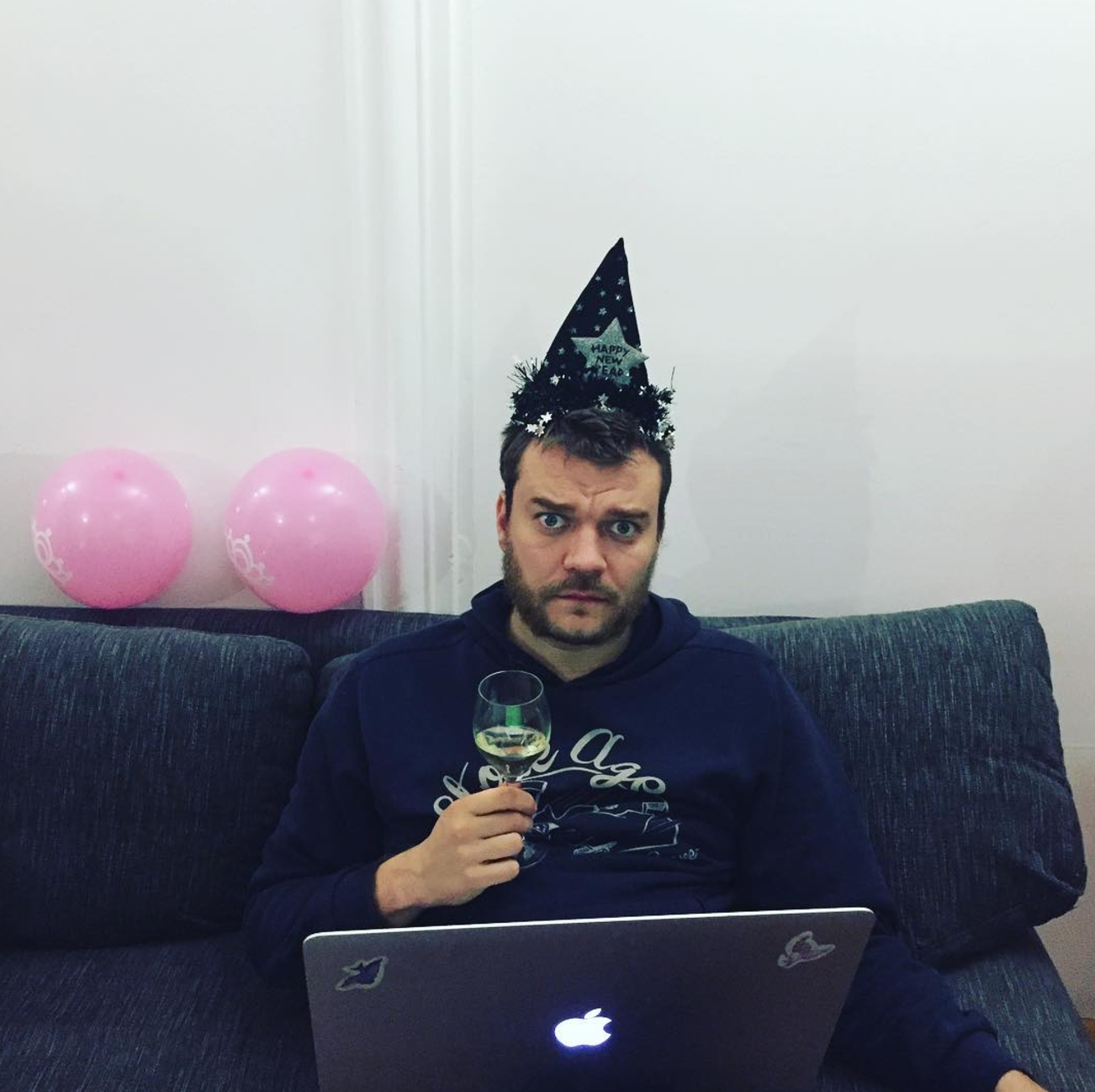 54.
And finally, when Sophie and Maisie were right proper ladies on set.